Salar de Uyuni
High in the Altiplano of southwestern Bolivia, the Salar de Uyuni covers more than 4,000 square miles.
This is the world's largest salt flat—a barren pavement of white infinity.
The salar is the evaporated remnant of two enormous prehistoric lakes (Minchín and Tauca), once covering thousands of square miles.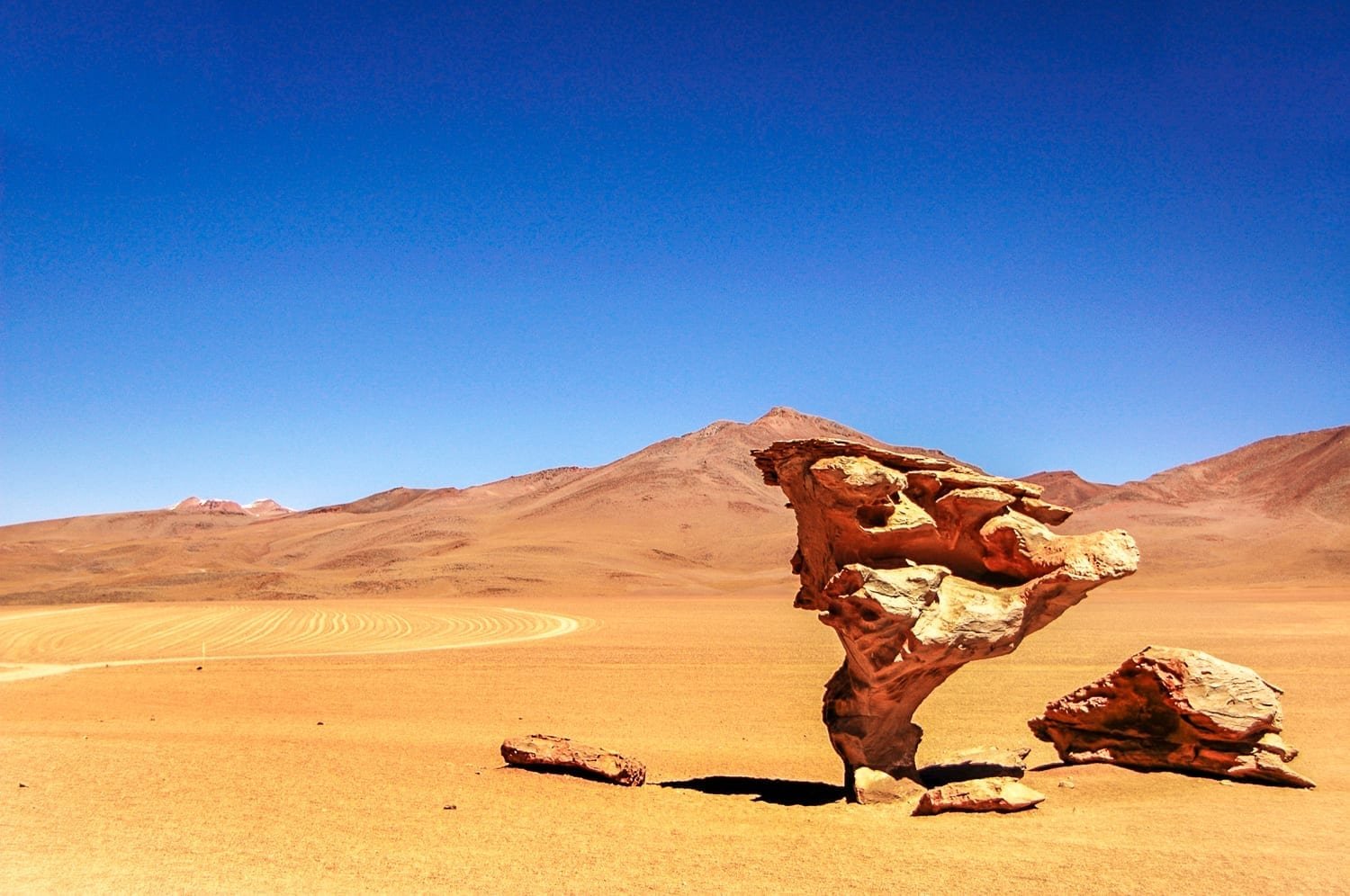 The average altitude at Salar de Uyuni is approximately 11,980 feet above sea level.
Lake Poopó
During the November to March wet season, the Uyuni Salt Flat (or salt pan) is flooded by overflow from the north.
A thin layer of water covers the salty plain, reflecting the sky with astonishing clarity.
Passengers in off-road vehicles crossing the flooded flats often enjoy the sensation of floating.
Three Species of Flamingo
November is also breeding season for the three species of flamingo that inhabit Salar de Uyuni.
In addition to sodium, this plain is rich in potassium, magnesium, borax, and lithium.
Beneath this solid, salty crust sits a lake of brine. While the lake is shallow in most locations, it intermittently reaches depths up to 60 feet.
Isla Pescador, Isla Incahuasi, & The Train Graveyard
Two notable islands rise from the center of the salar, Isla Pescador and Isla Incahuasi—red volcanic oases covered in towering cacti.
Other attractions include:
A small museum in Coquesa Village;
The Tunupa Volcano Trail; and
A petrified forest.
The base for this region is the town of Uyuni, located roughly 330 miles south of La Paz.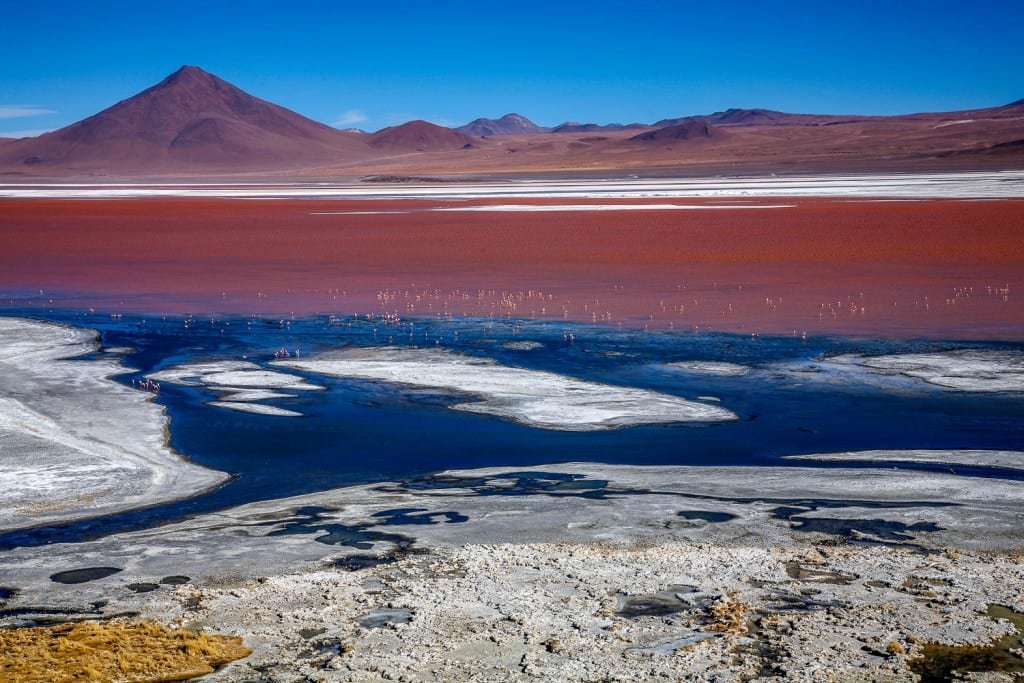 Just outside of town (southeast of the salar) is a cemetery of rusting steam locomotives and ore transport cars.
Most of these trains were abandoned in the 1940's, after a collapse of the local mining industry.
Hiking Scenic Volcanos & Touring Rainbow Lakes
To the south of Uyuni, visitors can hike scenic volcanoes and take in a stunning rainbow of mineral-rich lakes—blue, red, yellow and white.
Cross-border connections can be arranged to Salta, Argentina (to the southeast) and San Pedro de Atacama, Chile (to the southwest).
Oruro: Bolivia's Provincial Capital
Midway between Uyuni and La Paz, the provincial capital Oruro is the largest city in the Southern Altiplano.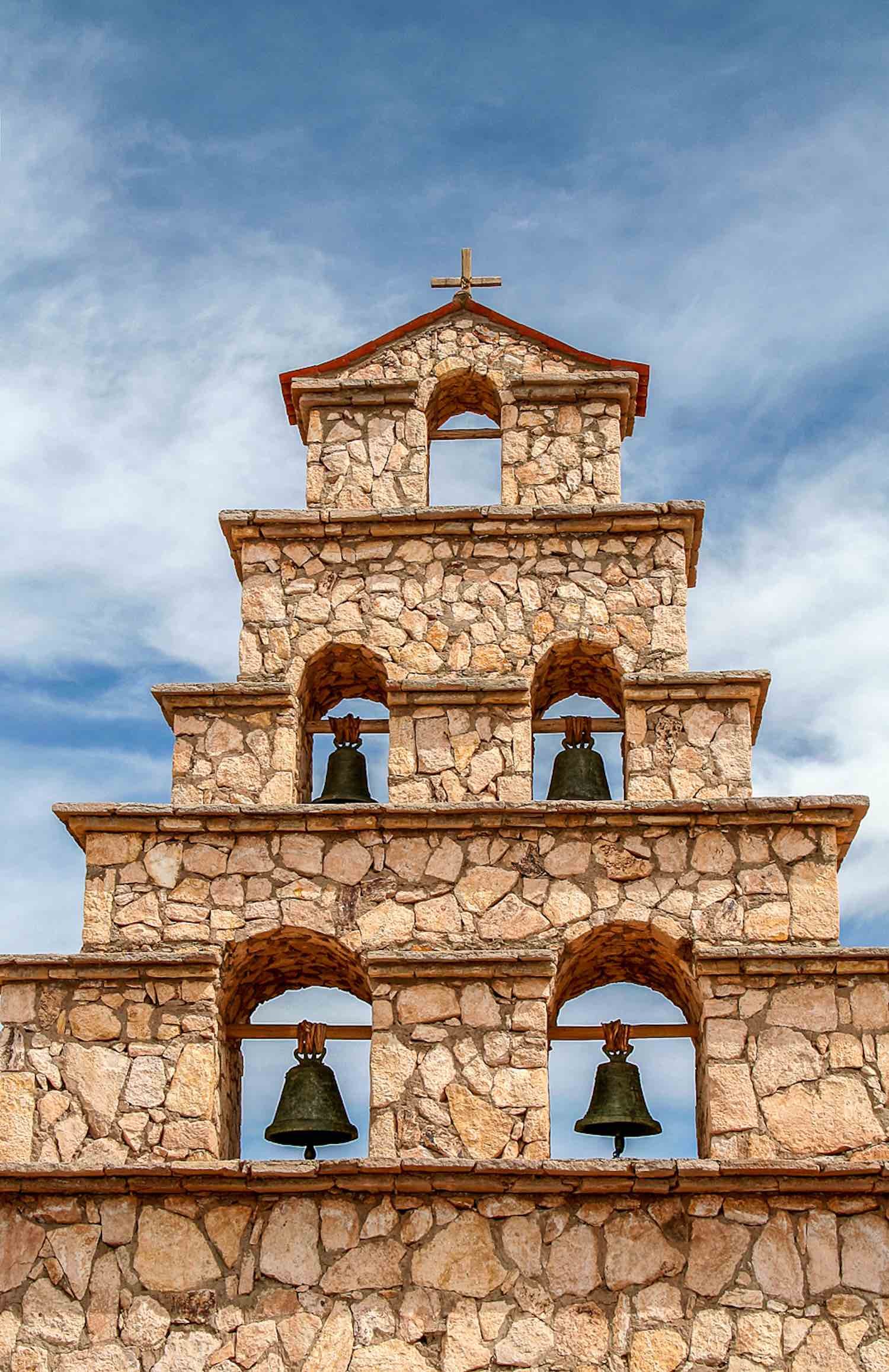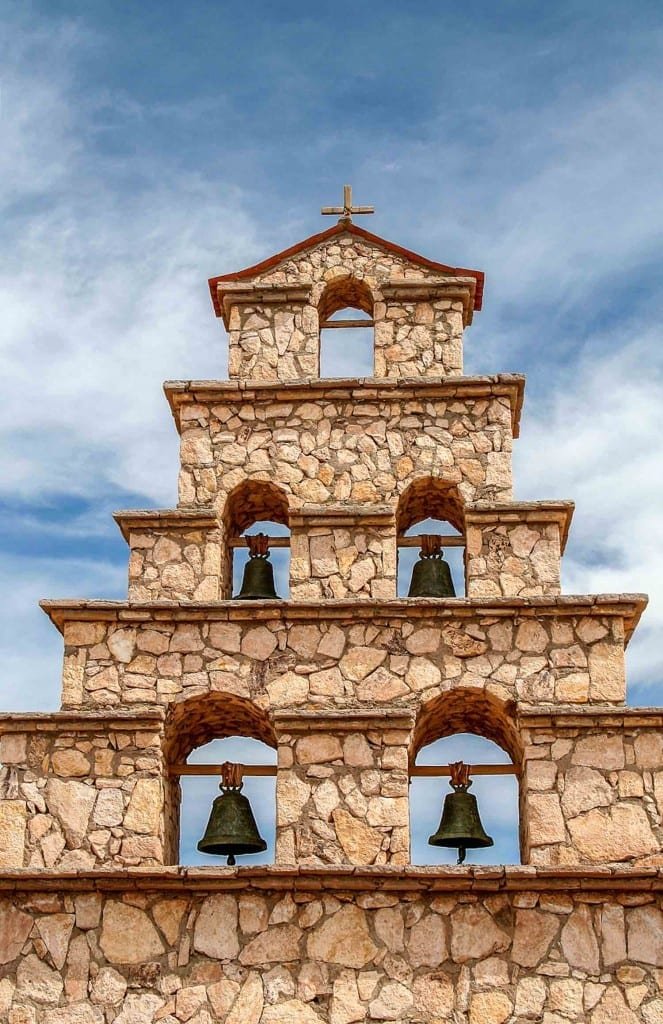 This chiefly indigenous town is proud of its mining heritage.
Accordingly, history aficionados delight at the depth of learning available at the mining and folklore museum, minerals museum, and on half-day mine tours.
Oruro is also the site of Bolivia's most famous Carnival celebration—the Dance of the Devils.
Due to its altitude, this region is cold and windy year round. Most visitors travel to Uyuni between June and October when temperatures are less chilly.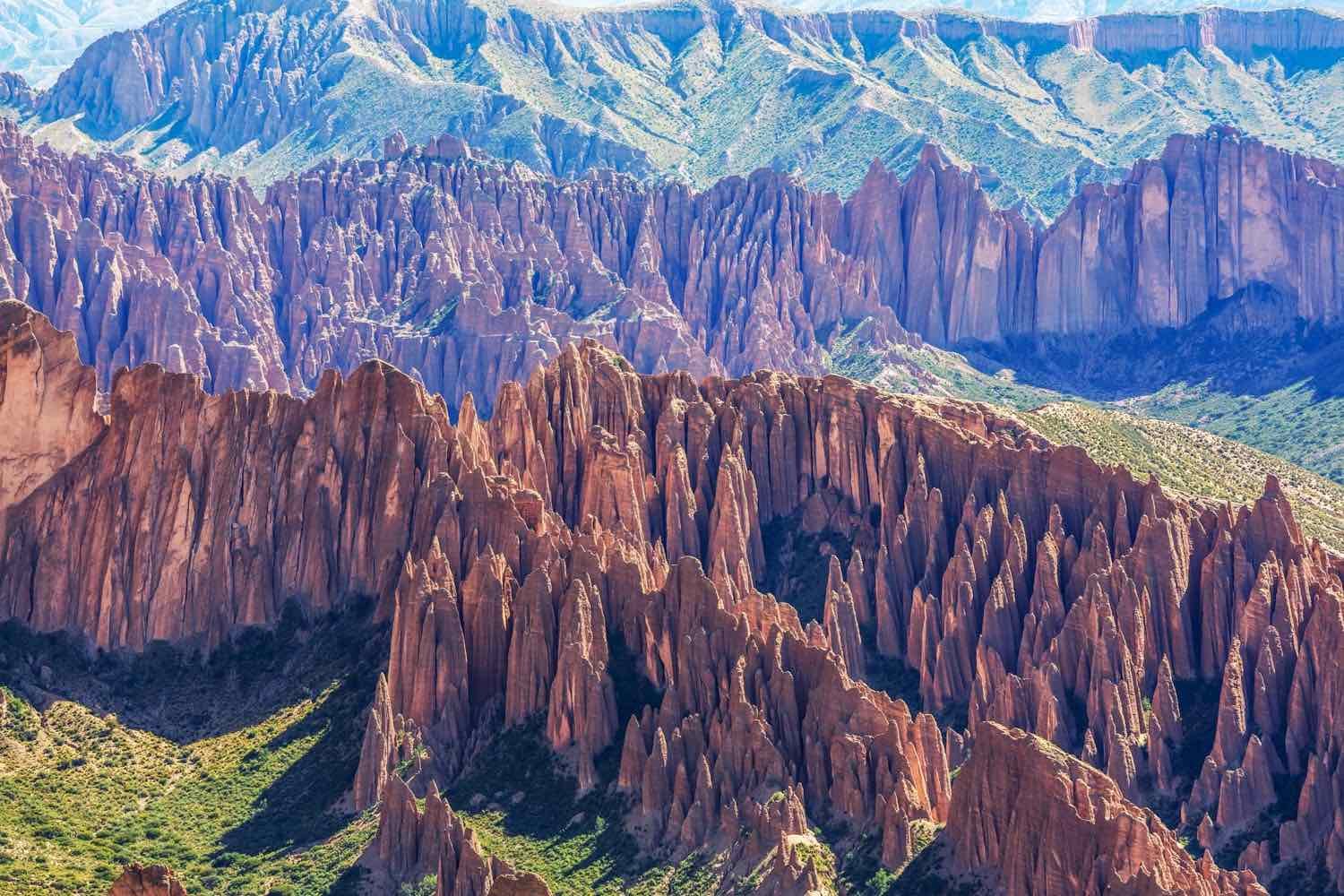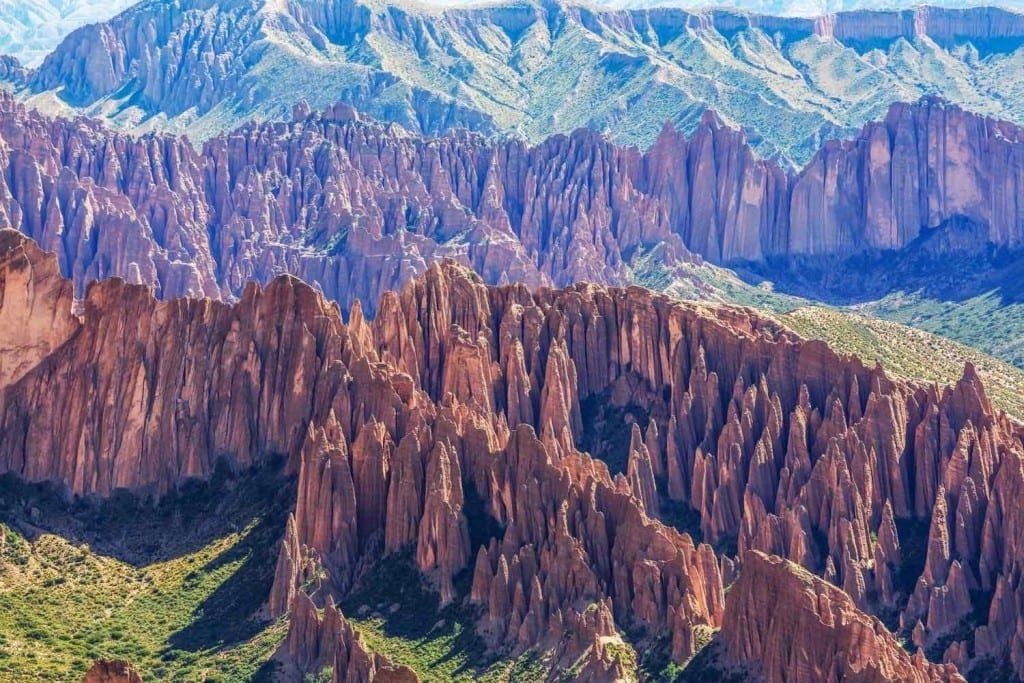 LANDED arranges personalized travel in Bolivia and throughout South America. We organize luxury accommodation, private transportation, and tours with expert guides. Speak with a LANDED travel planner today at 801.582.2100. We'll take care of the details.
"Kid, the next time I say, 'Let's go someplace like Bolivia,' let's go someplace like Bolivia.
Paul Newman as Butch Cassidy
PERFECT

Could not have been more pleased.  This was the trip of a lifetime for our family.  Thank you!
GO WITH LANDED

If you're planning to travel, go with LANDED. You won't be disappointed.
AMAZING ADVENTURE

The whole rhythm of the trip was perfect, and leaving one place for the next worked perfectly. This trip definitely made me want to experience other great spots in South America.
TRIP OF A LIFETIME

The locations were amazing. Your on-the-ground team was fantastic–knowledgeable and accommodating. Beautifully organized.
ABSOLUTELY AMAZING

The best guide I've ever had anywhere in the world. Top notch talent.
GREAT SERVICE

You were a great help in planning–ensuring that I was staying at the right places and enjoying the type of activities we love–and the follow up was incredible.
YOU GOT TO KNOW US

Exactly the bonding and sharing experience we'd hoped for. The rhythm, variety, and tone was spot on. With effective listening skills, you built a good picture of what we wanted–more complicated than "just" luxury. The result was a great trip, one made just for us.
BEST EVER

Excellent attention to detail. You listened carefully, asked the right questions, and customized with just the right balance. Superb guides. We felt relaxed and pampered all the way. You'll plan our next trip.
FANTASTIC EXPERIENCE

Not a single thing on the itinerary that we would change.  The guides were knowledgeable, friendly, and prompt.  The hotels were beautiful, the food delicious and the pace of the activities was perfect for us.
DO IT!

In short, our trip was amazing. Thanks so much for your constant assistance and thorough planning.
PERFECT

The planning, service and execution of the trip was flawless – thank you!
EXCELLENT

LANDED was helpful and knowledgeable, making our trip a memorable one.  I will use your services in the future as I continue to explore Central & South America.
A VERY WELL ORGANIZED DREAM

Your patience with my questions and concerns during the planning stage was remarkable.
THANK YOU

You actually got to know us, which made it possible to know just what we like. You promised the best trip ever and you kept your promise.
ENTIRELY AMAZING

Your recommendations were well thought out. We thoroughly enjoyed our honeymoon. Thank you!
THE ULTIMATE GUIDE

LANDED is the ultimate. You helped us make the most out of a week's time.
DIDN'T MISS A THING

We zip-lined, rafted, sailed, and surfed. The contacts were professional and courteous. We don't want to be back at work. Thank you for all of the work you did to set up this trip.