Caiman Pantanal is one of the world's top ecolodges. If you're seeking close interaction with rare South American wildlife, Caiman should be at the top of your list. This might be the only place on the planet where guests can reliably and closely observe wild jaguars.
Caiman is located in Brazil's southern Pantanal. The project is set within a 130,000-acre private ranch, known as Estancia Caiman. In addition to jaguars, Brazil's Pantanal wetland is home to giant anteaters, caiman, capybaras, maned-wolves, marsh deer, and ultra-vivid hyacinth macaws. This is the Okavango of South America.
LANDED's clients who visit Caiman usually devote 3 or 4 nights to this destination, often in combination with Sao Paulo, Rio de Janeiro, Iguacu Falls, and/or some of our favorite Brazilian beach towns.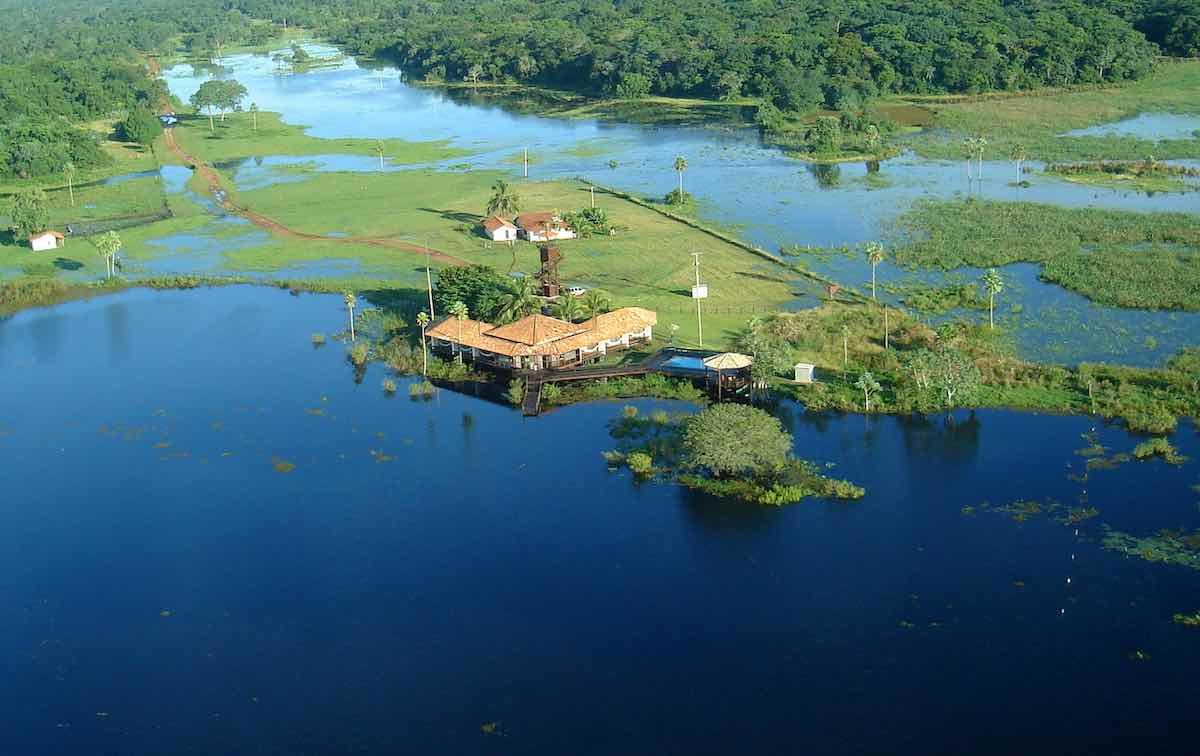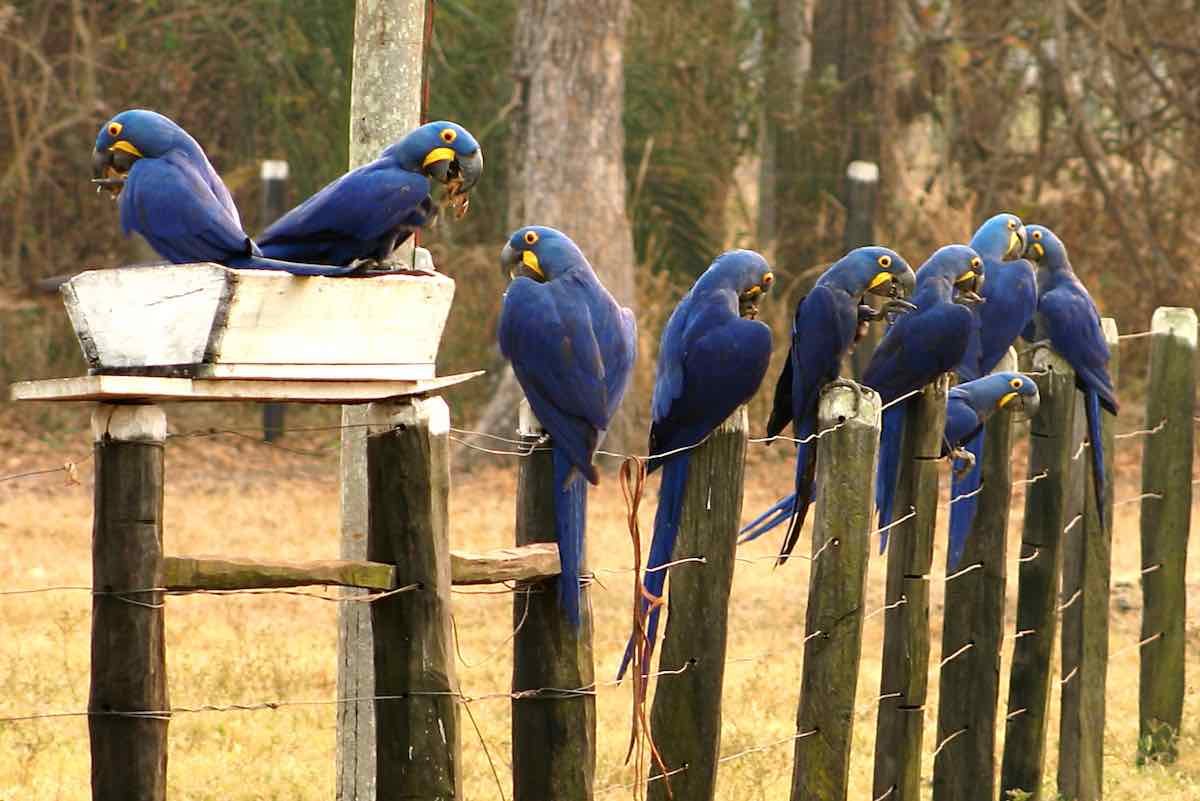 Caiman Pantanal was the first ecotourism operation in the Mato Grosso do Sul State. For over 30 years, Caiman Pantanal has provided guests with close encounters with nature and culture of the region.
In addition to ecotourism, Caiman is involved with cattle production, environmental research, and conservation projects. Among these efforts are the Hyacinth Macaw Project, Onçafari (Jaguar Safari) Project, and the Blue-Fronted Parrot Project.  These pioneering preservation and rewinding projects are done in conjunction with universities and international NGOs.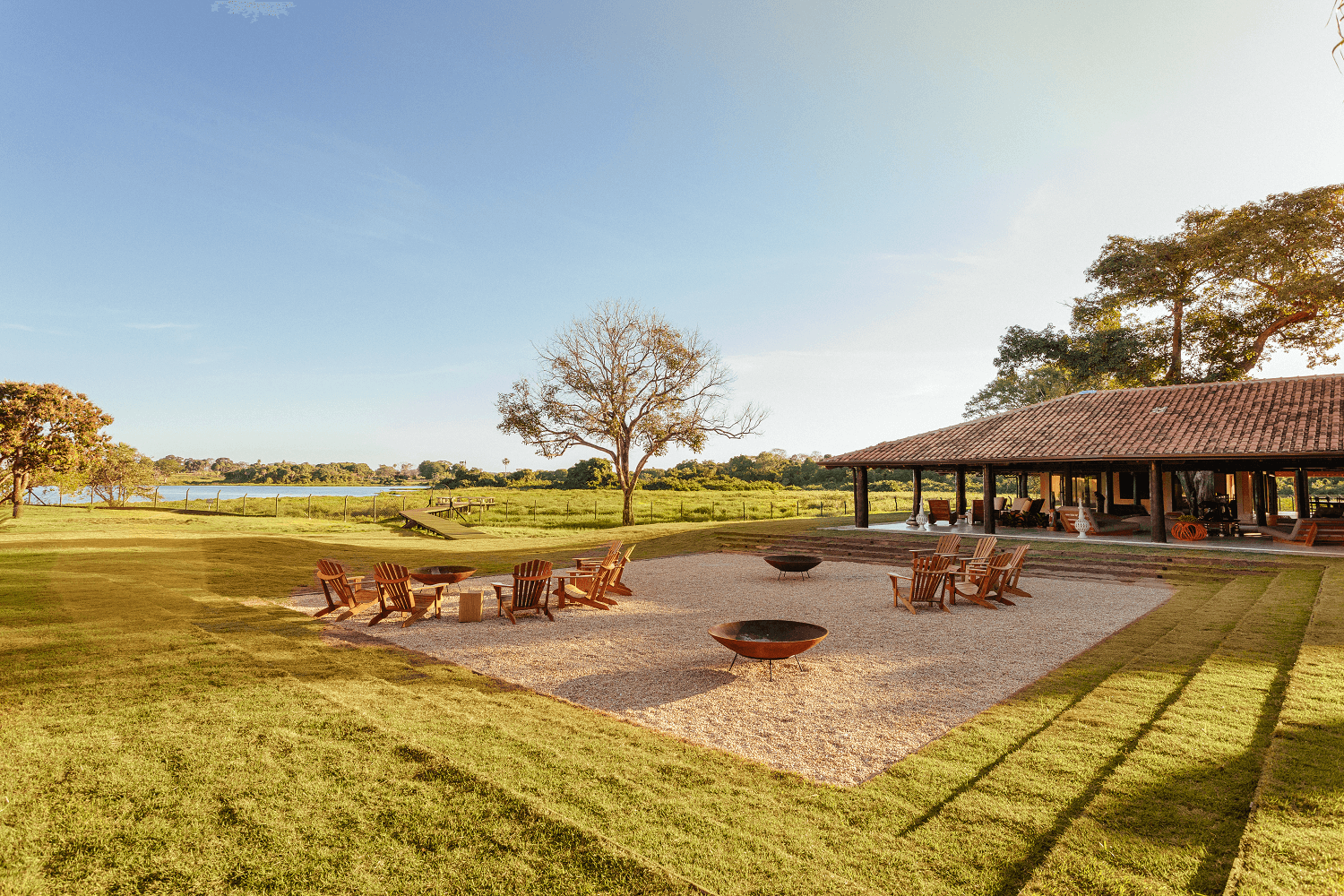 Caiman offers homemade meals. Many are prepared with ingredients from the local community gardens, while some are harvested from their own agroforestry.
Rates include full-board and soft drinks: breakfast, lunch, dinner, and snacks during the tours. Alcoholic beverages and bar snacks are not included.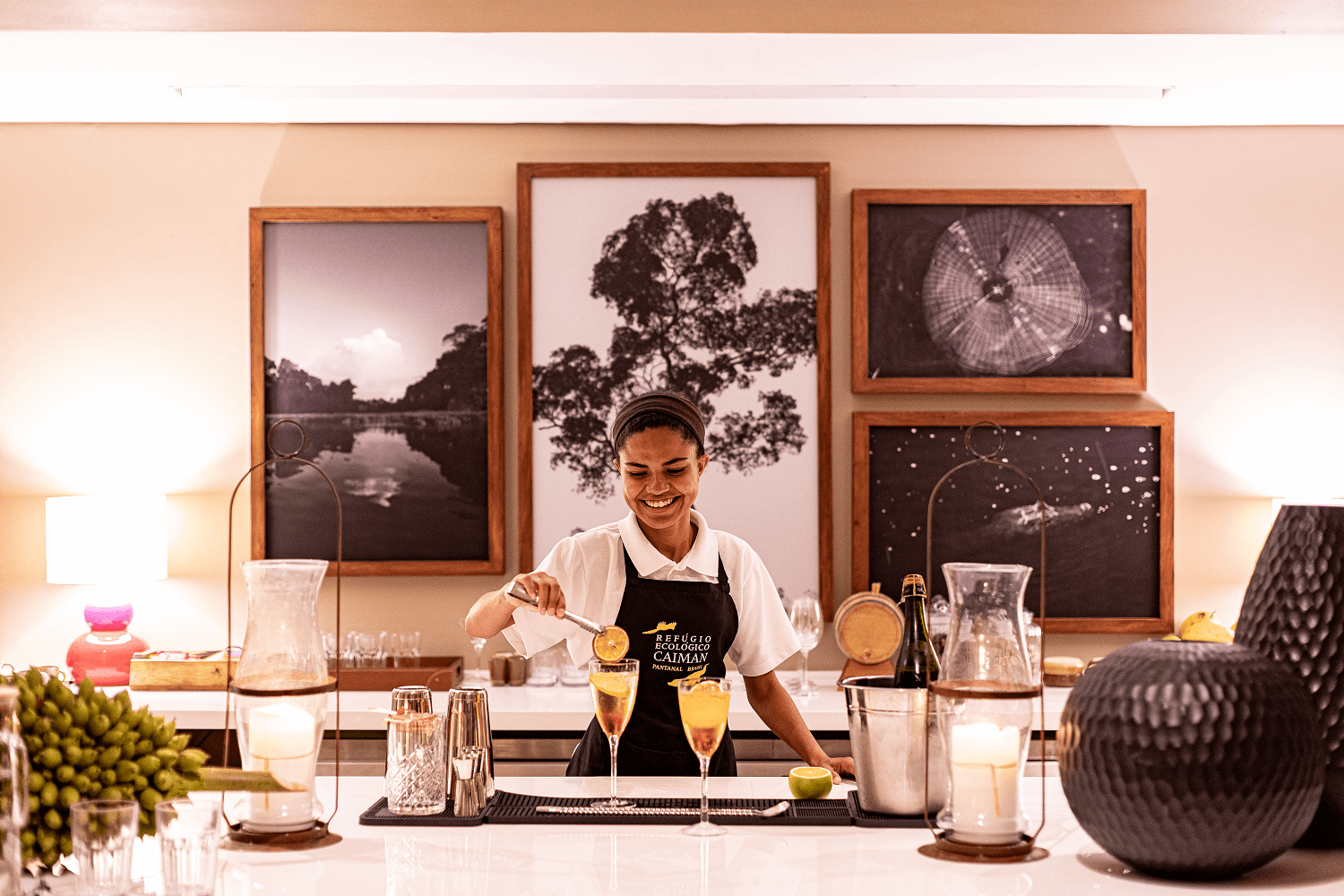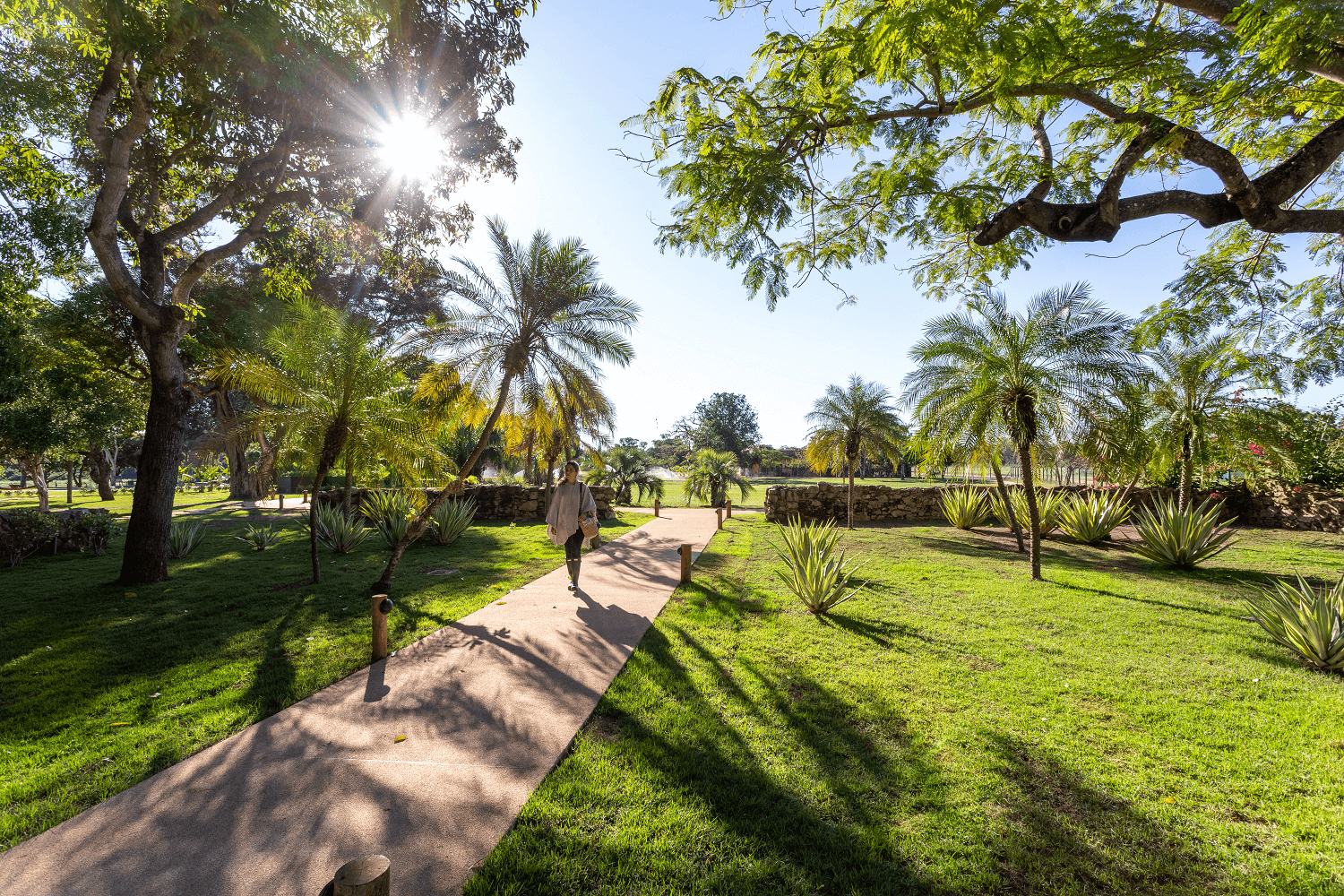 Accommodations
The Caiman Pantanal has 3 lodges that operate independently. Each lodge offers guests the opportunity for close observation of fauna, as well as explorations of native flora and local culture.
Casa Caiman is the main lodge complex, closest to Caiman's main office, and has a minimum age requirement of 8 years.
Baiazinha and Cordilheira operate as private villas for small groups. Services include a host, field guide, bilingual guide, and an exclusive car to use during activities. Children of all ages are welcome.
---
Casa Caiman – Main Lodge
Casa Caiman overlooks the Bay, to be enjoyed from a panoramic deck. Other amenities include a swimming pool, a lounge, fireplace, a hammock area, and a restaurant.
Accommodations
It has 18 guestrooms in three different categories: Suite, Suite Superior, and Suite Master. All guest rooms can be furnished with either a king-size bed or two single beds.
Suites
Suites at Casa Caiman measure approximately 480 square feet and feature an outdoor terrace. The decor is inspired by the Panatanal fauna.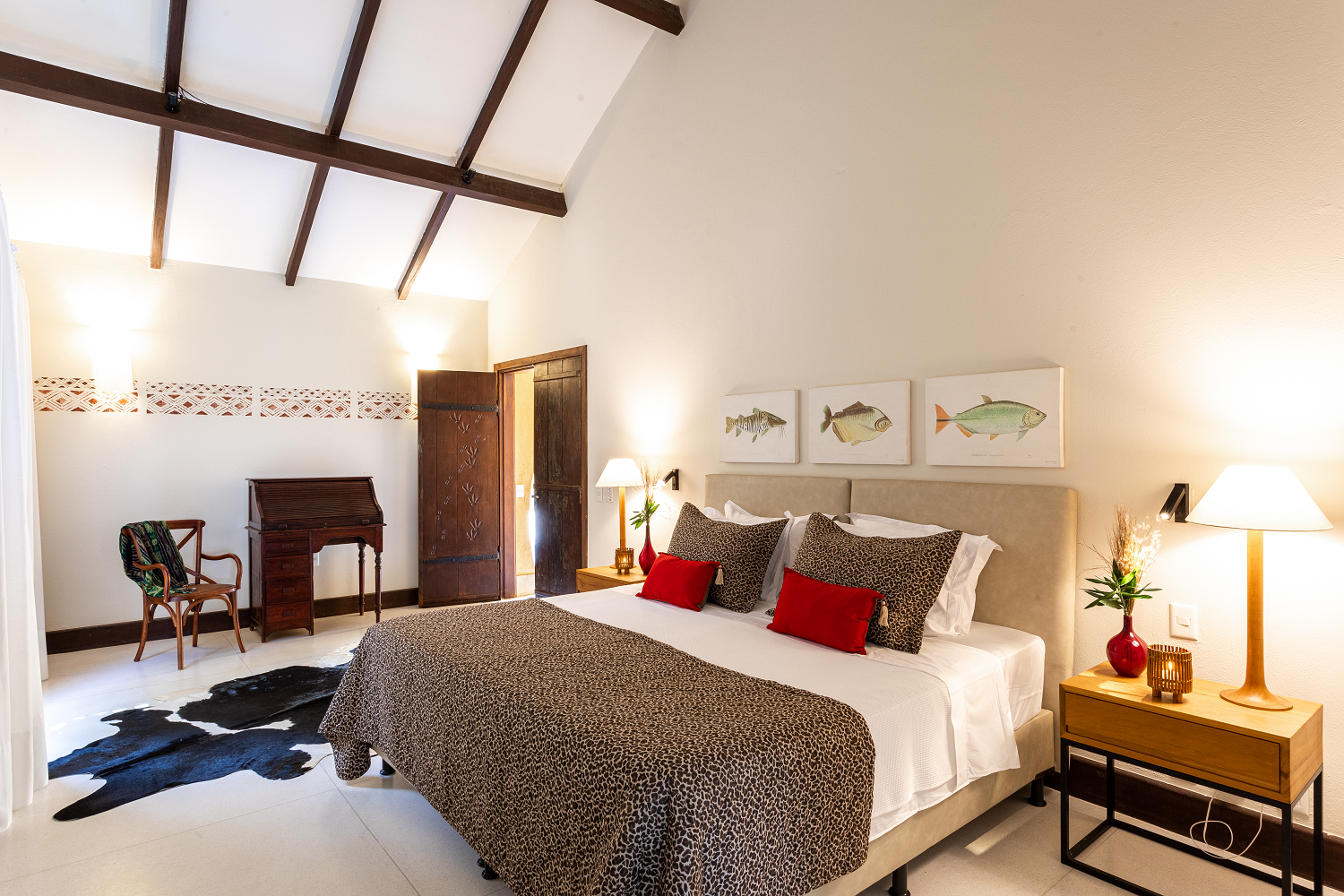 Superior Suites
Superior Suites measure approximately 560 square feet and features a veranda. An extra bed for a child aged 8-12 can be added to this room.
In-room amenities include a coffee machine and a minibar.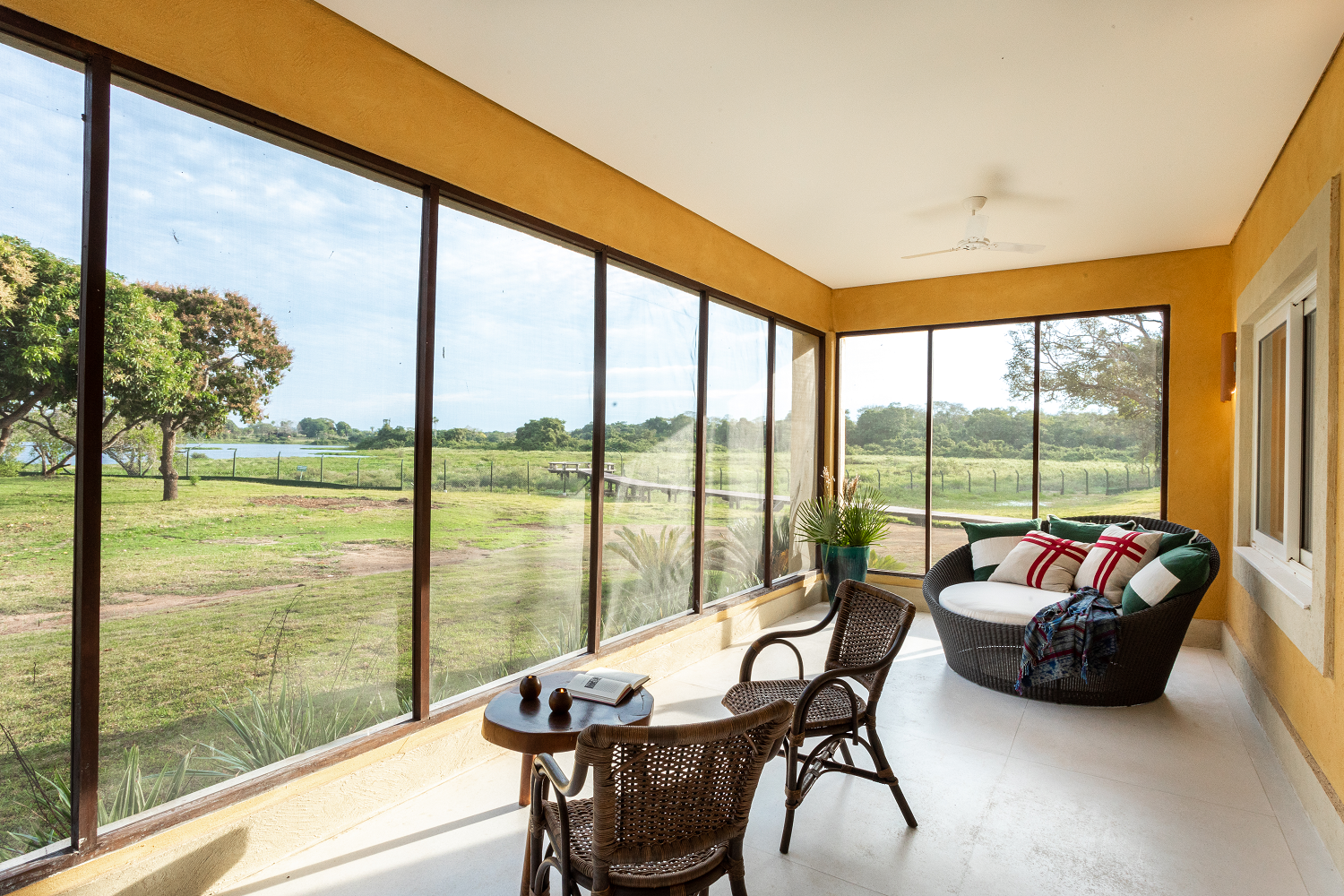 Master Suites
The Master Suite at Casa Caiman measures approximately 560 square feet. This suites feature a master bedroom, a living room with a terrace overlooking the bay, a coffee machine, a minibar, TV, and a second bathroom.
---
Baiazinha Lodge – Private Villa
The Baiazinha Lodge is located on the banks of a clear-water lake and can accommodate up to 12 guests in 6 bedrooms.
Amenities include a private balcony, fan, air conditioning, living room, television, dining room, swimming pool, and Wi-Fi.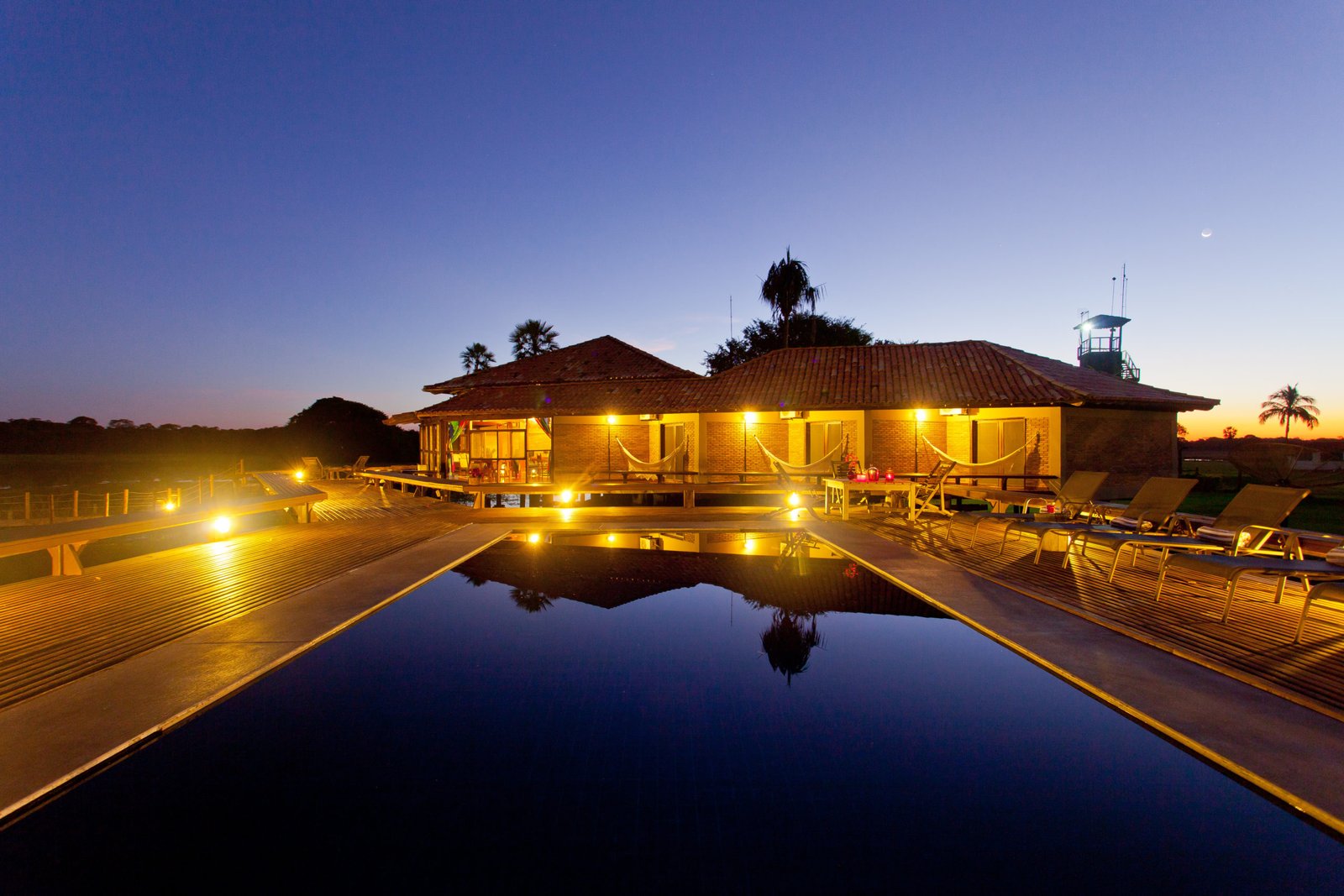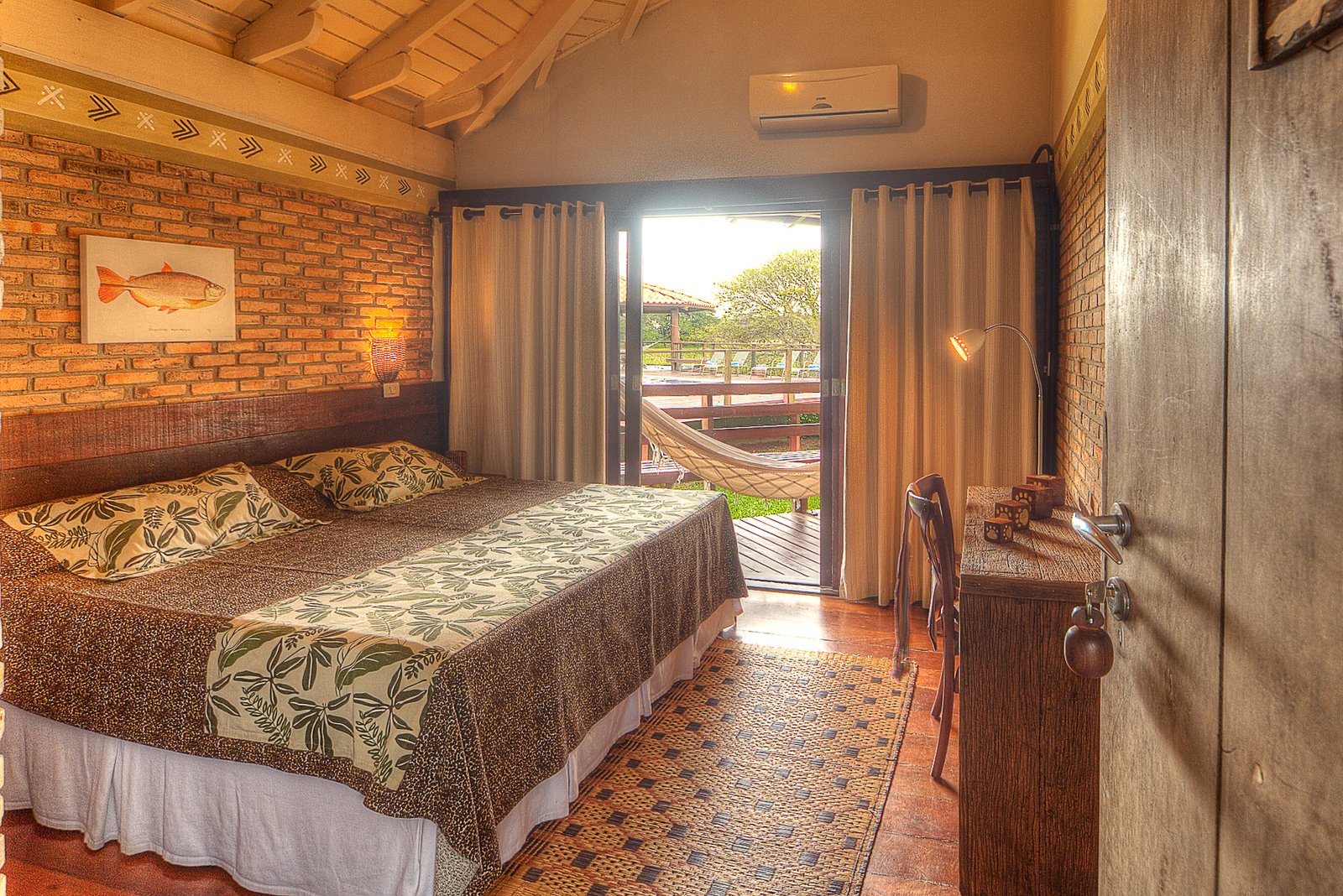 ---
Cordilheira Lodge – Private Villa
The Cordilheira Lodge is located at the edge of a Cordilheira forest and can accommodate up to 10 guests in 5 bedrooms. This lodge features a contemporary style. Guest rooms are furnished with cotton sheets and towels, feather pillows, and heated showers.
Amenities include a private balcony, fan, air conditioning, living room with television, dining room, swimming pool, and Wi-Fi.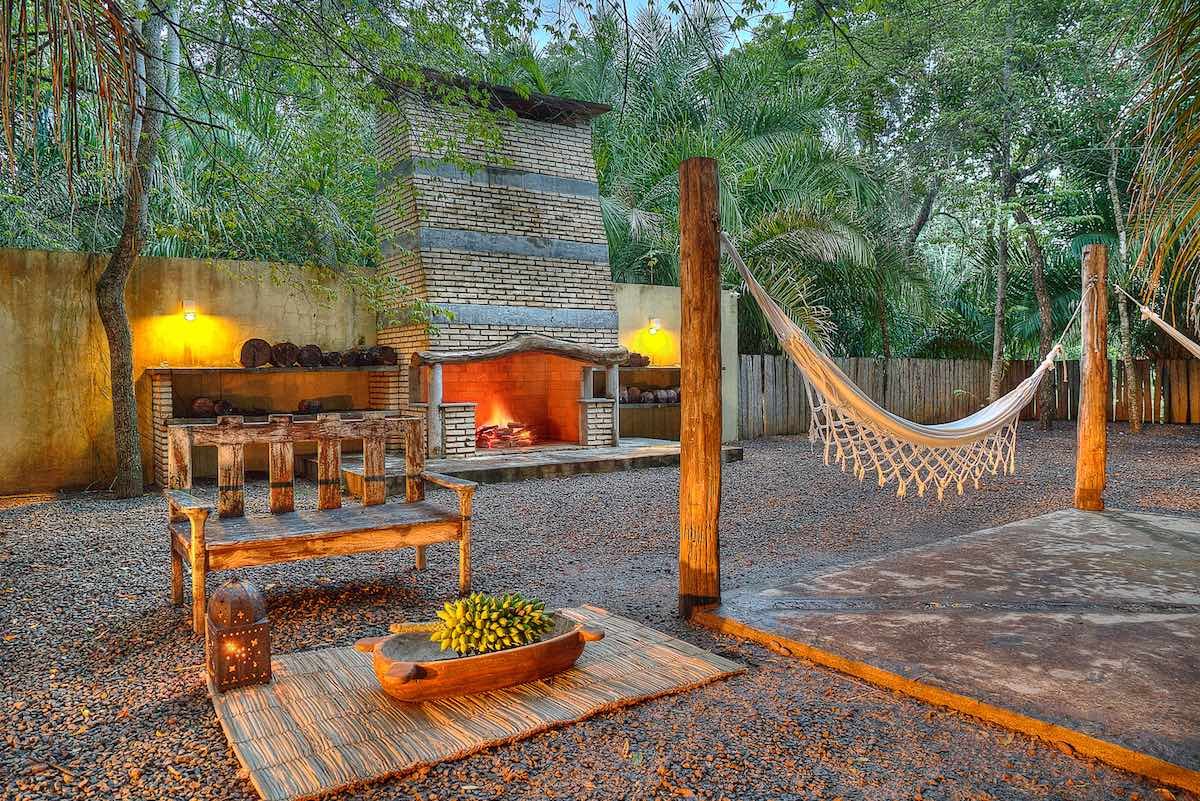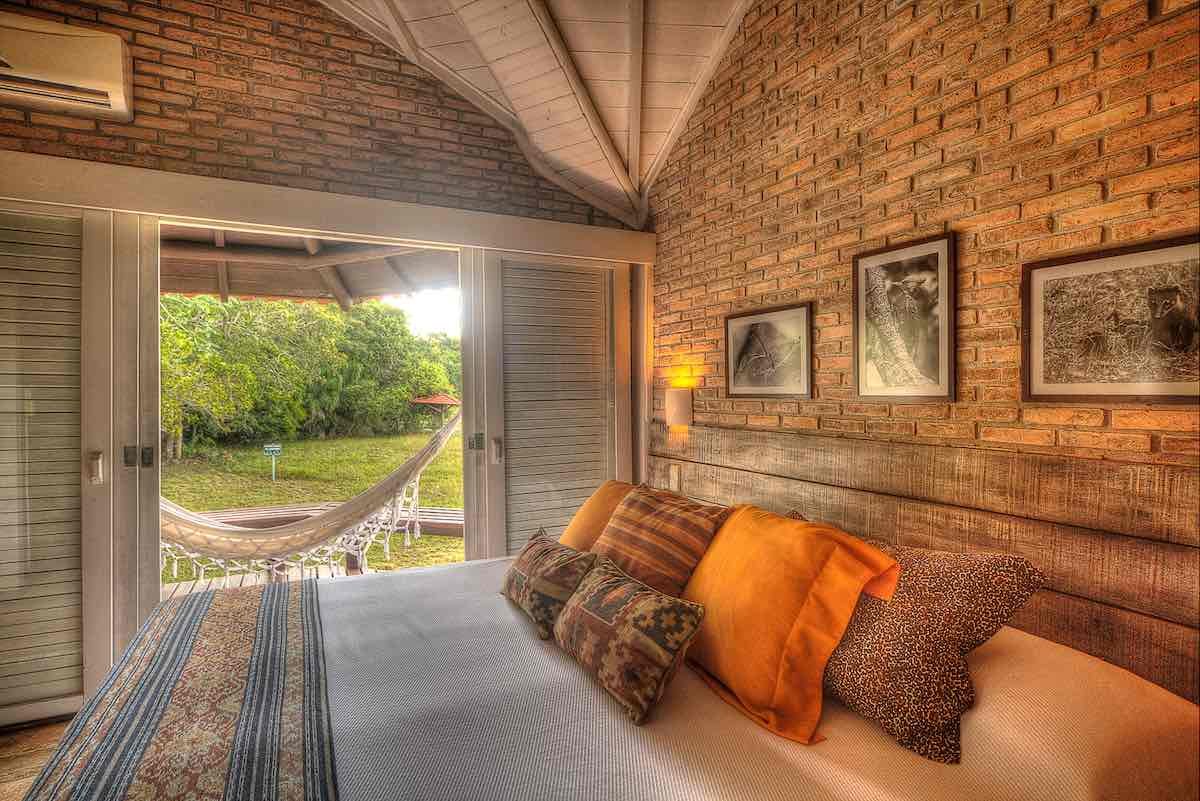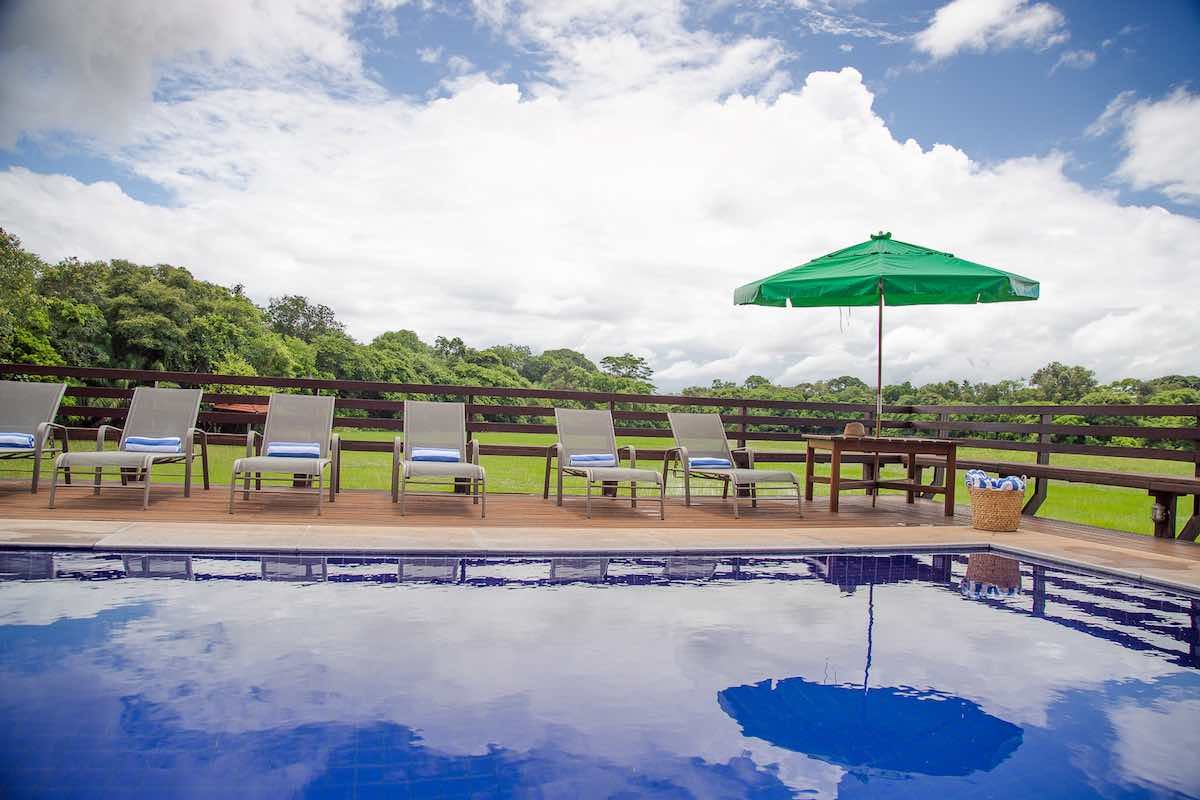 ---
Activities at Caiman Lodge
Activities at Caiman Pantanal are usually all-day excursions and range from walking tours to jaguar safaris and canoe trips.
Other highlights include biking, birdwatching tours, and Jeep Safaris.
Guests can also participate in some of Caiman's conservation projects like the Hyacinth Macaw Project where they can spend a day with experienced biologists monitoring macaws, chicks, and eggs.
Tours are led by Caimaners, guides specialized in Pantanal's fauna and flora. Besides Caimaners, activities are also lead by field guides.
Caiman provides touring on a group basis of up to eight guests per group.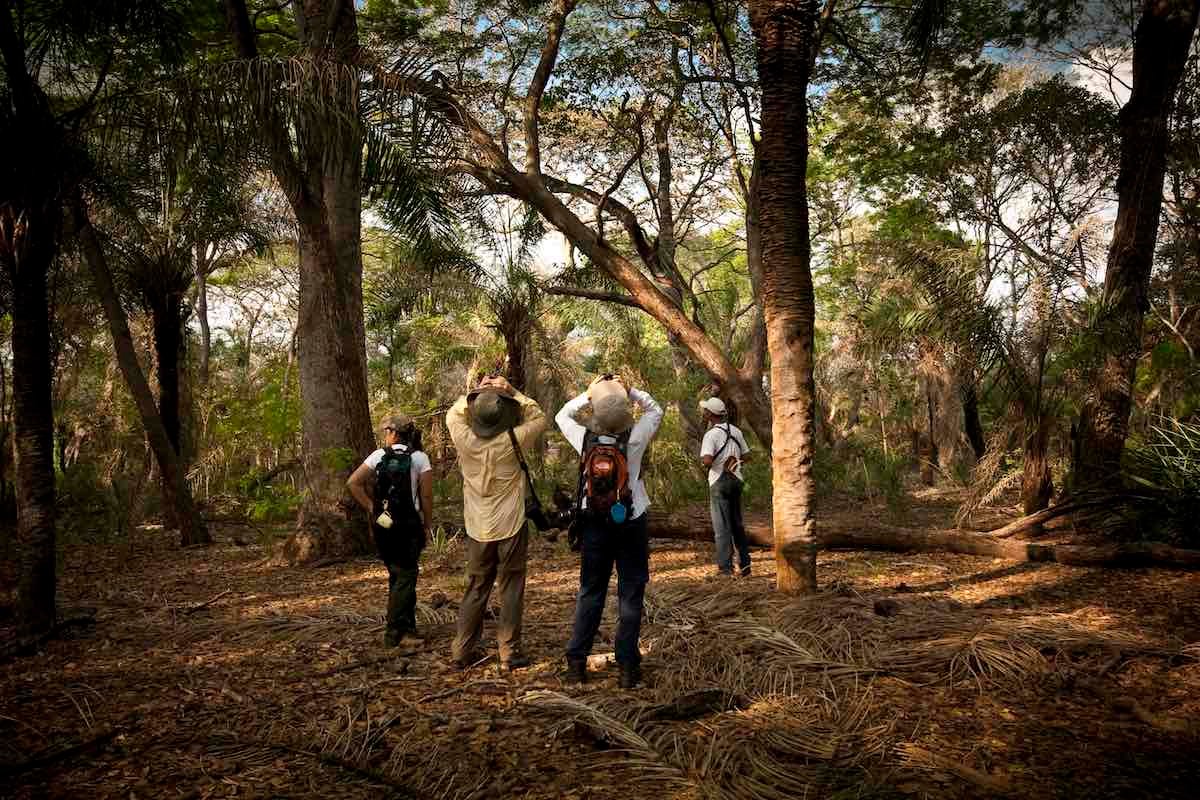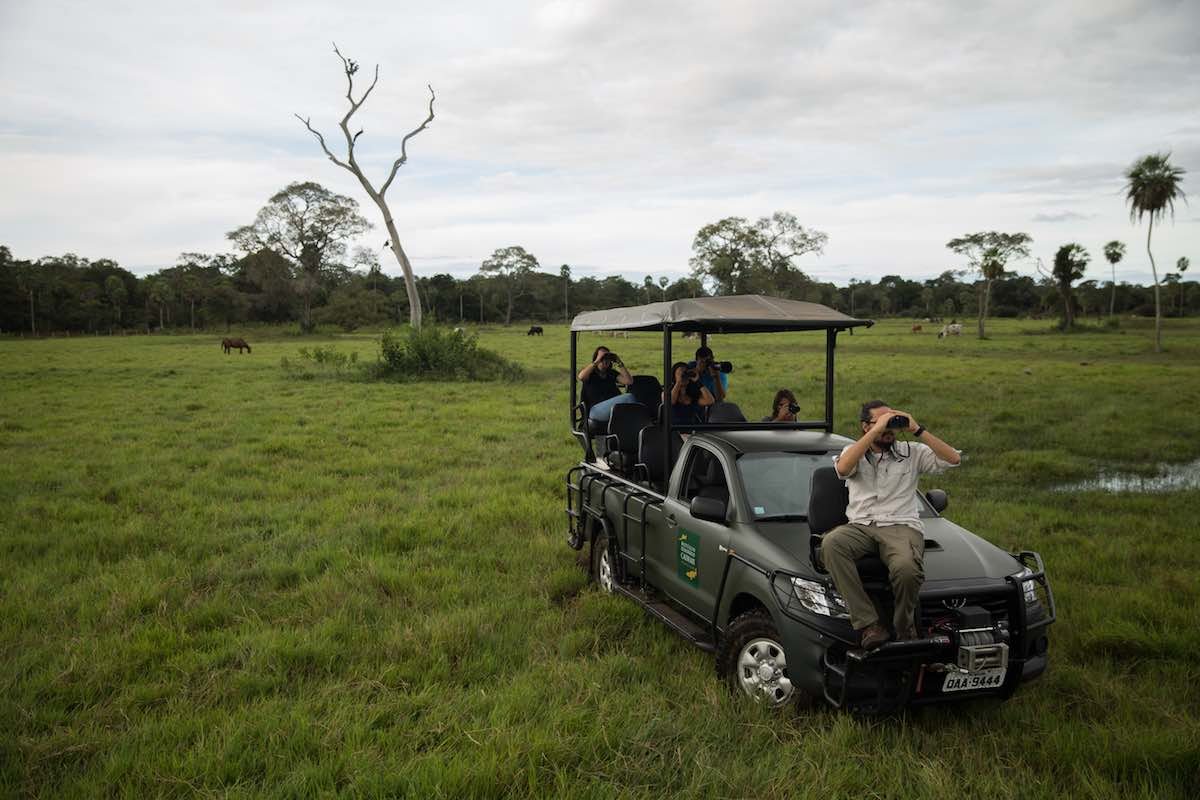 When to visit?
The Pantanal is a flat plan, naturally open and without big mountains to block cold fronts. Because of that, the temperature may vary a lot in a short period. Temperatures range from 77°F to 104°F during the summer and from 64°F to 86°F during the winter. However, the occasional cold front can bring temperatures as low as 46ºF.
The scenery of the Pantanal changes with every new season, but it remains always exuberant. The average annual precipitation is 1500mm, the majority of which falls between the months of November and March. Mosquitoes can be an issue, especially during the wet season (January till March). Guests are recommended to wear bug spray and light-covered clothing. Bug spray can be purchased at the lodge.
During the wet season, which extends from January to March, parts of the Pantanal are flooded, the fauna and flora reinvigorate, and Pantanal reveals one of its most lively seasons. The main characteristics of this season are the water landscapes, and many water birds. The water plants are in bloom with different shapes and colors throughout the lakes and rivers, and butterflies and other interesting insects abound.  The wet season is also known as the best time to enjoy the best sunset of the year.
In April, the rains stop, and the water level begin to recede, giving rise to lagoons and water puddles. Here, thousands of fish are trapped, providing a food banquet for the water birds which concentrate in these regions. The temperature becomes milder and the night skies are filled with stars. The mammals, which dispersed in the wet season, start to come back, and show themselves.
July to October is known as the dry season and the best time to observe wildlife. The lack of rain diminishes the lagoons, revealing the flat grounds and aiding transportation by land. The fields begin to dry, providing vast grazing areas where mammals search for food and water in the remaining water puddles. From August on, the Tabebuia trees blossom – locally known as Piuvas (with pink flowers) and Paratudos (yellow flowers). This is the breeding season for birds – their plumage is at their best condition and their calls can be heard throughout the Pantanal. This is also the best season to observe Giant Anteaters, Crab-eating Racoons and South American Coatis.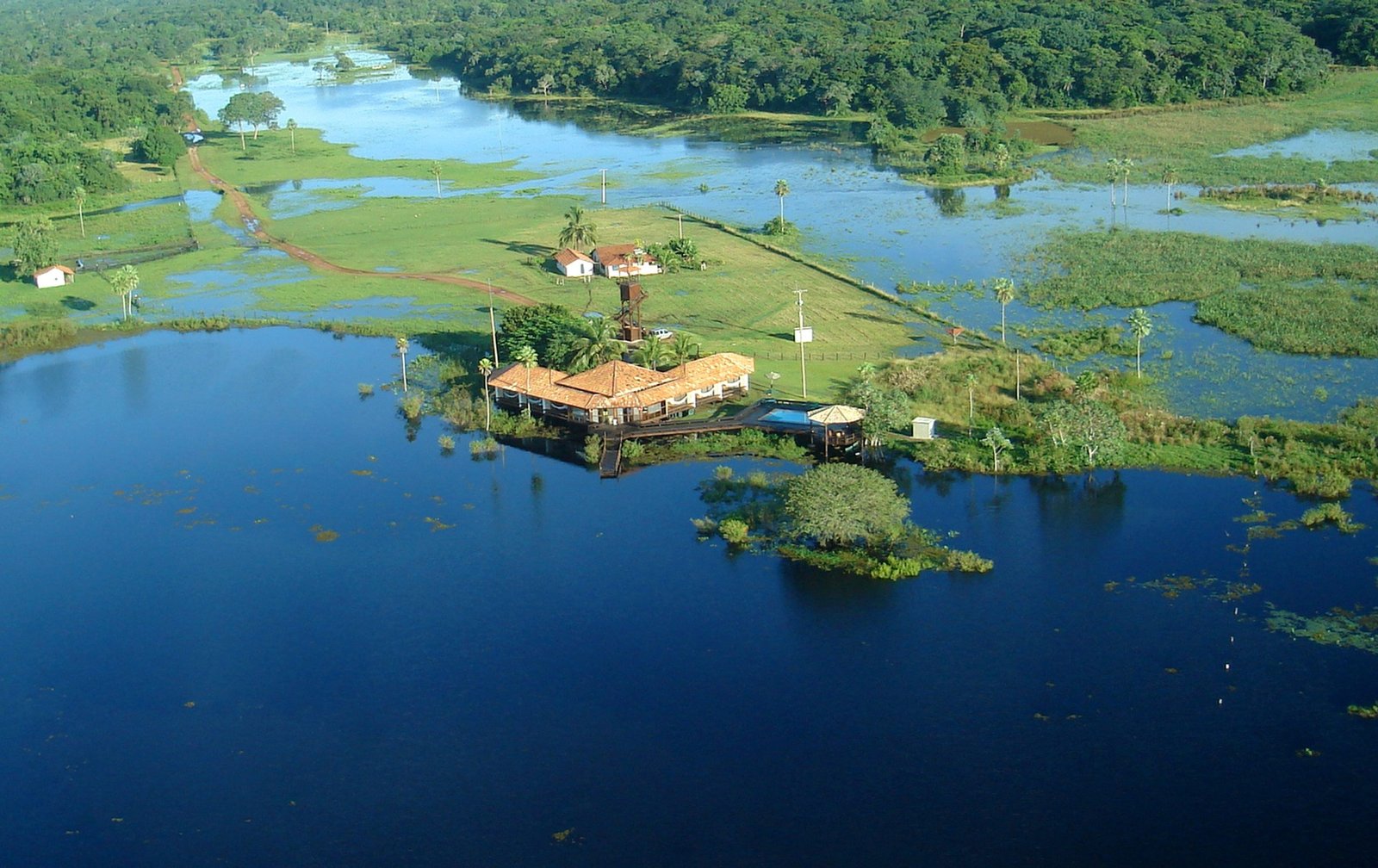 ARE YOU CONSIDERING A STAY AT CAIMAN PANTANAL? LANDED PROVIDES PERSONALIZED, CUSTOM TRAVEL WITHIN CENTRAL AMERICA, SOUTH AMERICA, AND THE ANTARCTIC. WE'LL CREATE A UNIQUE ITINERARY PLAN TAILORED TO YOUR INTERESTS AND DREAMS. EXPERIENCE THE TRIP OF A LIFETIME. SPEAK WITH ONE OF OUR EXPERT TRAVEL PLANNERS TODAY AT 801.582.2100.