PERSONALIZED TRAVEL IN AREQUIPA
Arequipa is Peru's second most populous city, in addition to being one of its most scenic.
Arequipa is surrounded by high deserts, deep canyons and volcanic peaks. El Mistí, a snow-capped stratovolcano, towers 19,101 feet above the city.
Arequipa's colonial center—housing the Plaza de Armas, Cathedral of Arequipa, and Church of La Compania—was named a UNESCO World Heritage Site in 2000.
The historic buildings in this sector are constructed of sillar, a white volcanic stone. These structures gleam in the sunshine, earning Arequipa its nickname: "The White City".
Santa Catalina de Siena
The Santa Catalina de Siena Convent is the city's most impressive colonial structure.
Founded in 1579, this working convent was first opened to the public in 1970.
Highlights include an art gallery, the Orange Tree Cloister, and chapel.
Colca Canyon
Arequipa is the base for visits to the Colca Canyon, located approximately 100 miles northwest of the city.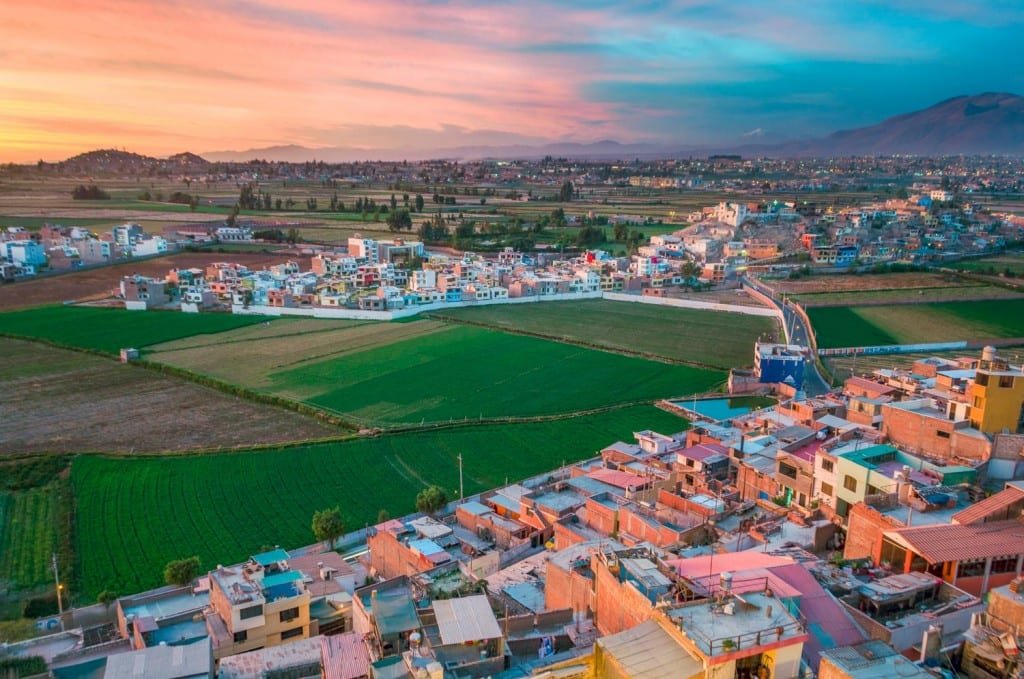 More than twice as deep as the Grand Canyon, visitors to Colca can tour indigenous villages, visit Inca ruins, and watch Andean condors ride the thermal currents near the canyon's edge.
Getting to Arequipa
Arequipa can be reached by air from most of the country's major airports, and by land or rail from Puno in the Lake Titicaca region (a drive of approximately four hours).
Due to it's altitude (roughly 7,800 feet above sea level) Arequipa has a cool climate.
Sunny skies are typical year-round.
When you travel to Arequipa with LANDED, our team of travel experts and network of local contacts are at your service. We'll handle the details, freeing you to savor the moments. Call us today at 801.582.2100.         Dream big. We've got you.
"One's destination is never a place but rather a new way of looking at things."
Henry Miller
PERFECT

Could not have been more pleased.  This was the trip of a lifetime for our family.  Thank you!
GO WITH LANDED

If you're planning to travel, go with LANDED. You won't be disappointed.
AMAZING ADVENTURE

The whole rhythm of the trip was perfect, and leaving one place for the next worked perfectly. This trip definitely made me want to experience other great spots in South America.
TRIP OF A LIFETIME

The locations were amazing. Your on-the-ground team was fantastic–knowledgeable and accommodating. Beautifully organized.
ABSOLUTELY AMAZING

The best guide I've ever had anywhere in the world. Top notch talent.
GREAT SERVICE

You were a great help in planning–ensuring that I was staying at the right places and enjoying the type of activities we love–and the follow up was incredible.
YOU GOT TO KNOW US

Exactly the bonding and sharing experience we'd hoped for. The rhythm, variety, and tone was spot on. With effective listening skills, you built a good picture of what we wanted–more complicated than "just" luxury. The result was a great trip, one made just for us.
BEST EVER

Excellent attention to detail. You listened carefully, asked the right questions, and customized with just the right balance. Superb guides. We felt relaxed and pampered all the way. You'll plan our next trip.
FANTASTIC EXPERIENCE

Not a single thing on the itinerary that we would change.  The guides were knowledgeable, friendly, and prompt.  The hotels were beautiful, the food delicious and the pace of the activities was perfect for us.
DO IT!

In short, our trip was amazing. Thanks so much for your constant assistance and thorough planning.
PERFECT

The planning, service and execution of the trip was flawless – thank you!
EXCELLENT

LANDED was helpful and knowledgeable, making our trip a memorable one.  I will use your services in the future as I continue to explore Central & South America.
A VERY WELL ORGANIZED DREAM

Your patience with my questions and concerns during the planning stage was remarkable.
THANK YOU

You actually got to know us, which made it possible to know just what we like. You promised the best trip ever and you kept your promise.
ENTIRELY AMAZING

Your recommendations were well thought out. We thoroughly enjoyed our honeymoon. Thank you!
THE ULTIMATE GUIDE

LANDED is the ultimate. You helped us make the most out of a week's time.
DIDN'T MISS A THING

We zip-lined, rafted, sailed, and surfed. The contacts were professional and courteous. We don't want to be back at work. Thank you for all of the work you did to set up this trip.