Nuestra Señora de La Paz
The city of Nuestra Señora de La Paz is nestled in the Andes of western Bolivia.
This is high altitude living—the city famously climbs the Rio Choqueyapu Canyon from 9,800 to 13,450 feet above sea level. Its historic core and financial district are located in the lower elevations.
Income declines as slope increases—outward and upward from the level city center. Overlooking it all, Illimani, the guardian mountain of the city, shines under a triple-peaked crown of ice.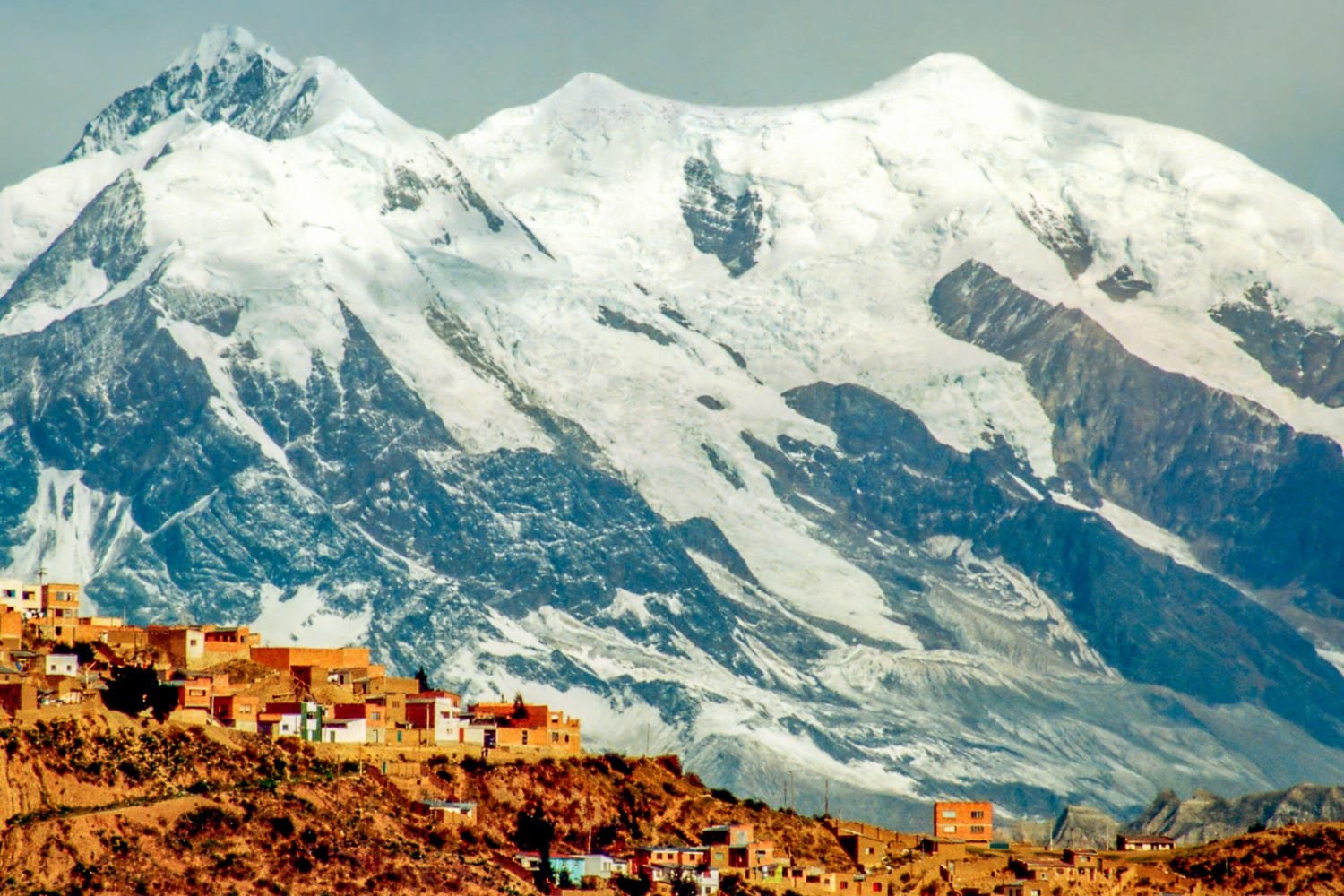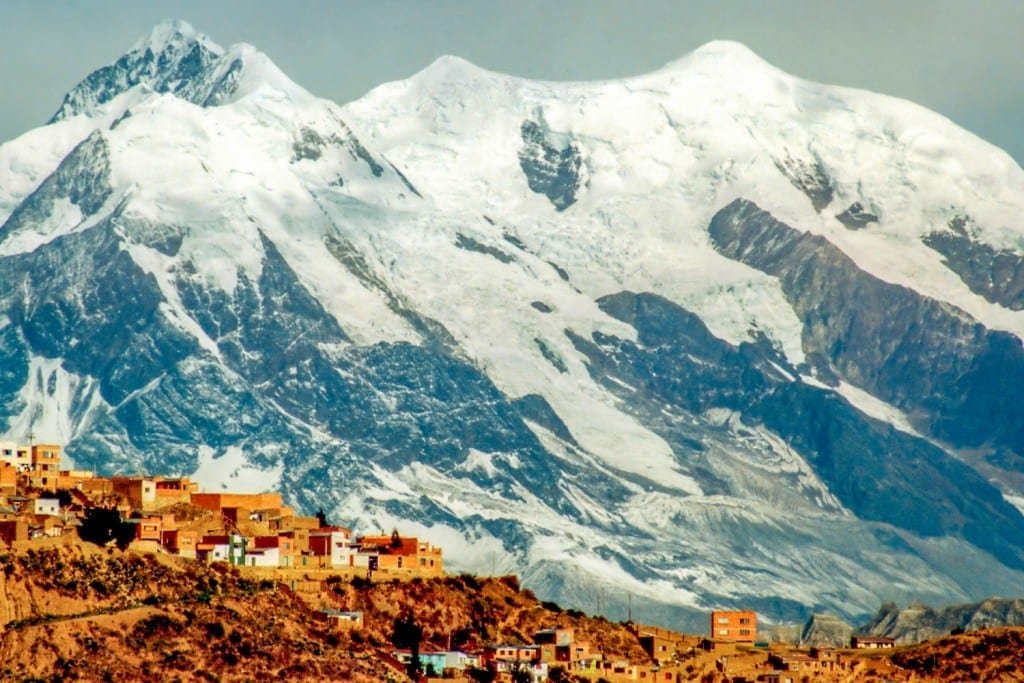 Colonial Roots
La Paz was founded in its current form in 1548, on the site of an Aymara gold mining settlement. Its unusual canyon location insulates the city from the harsh Altiplano winds.
In colonial times, La Paz served as a convenient intermediate point on the journey between Spanish ports in Lima and the world's largest silver mine at Potosi.
Today, La Paz is Bolivia's largest urban area and its de facto capital. (The constitutional capital and judiciary are located in Sucre, 350 miles to the southeast.)
The city center is the site of the Presidential Palace, cathedral, and clusters of small museums. Our favorites include the Museum of Precious Metals and the National Museum of Archeology.
The famous Witch's Market or Hecheria, where folk doctors dispense talismans and traditional remedies, lines Calle Jiménez in a series of jangling, palo santo-scented shops and kiosks.
Valley of the Moon and Valley of Spirits
Outside the city, the Valley of the Moon and Valley of Spirits add to the peculiarity of this landscape.  Farther afield, visitors can day trip to the pre-Inca city of Tiwanaku and historic sites on Lake Titicaca.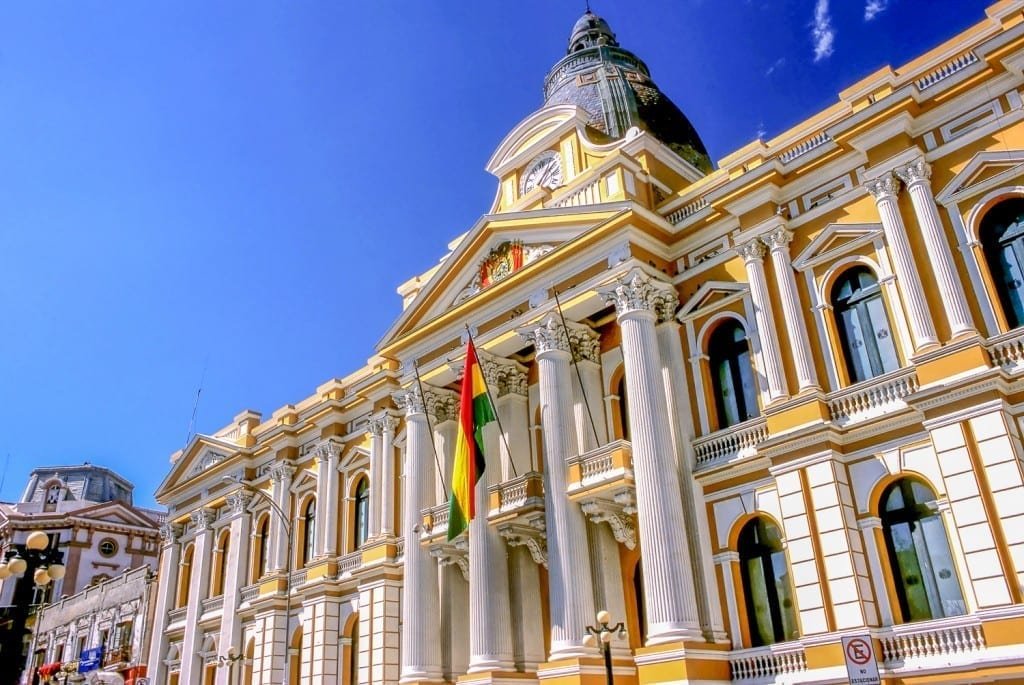 Full-day mountain biking and hiking tours can also be arranged.
Longer extensions are available to Madidi National Park in Bolivia's Amazon Basin. La Paz is also the principal air connection point for flights throughout Bolivia, including the Uyuni Salt Flats.
Visitors to La Paz should allow time to acclimatize—settle in, avoid alcohol, eat moderately, and sleep well.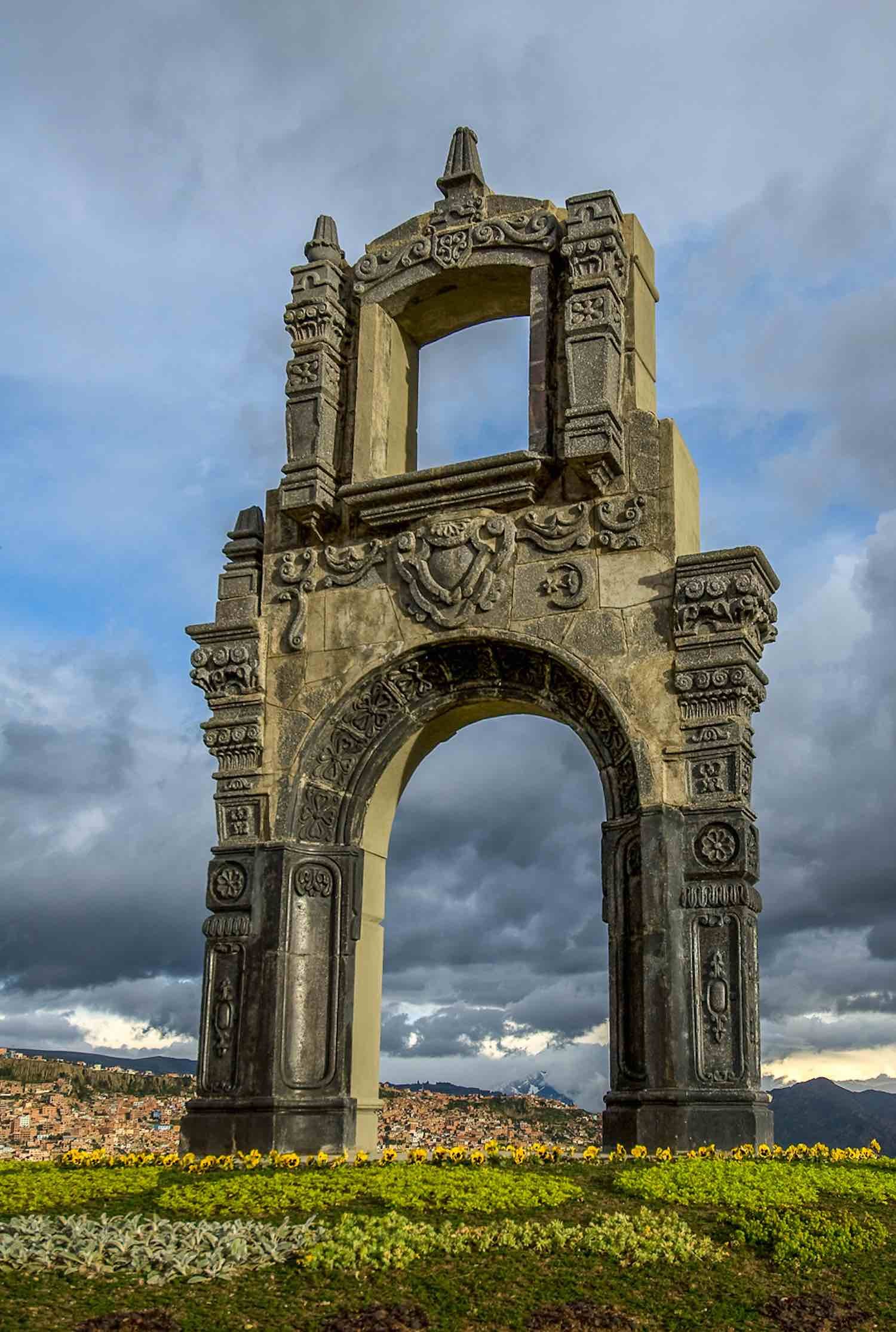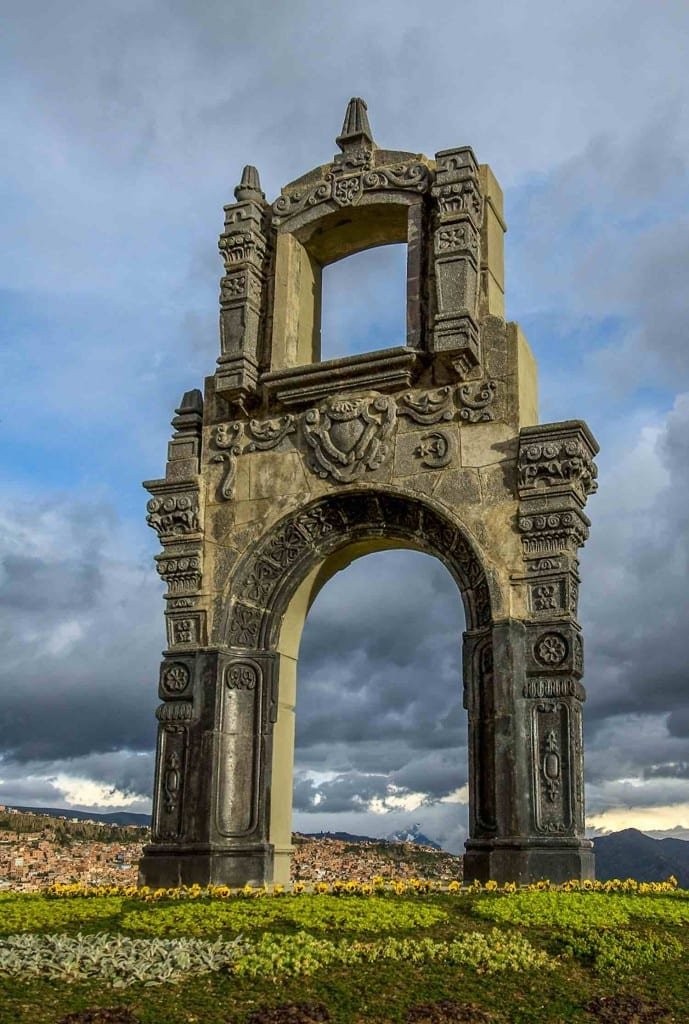 Temperatures are consistent year-round, with highs in the mid-60s and lows nearing 40°F. Expect sunshine, even throughout the rainiest months (December to February).
Monthly precipitation rarely exceeds five inches and usually arrives all at once in afternoon cloudbursts.
La Paz can be reached by daily flights from Lima, Peru (1 hour, 45 minutes). Flights to La Paz's El Alto International Airport (LPB) from the USA usually connect in Lima, simplifying combination Peru – Bolivia vacations.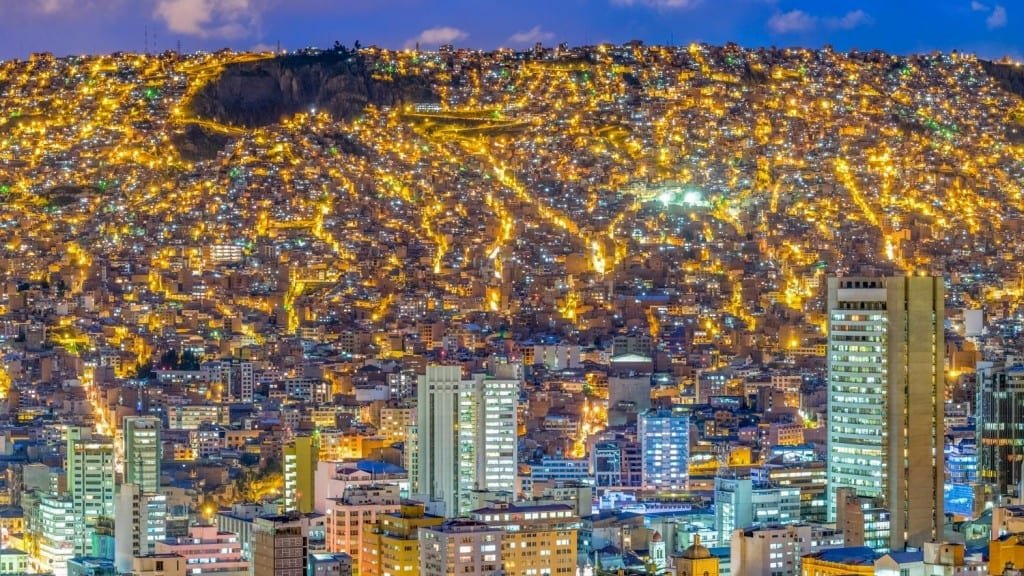 At LANDED, each travel request is personal. After all, you're trusting us with your most precious asset—free time with the people you care about. By getting to know you, we'll create the most memorable, most exceptional trip of your life. Call us today at 801.582.2100. Dream big. We've got you.
"This is a good place to pass one's life. Here the climate is mild, and the view of the mountains inspires one to think of God."
Cieza de León (16th Century)
PERFECT

Could not have been more pleased.  This was the trip of a lifetime for our family.  Thank you!
GO WITH LANDED

If you're planning to travel, go with LANDED. You won't be disappointed.
AMAZING ADVENTURE

The whole rhythm of the trip was perfect, and leaving one place for the next worked perfectly. This trip definitely made me want to experience other great spots in South America.
TRIP OF A LIFETIME

The locations were amazing. Your on-the-ground team was fantastic–knowledgeable and accommodating. Beautifully organized.
ABSOLUTELY AMAZING

The best guide I've ever had anywhere in the world. Top notch talent.
GREAT SERVICE

You were a great help in planning–ensuring that I was staying at the right places and enjoying the type of activities we love–and the follow up was incredible.
YOU GOT TO KNOW US

Exactly the bonding and sharing experience we'd hoped for. The rhythm, variety, and tone was spot on. With effective listening skills, you built a good picture of what we wanted–more complicated than "just" luxury. The result was a great trip, one made just for us.
BEST EVER

Excellent attention to detail. You listened carefully, asked the right questions, and customized with just the right balance. Superb guides. We felt relaxed and pampered all the way. You'll plan our next trip.
FANTASTIC EXPERIENCE

Not a single thing on the itinerary that we would change.  The guides were knowledgeable, friendly, and prompt.  The hotels were beautiful, the food delicious and the pace of the activities was perfect for us.
DO IT!

In short, our trip was amazing. Thanks so much for your constant assistance and thorough planning.
PERFECT

The planning, service and execution of the trip was flawless – thank you!
EXCELLENT

LANDED was helpful and knowledgeable, making our trip a memorable one.  I will use your services in the future as I continue to explore Central & South America.
A VERY WELL ORGANIZED DREAM

Your patience with my questions and concerns during the planning stage was remarkable.
THANK YOU

You actually got to know us, which made it possible to know just what we like. You promised the best trip ever and you kept your promise.
ENTIRELY AMAZING

Your recommendations were well thought out. We thoroughly enjoyed our honeymoon. Thank you!
THE ULTIMATE GUIDE

LANDED is the ultimate. You helped us make the most out of a week's time.
DIDN'T MISS A THING

We zip-lined, rafted, sailed, and surfed. The contacts were professional and courteous. We don't want to be back at work. Thank you for all of the work you did to set up this trip.