Top Hotels in the Galapagos Islands
Are you ready to plan your next vacation to the Galapagos? LANDED has compiled a list of the best hotels on the islands. Although we love small-ship cruises in the Galapagos, land-based itineraries are excellent alternative, or pre / post-cruise addition.
Why stay at a hotel or lodge in the Galapagos Islands?
Staying on land offers the potential for additional flexibility and customization. We usually arrange private guides and touring for these clients. These programs can be custom-tailored to your wishes, combining privately guided wildlife tours with explorations of less visited locations. Additional active adventure options include SCUBA and snorkeling day trips, artisanal fishing or sea kayak excursions, volcano hikes, mountain biking, and visits to ecologically-focused cacao and coffee farms.
Many of our clients wish to extend their time in the Galapagos beyond their cruise dates, arriving before the cruise or staying several nights after completing their cruise itinerary.
For families with very young children, hotels offer a worry-free alternative to multi-day cruises.
Some of our clients are visiting Galapagos with special health or mobility considerations.
Whether you're seeking all the comforts of a full-service hotel or the rustic solitude of safari tent cabins, we'll help you find the perfect fit. LANDED's team of experts knows the Galapagos first hand and by heart.
[toc]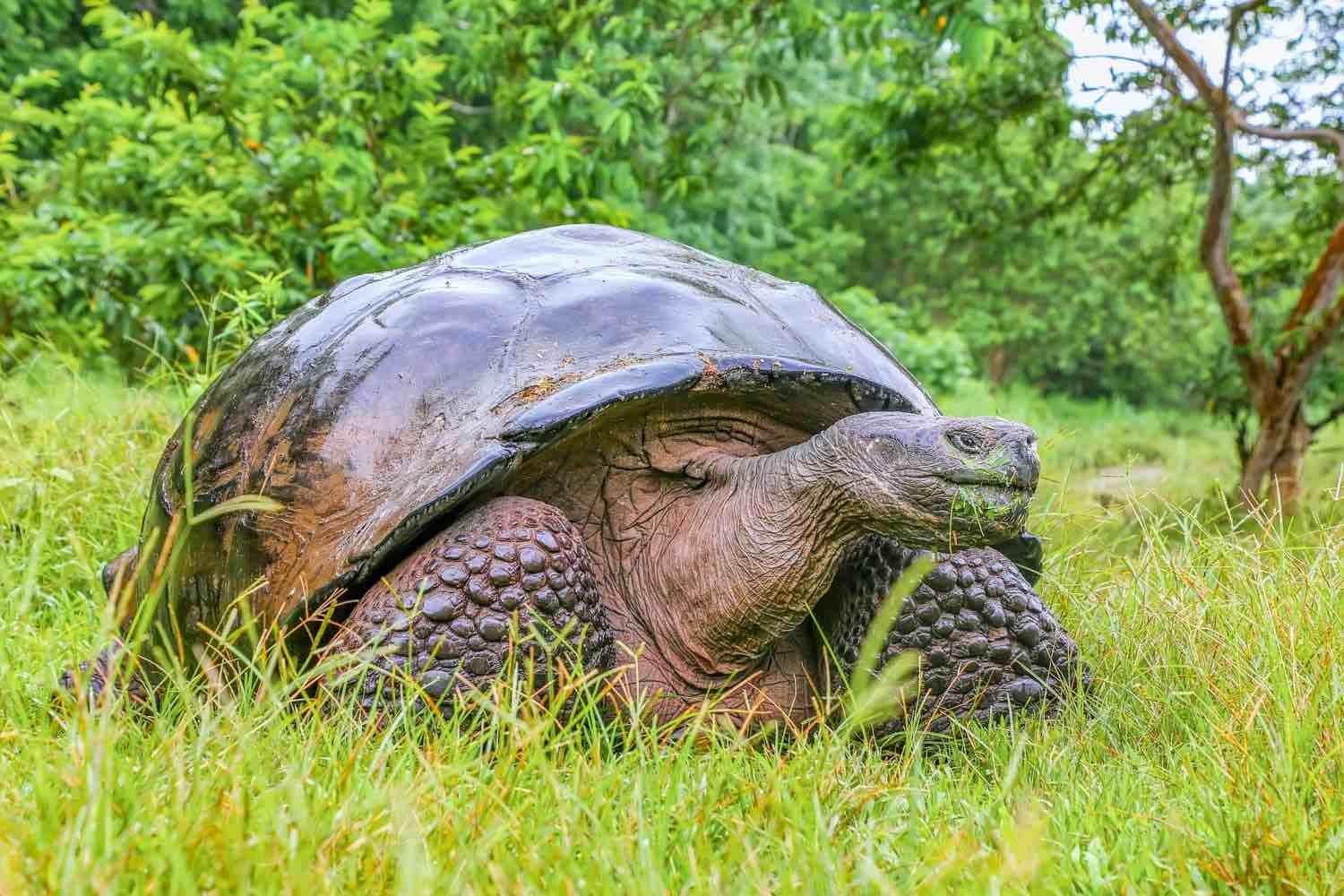 First, a few thoughts about the Galapagos Islands.
The Galapagos Archipelago consists of thirteen main islands, six minor islands, and scores exposed islets and rocks. Many islands are off-limits to visitors. Only four are inhabited: Santa Cruz, San Cristobal, Isabela and Floreana. Each island offers different opportunities for visitors. Most have abundant birdlife. Some are known for their strange volcanic features and plant varieties. Yet another group is famous for reptiles and sea mammals.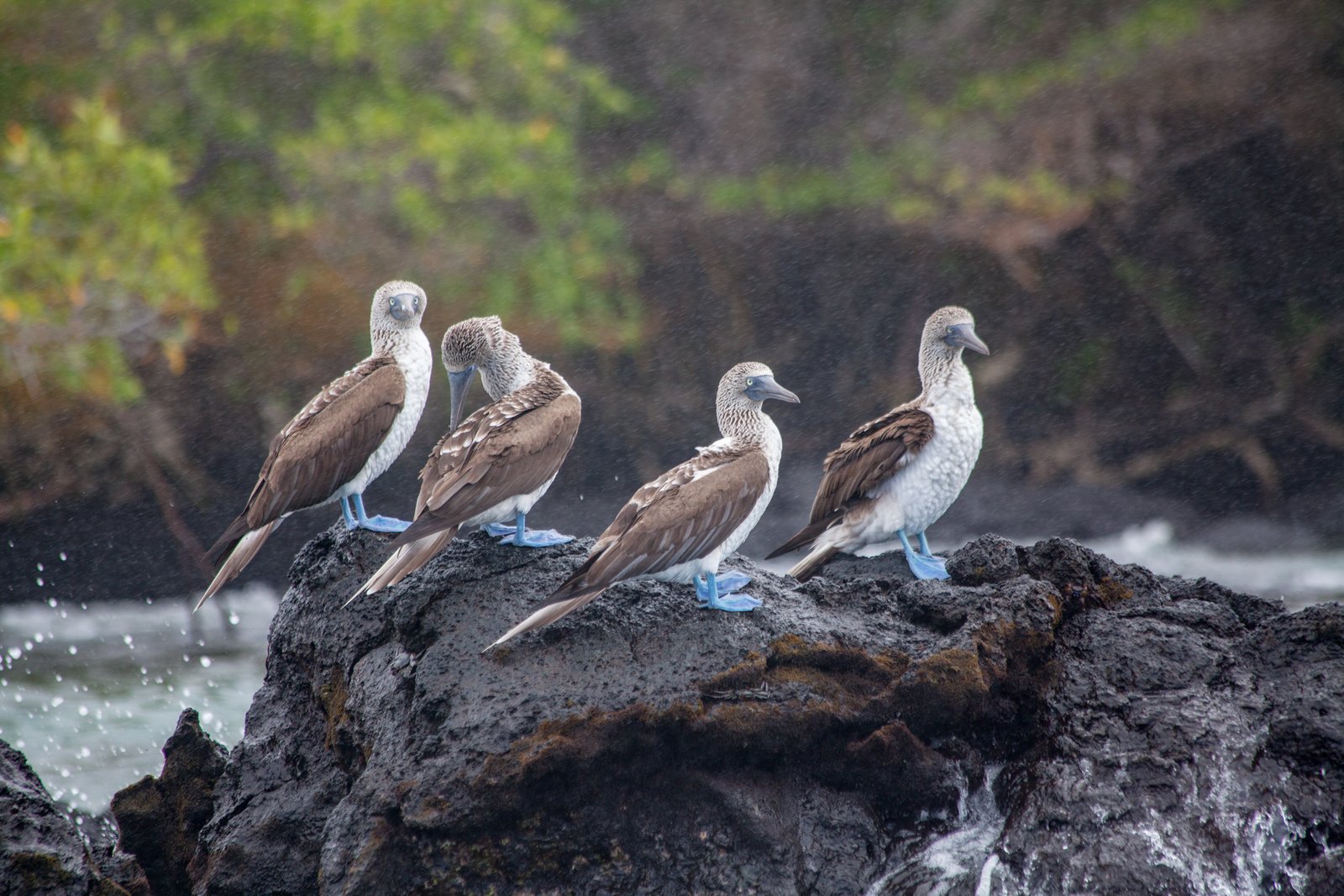 Santa Cruz (Indefatigable) is located near the center of the archipelago, and home to the largest settlement—Puerto Ayora—on Academy Bay (at the southern end). This small town offers a basic grocery store, several dive shops, restaurants, and hotels. The Charles Darwin Research Station can be found just outside of Puerto Ayora. In the island's cool central highlands, you'll find solitude, tortoise reserves, lava tubs, pit craters, and dozens of colorful bird species.
San Cristobal (Chatham) is the easternmost large island in the Galapagos archipelago. It was the first island visited by Charles Darwin, and is the location of an Interpretation Center (found at Puerto Baquerizo Moreno). Visitors can take guided walks in the island's highlands. The shores offer beaches and sea lion colonies.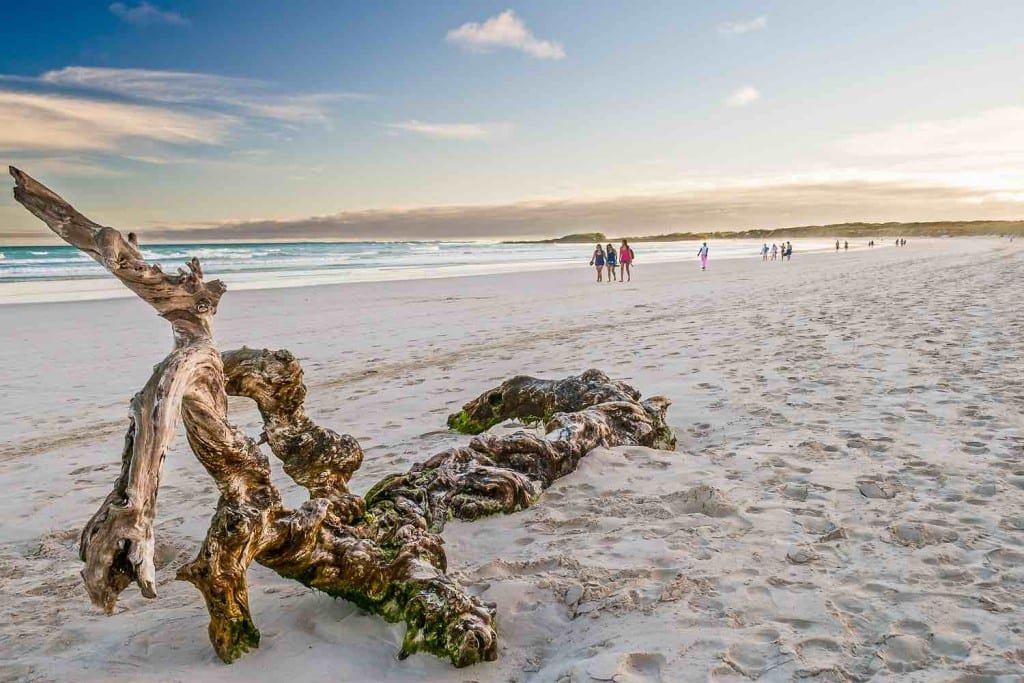 Isabela (Albemarle) is the largest island in the group. At the natural harbor is known as Tagus Cove, whalers and pirates carved inscriptions on the rock faces. Land iguanas and giant tortoises can be seen year-round on Isabela, which is understandably the home of the famed Centro de Crianza de Tortugas Gigantes. From the town of Puerto Villamil on the southeastern shore, Isabela offers beaches, snorkeling, volcano hikes, and wildlife tours. This town also has an airfield; guests can fly to the islands of Baltra (the airport serving Santa Cruz) and San Cristobal.
Floreana (Santa Maria or Charles) is a large island due south of Santa Cruz. Post Office Bay, located on the island's north side, is the site of the do-it-yourself mail barrel set up by 18th-century whalers. Some of our favorite locations are El Mirador, Punta Cormorant, and the white sand beach where sea turtles nest from December to May. Floreana offers excellent snorkeling at Devil's Crown and Champion islets.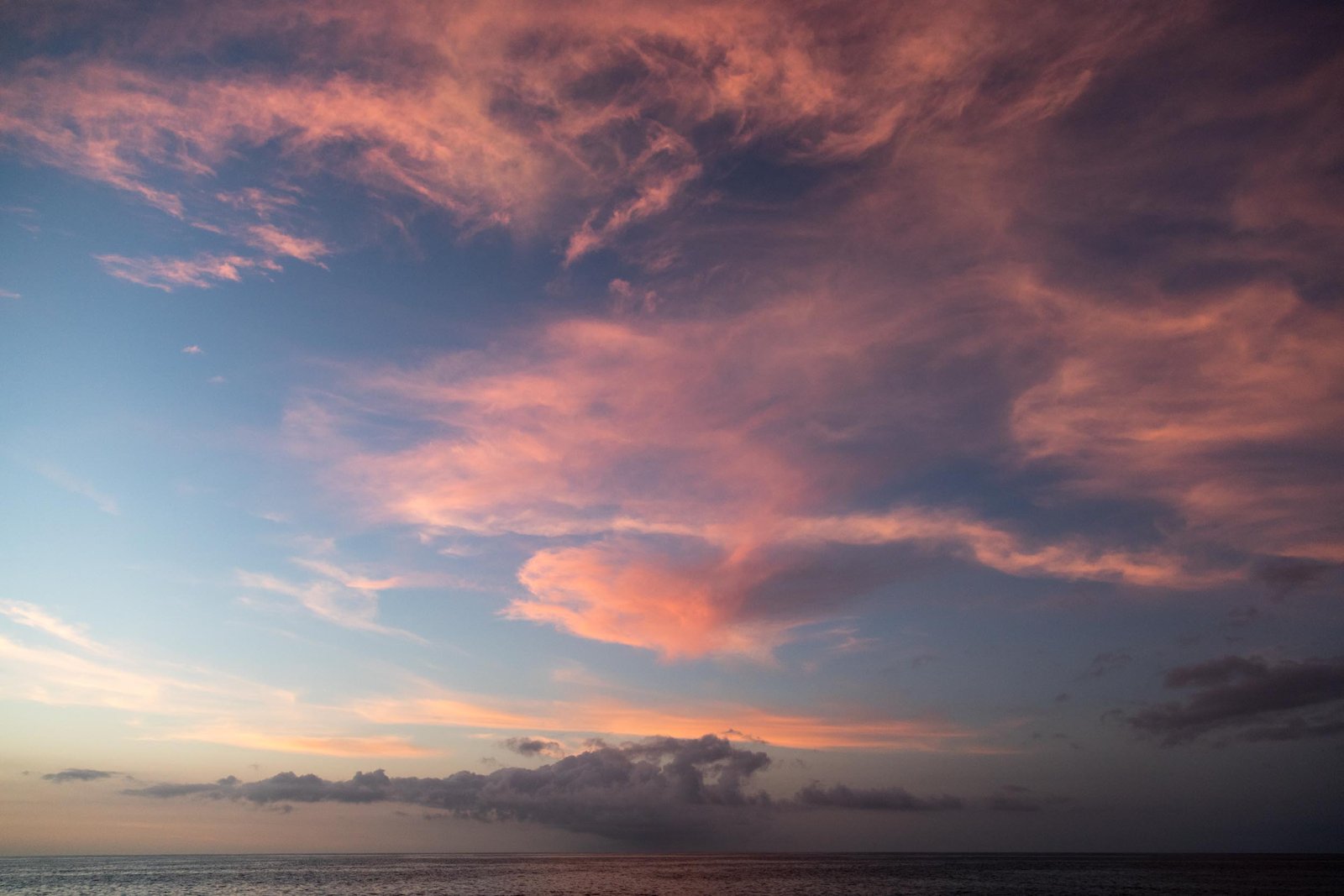 The Best Hotels and Lodges in the Galapagos
Have questions about visiting the Galapagos? Want to know if staying on land in the Galapagos is the best option for you? Our team of expert travel advisors is at your service.
We've been visiting the Galapagos since 2005. Since then, we've planned, arranged, and managed countless trips to the islands for families and groups of all kinds. LANDED offers a larger view; we provide thoughtful, honest guidance on the pros and cons of each hotel and lodge option.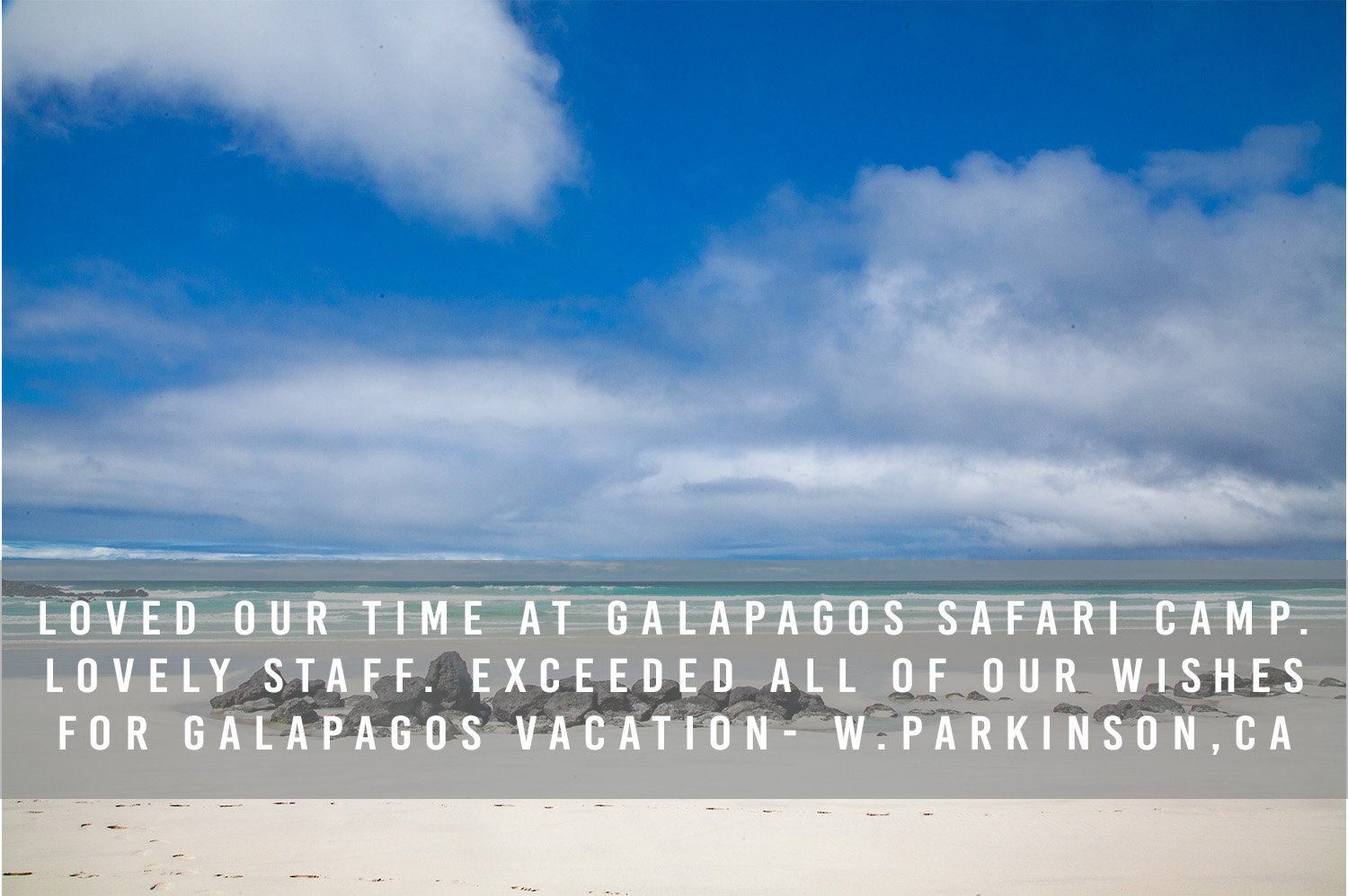 7. Royal Palm (Santa Cruz Island)
The Royal Palm Hotel Galapagos is located in a 482-acre private reserve in the lush Miconia Highlands of Santa Cruz Island, near the center of the Galapagos Archipelago.
Guests at Royal Palm Hotel Galapagos can enjoy the hotel's outdoor pool, gym, restaurant, bar, tennis courts, and game room. Among the other amenities are the restaurant, bar, wine cellar, and spa. Room service is available around the clock.
Nature trails (ideal for hiking and biking) trace through the reserve. One of the longest lava tunnels on Santa Cruz Island is only a few steps from the reception building.
The hotel has only 8 Casitas and 13 Villas. Among the in-room amenities are air-conditioning, heating, a security box, television, bathrobes, and slippers.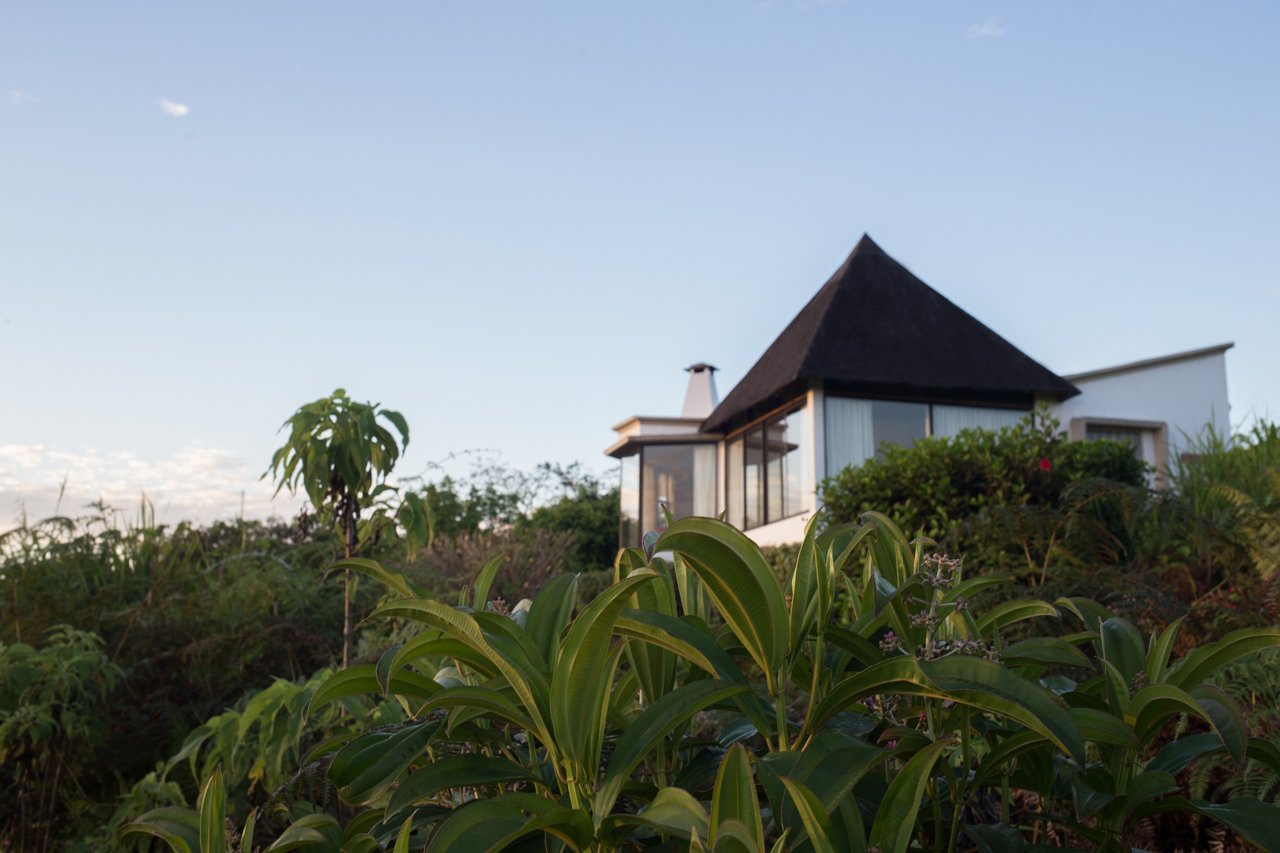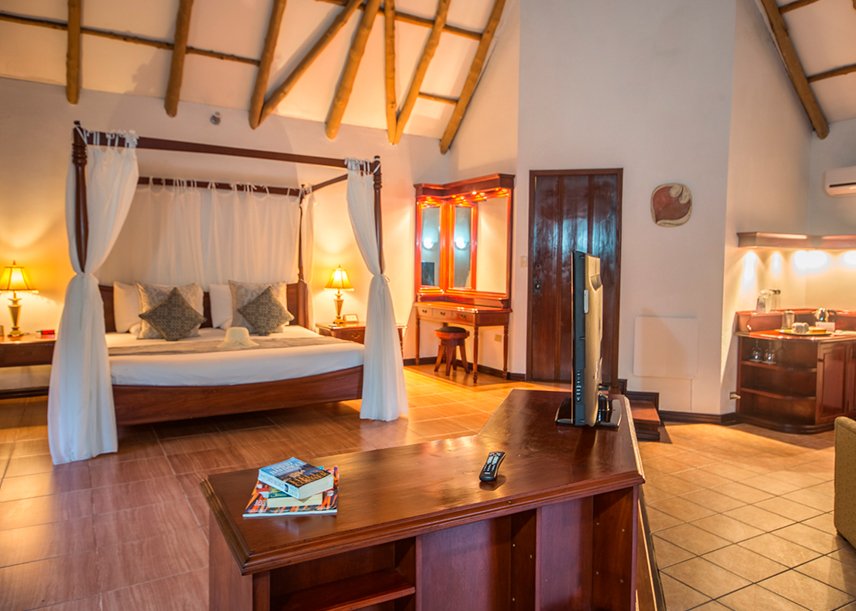 Opened in 2015, Scalesia Galapagos Lodge is located on a 40-acre private reserve in the lush southern highlands of Isabela Island. From this vantage point on the slopes of the Sierra Negra Volcano, guests can view the Pacific, coastline, and nearby islands.
Accommodation is in safari tent cabins with forest views. The 16 cabins measure 570 square feet each, including a private bathroom and 248 square-foot covered decks.
The main lodge includes a restaurant, lounge, and viewpoint. Wi-Fi is available in the main lodge.
Guests at Scalesia Lodge on Isabela Island have a wide range of activities available to them, including snorkeling, kayaking, trekking, fishing, and bird-watching, with the option of private tours.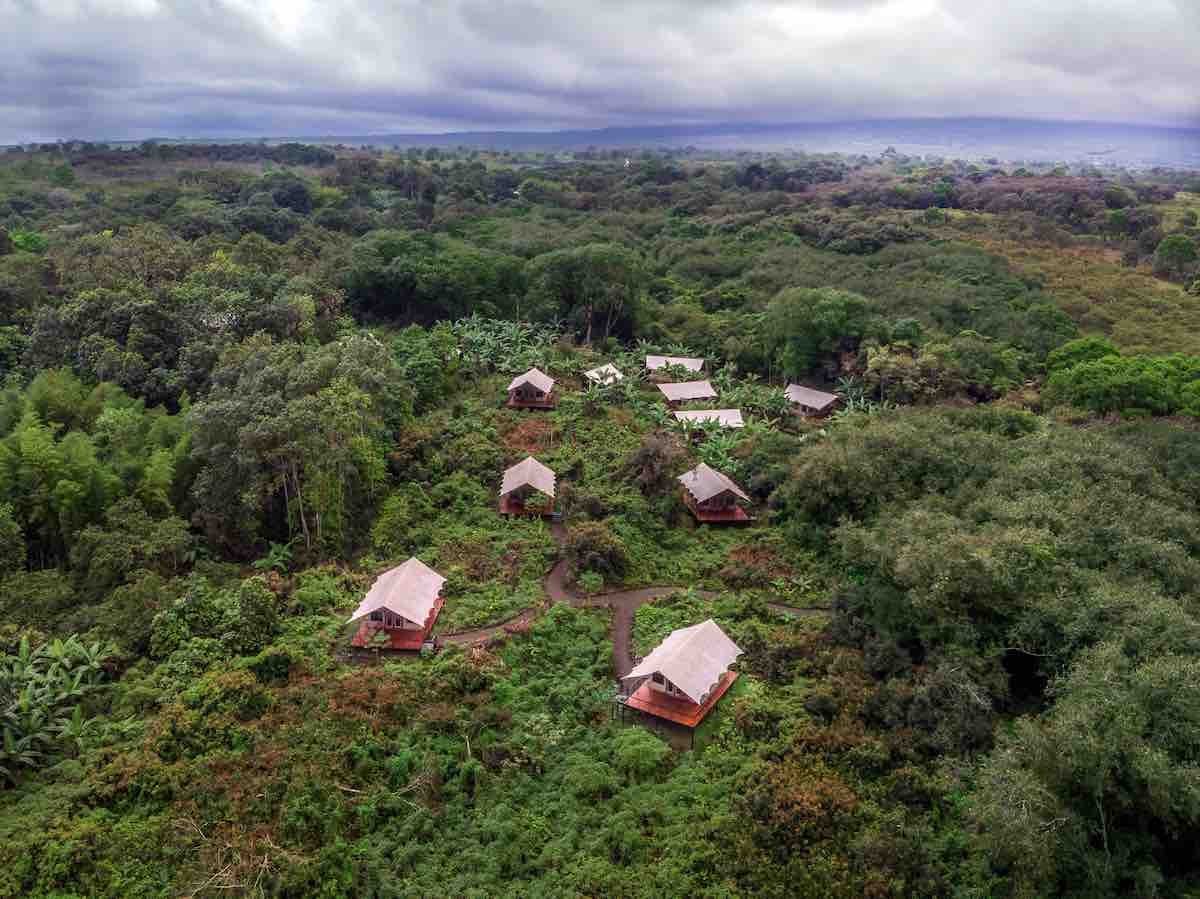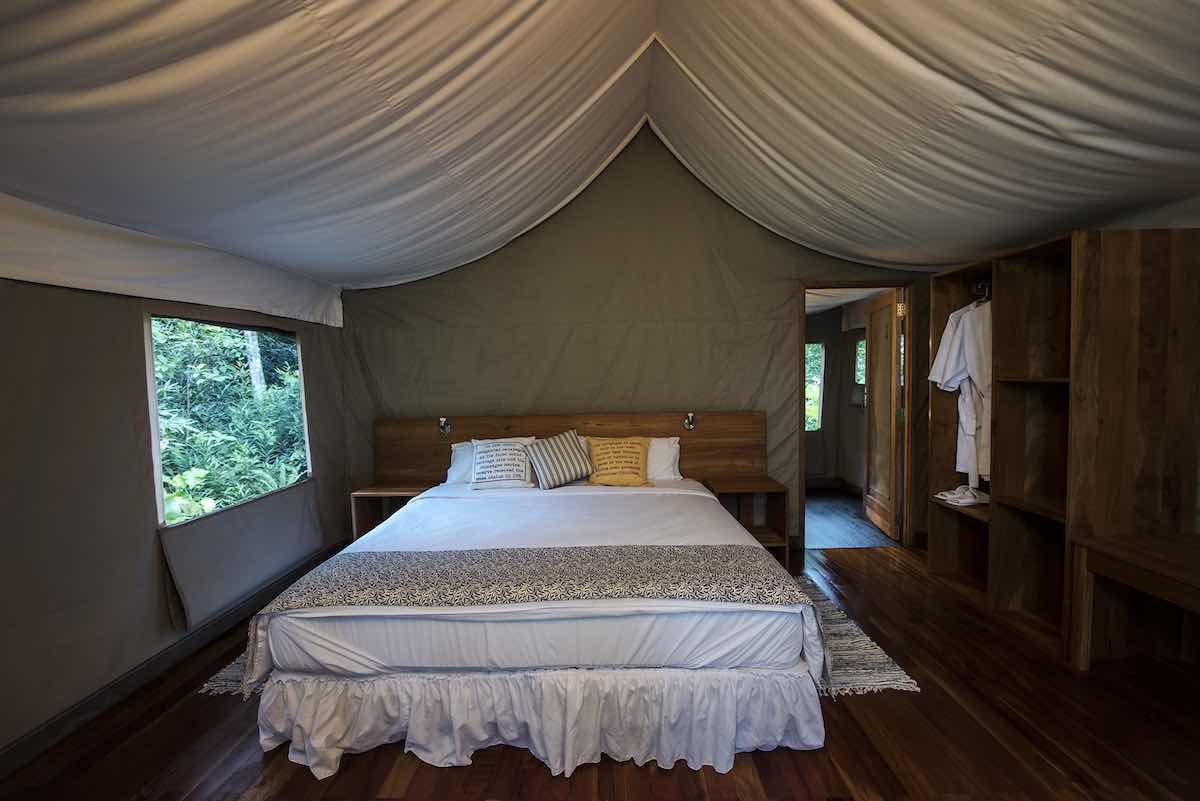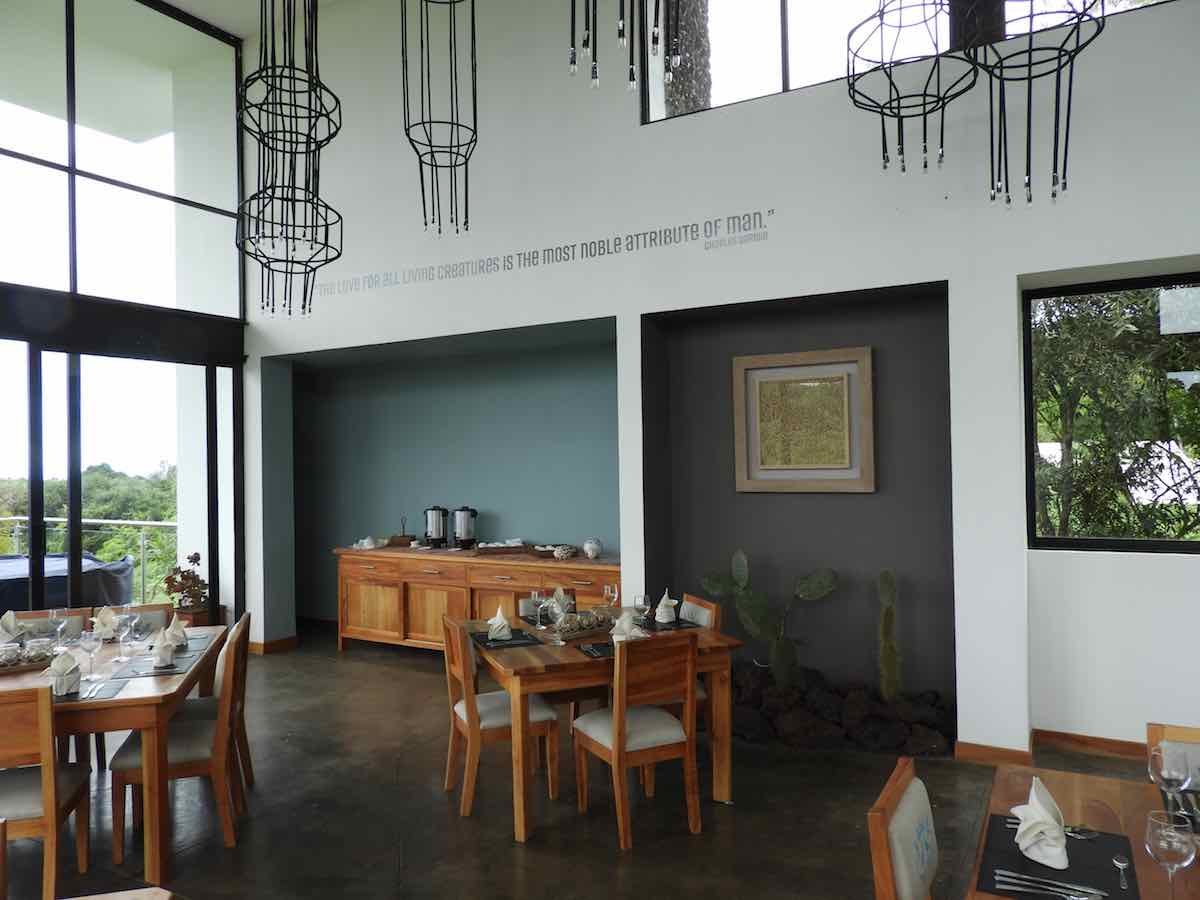 5. Golden Bay (San Cristobal Island)
Located on the Playa de Oro (Golden Beach) on San Cristobal Island, Golden Bay Galapagos overlooks a section of the coast that is home to sea lions, blue-footed boobies, and other iconic Galapagos fauna.
Guests at Golden Bay Galapagos can enjoy the hotel's open-air bar, terrace with panoramic views, interior courtyard garden, and swimming pool. The hotel's MUYU restaurant is one of our favorites in town.
Galapagos has great beaches, but the one across the road from the hotel is more of a wildlife area than a place for humans to relax and take sun. It is best left to the sea lions and marine iguanas.
Golden Bay's 21 guest rooms are equipped with air conditioning, a security box, television, minibar, and a shower.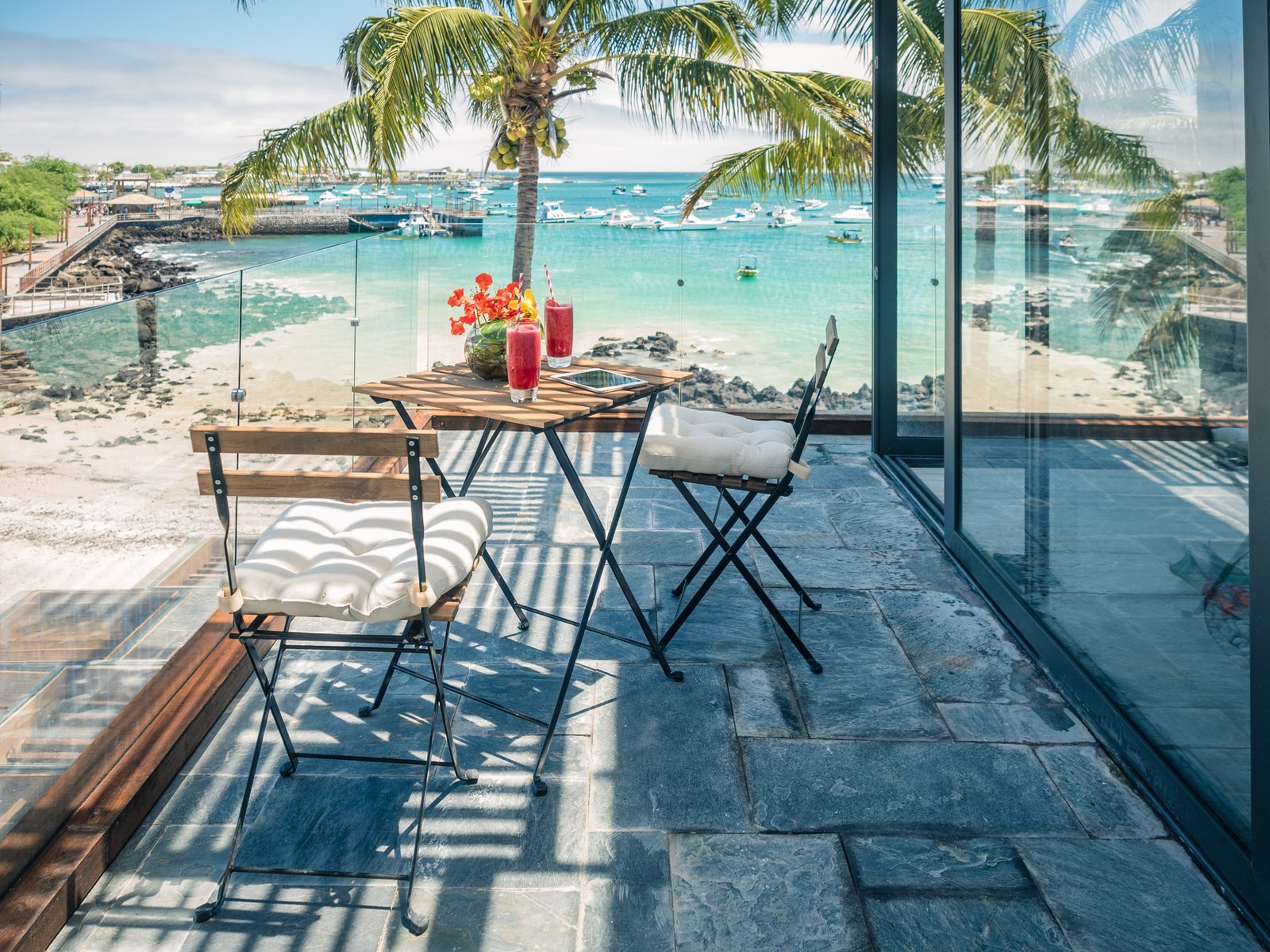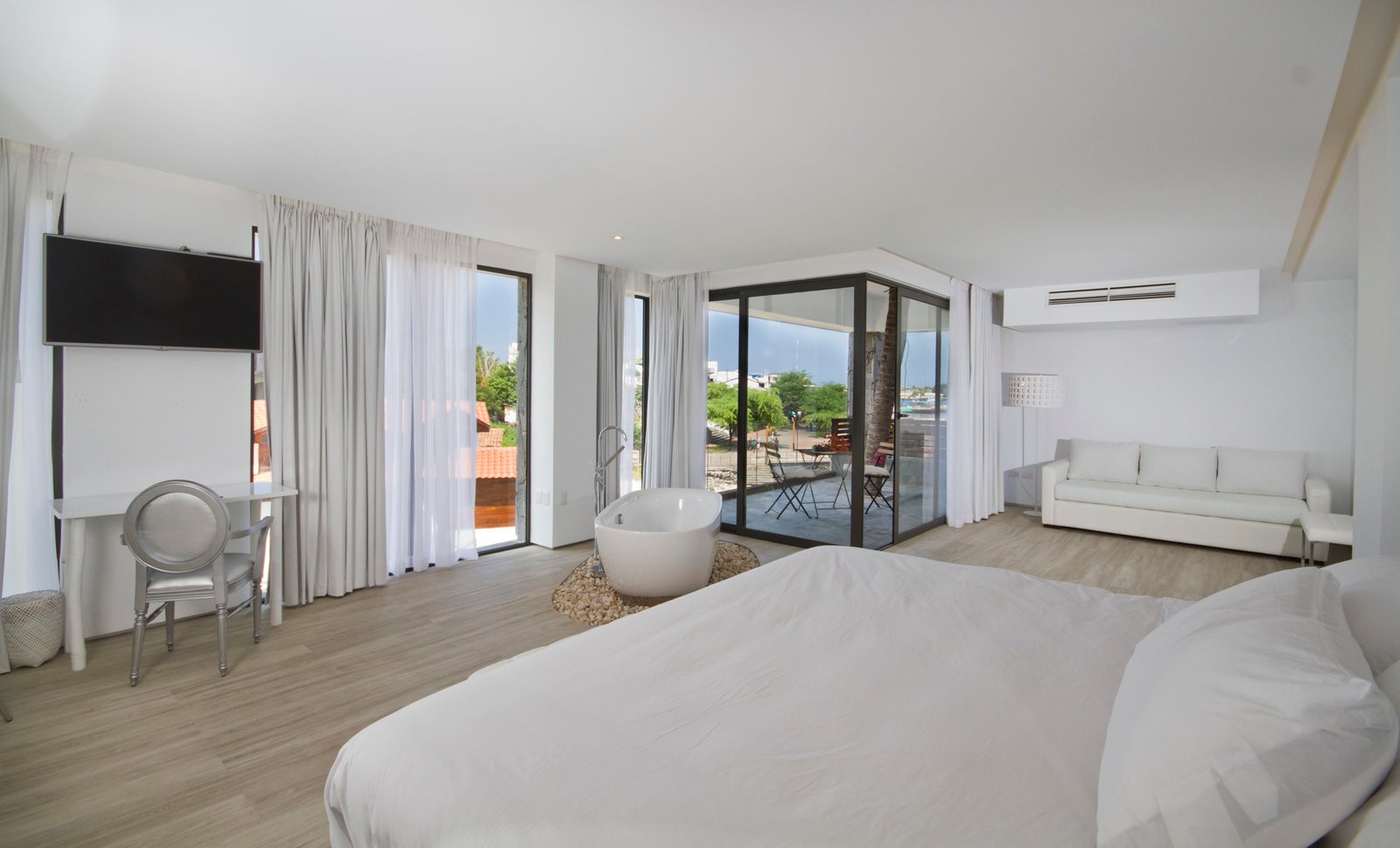 Iguana Crossing enjoys a privileged location between a brackish lagoon and a long stretch of beach on the southern shore of Isabela Island, in the town of Puerto Villamil.
The hotel has been a pioneer in sustainable operating practices, leading the way for other hotels in protecting and conserving the Galapagos.
Each of the 14 guestrooms is equipped with private bathroom, television, independently-controlled air conditioning, mini-bar, hair dryer, and security box.
Among the hotel amenities are an ambient temperature swimming pool, sundeck, outdoor lounge, restaurant, DVD library, game room, and Wi-Fi.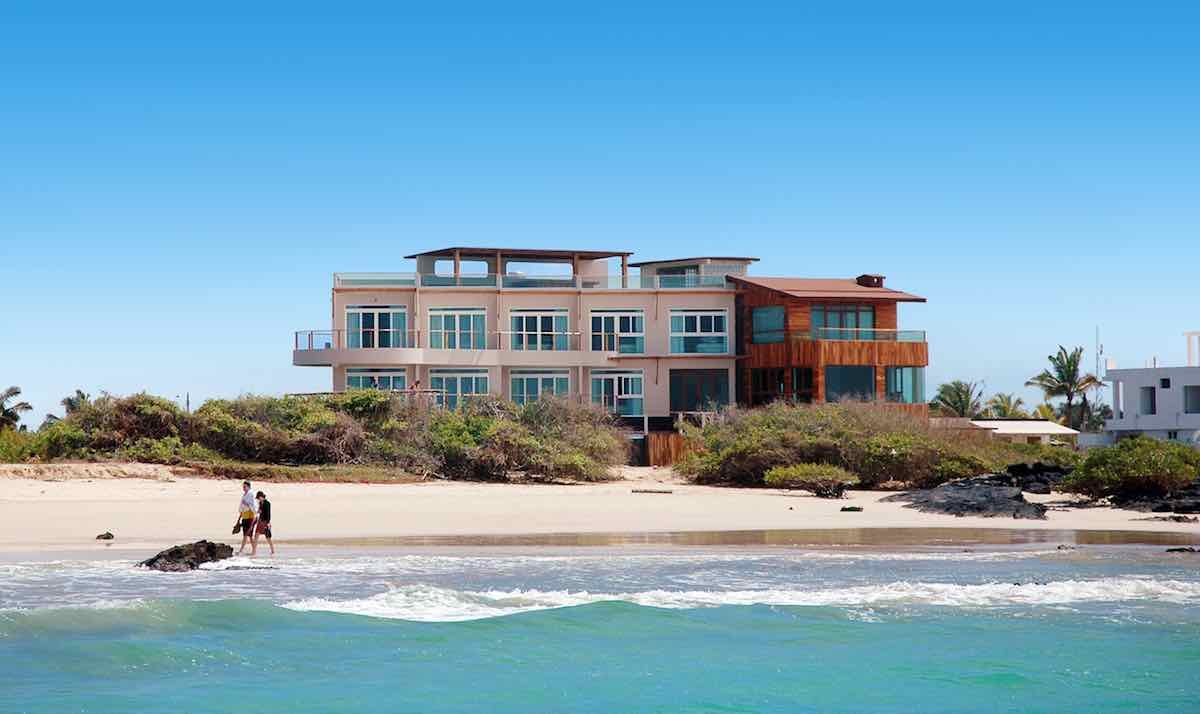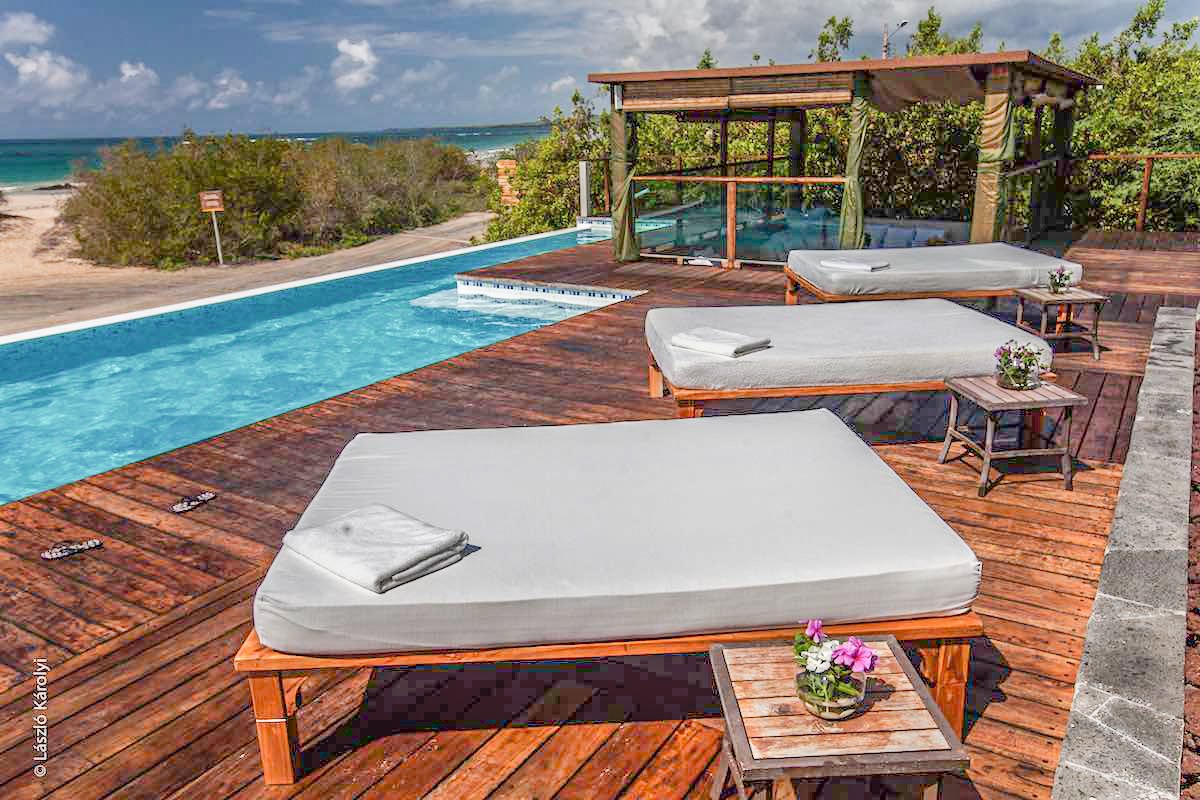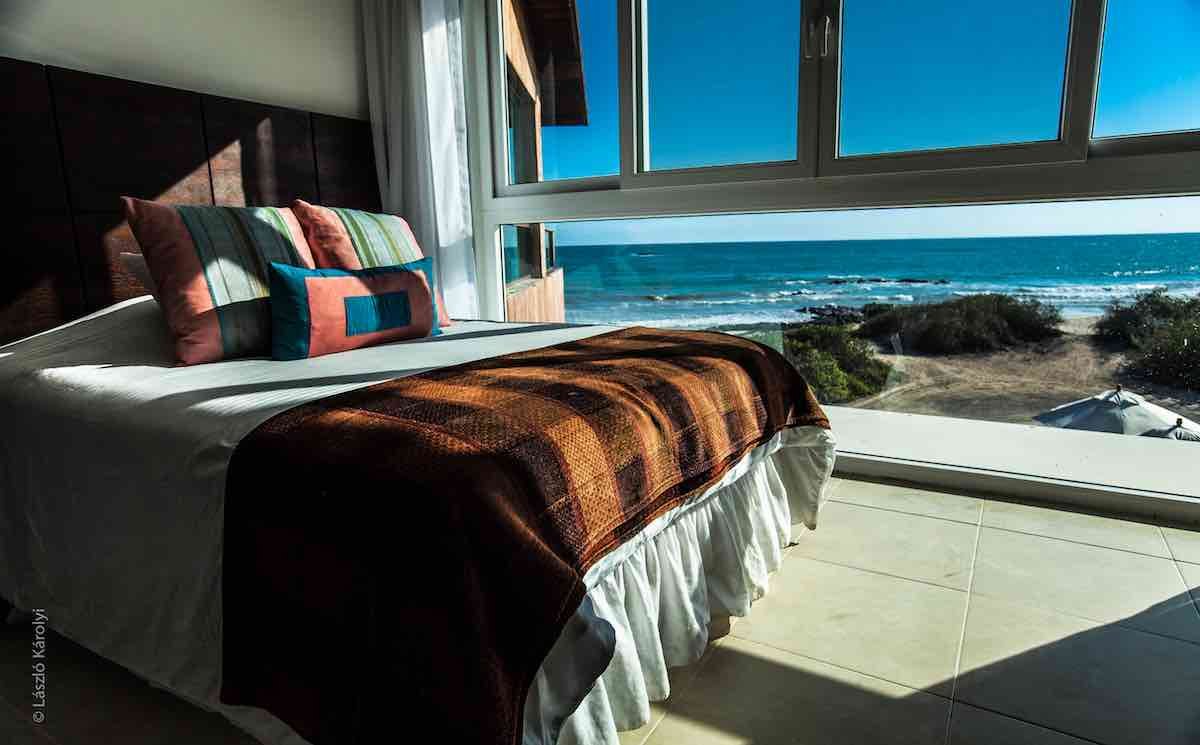 3. Finch Bay (Santa Cruz Island)
Finch Bay Eco Hotel is located in front of the public beach at Punta Estrada, on the southern shore of Santa Cruz Island. The hotel is a short walk and a water taxi ride from the main dock in the town of Puerto Ayora.
The hotel's 26 guestrooms and suites. The hotel's 6 Finch Bay Suites offer ocean views with private balconies and hammocks. The 21 Finch Bay Rooms offer shared porches or balconies with hammocks.
Other amenities include a cactus garden, ambient temperature swimming pool, a bar, and open-air restaurant. Kayaks and snorkeling gear are available for guest use. Wi-Fi is included.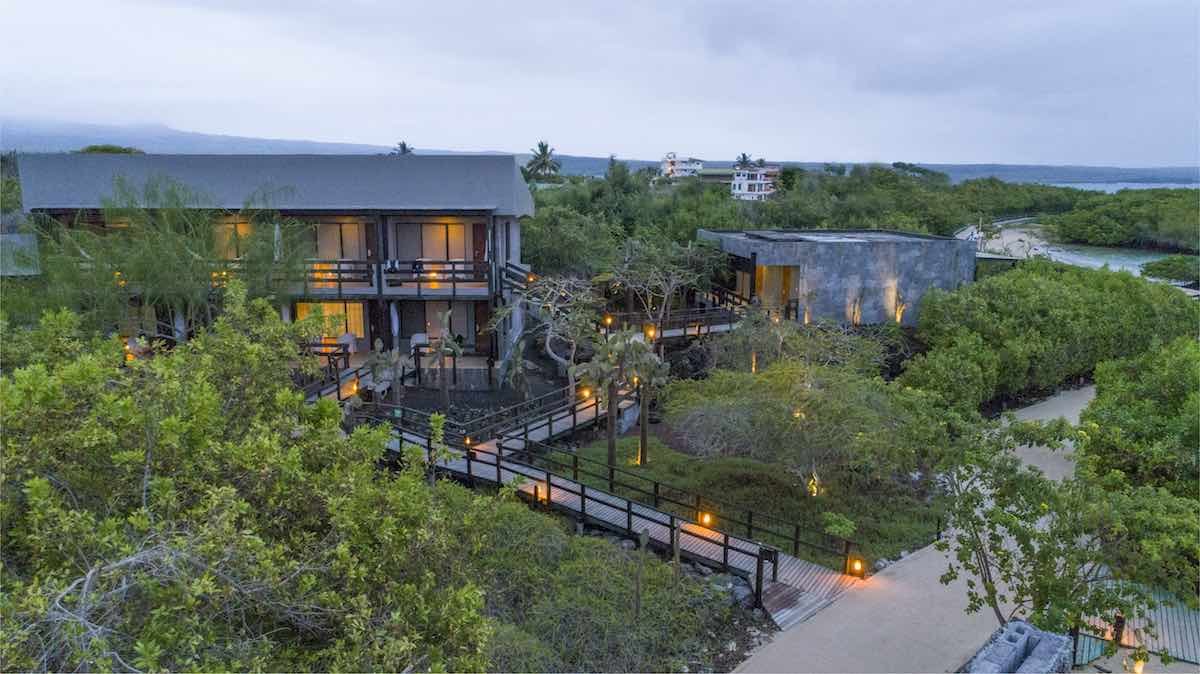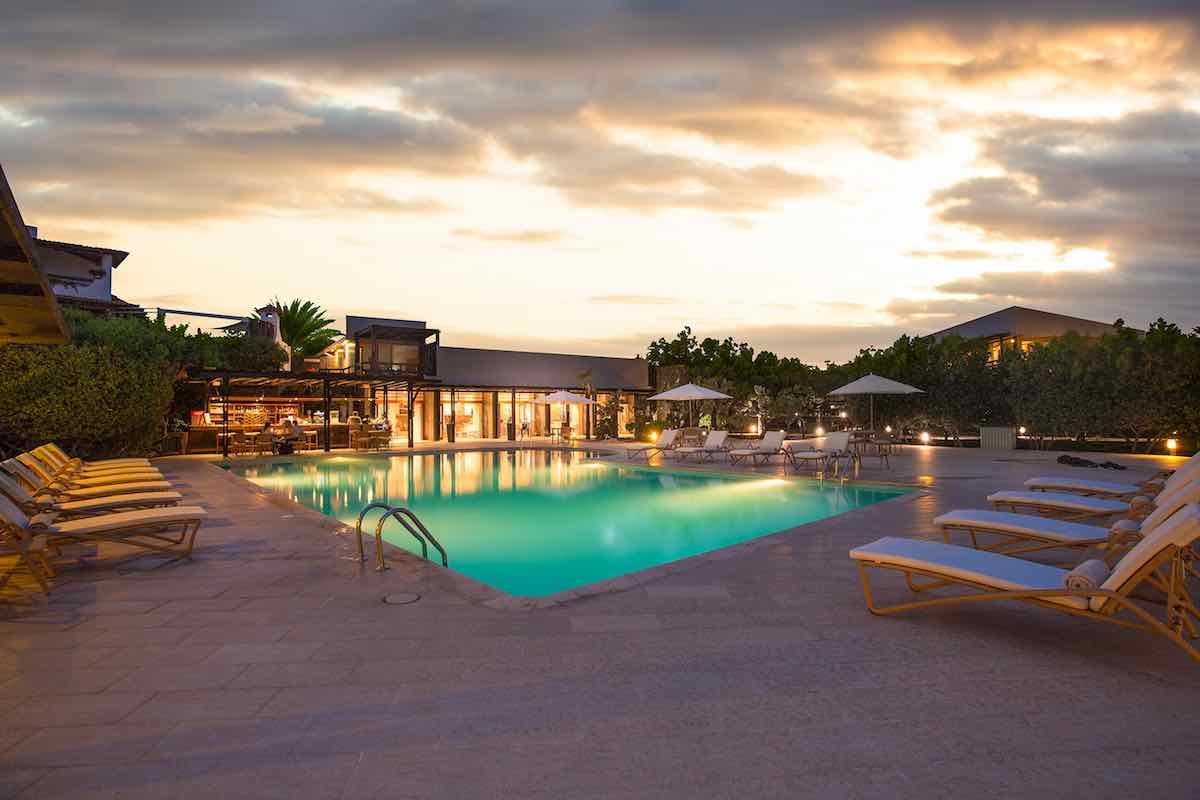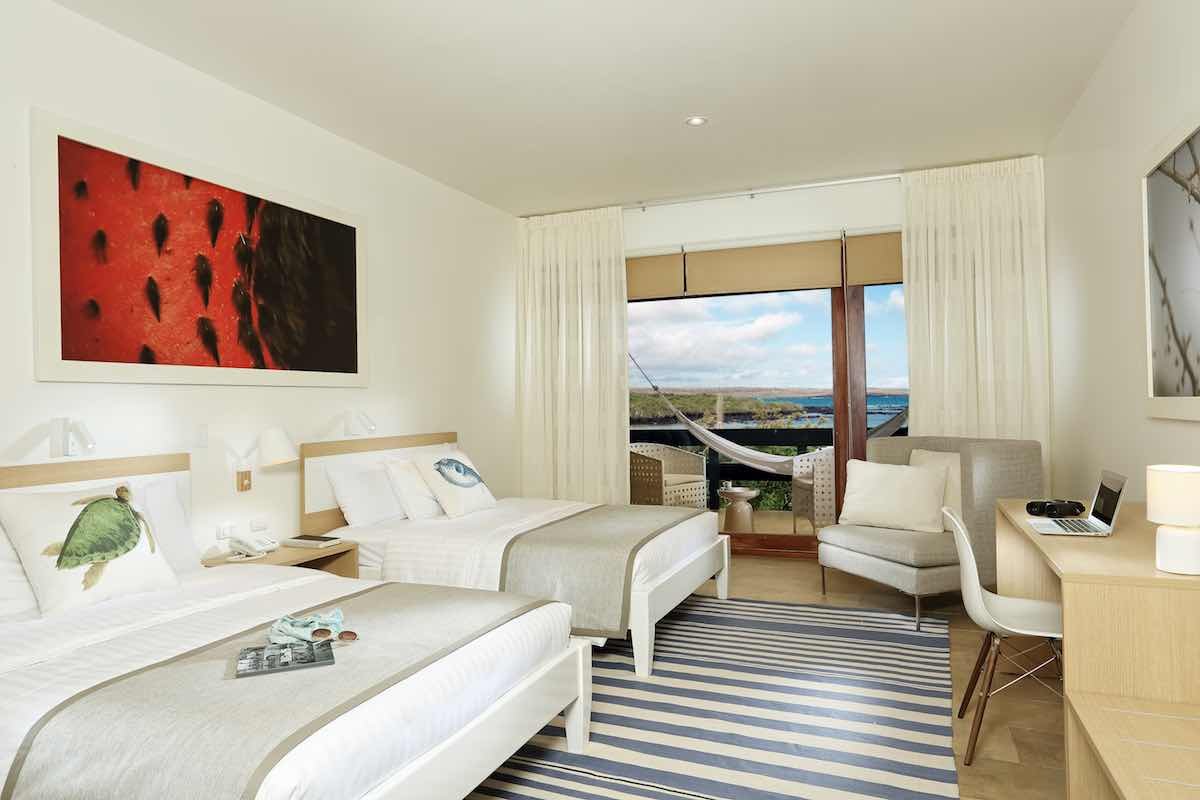 Pikaia Lodge is the most luxurious property in the Galapagos. Completed in 2014, Pikaia has since earned a reputation for comfort, cuisine, and top-notch excursions. In 2021, Pikaia joined the elite Relais & Chateaux family of boutique hotels and restaurants.
Guests of the hotel have their choice of programs, ranging between three and seven nights in length. These programs include meals, land transportation, and guided tours on land and sea.
Pikaia Lodge has twelve guest rooms. In addition to wonderful room amenities, this lodge features a fine dining restaurant, wine cellar, infinity pool, sun-deck, library, fitness center, whirlpool, and lobby lounge.
Stays at Pikaia can include day trips to nearby islands, led by expert guides. Guests can enjoy hikes, sea kayak trips, mountain biking, snorkeling, and wildlife viewing tours.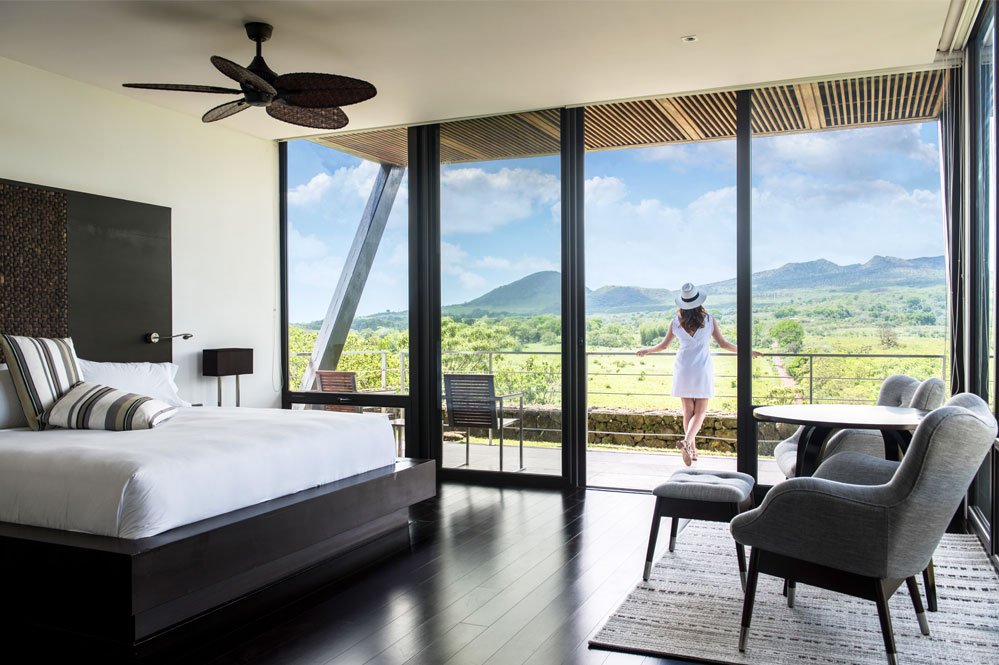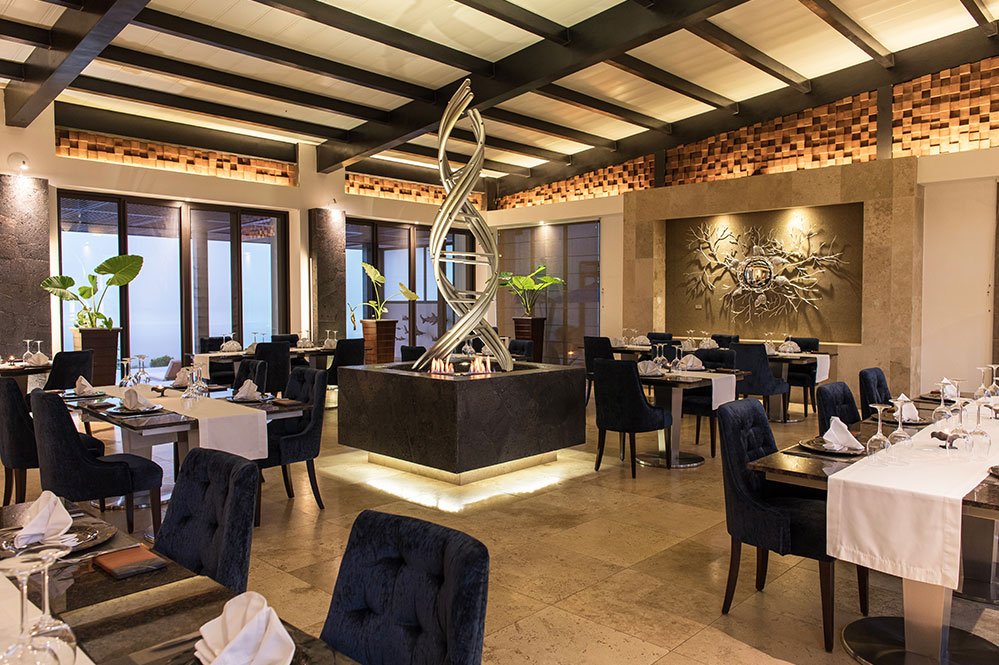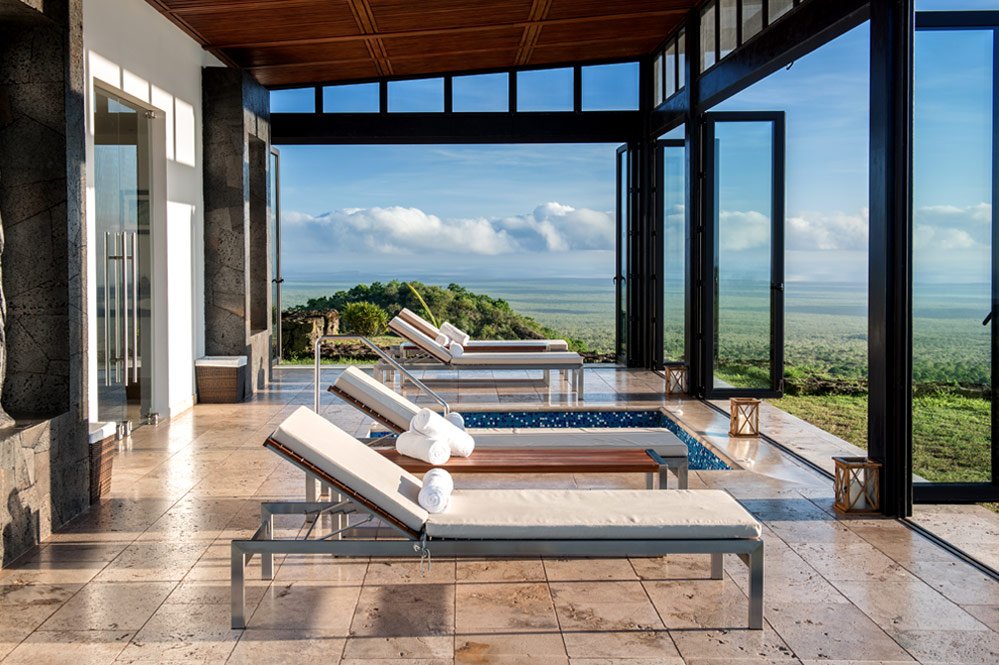 Galapagos Safari Camp is a luxury tented camp, nestled in the wild highlands of Santa Cruz Island, near a tortoise reserve and bordering the Galapagos National Park. Galapagos Safari Camp is situated on a 135-acre private farm. Interesting volcanic features—lava tunnels and pit craters—are located nearby.
The camp's central lodge features an infinity pool, a lounge, bar, fireplace, and dining area. Meals prepared with locally-grown produce are served with unique flair.
The nine tent cabins interiors are comfortable and spacious (290 square feet), and feature two twin beds, which can be joined to become a comfortable queen. Sofa beds can be added to accommodate children under the age of twelve.
These tent cabins were designed and manufactured in Australia. They are elevated, have hardwood floors, and rival the safari tents of top lodges in Africa. The private en-suite bathrooms are equipped with hot water and flush toilets. Other amenities include balconies with hammocks and deck chairs, large mesh windows, individual temperature controls (space heaters and ceiling fans), bathrobes, and slippers.
Guests can enjoy hikes, sea kayak trips, mountain biking, snorkeling, SCUBA, and wildlife viewing tours.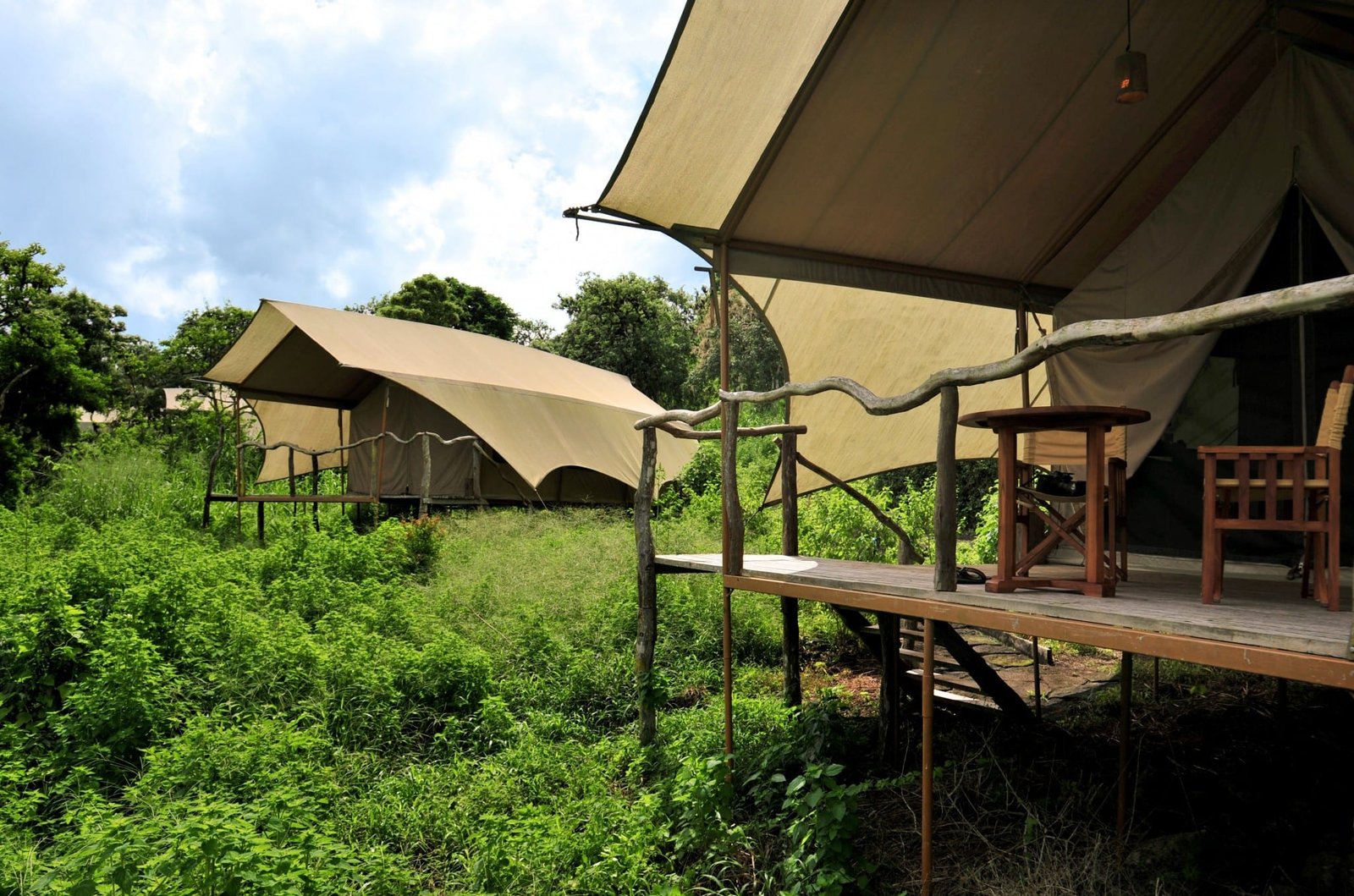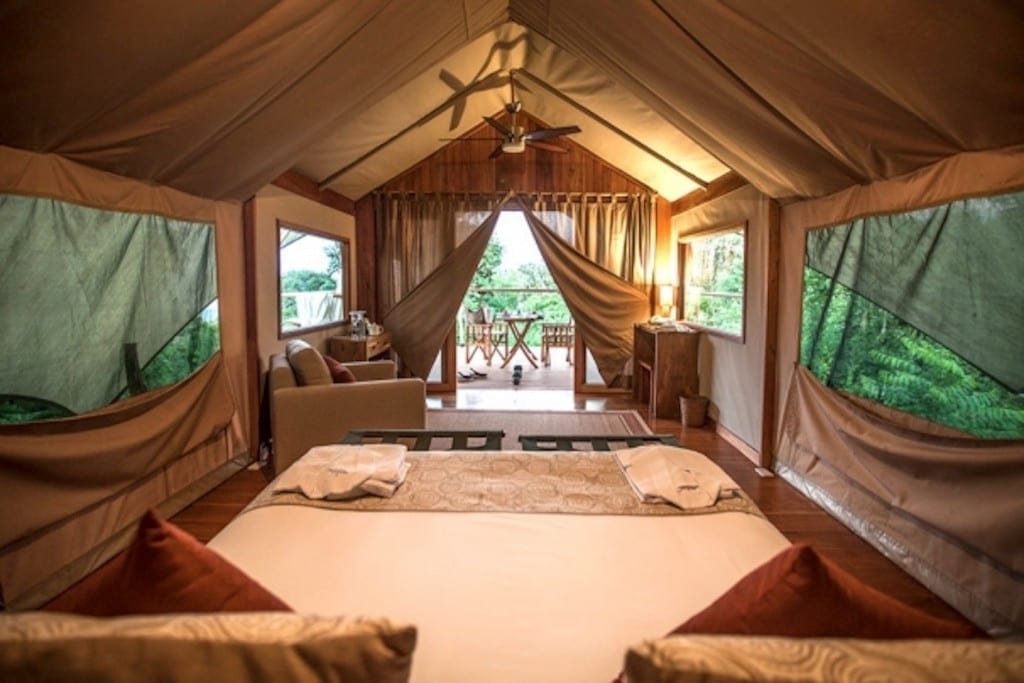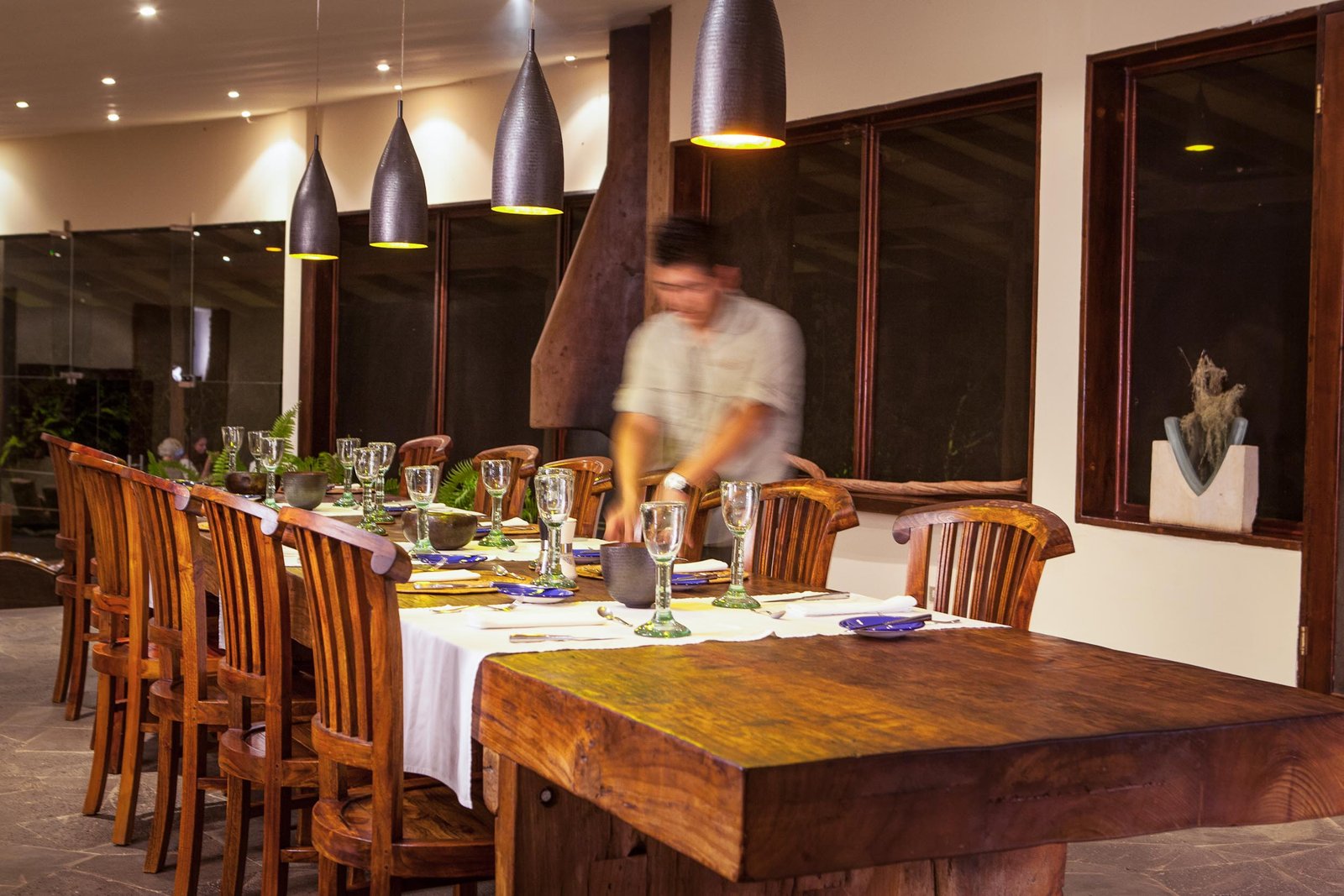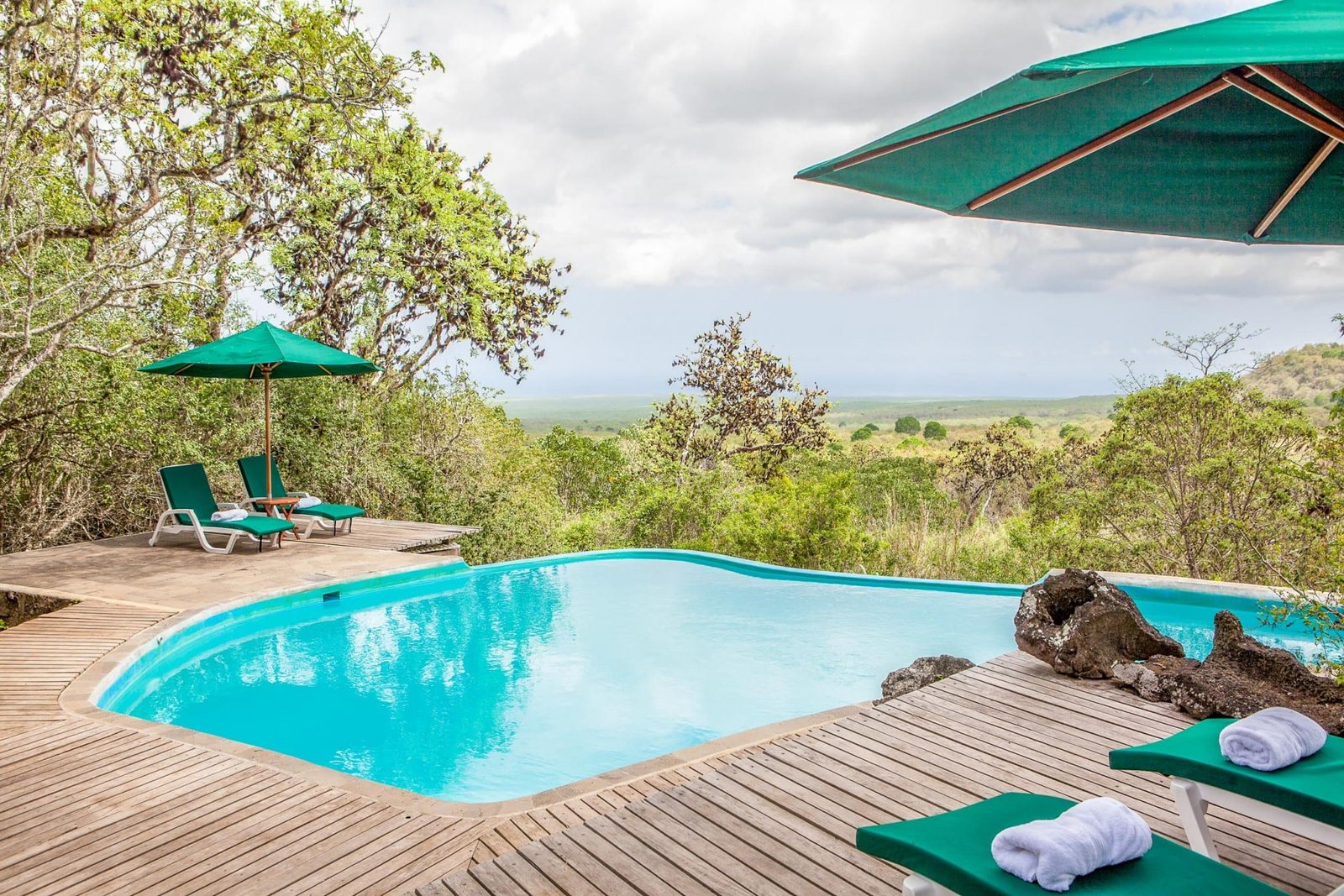 LANDED ARRANGES LUXURY ACCOMMODATION AND DESIGNS TRAVEL THROUGHOUT THE GALAPAGOS AND ECUADOR. WE ENJOY PERSONAL RELATIONSHIPS WITH THE PROPRIETORS OF SOME OF THE BEST HOTELS IN THE AREA. LET US TURN YOUR DREAMS INTO MEMORIES. SPEAK WITH ONE OF OUR EXPERT TRAVEL PLANNERS TODAY AT 801.582.2100.