SMILE. YOU'VE

LANDED

IN THE GALAPAGOS.
The Galapagos Islands, also known as the "Enchanted Isles", offer some of the world's best wildlife viewing. UNESCO declared the islands a World Heritage Site in 1975, and a Biosphere Reserve in 1985.
Why We Love the Galapagos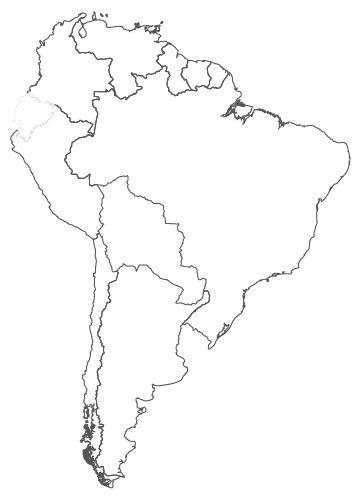 CAPITAL  
PUERTO BAQUERIZO MORENO
LANGUAGE  SPANISH
CURRENCY  US DOLLAR
READ  MY FATHER'S ISLAND
TASTE  ENCEBOLLADO
SIP  COLADA MORADA
EXPERIENCE  SNORKEL WITH SEA LIONS
The archipelago and surrounding waters are also a national park, marine reserve, and whale sanctuary. Under the supervision of licensed naturalist guides, visitors can swim with sea lions, witness avian mating rituals, and learn about the unique adaptations of resident species.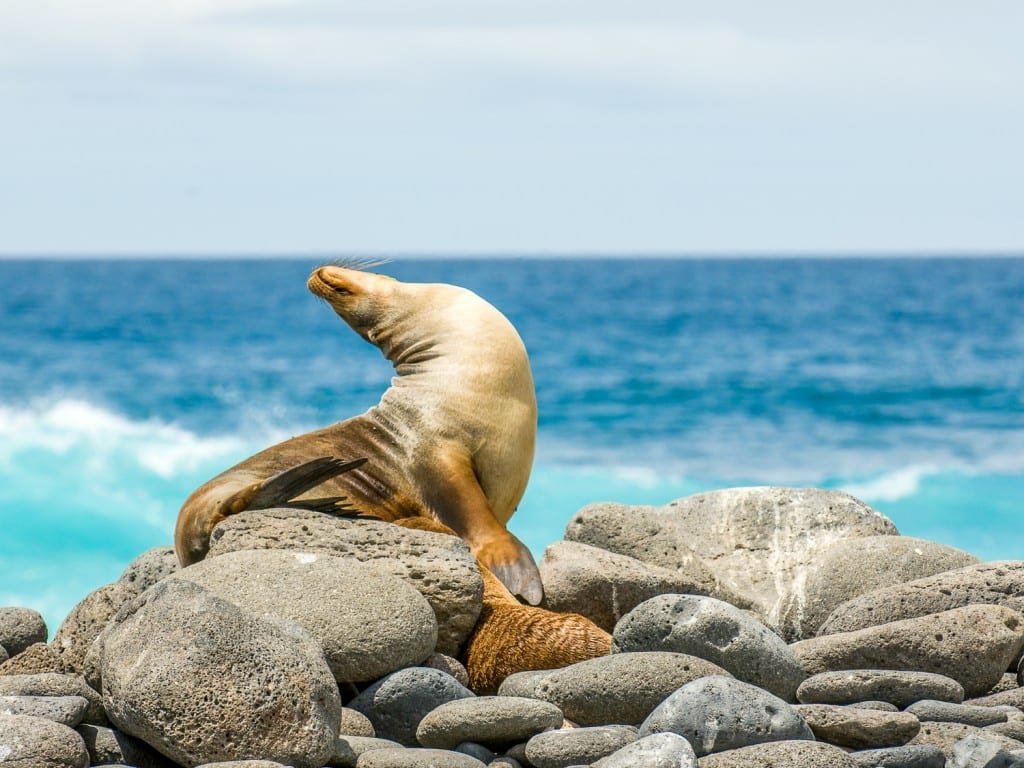 Penguins, blue-footed boobies, land and marine iguanas, tortoises, flamingos, and whale sharks can be observed here in close proximity. The islands are located in the equatorial Eastern Pacific, 604 miles west of the Ecuadorian coast.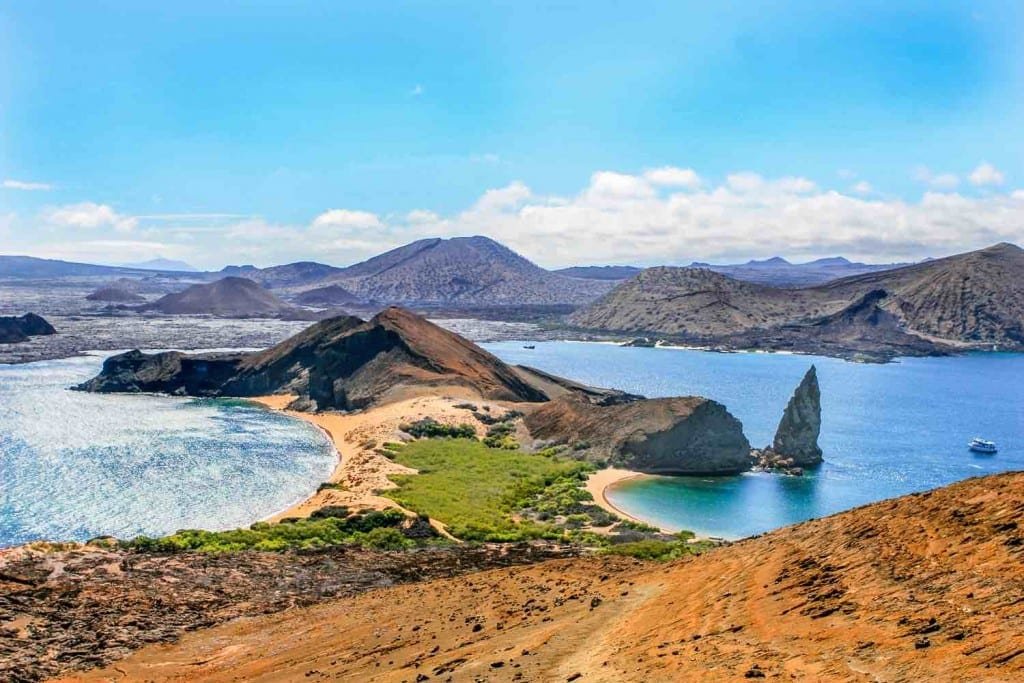 The archipelago consists of 13 main islands, six junior islands and over 100 islets and large rocks spread out over 45,000 square miles of ocean. These volcanic islands began to emerge between five and ten million years ago. The youngest islands, Fernandina and Isabela, continue to grow with new volcanic eruptions.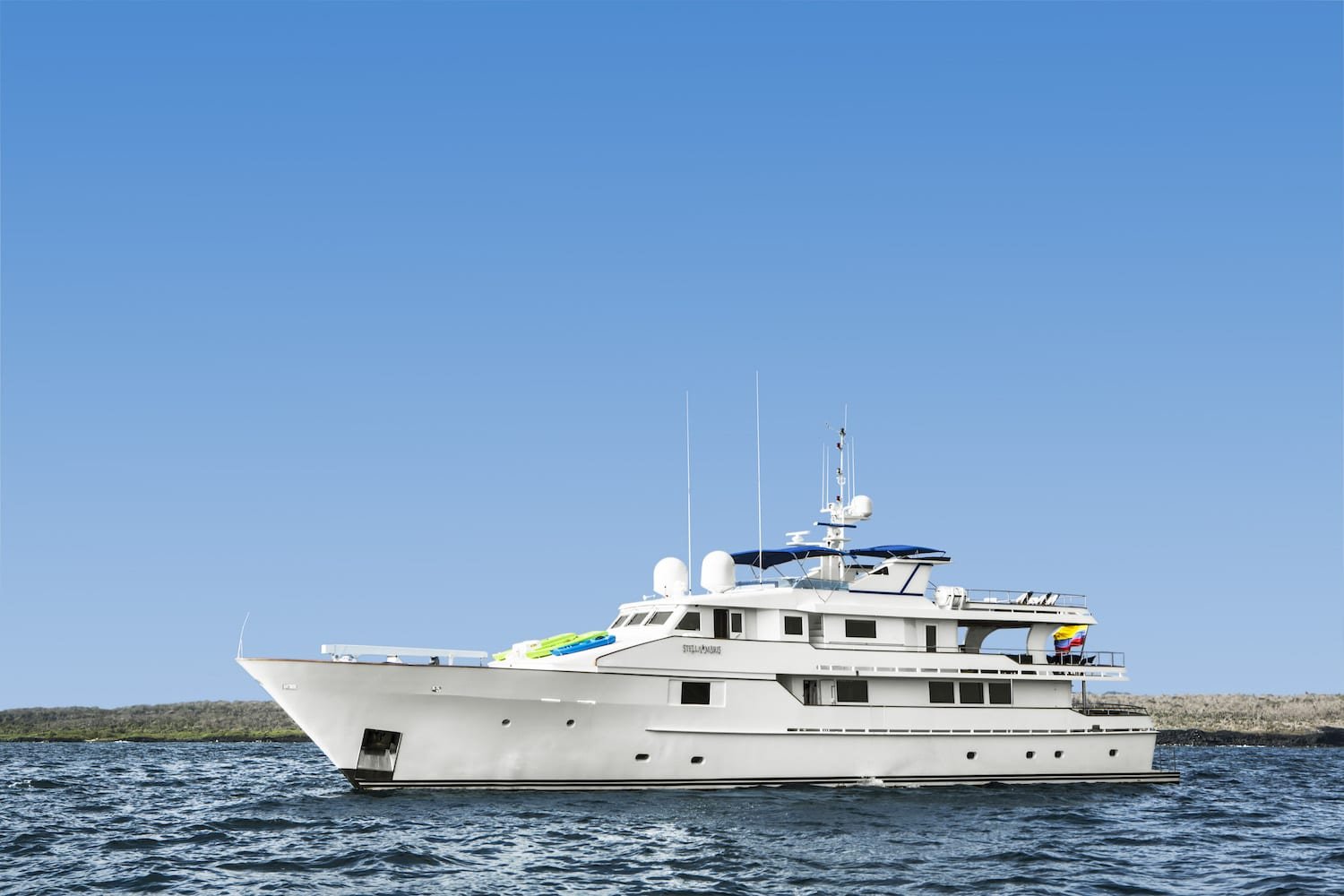 The Galapagos Islands are a year-round destination with two distinct seasons. During the warm season (December to May) temperatures hover in the 80's and 90's. Rainfall is uncommon but strong, with water temperatures near the surface averaging 75°. The Garua, or cool season (June to November) brings fog, drizzles and cool winds.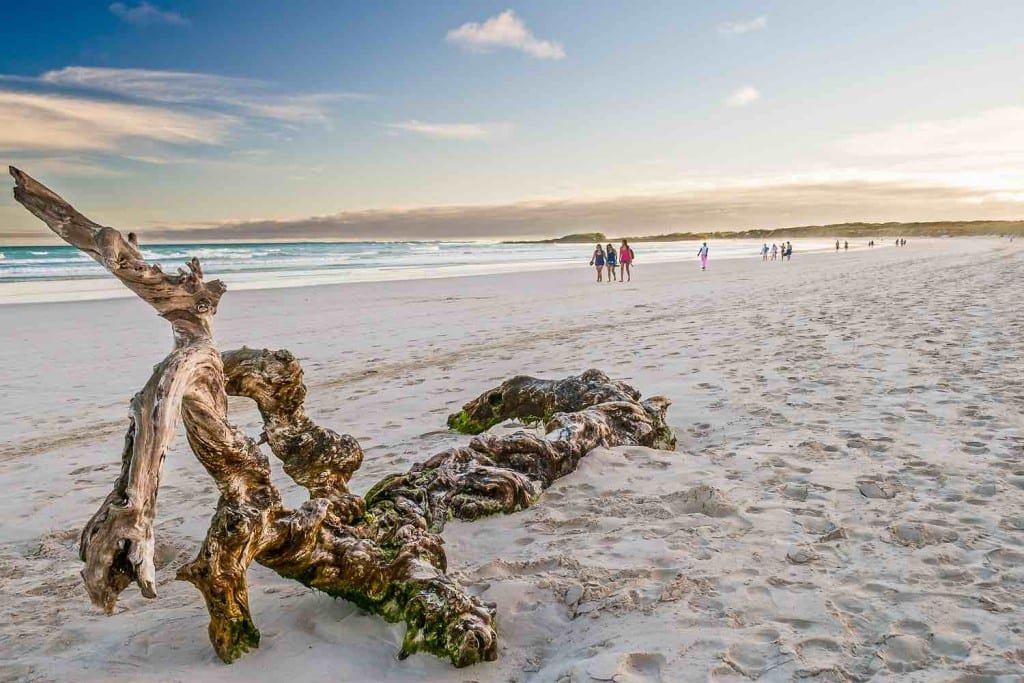 Air temperatures reach the 70's and water temperatures fall to the 60's. These months are the height of the breeding season for many of the island's avian species. The Galapagos can be reached by air from Quito (three hours) and Guayaquil (1.5 hours) via daily flights. Airports are located on Baltra and San Cristobal islands.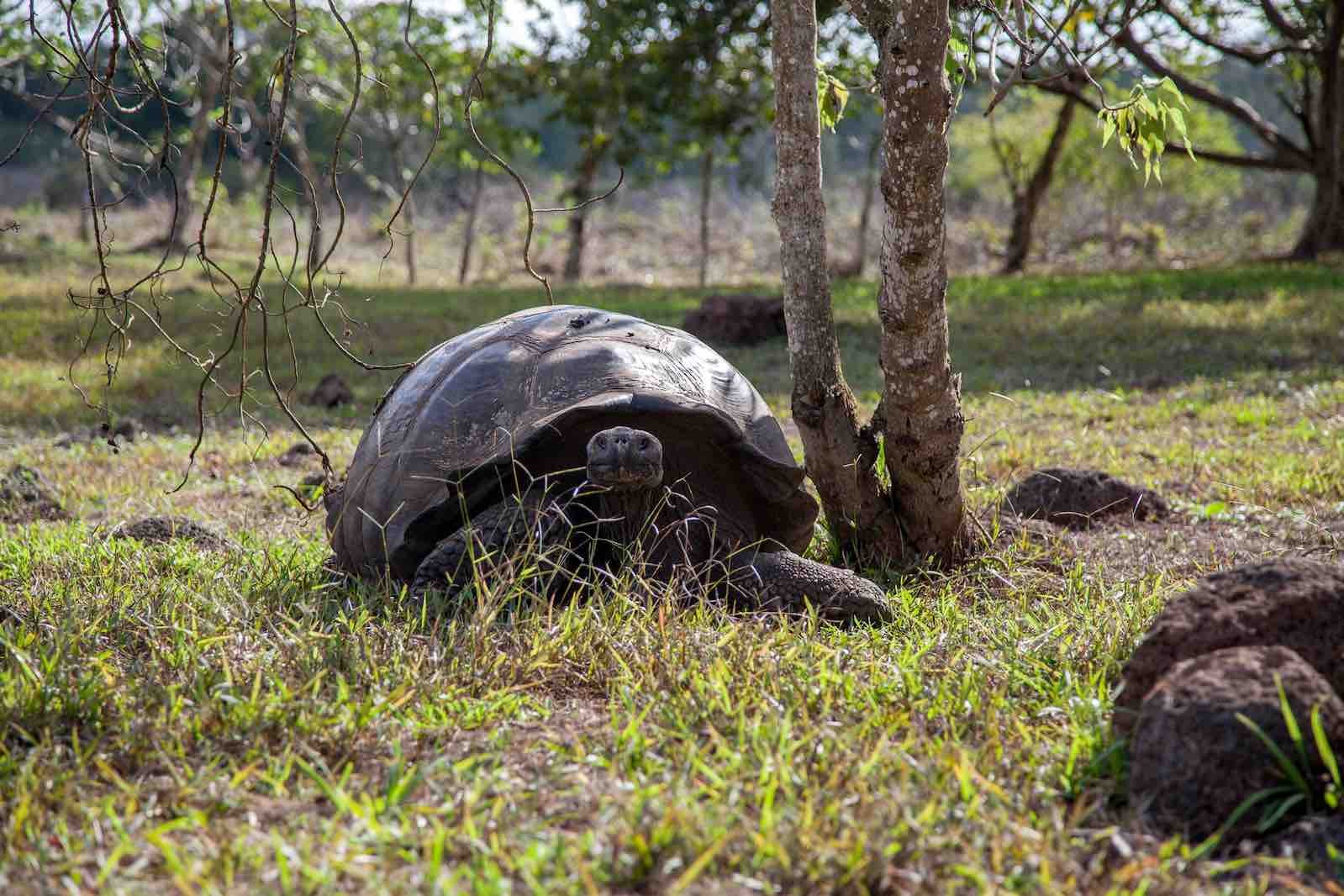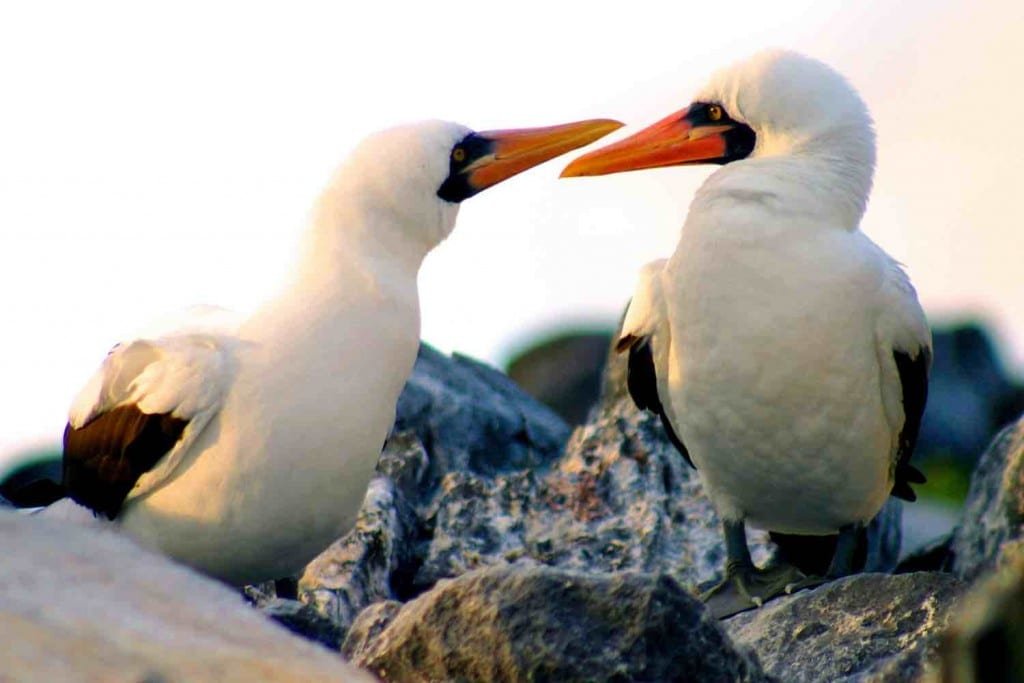 "The natural history of these islands is eminently curious, and well deserves attention…Considering the small size of the islands, we feel the more astonished at the number of their aboriginal beings, and at their confined range…Both in space and time, we seem to be brought somewhat near to that great fact—that mystery of mysteries—the first appearance of new beings on this earth." – Charles Darwin
LANDED plans itineraries and arranges travel throughout the Galapagos and mainland Ecuador. We offer private charter, luxury accommodations and land-based options. Extensions to Machu Picchu in neighboring Peru are available. Contact us at 801.582.2100 for more information.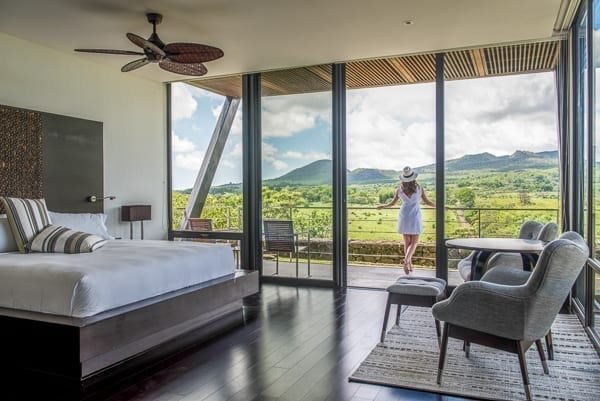 PIKAIA LODGE
Pikaia Lodge is the most luxurious property in the Galapagos. Completed in 2014, Pikaia has since earned a reputation for comfort, cuisine, and top-notch excursions.
GALAPAGOS ISLANDS AND SPECIES
GALAPAGOS ISLANDS FAMILY TRAVEL ALBUM
GALAPAGOS ISLANDS PACKING LIST
GALAPAGOS: TRAVEL PIONEER PODCAST 
PRIVATE TOURS IN THE GALAPAGOS
VISITING GALAPAGOS WITH KIDS
WHEN TO VISIT THE GALAPAGOS
THE 10 BEST CRUISES IN THE GALAPAGOS
BEST HOTELS IN THE GALAPAGOS
CORMORANT MOTOR CATAMARAN
GALAPAGOS SEA STAR JOURNEY
OCEAN SPRAY MOTOR CATAMARAN
How do you get to the Galapagos Islands?
Almost all visitors come to the Galapagos Islands by commercial airline. Those flights originate and return to the city of Guayaquil, Ecuador. Flights from Quito almost always stop in Guayaquil en route to the Galapagos.
While in the Galapagos, you can stay on land and take island day trips, or enjoy a multi-day / multi-island itinerary aboard a cruise vessel.
Where can you stay on the Galapagos Islands?
Most visitors opt for multi-day cruise itineraries. A list of our favorite cruises can be viewed here.
Although we love small-ship cruises in the Galapagos, land-based itineraries are excellent alternative, or pre / post-cruise addition. A list of our favorite hotels and lodges can be found here.
Why stay at a hotel or lodge in the Galapagos Islands?
Staying on land offers the potential for additional flexibility and customization. We usually arrange private guides and touring for these clients. These programs can be custom-tailored to your wishes, combining privately guided wildlife tours with explorations of less visited locations. Additional active adventure options include SCUBA and snorkeling day trips, artisanal fishing or sea kayak excursions, volcano hikes, mountain biking, and visits to ecologically-focused cacao and coffee farms.
Many of our clients wish to extend their time in the Galapagos beyond their cruise dates, arriving before the cruise or staying several nights after completing their cruise itinerary.
For families with very young children, hotels offer a worry-free alternative to multi-day cruises.
Some of our clients are visiting Galapagos with special health or mobility considerations.
Whether you're seeking all the comforts of a full-service hotel, or the rustic solitude of safari tent cabins, we'll help you find the perfect fit. LANDED's team of experts knows the Galapagos first hand and by heart.
How many islands are there in the Galapagos ?
The Galapagos Archipelago consists of thirteen main islands, six minor islands, and scores exposed islets and rocks.
How can you visit the Galapagos Islands?
Almost all visitors come to the Galapagos Islands by commercial airline. Those flights originate and return to the city of Guayaquil, Ecuador.
While in the Galapagos, you can stay on land and take island day trips, or enjoy a multi-day / multi-island itinerary aboard a cruise vessel.
How much does it costs to go to the Galapagos Islands?
Of course, costs vary based on your tastes and requirements. In general, we can say that Galapagos is one of the most expensive destinations in the South America region. 
Partly, the price is a function of the islands' environmental protections. These regulations and practices govern everything from food importation to visitor limits. Additionally, each visitor is obliged to contribute to preservation in the form of national park fees and taxes.
It is also generally true that operating costs for hotels, lodges, and cruises are higher in remote island locations.
If you'd like a rough estimate, figure US$1,000 per person per day for food, lodging (or cruise), guided touring, and transportation while in the islands. That figure can be less by half or it can double based on peak season and quality of service.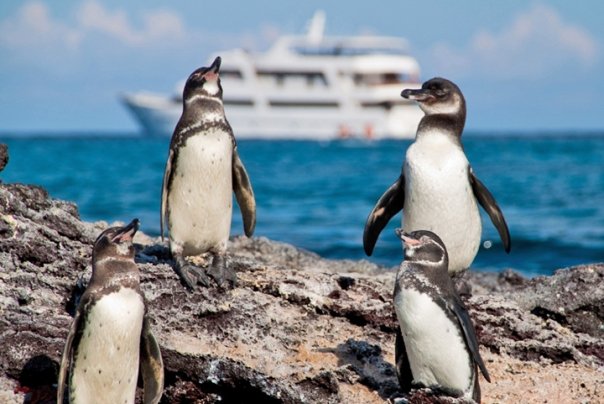 GALAPAGOS YACHT CHARTERS
Are you looking for a private Galapagos yacht charter?
Galapagos luxury charters of motor yachts, catamarans, trimarans, and masted sailing ships can all be arranged for private multi-day cruises in the Galapagos Islands.