Explora Lodges: Inspired South American Luxury
We rarely describe specific hotels on our website. Rather, our practice is to select hotels that precisely fit each clients' unique wishes and requirements.
That said, some properties merit special emphasis. Explora Lodges are among those properties. This group operates three noteworthy Explora lodges in Chile, each in a uniquely spectacular location.
"Here each person decides what he does."

Explora Motto
All of Explora's programs are full board–packages include meals and a broad range of outdoor adventures. Explora lodges are conceived as bases from which to explore the surrounding landscapes.
Rooms are television free, encouraging guests to get out and explore.
Explora Lodge at Lago Pehoe
Explora's Hotel Salto Chico is nestled on the shore of Lago Pehoe, within the Torres del Paine National Park.
This Explora lodge faces the breathtaking Paine Massif or Macizo del Paine—a cluster of granite peaks reaching a height of 9,840 feet. This hotel's 50 rooms fall into four categories. Larger rooms have views of the massif.
Smaller rooms face the waterfall. An annex to the hotel, Casa de Baños del Ona, houses a heated indoor lap pool, four outdoor Jacuzzis, a sauna and massage salons. Internet access is available.
Explora Patagonia Program Options
Explora lodge Patagonia offers programs of four and eight nights. In addition, six-night programs are available for the December holidays.
Guests are invited to participate in full and half-day explorations such as birdwatching, horseback riding, mountain biking, and boating.
A variety of hikes are offered to nearby glaciers, lakes, and viewpoints.
Explora Rapa Nui
Explora's Posada de Mike Rapu is perched on a hill in the Te Miro Oone area, at the center of Easter Island (five miles from the town of Hanga Roa). This Explora lodge has 30 rooms in two categories.
Ocean views are one of its key features. Amenities include a swimming pool, massage room, and internet access. Programs of three to eight nights are available.
Explora Rapa Nui offers 15 different explorations, most on foot or by bicycle, allowing guests to visit sites such as:
The Rano Kau Volcano
The 53-house ceremonial village of Orongo
Ahu Tongariki
The Rano Raraku moai quarry
The Puna Pao "topknot" quarry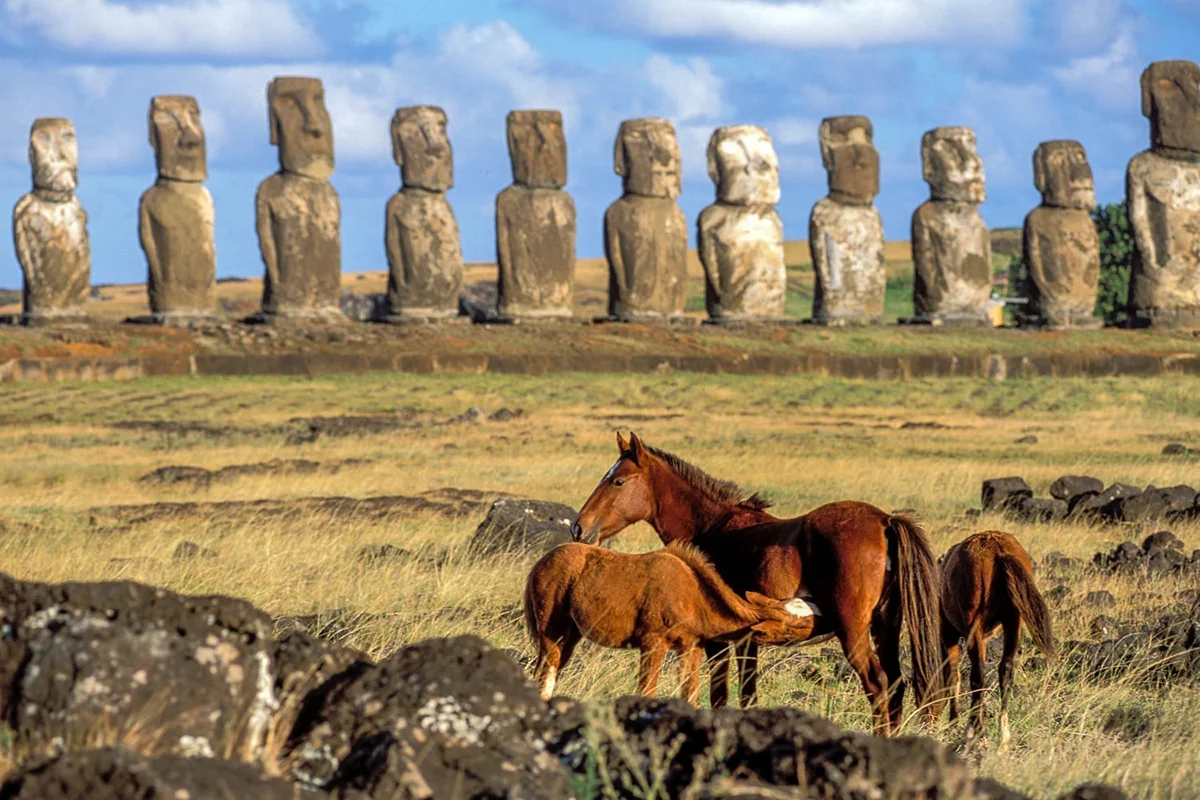 The hotel can assist you with selecting activities that fit your interests and desired level of activity.
Full and half-day outings are available. Tour groups are limited to 8 or 10 explorers. Explora can also arrange outside tours, such as horseback riding and skin diving.
Explora Atacama
Explora's Hotel de Larache is located near the village of San Pedro de Atacama, on a 42-acre assemblage that includes some of the original adobe structures. The hotel has 50 rooms in three categories.
Amenities include swimming pools, stables, saunas, massage rooms, internet access and an observatory. Programs of three to eight nights are offered.
Explora Atacama guests choose from a variety of guided, group-basis activities.
Over 50 different tours are offered, such as horseback riding, trekking, biking, stargazing and visits to nearby villages, valleys, and volcanoes.
The maximum group size is eight.
LANDED arranges vacation packages at each of the Explora lodges. We can supplement these packages with stays at other fine properties in the Chilean wine country, the Lakes District, and Santiago. Speak with a travel planner today at 801.582.2100. We'll take care of the details.