SMILE. YOU'VE

LANDED

IN BOLIVIA.
Bolivia is the truest South American country— an estimated 55% of its population claims indigenous lineage. This proud cultural heritage extends back thousands of years, with Bolivian territory once serving as home to great civilizations such as the Tiwanaku and Tawantinsuyu. Today, Bolivia boasts some of the finest archeological sites and museums on the continent. Visitors can explore mountaintop fortresses, examine pre-Inca pyramids, and inspect lakeside temples.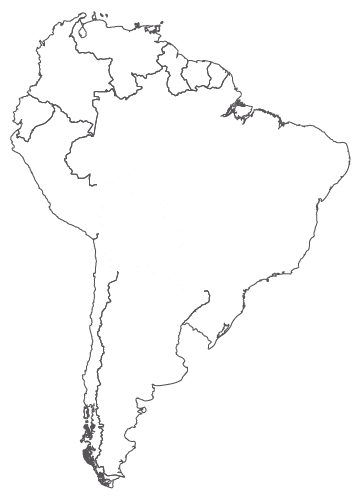 CAPITAL  
SUCRE
LANGUAGE  SPANISH
CURRENCY  BOLIVIAN BOLIVIANO
READ  THE FAT MAN FROM LA PAZ
TASTE  SALTEÑAS
SIP  COCA TEA
EXPERIENCE  EXPLORING TITICACA AND UYUNI
Bolivia's eclectic landscape draws from the best features of its five neighboring nations. The mighty Andes form its western backbone, combing the skies for the precious moisture that sustains its northern Amazonian tributaries and wide eastern savvanahs.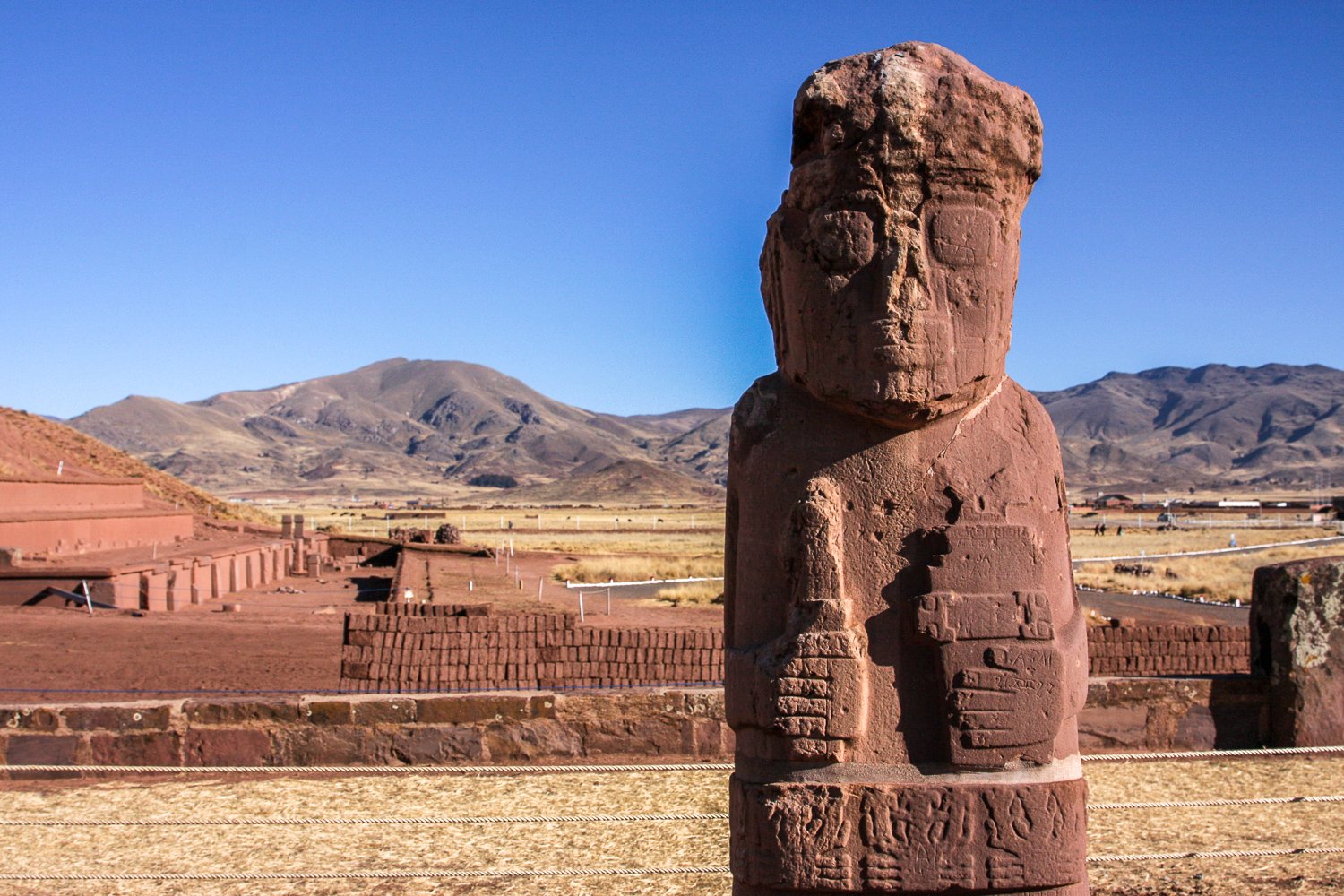 In the southwest, shimmering salt deserts and chromatic lakes paint otherworldly panoramas. The central highlands are lush and cool, supporting tropical forests that teem with photogenic fauna.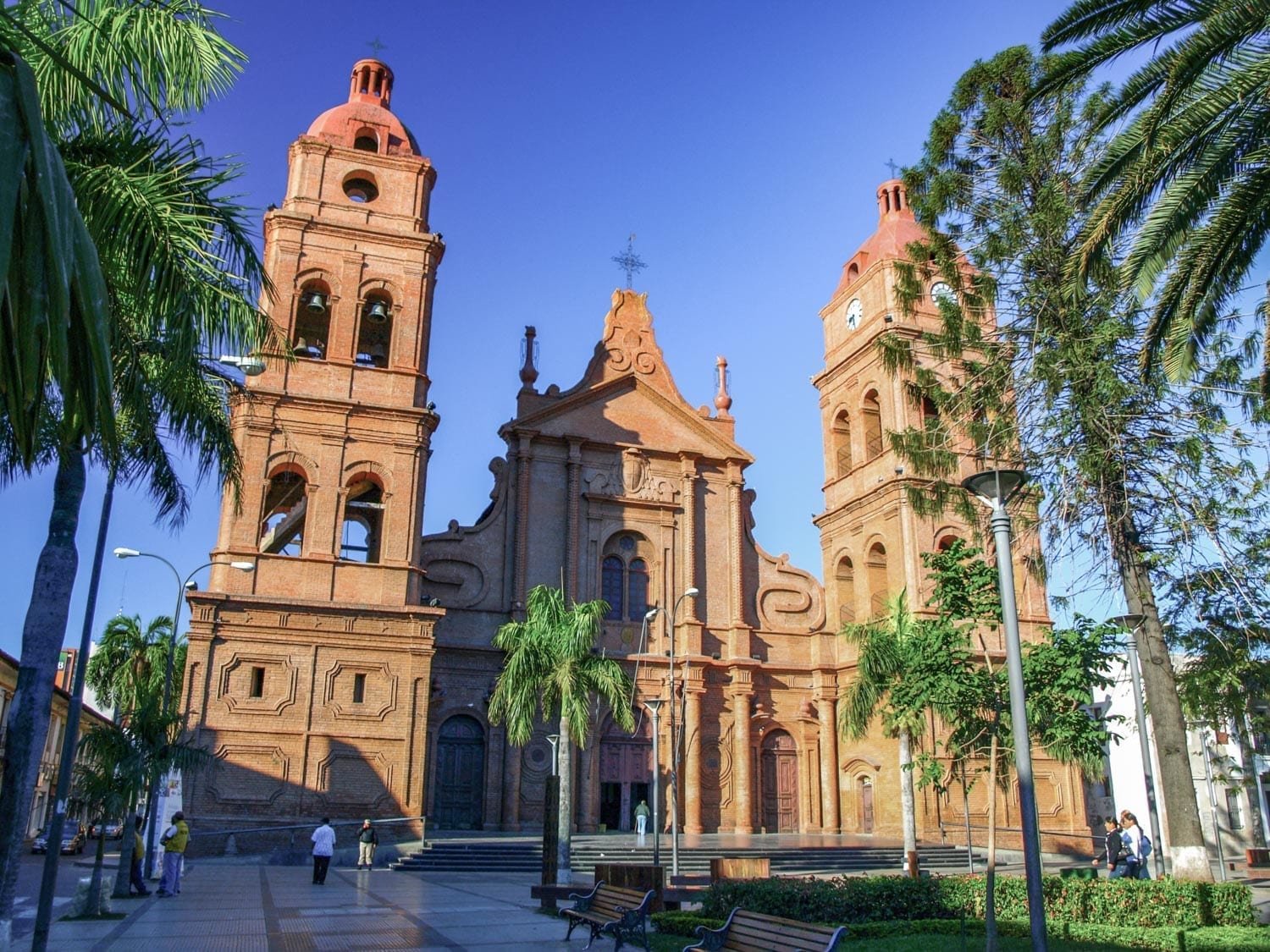 Although occasionally dismissed as a poor nation, Bolivia holds some of the richest mineral deposits on the planet. From the 16th to the 18th century, the territory's silver mines bankrolled the Spanish colonial empire. In coming decades, Bolivia's unmatched reserves of lithium and other rare elements could foreseeably unlock new waves of prosperity.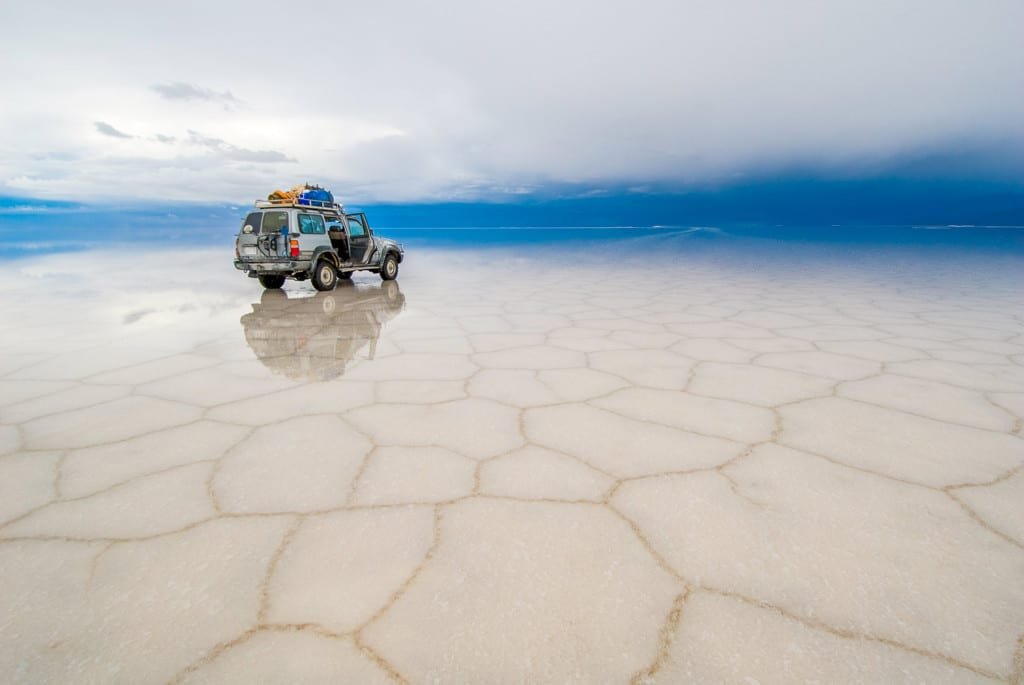 La Paz, the country's largest metropolitan area, can be reached by daily flights from Lima, Peru (1 hour, 45 minutes). Flights to La Paz from the USA usually connect in Lima, simplifying combination Peru – Bolivia vacations. Daily flights also connect the commercial capital of Santa Cruz to international destinations such as Buenos Aires, Argentina (2.5 hours); Sao Paulo, Brazil (under 3 hours); Lima, Peru (under 3 hours); and Iquique, Chile (1 hour 15 minutes).
"If you marry wise judgment, peace will become your brother-in-law." – Bolivian proverb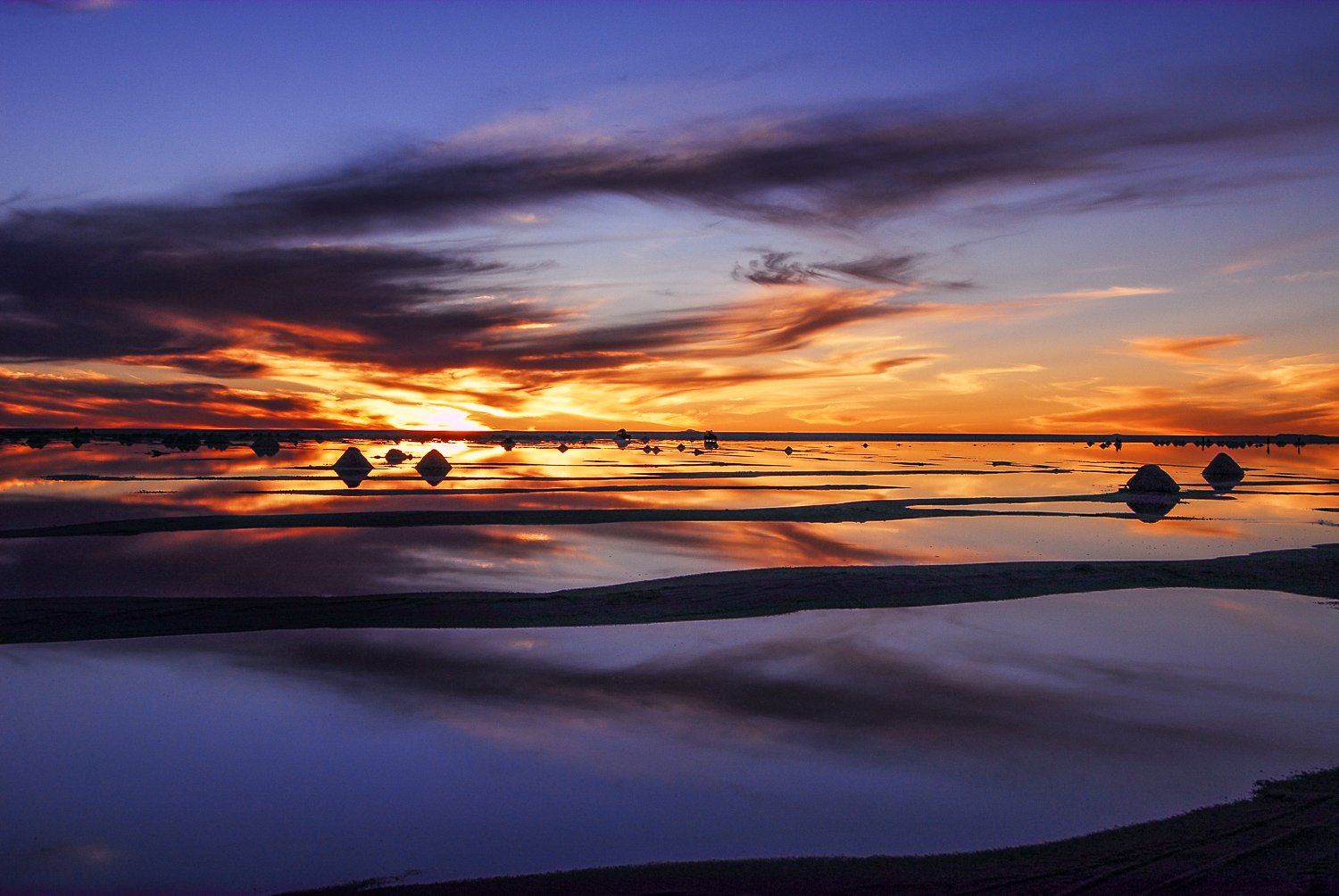 Most of Bolivia's cities enjoy consistent weather year round. However, some outlying destinations are easier to reach outside the December to March rainy season. LANDED provides personalized, custom travel within Central America, South America, and the Antarctic. We'll create a unique itinerary plan tailored to your interests and dreams. Experience the trip of a lifetime. Speak with one of our expert travel planners today at 801.582.2100.
BOLIVIA'S CENTRAL HIGHLANDS
UYUNI & THE SOUTHERN ANTIPLANO
When should I travel to Bolivia?
Due to its altitude, most regions of Bolivia are cool and windy year-round; think highs in the mid-60s F and lows nearing 40°F. Most visitors travel to Bolivia between June and October, when temperatures are less chilly. Bolivians demark the year in terms of rainy season and dry season, rather than winter and summer. Expect sunshine, even throughout the rainiest months (December to February).
The three most visited locations in Bolivia are La Paz, Lake Titicaca, and the Uyuni Salt Flats. During the wettest months (late December to February) the salt pan is flooded by overflow from the north and access to the salt flats is limited. Still, those months are very popular, drawing travelers who want to experience the mirror effect of shallow water reflecting the sky on the salt. Passengers in off-road vehicles crossing the flooded flats often enjoy the sensation of floating.
Want to know which options are right for your Bolivia vacation? Since 2006, we've been helping travelers explore Bolivia. Speak with one of the Bolivia travel experts at LANDED today. 801.582.2100.
What should I pack for Bolivia?
When packing for Bolivia, layers are the rule. Even if some of those Uyuni and Yungas photos look warm, temperatures change quickly with cloud cover and sunset. Here are some essentials to help you get started:
Lock the original in the hotel safe and keep a copy (say, a photo of the passport's photo page) with you at all times.
US cash in small denominations (clean, un-torn bills). These are widely accepted as tips. Local currency can be obtained at hotels and through ATMs.
ATM and credit cards. ATM's are available and major credit cards are accepted at most restaurants and hotels. Please confirm your travel dates and destinations with your card issuers before you leave the USA. Visit ATMs in your hotel, or with your guide, during the day (not at night).
Airline ticket information
Sun protection (sunblock, sunhat and sunglasses). Even on cloudy days, high altitude exposure can burn skin rapidly.
Camera and data cards or film, batteries
Electrical adapters
Prescription medications
Insect repellant (higher quality repellants—especially those with DEET—are difficult to find locally)
Anti-itch antihistamine spray (e.g. Benadryl spray) if headed to the Yungas or Amazon
Rain jacket (or rain repellent shell)
Synthetic fleece jacket
Light, informal clothing for dining and hotel or in cities (it's amazing how versatile a charcoal grey sweater can be)
Comfortable walking / hiking shoes (preferably waterproof) with substantial (knobby) tread.
Reusable water bottles. Bottled or filtered water will be available.
A small daypack (roughly the size of a child's school backpack). This should be large enough to carry a jacket, water bottle, incidentals, and camera.
Most of our clients leave the travel logistics to us. Doesn't that sound better? Speak with one of our Bolivia travel planning experts today, at 801.582.2100.
What language is spoken in Bolivia?
Spanish is the predominant language in Bolivia. English is spoken in locations frequented by foreign visitors. However, an estimated 55% of Bolivians claim indigenous lineage. As per 2009 constitution, Spanish and 36 indigenous languages are official in Bolivia.
Considering a vacation in Bolivia? Speak (English) with one of our Bolivia travel planning experts today, at 801.582.2100.
How safe is Bolivia?
Although Bolivia is generally quite safe, common-sense precautions are important. In the larger metro areas, big city rules apply. Bag snatchers and pickpockets target public transportation hubs and tourist areas. As a general rule, you should not be out in the streets alone after dark. Stay in well-lit areas and be aware of your surroundings. Most incidents occur in the street. Keep your travel documents (e.g. passports) in the hotel safe or concealed in a zippered pocket. Leave that flashy wristwatch at home or in the hotel security box. Your guides and the hotel concierge can provide additional guidance.
If you're considering traveling to Bolivia, you're our kind of traveler. Since 2006, we've been helping travelers of all sorts (e.g. adventurous singles, honeymoon and empty-nest couples, families with young children, and multi-generational families) explore Bolivia in style. Speak with one of the Bolivia travel experts at LANDED today. 801.582.2100.
What are the COVID requirements for visiting Bolivia?
Bolivia is open for travel from all US states, though there are some requirements for entry. Here are the current entry requirements for Bolivia:
All passengers over 5 years old must present a negative result of a COVID-19 RT-PCR test or a COVID-19 Antigen test performed up to 72 hours prior to arrival to Bolivia OR show vaccination card or certificate with a complete vaccination scheme (no booster shot needed), with the last dose administered at least 14 days prior to travel.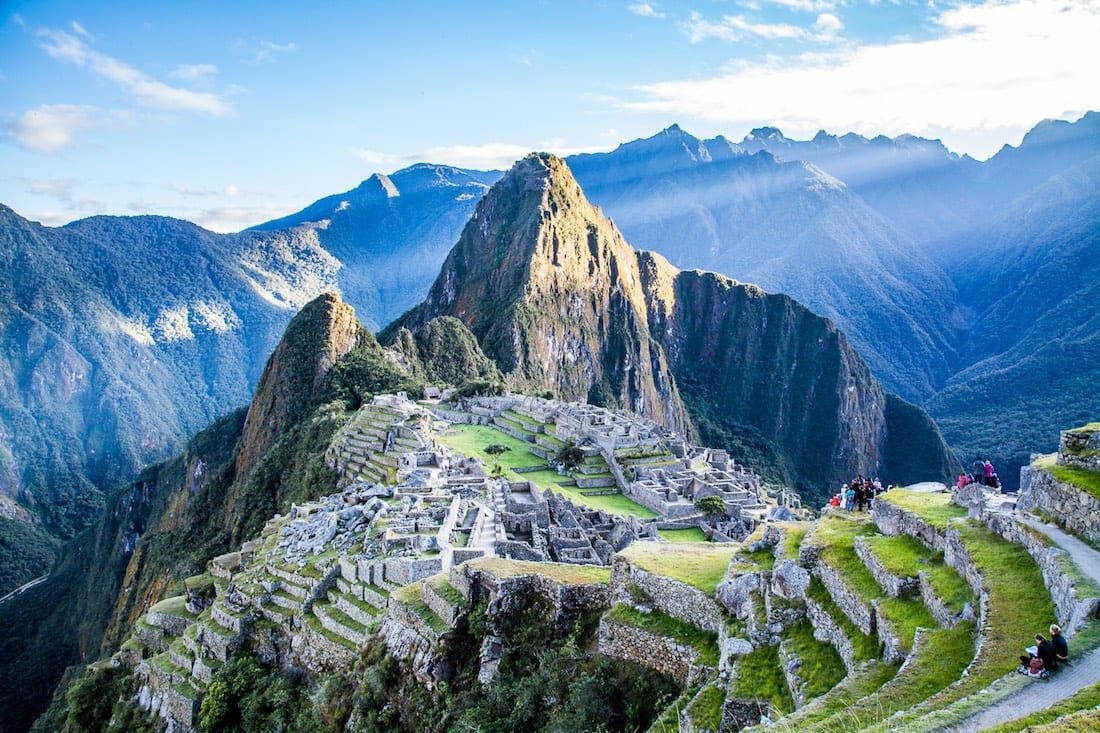 MACHU PICCHU
First light at Machu Picchu is an unforgettable experience. At dawn, the site is often concealed by low clouds. As the sun rises, the mists slowly dissipate to reveal walls and plazas — first in glimpses, then in majesty.