Leon: Elegant Colonial Architecture
Leon is the embodiment of Nicaragua's legendary vitality, optimism, and creativity.
Originally founded in 1524 on the shores of Lake Xolotan, Leon was reestablished 20 miles distant after the devastating 1610 eruption of the Momotombo Volcano.
Unhindered by its false start, Leon's historic center is bursting with elegant colonial architecture.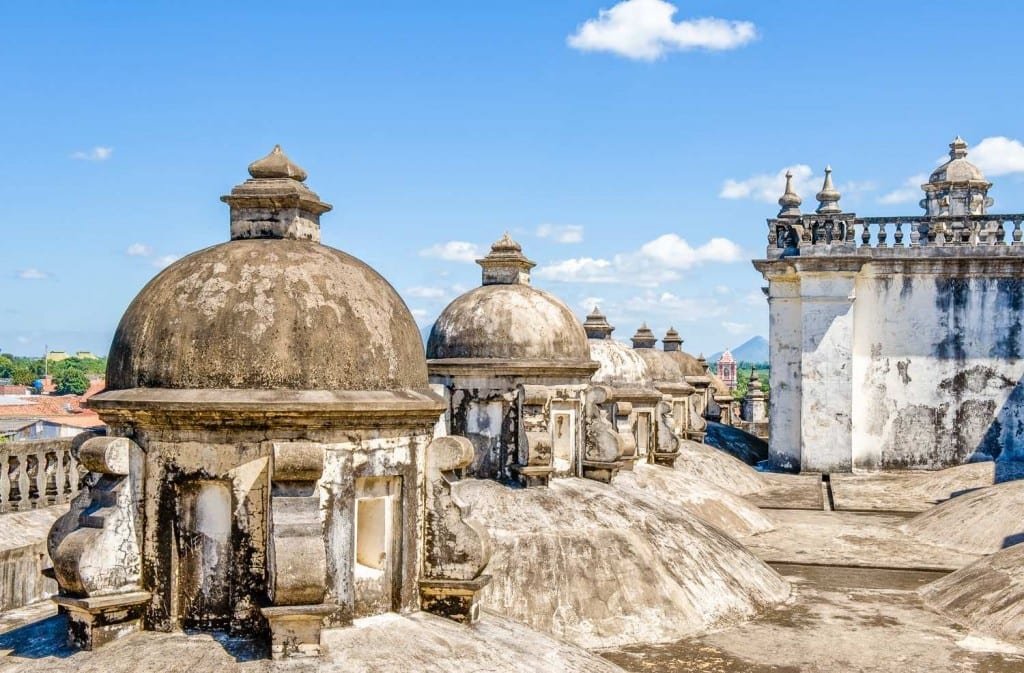 The Cathedral of the Assumption
Leon's main plaza is anchored by the largest church in Central America: The Cathedral of the Assumption.
Completed in 1740, its twin bell towers offer magnificent views of the city.
Half a dozen other spectacular churches grace the city center, brightly arrayed in yellow, pink, and white.
Home of Duben Dario
The unique atmosphere of Leon inspired Nicaragua's iconic poet, Ruben Dario, whose home can be visited here.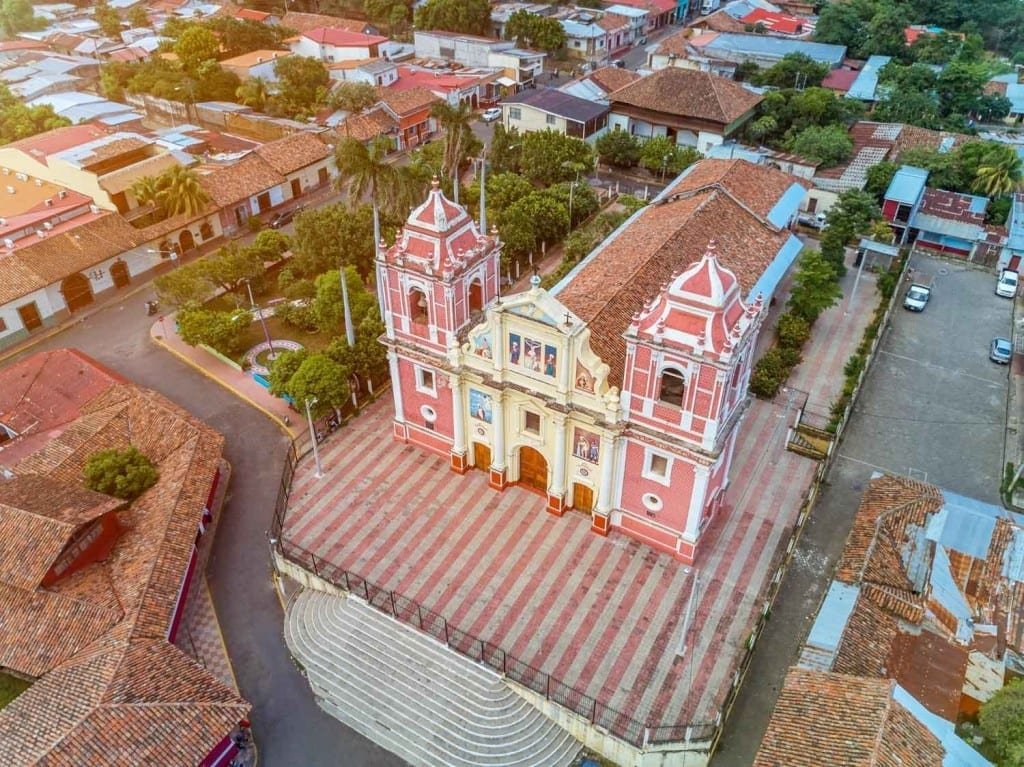 Nicaragua's First University
Leon is the site of Nicaragua's first university, in addition to serving as the traditional stronghold of the country's liberal movement.
Granada, 75 miles to the southeast, represents the center of the country's conservative power base.
After independence, a 20-year feud between the cities ended in 1858. In the years of peace following, the two sides split the difference, establishing the new capital in Managua.
Hiking Leon's Volcanoes: Cerro Negro
Visitors to Leon can hike six nearby volcanoes.
Our favorite of these is the active, black-sand Cerro Negro—two hours hiking up and a quick snowboard ride down.
Other possible day trips include:
Visits to Old Leon (UNESCO World Heritage Site)
Excursions to Pacific Beaches of Poneloya and Las Peñitas (20 minutes from Leon)
Horseback Riding at Local Ranches
Leon is located 50 miles (90 minutes) northwest of Managua. Granada, 70 miles to the southeast, can be reached in about two hours.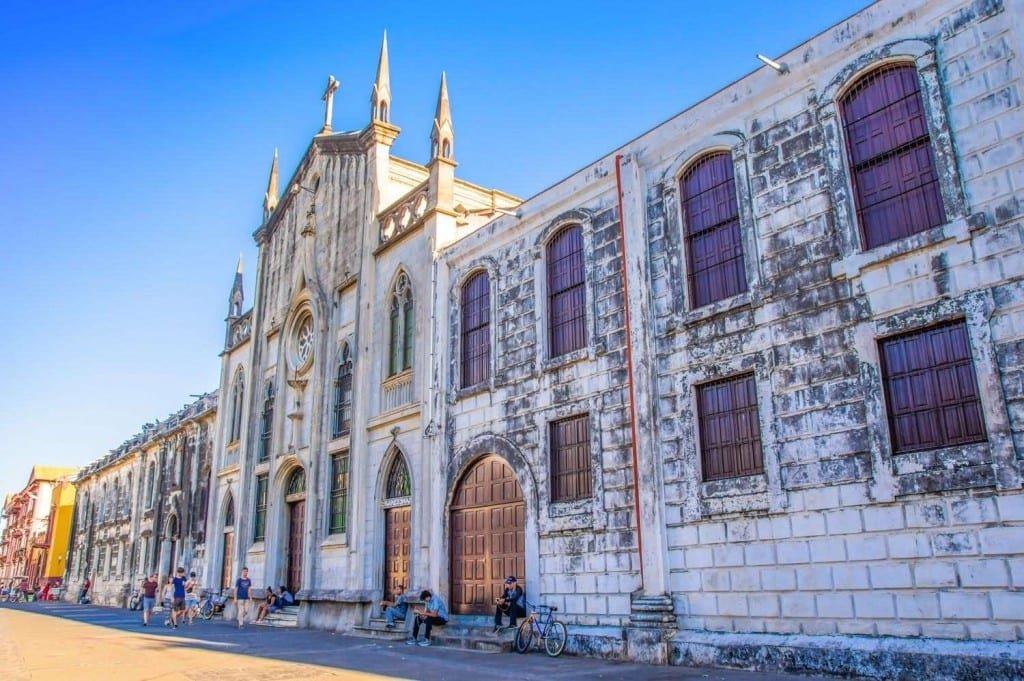 Looking for custom, private travel options in Nicaragua? Let us turn your dreams into memories. LANDED delivers the finest in custom, private travel to Central America, South America, and Antarctica. These regions are our passion; we know them first-hand and by heart. Speak with one of our expert travel planners today at 801.582.2100. We'll create the most exceptional trip of your life.
"You make the road by walking it."
Nicaraguan proverb
GO WITH LANDED.

Could not have been more pleased.  This was the trip of a lifetime for our family.  Thank you!
IF YOU LIKE TO TRAVEL.

What an amazing adventure we have had.  Many thanks to you for putting it together. The whole rhythm of the trip was perfect, and leaving one place for the next worked perfectly. This trip definitely made me want to experience other great spots in South America as the people have been wonderful and the places incredible. Wish we had a month to really explore.  Everybody in the family had a great life experience. Thanks again!
DO IT.

One of our best trips ever, made excellent by LANDED's attention to detail. When planning the trip our travel planner listened to us carefully, asked the right questions, and customized the trip to have just the right balance of adventure and city sights for us. The guides, drivers, and "handlers" were superb. The hotels were top notch. We felt relaxed and pampered all the way. Will definitely look to LANDED to plan our next trip to South America.
Absolutely amazing. Thanks again John. Carlos was the best guide I've ever had anywhere in the world. Top notch talent.
We returned yesterday from our trip and I wanted to let you know that it was absolutely amazing!  There is not a single thing on the itinerary that we would change.  The guides were knowledgeable, friendly, and prompt.  The hotels were beautiful, the food delicious and the pace of the activities was perfect for us. Thank you so much for making our trip such a fantastic experience.
In short, our trip was amazing, and, as we had hoped, the Inca civilization was fascinating to us. Thanks so much for your constant assistance and thorough planning.
The planning, service and execution of the trip was flawless – thank you for making it perfect!
LANDED's services were excellent. You were helpful and knowledgeable, making our trip a memorable one.  I will use your services in the future as I continue to explore Central & South America.
It was like being in a very well organized dream. Your patience with my questions and concerns during the planning stage was remarkable.
I've never had such great service from a tour operator. Not only were you a great help on the planning-insuring that I was staying at the right places and enjoying the type of activities we love-but the follow up was incredible. Your team checked in with us several times during the trip to confirm that everything was going well, and that the guides you assigned were satisfying us. It's one thing to get a "thank you card" or a "hope your trip was great" note after you're back, but to insure that it's going well during the trip is a welcome first! I look forward to working with you again on a another trip.
You actually got to know us, which made it possible to know just what we like. You promised the best trip ever and you kept your promise.
The entire trip was amazing. Both the hotel & restaurant recommendations were well thought out and helped us thoroughly enjoy our honeymoon.
LANDED is like the ultimate virtual guide, suggesting the high points and helping us get the most out of a week's time.
We had a great time, and didn't miss anything. We zip-lined, rafted, sailed and surfed. The contacts and drivers were professional and courteous. We don't want to be back at work. Thank you for all of the work you did to set up this trip.