Punta del Este
Punta del Este's elitist reputation only tells part of its story.
Although the peninsula does regularly attract South America's rich and famous, this destination is also friendly and approachable.
In a broad sense, Punta del Este is symbolic of Uruguay's role as regional mediator; balancing Argentina's aristocratic tendencies with Brazil's egalitarian spirit.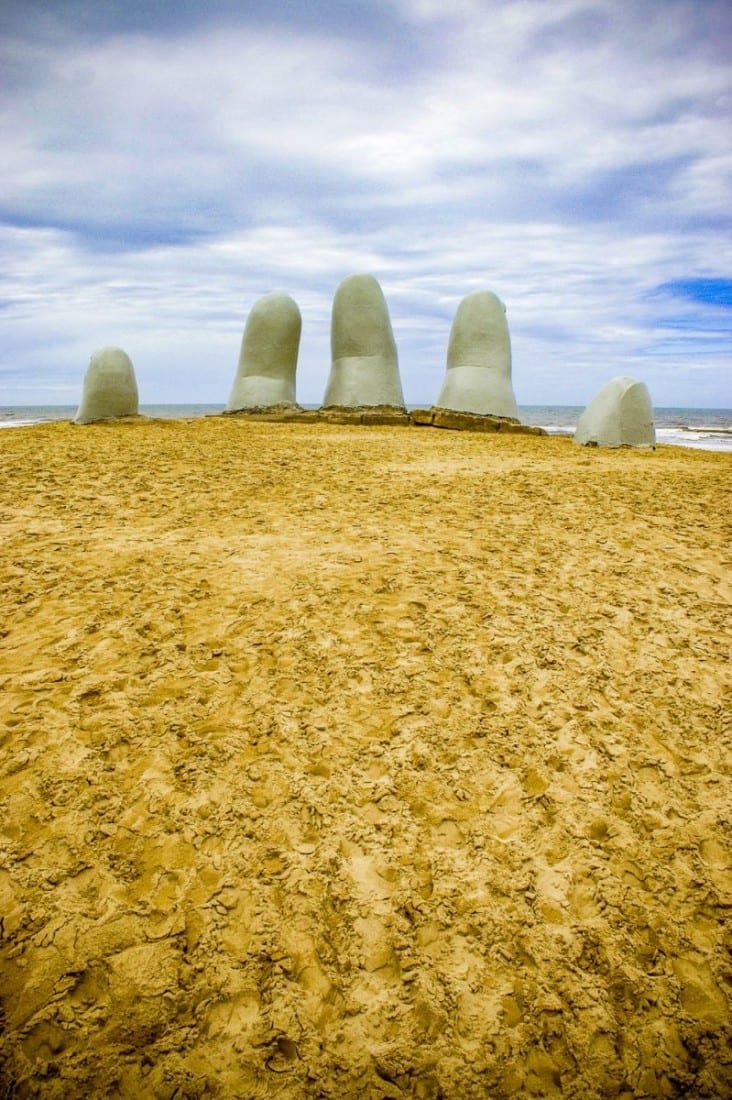 For the Christmas to Carnival high season, hotel rooms and private villas must be booked months in advance.
Punta del Este Restaurants
Restaurants and nightclubs become more exclusive, and prices reflect the increased demand. Nevertheless, dance floors and beaches serve as efficacious equalizers.
During the May to September off season, crowds thin, some restaurants and nightclubs are shuttered, and the climate mellows to a relaxed Uruguayan pace.
The peninsula's two coasts—Mansa on the Rio de la Plata side and Brava on the Atlantic—are both reflective of Punta's split personality.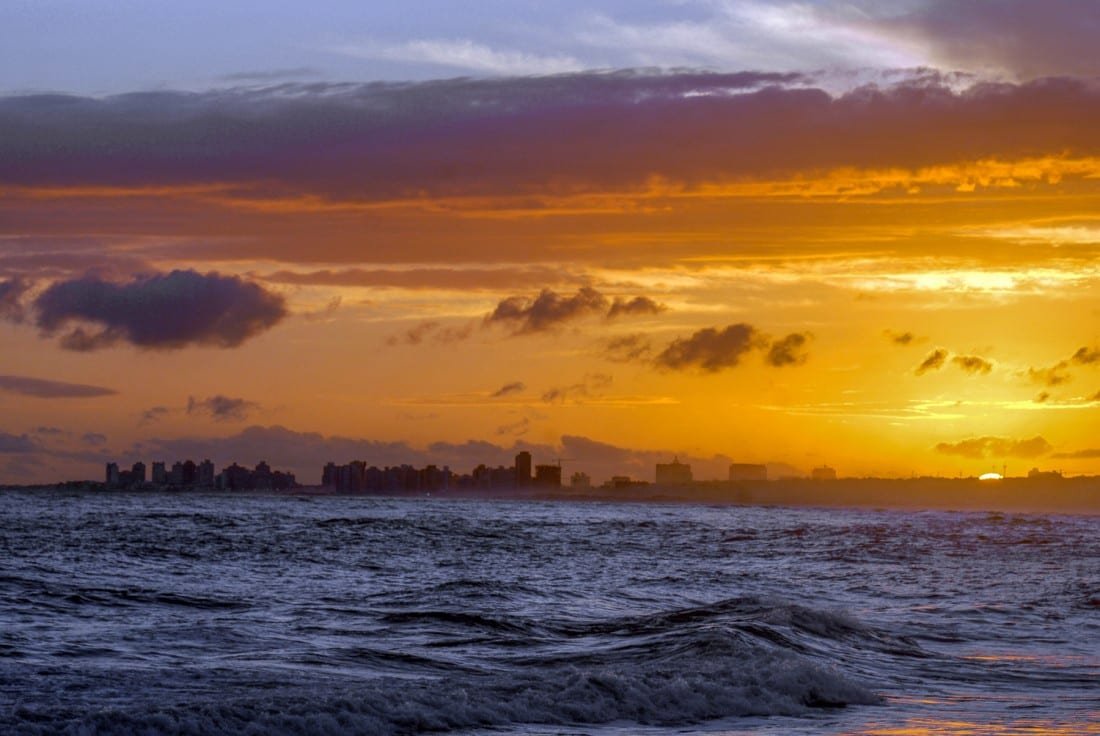 The Mansa's calm waters shelter the yacht harbor, while the Brava coast is known for challenging waves and just-add-water beach parties.
Surfing Playa Brava
On either side, the sand stretches for miles.
Imagine catching sunrise surf at Playa Brava, renting a bike during the day, and watching the sun set from the Rambla Artigas as the day winds down.
Dinner begins around 10PM. Nightclubs and casinos stay open until dawn.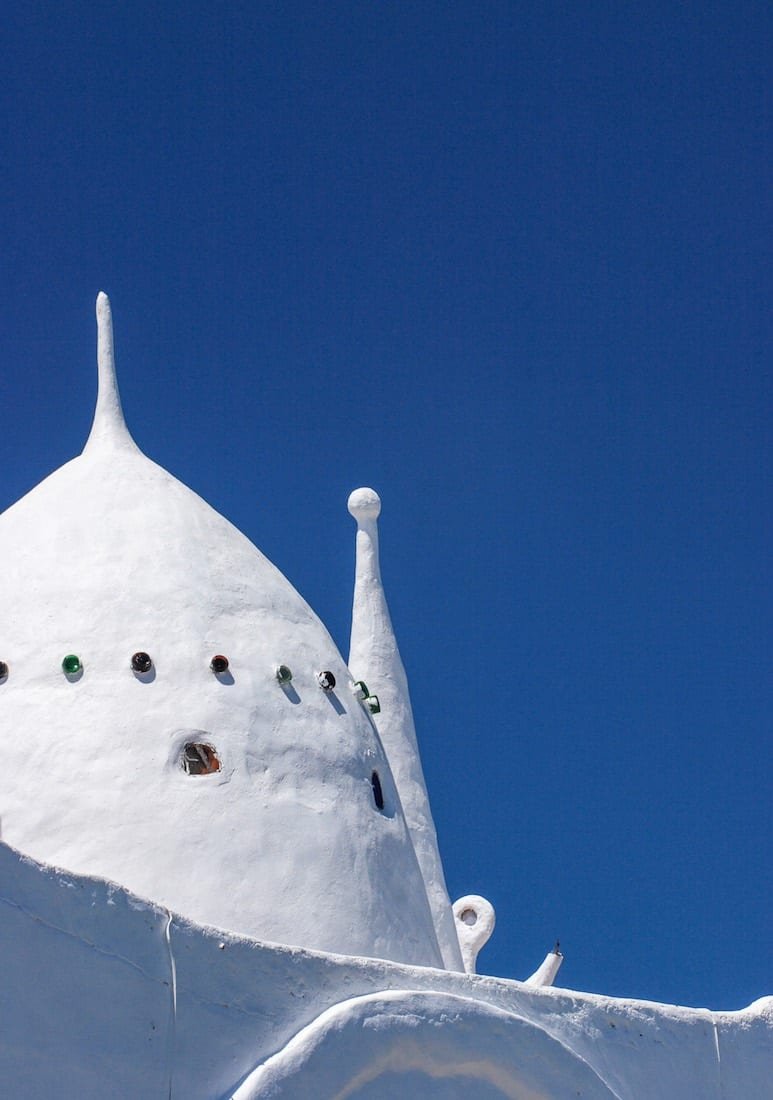 The central spine of the community is Avenida Gorlero, a fashionable high street.
Here, a high-rise hotel zone extends east from the harbor. The tip of the peninsula is primarily residential, anchored by a 19th century lighthouse.
Nuestra Senora
For an enjoyable change of pace, pay a visit to the charming church of Nuestra Senora de la Candelaria.
If you're traveling with children, you could visit one of the area's two pocket-sized natural reserves or the Museo del Mar—found six miles to the northeast near La Barra.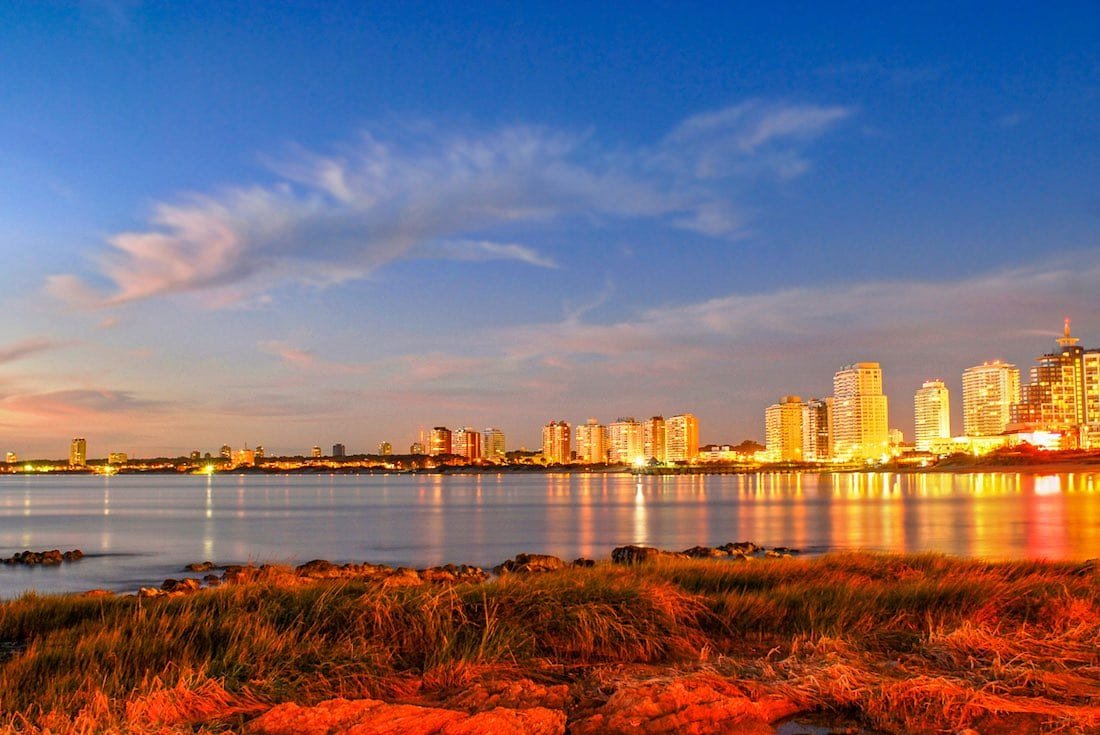 This barn-sized museum houses a quirky collection of shells, preserved sea creatures and pirate artifacts.
Pleasure cruises to nearby islands depart from the Punta del Este harbor. Notably, Isla de Lobos is home to a huge colony of sea lions and South America's tallest lighthouse.
Getting to Punta del Este
Punta can be reached by road from Montevideo (90 miles or 1.5 hours) and by air.
Punta's airport receives direct flights (55 minutes) from the domestic airport in Buenos Aires.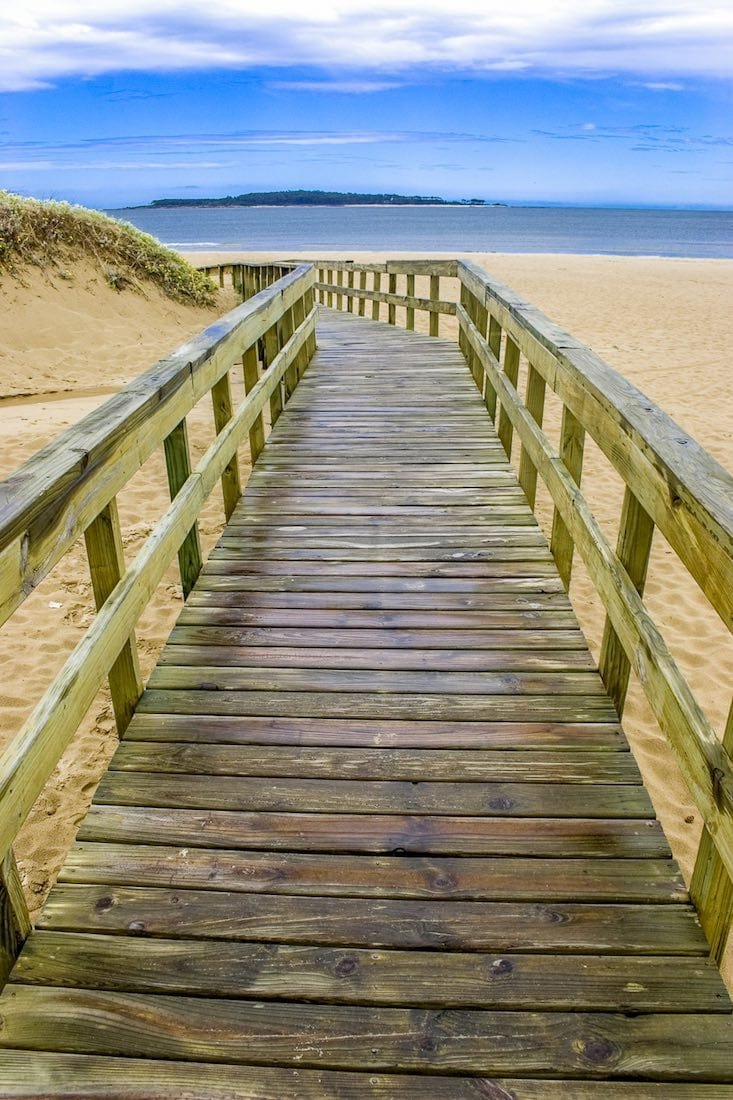 During high season, flights are also available from Santiago, Chile; Rio de Janeiro and Sao Paulo, Brazil; and Cordoba, Argentina.
Punta del Este Climate
During the December through February high season, temperatures reach into the mid 80s, with lows near 60° F. In the winter months (June – August) temperatures range from the low 60s to the mid 40s.
Sunny skies are likely year-round, although May and October are often partly cloudy.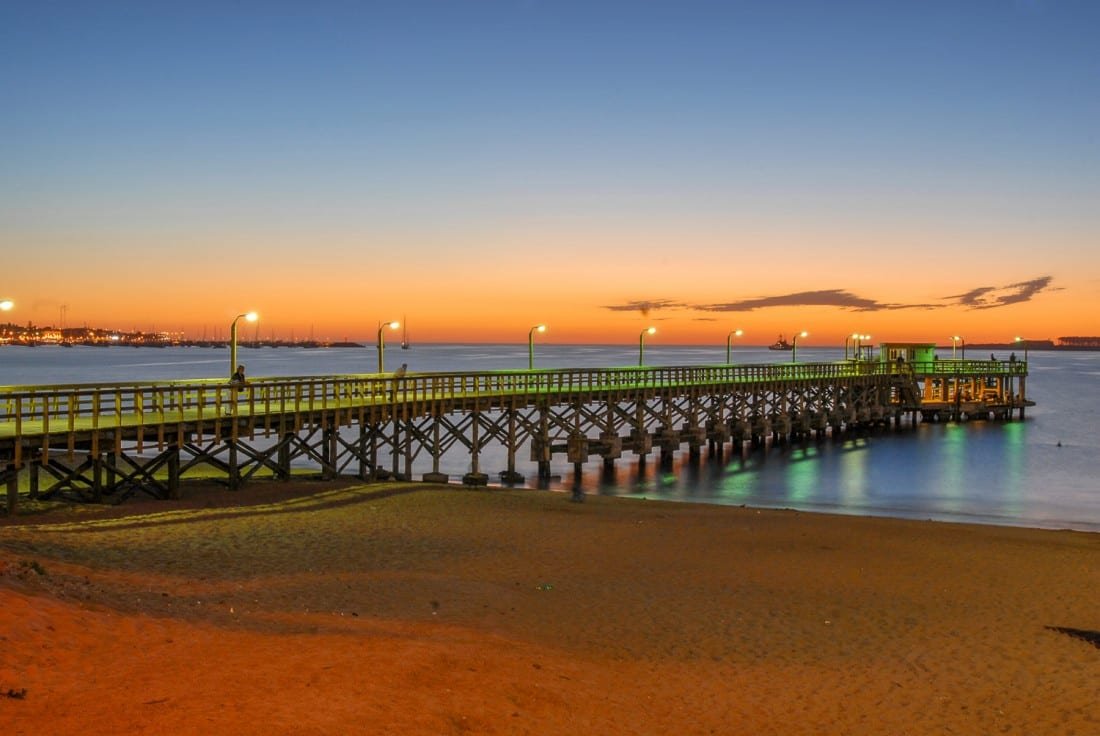 LANDED arranges personalized travel in Uruguay and throughout South America. We organize luxury accommodation, private transportation, and tours with expert guides. Speak with a travel planner today at 801.582.2100. We'll take care of the details.
"The voice of the sea speaks to the soul. The touch of the sea is sensuous, enfolding the body in its soft, close embrace."
Tim Cahill
PERFECT

Could not have been more pleased.  This was the trip of a lifetime for our family.  Thank you!
GO WITH LANDED

If you're planning to travel, go with LANDED. You won't be disappointed.
AMAZING ADVENTURE

The whole rhythm of the trip was perfect, and leaving one place for the next worked perfectly. This trip definitely made me want to experience other great spots in South America.
TRIP OF A LIFETIME

The locations were amazing. Your on-the-ground team was fantastic–knowledgeable and accommodating. Beautifully organized.
ABSOLUTELY AMAZING

The best guide I've ever had anywhere in the world. Top notch talent.
GREAT SERVICE

You were a great help in planning–ensuring that I was staying at the right places and enjoying the type of activities we love–and the follow up was incredible.
YOU GOT TO KNOW US

Exactly the bonding and sharing experience we'd hoped for. The rhythm, variety, and tone was spot on. With effective listening skills, you built a good picture of what we wanted–more complicated than "just" luxury. The result was a great trip, one made just for us.
BEST EVER

Excellent attention to detail. You listened carefully, asked the right questions, and customized with just the right balance. Superb guides. We felt relaxed and pampered all the way. You'll plan our next trip.
FANTASTIC EXPERIENCE

Not a single thing on the itinerary that we would change.  The guides were knowledgeable, friendly, and prompt.  The hotels were beautiful, the food delicious and the pace of the activities was perfect for us.
DO IT!

In short, our trip was amazing. Thanks so much for your constant assistance and thorough planning.
PERFECT

The planning, service and execution of the trip was flawless – thank you!
EXCELLENT

LANDED was helpful and knowledgeable, making our trip a memorable one.  I will use your services in the future as I continue to explore Central & South America.
A VERY WELL ORGANIZED DREAM

Your patience with my questions and concerns during the planning stage was remarkable.
THANK YOU

You actually got to know us, which made it possible to know just what we like. You promised the best trip ever and you kept your promise.
ENTIRELY AMAZING

Your recommendations were well thought out. We thoroughly enjoyed our honeymoon. Thank you!
THE ULTIMATE GUIDE

LANDED is the ultimate. You helped us make the most out of a week's time.
DIDN'T MISS A THING

We zip-lined, rafted, sailed, and surfed. The contacts were professional and courteous. We don't want to be back at work. Thank you for all of the work you did to set up this trip.