Hotel Aguas Claras
In 2016, watercolorist Elizabeth Steinvorth and her daughter Elena Rohrmoser became fascinated with the South Caribbean of Costa Rica, specifically a small coastal town of Puerto Viejo.
Inspired by the melting pot of cultures found there, Steinvorth and her daughter set out to design a boutique hotel that would have minimal ecological impact and stay true to the area's architectural heritage.
Hotel Aguas Claras is located near Costa Rica's Playa Chiquita.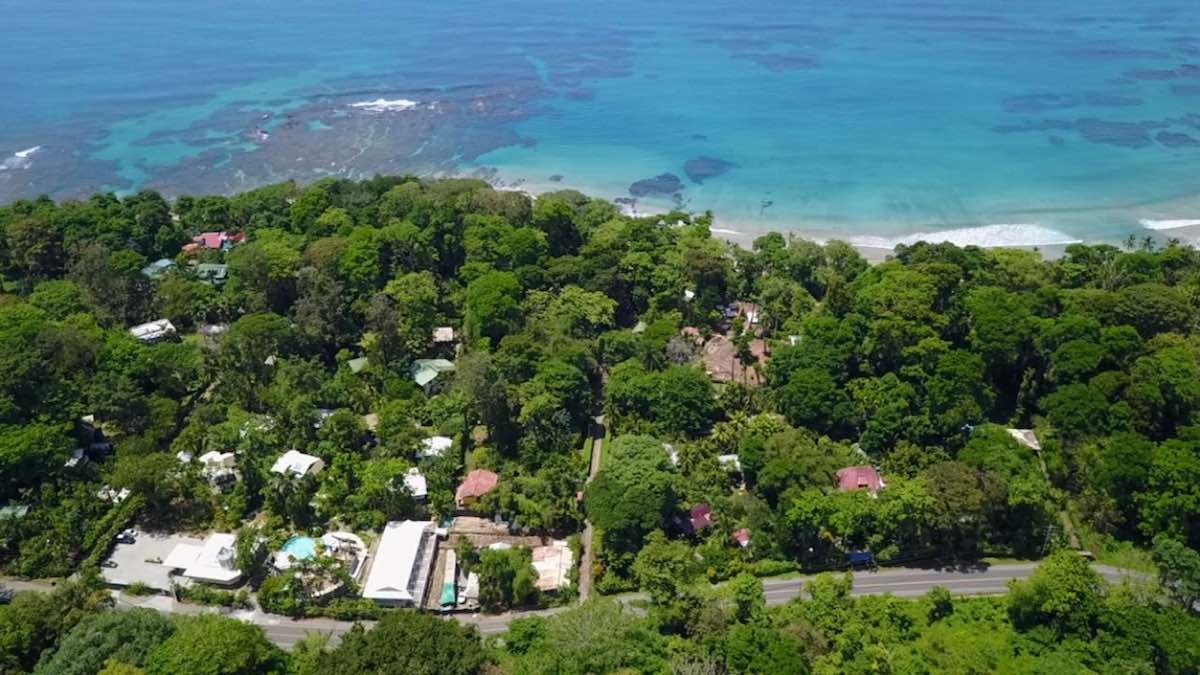 Hotel amenities include the Papaya Restaurant, bar, swimming pool, and massage room.  Yoga classes are available.
Guests have access to complimentary beach cruisers and snorkeling equipment, and shuttle service to the nearest town, Puerto Viejo.
The hotel's 12 suites and bungalows are furnished with:
Organic Cotton Sheets
Outdoor Showers
Original Artwork
Private Patios
Each room also has air-conditioning, Wi-Fi, minibar, and security box.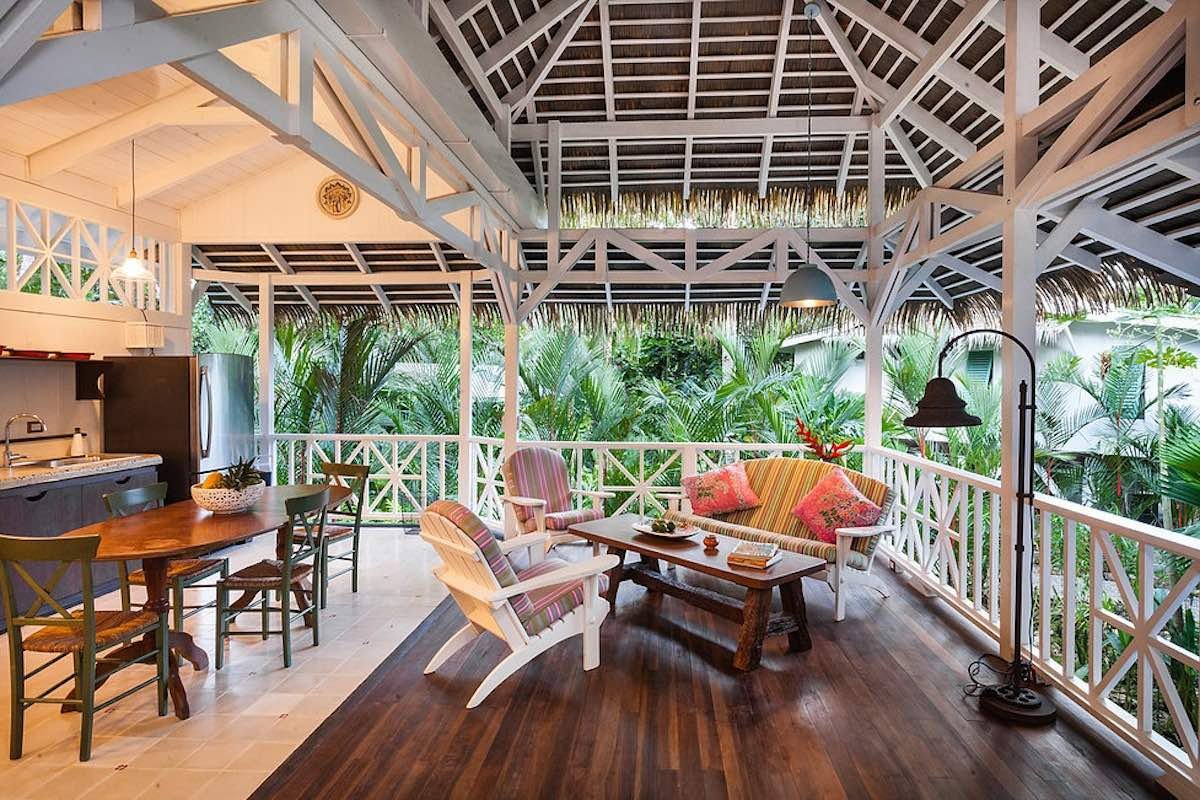 Aguas Claras Location
Located on the Caribbean coast of the Limon province in Costa Rica, Hotel Aguas Claras lies on the shores of Playa Chiquita, in Puerto Viejo. Nearby, you'll find some of Costa Rica's best surf breaks, and beaches such as Playa Negra and Punta Una.
Just eight miles south of Puerto Viejo is the small village of Manzanillo, on a section of coast known for excellent kayaking.
Nearby is the Gandoca Manzanillo Wildlife Refuge, a 740-acre rainforest protecting species of sea turtles, manatees, crocodiles, and dolphins. Cahuita National Park, 25-minutes from Puerto Viejo by road, preserves beaches and rare coral reef.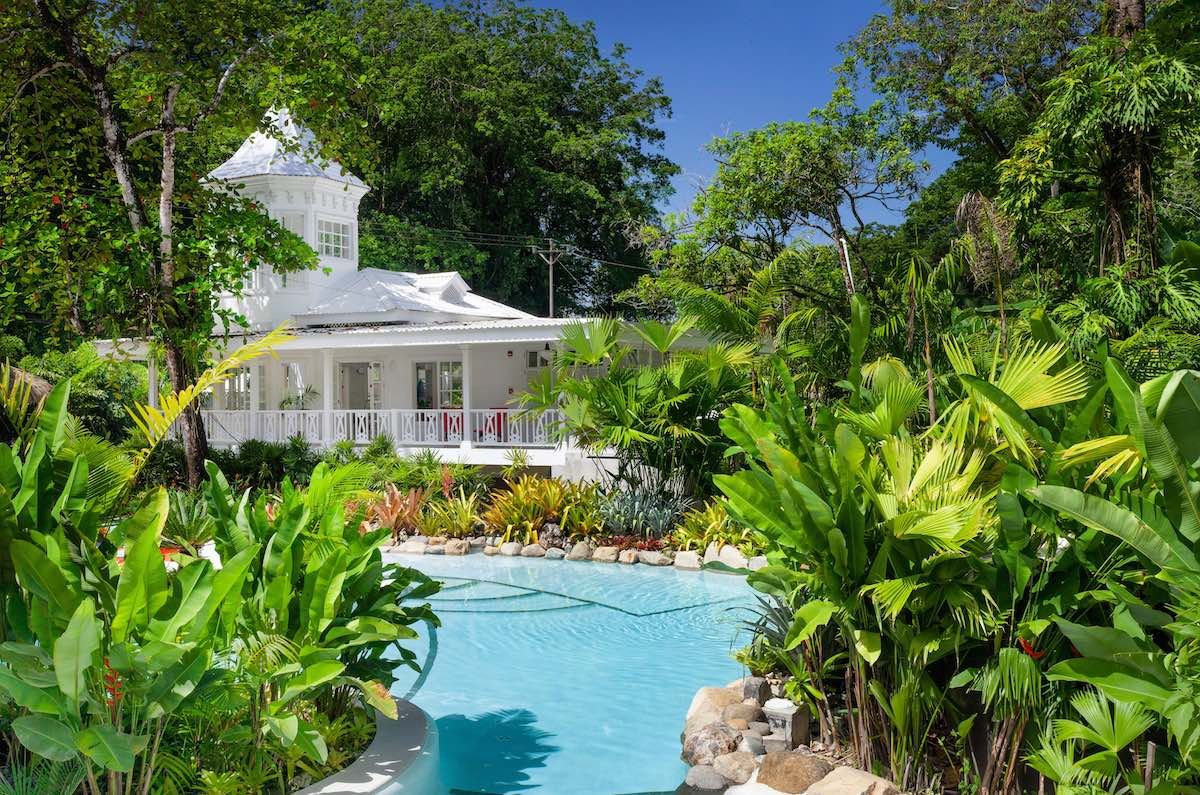 Another tourist favorite is visiting the Jaguar Rescue Center.
Guided by trained professionals, visitors can closely observe and interact with rescued monkeys, native cats, sloths, and snakes.
Aguas Claras Accommodations
Each of the suites and bungalows at Aguas Claras reflect a different Caribbean theme, sprinkled with colorful details and expressing a contemporary design that draws from the region's architectural traditions.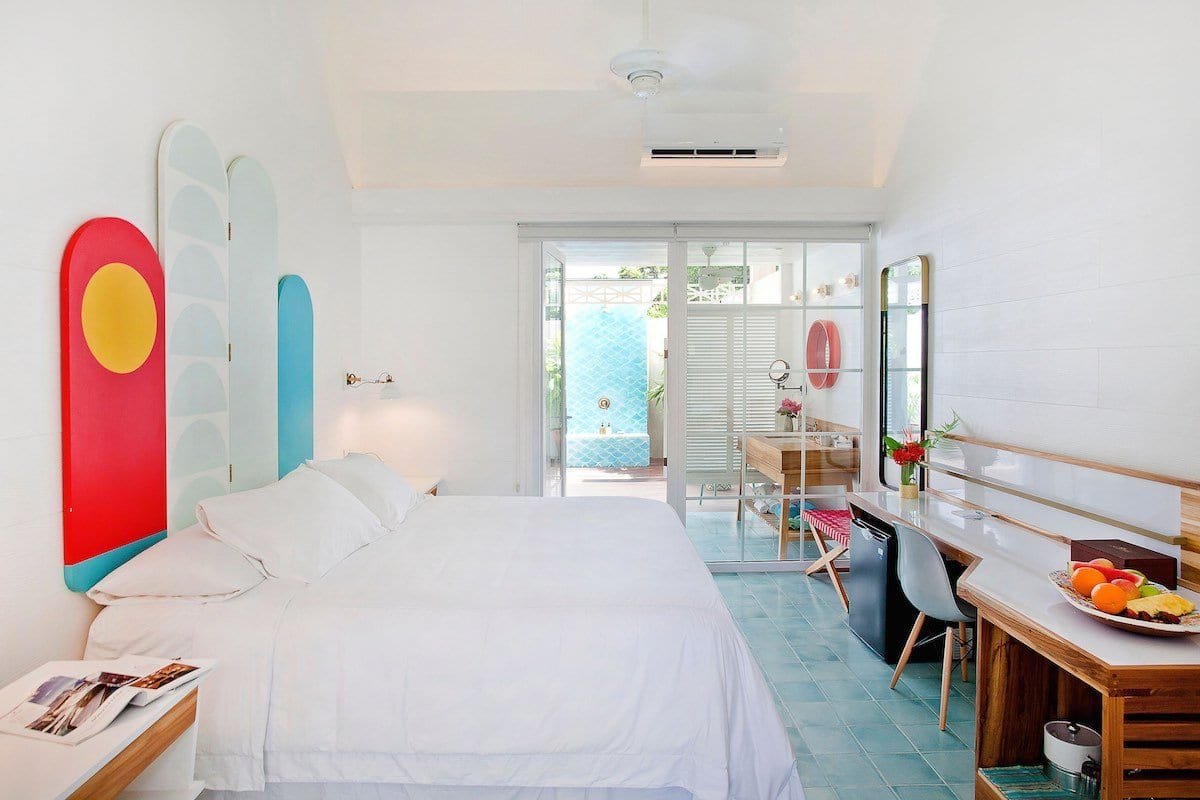 Pavlova Suites
The hotel's Pavlova Suites are located within the Victorian Row House.
The row house has five guestrooms, each with one king-size bed or two double beds. Each room is equipped with mini-bar, sofa, and an outdoor shower within a private lounge area.
Caribbean Bungalows
Hotel Aguas Claras also has four Caribbean-Victorian style houses. Two are one-bedroom bungalows with either one king-size bed or two twin beds.
The other two are two-bedroom bungalows with one king-size bed and two twin beds.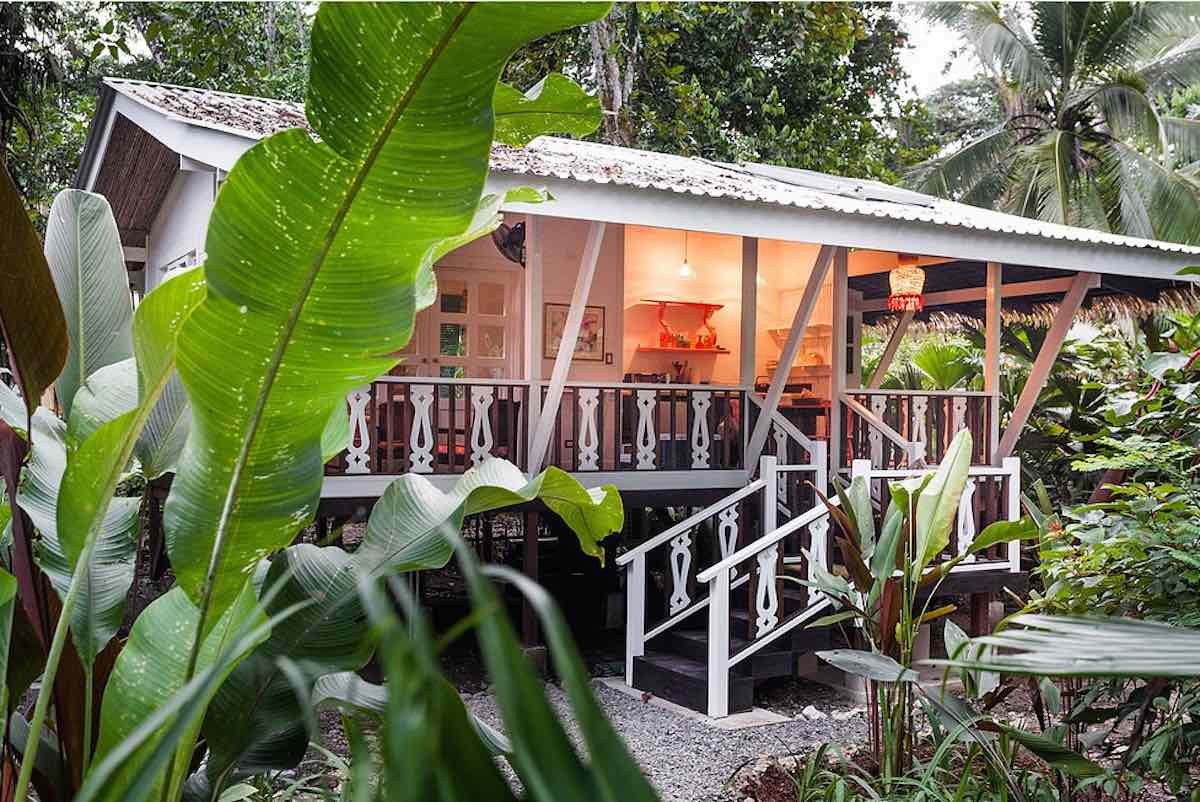 Casa Floralia
Casa Floralia is a private house with five bedrooms.  The lower level has three bedrooms, each with either two twin beds or one king-size bed.  Each bedroom has a private, en suite bathroom.
Upstairs, two other bedrooms are furnished with one king-size bed each, and private en suite bathrooms.
Other amenities include a kitchen, living room, and balcony.
Casa Gandhi
Casa Gandhi is the hotel's outdoor wellness center. Nestled within the gardens, this wood-floor, bamboo cabana is ideal for yoga and meditation.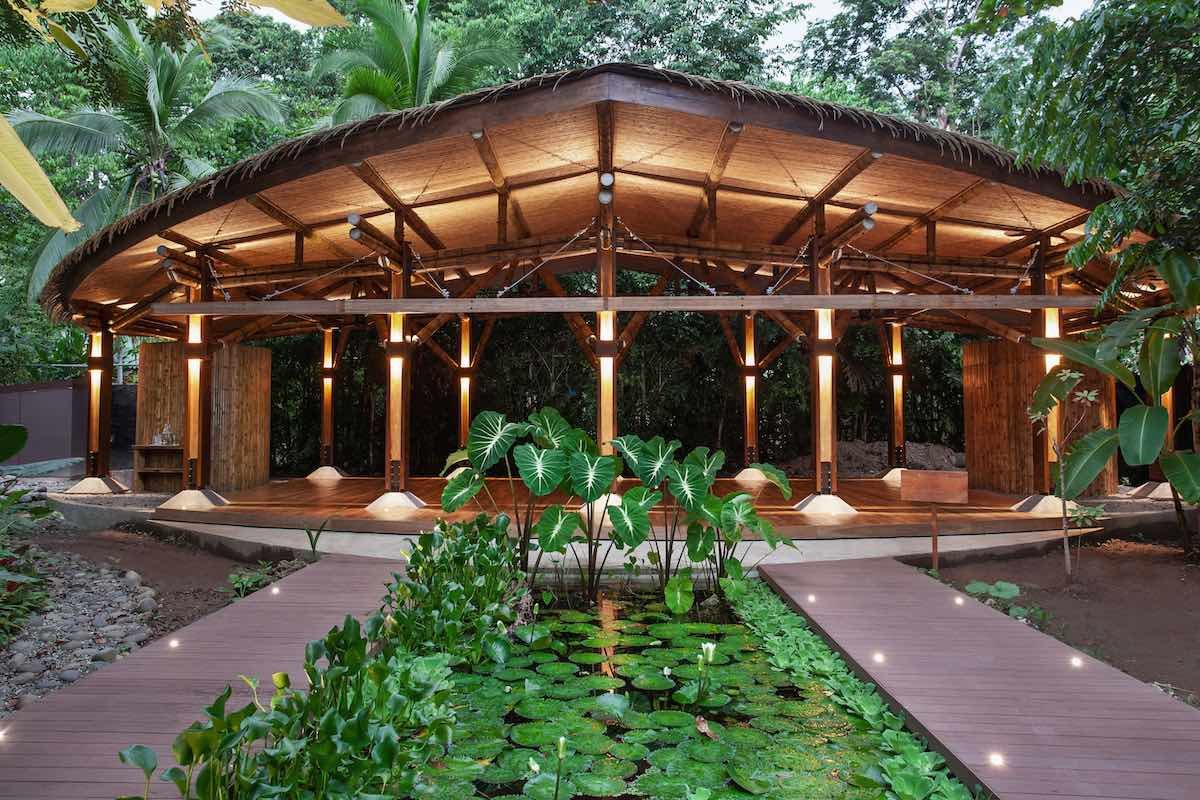 ARE YOU CONSIDERING A STAY AT AGUAS CLARAS? LANDED PROVIDES PERSONALIZED, CUSTOM TRAVEL WITHIN CENTRAL AMERICA, SOUTH AMERICA, AND THE ANTARCTIC. WE'LL CREATE A UNIQUE ITINERARY PLAN TAILORED TO YOUR INTERESTS AND DREAMS. EXPERIENCE THE TRIP OF A LIFETIME. SPEAK WITH ONE OF OUR EXPERT TRAVEL PLANNERS TODAY AT 801.582.2100.