PLANCIUS
MV Plancius is a polar expedition cruise ship with a maximum capacity of 108 passengers (52 guest cabins).
Plancius is comfortable Antarctic cruise ship, but is not a luxury vessel. It was heavily refurbished in 2009. So why do we recommend it? Because it is an excellent value. It's a great option for intrepid travelers who want an active experience in Antarctica–a true expedition, with options for a range of outdoor activities.  With only 116 passengers, guests can enjoy longer stays at landing sites and more time with wildlife.
Plancius has a crew of 39, in addition to an expedition team of 8, and an onboard doctor.
Plancius is 292 feet long, with a width (beam) of 47.5 feet, a draft to baseline of 16 feet, and a 1D ice rating. With 3 diesel/electric engines, Plancius has an average cruising speed of 10 knots. In calm waters, this Antarctic cruise vessel is capable of 12 knots.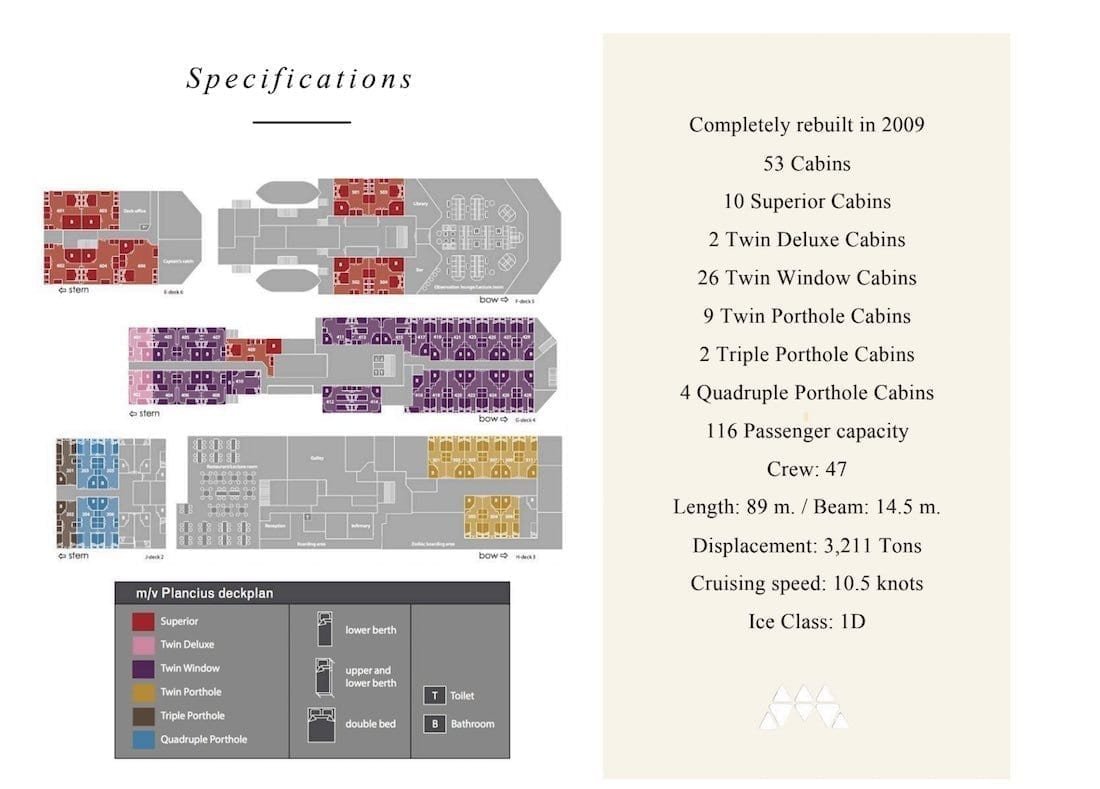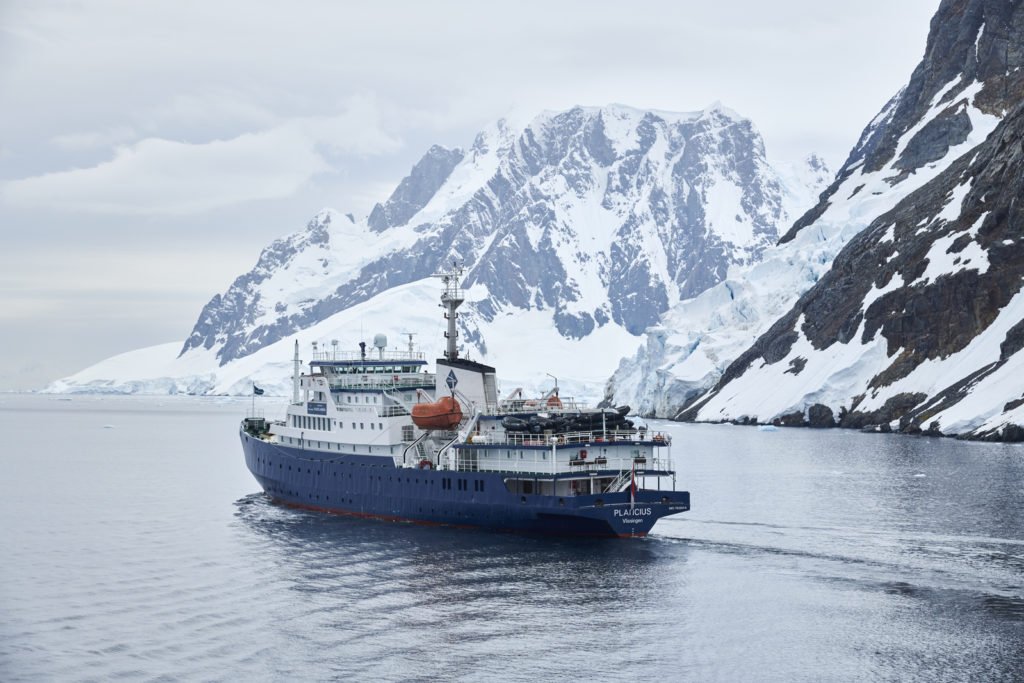 Amenities
Plancius amenities include a restaurant/lecture room, panoramic observation lounge (with bar and library), a gallery, and an infirmary. Deck 4 features large, open deck observation areas, with full walkaround possibilities.
All meals onboard the ship, including snacks, coffee and tea are included in all itineraries.
Plancius has a non-smoking policy, but guests can smoke in certain designated areas.
Laundry service, bar, beverages, telecommunication and excess baggage come at an additional cost.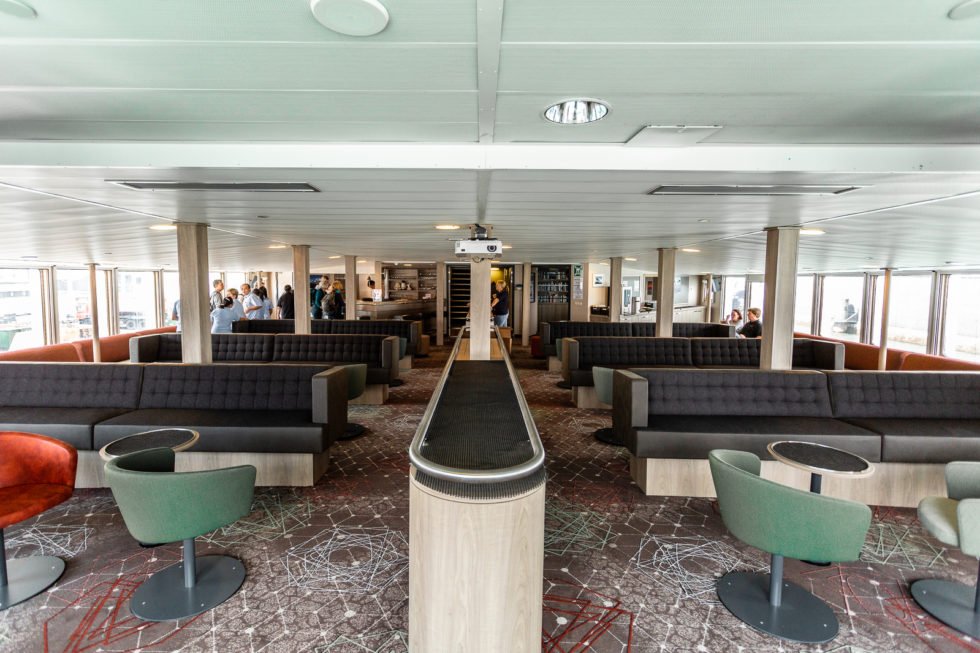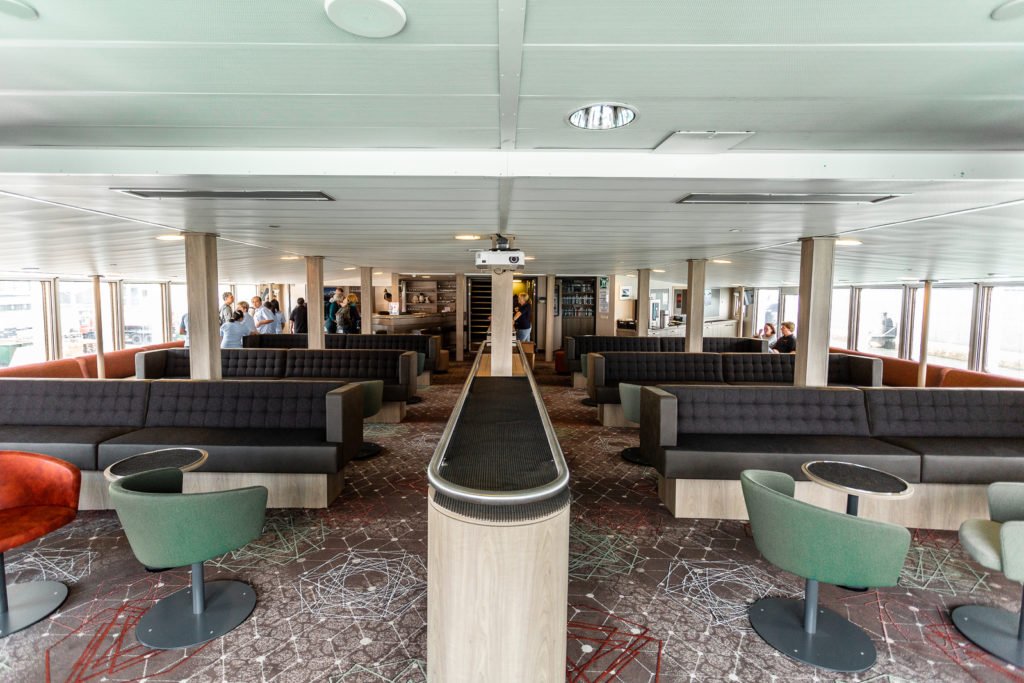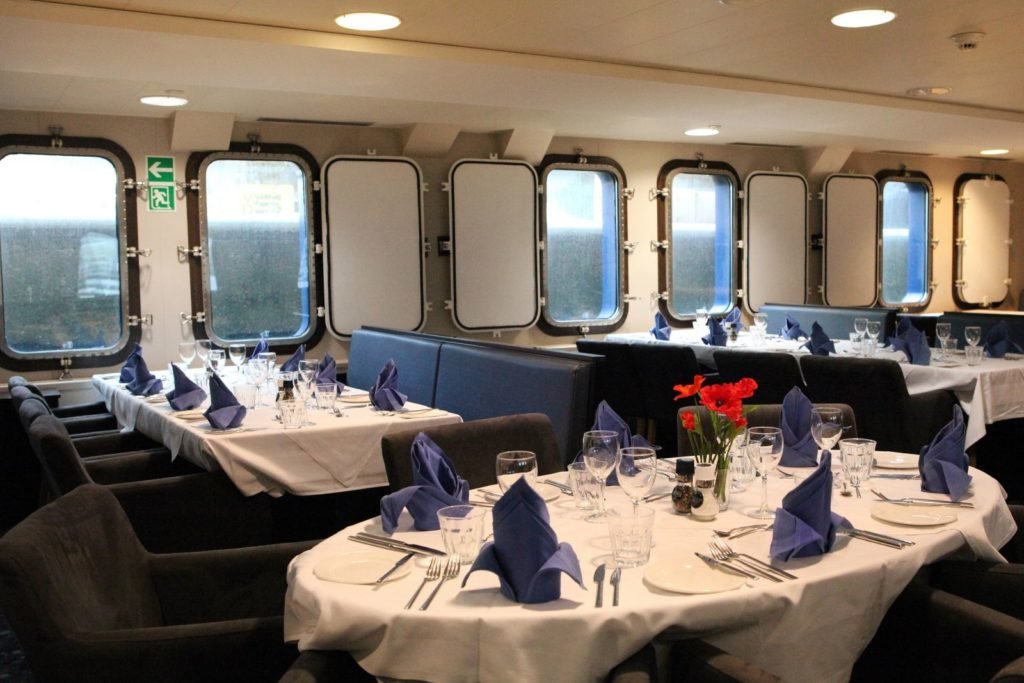 Activities
On several of its cruises, Plancius operates as a 'basecamp'. The ship offers an exploratory educational program, with a goal of providing guests as much time onshore as possible. Plancius carries ten Zodiacs for exploration and remote landings. Zodiac cruising and onshore hiking are included with every departure. These are true expeditions; the timing and location of landings are all subject to weather and local conditions. In that way, each cruise is unique.
Special interest activities such as kayaking, hiking, snowshoeing, mountaineering, field camping, ski trekking, and polar diving are available on selected voyages. Our team of LANDED travel specialists can help you select the voyage that's right for you.
When you aren't exploring the Antarctic on land or cruising the coastline in a Zodiac, you can enjoy the Plancius program of lectures, delivered by the expedition team's naturalists and adventure guides.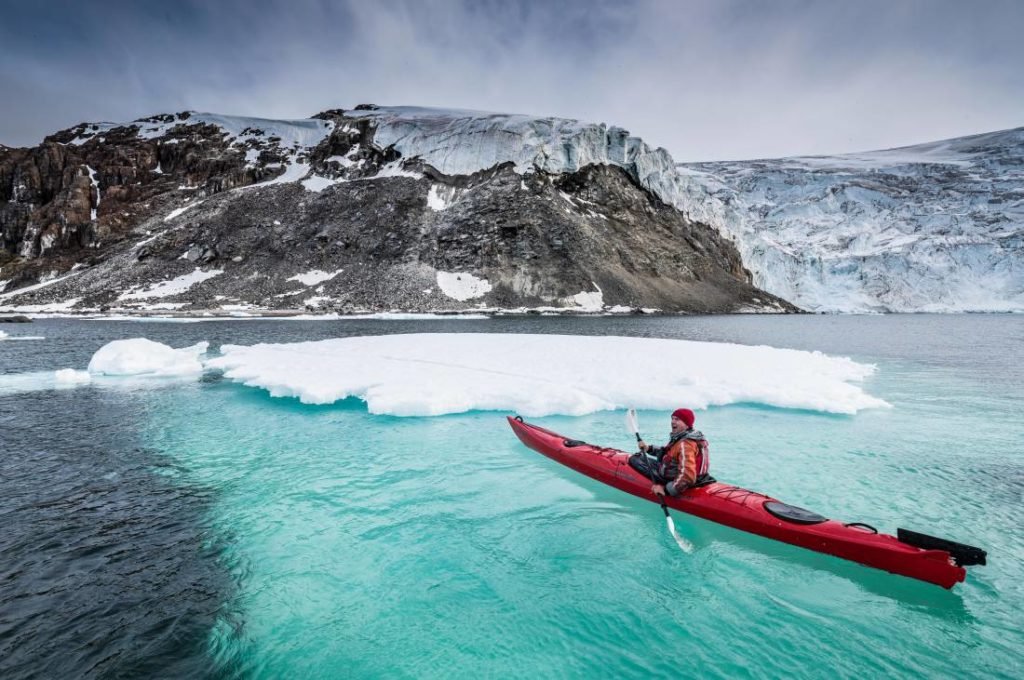 Plancius Cabin Options
The Plancius offers six cabin categories:
Quadruple porthole cabins
Triple porthole cabins
Twin porthole cabins
Twin cabins with window
Twin deluxe cabins
Superior cabins
All cabins have a minimum of one porthole or window, a private shower and toilet, flatscreen TV, hair dryer, and telephone and Wi-Fi at an additional cost. The Superior cabins also feature a sofa bed, a mini fridge, and a coffee and tea maker.
All cabins offer lower berths (either two single beds or one queen-size bed), except for the four quadruple cabins that feature two bunk beds, and the two triple cabins which have one bunk bed and a lower single bed. All cabins are 134.5 square feet, except for the superior cabins, which are 226 square feet.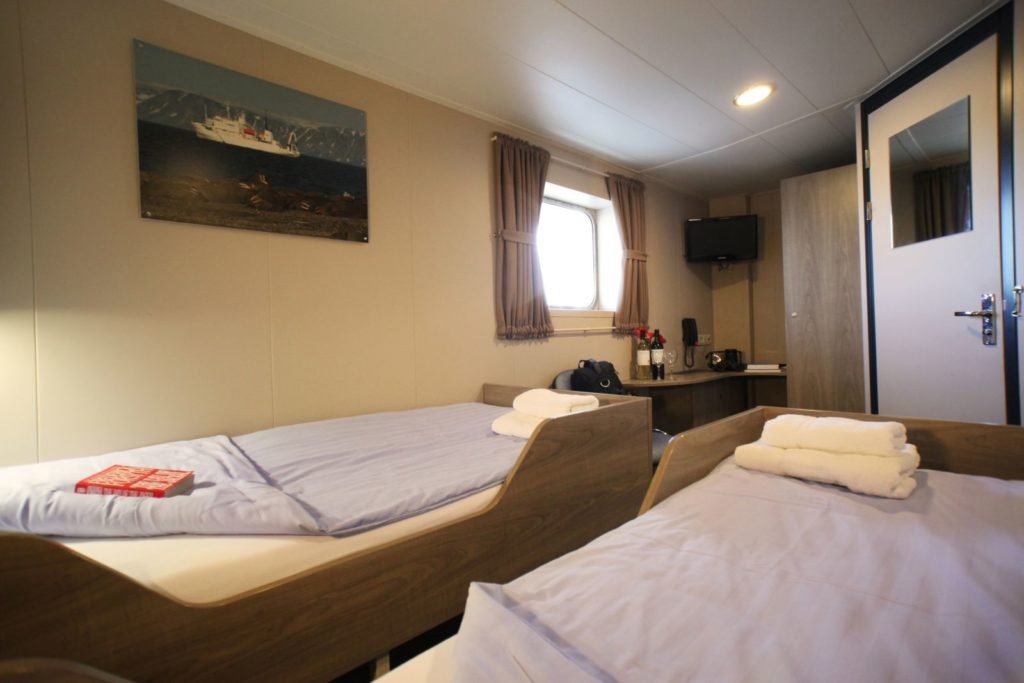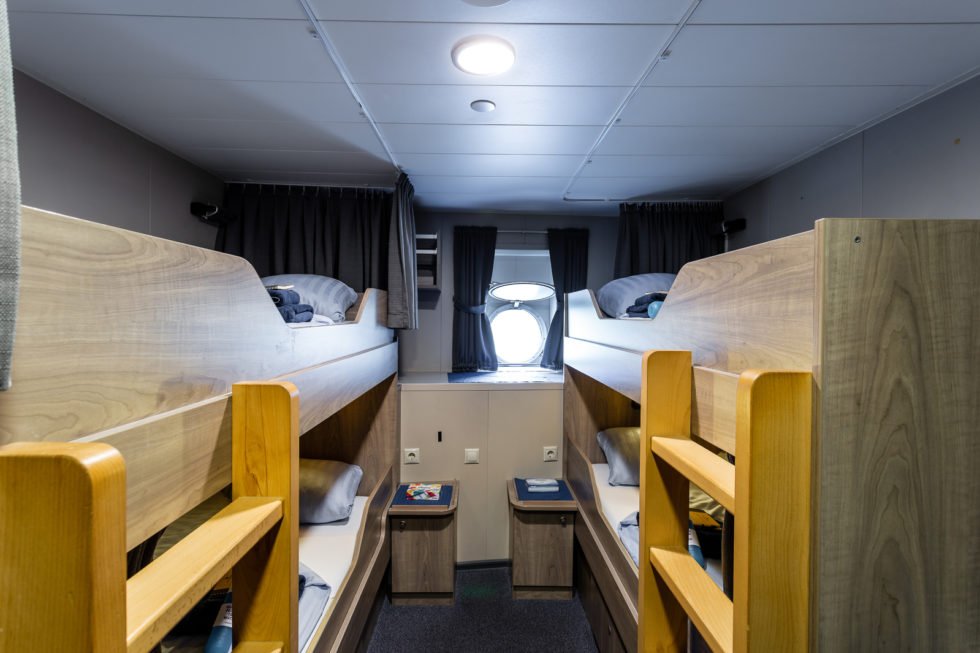 Sample Itineraries
The Plancius operates cruises of various lengths, from 10 to 20 nights.
Sample 10-night Antarctic Cruise: 
Day 1: Morning at leisure in Ushuaia; afternoon embarkation to the Ortelius. Enjoy a welcome dinner while you sail along the wildlife-rich Beagle Channel, towards the White Continent of Antarctica.
Day 2-3: At sea, cruise through the Drake Passage. After passing the Antarctic Convergence – Antarctica's natural boundary, formed when north-flowing cold waters collide with warmer sub-Antarctic seas – guests can enjoy the marine and avan life changes in the circum-Antarctic upwelling zone.
Day 4-7: Cruise the snow-capped Melchior Islands and Schollaert Channel, sailing between Brabant and Anvers Islands. Disembark by Zodiac and explore the continent each day. Places you may visit include: Danco Island, Neko Harbour, Paradise Bay, and Port Lockroy. No journey is the same.
Day 8: Cruise towards the volcanic islands of the South Shetlands.
Day 9-10: Return to the Drake Passage and to the Beagle Channel bound for Ushuaia. Conditions on the Drake Passage determine the exact time of departure.
Day 10: Morning breakfast and disembarkation in Ushuaia; afternoon pre-scheduled group transfer from the vessel to the airport in Ushuaia (directly after disembarkation) for your onward flight.
*All itineraries are provided for illustration and guidance only. Programs may vary depending on local ice and weather conditions and in order to take advantage of opportunities to see wildlife. Itineraries may mention places that require permission to land, which must be granted by the relevant national authorities. Such permission is not granted prior to the publishing of these itineraries.
Airfares, whether scheduled or charter flights, as well as pre- and post- land arrangements are not included.
LANDED has a direct contract with the Plancius and its sister ships. We can also arrange air travel, touring, and accommodations in Chile and Argentina. Speak with one of our expert travel planners today at 801.582.2100. We'll take care of the details.