Located within Yasuni National Park, in the Amazon Basin of eastern Ecuador, Napo Wildlife Center is one of our favorite lodges for wildlife viewing. The lodge is set near the shore of a lagoon formed by a mirror-like tributary. Nature thrives here; this region is one of the most biodiverse places on Earth–home to millions of species of plants, animals, birds, and insects.
Guests at Napo Wildlife Center usually stay three or four nights, exploring the jungle with expert naturalist guides. Many of these guides are Kichwa; their ancestors have made their homes here for more than five hundred years. 
Napo Wildlife Center offers 3 and 4-night programs, usually on group basis in the company of other guests. These are explorations; itineraries adapt and change with the weather, locations of wildlife, and specific interests of guests and groups. Guides take advantage of the gifts of the forest and river, and allow guests time to take in the unique beauty around them. With guides at Napo, we've lingered to observe sloths and blue frogs, made bird calls from leaves, and learned to identify and use medicinal plants.
Napo Wildlife Center offers a long list of activities and cultural expiration options. Visitors can marvel at massive trees while hiking rainforest trails, observe a rainbow of birds, and glide through submerged forest in canoes.
LANDED can arrange tailor-made itineraries, with privately guided options that focus on your unique interests.

Amenities & Services
The structures at Napo Wildlife Center are based on traditional designs; the high, thatched roofs and open floorpans allow for cross-ventilation and natural cooling. Sustainably harvested hardwoods and other native materials and locally-produced textiles have been used throughout.
The lodge's focal point is its observation tower. Its seven levels contain an observation platform, lounge, bar, and restaurant. The full-board program at the lodge includes buffet breakfast, a three-course menu for lunch, and a buffet=style dinner highlighting locally-sourced produce.
Laundry service and (intermittent!) satellite Wi-Fi are available at an additional cost.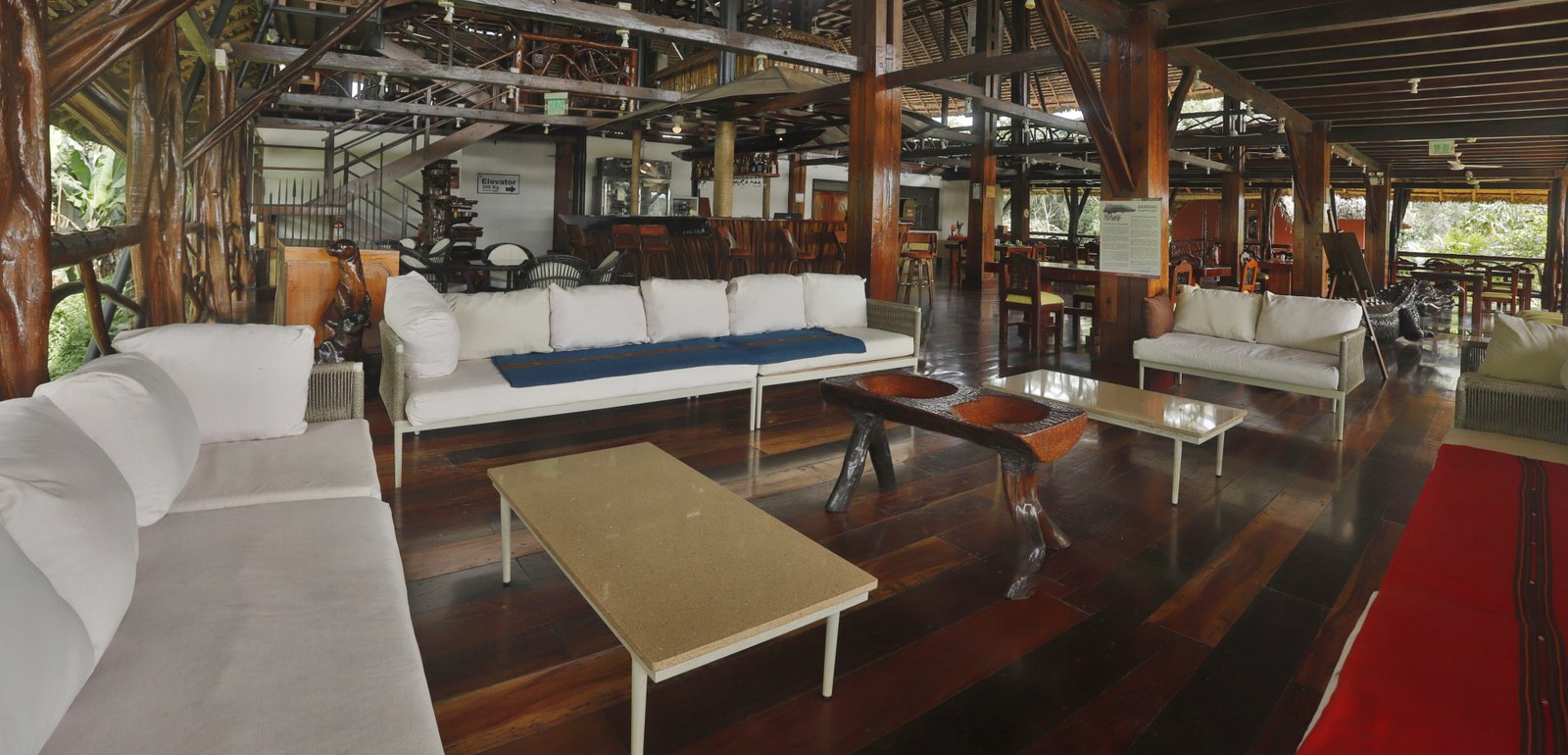 Accommodations
Napo Wildlife Center offers 12 cabins and 8 suites. In total, the lodge can accommodate up to 50 guests in double or triple rooms. Cabins are furnished with electricity (which may be turned off in the evenings), security box, electric fan, en suite bathrooms, and a balcony.
Suites are built on the shores of the Añangucocha Lagoon. The suites add a porch with loungers and hammock, a living room, a mini-bar, slippers and bathrobes. Suites range in size from roughly 550 to 650 feet. They are furnished with either a king-size bed or two twin-size beds.
How To Reach Napo Wildlife Center 
Departing from Quito, a 30-minute flight will take you east of the Andes and deep into Ecuador's Amazon Basin–El Oriente. The maximum weight for luggage is 44 pounds per passenger.
Upon arrival in the river-port town of Coca,  a 5-minute transfer will take you to "La Misión" port, where you will board a motor-skiff. The river journey (bring your earplugs) along the Napo River usually takes about two hours; remoteness is to your advantage when you're seeking wildlife interaction and pristine nature. A box lunch and coffee are provided en route, and guides may stop to point out wildlife.
After arriving at the Napo Wildlife Center entrance dock, you will disembark and continue your journey in a 2-hour paddle canoe ride along a narrow stream that connects to the lake where the lodge is located.
Upon arrival, you'll be welcomed with cool towels and beverages. Your luggage will be taken to your room, while you are briefed on the lodge's amenities and upcoming options.
When to visit?
As this is a rainforest region, the climate is humid and tropical; the average temperature is 90°, typically varying from a pleasant 80° to a steamy 100°.
March through June is rainy season—known for its swollen rivers. August through November are the driest and most accommodating months. During these months, the trails are more accessible and smaller tributaries can be explored by canoe.
ARE YOU CONSIDERING A STAY AT NAPO WILDLIFE CENTER? LANDED PROVIDES PERSONALIZED, CUSTOM TRAVEL WITHIN CENTRAL AMERICA, SOUTH AMERICA, AND THE ANTARCTIC. WE'LL CREATE A UNIQUE ITINERARY PLAN TAILORED TO YOUR INTERESTS AND DREAMS. EXPERIENCE THE TRIP OF A LIFETIME. SPEAK WITH ONE OF OUR EXPERT TRAVEL PLANNERS TODAY AT 801.582.2100.