Sacha Lodge rests within a 5,000-acre ecological reserve in the Amazon Basin of eastern Ecuador. Nature thrives here; this region is one of the most biodiverse places on Earth–home to millions of species of plants, animals, birds, and insects.
Guests at Sacha Lodge usually stay three or four nights, exploring the jungle with expert native guides.
Programs and itineraries at Sacha Lodge are tailor-made and flexible to your needs and interests. With a three staff for every two guests, the team at Sacha can adapt your stay to special requests.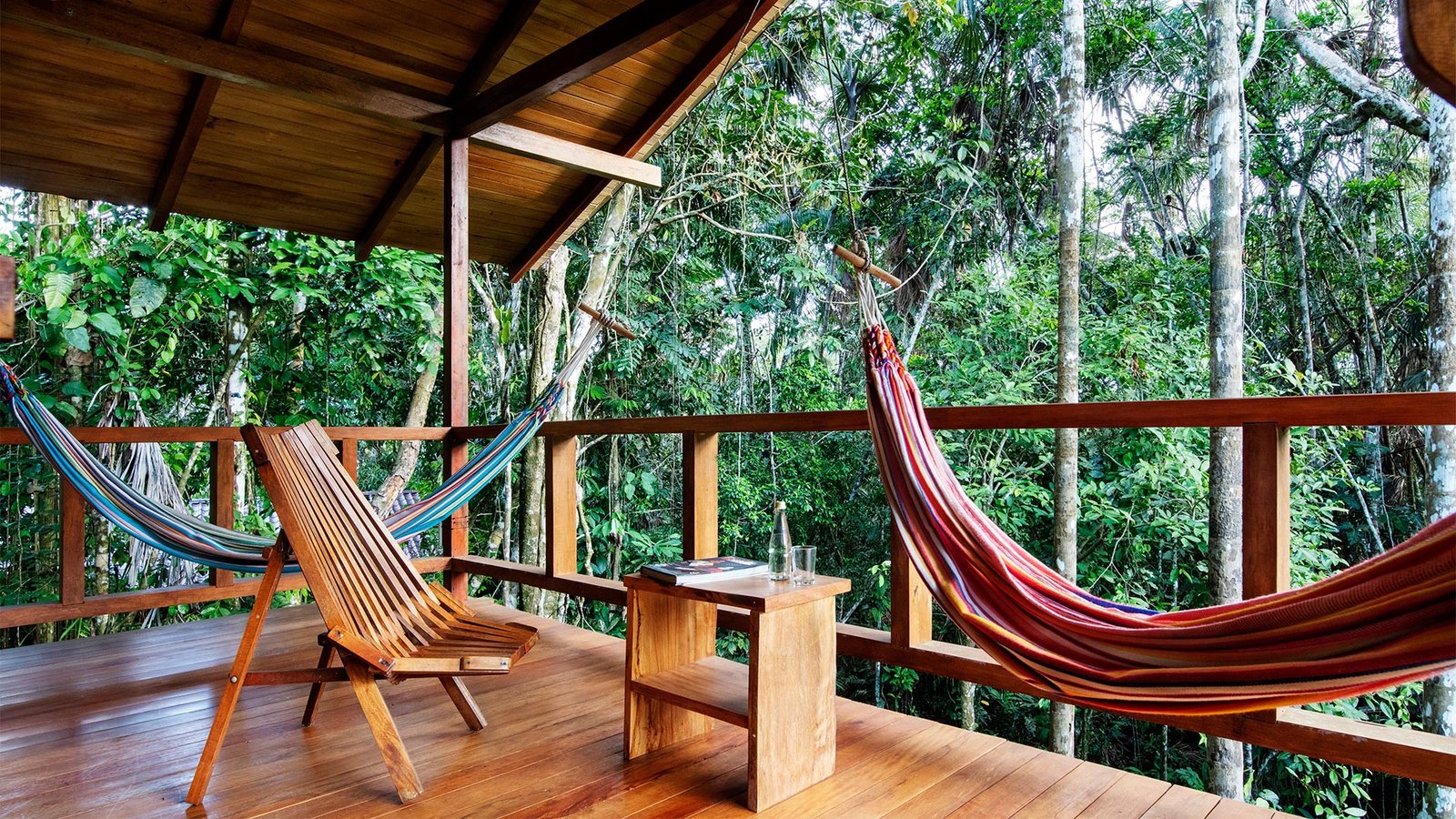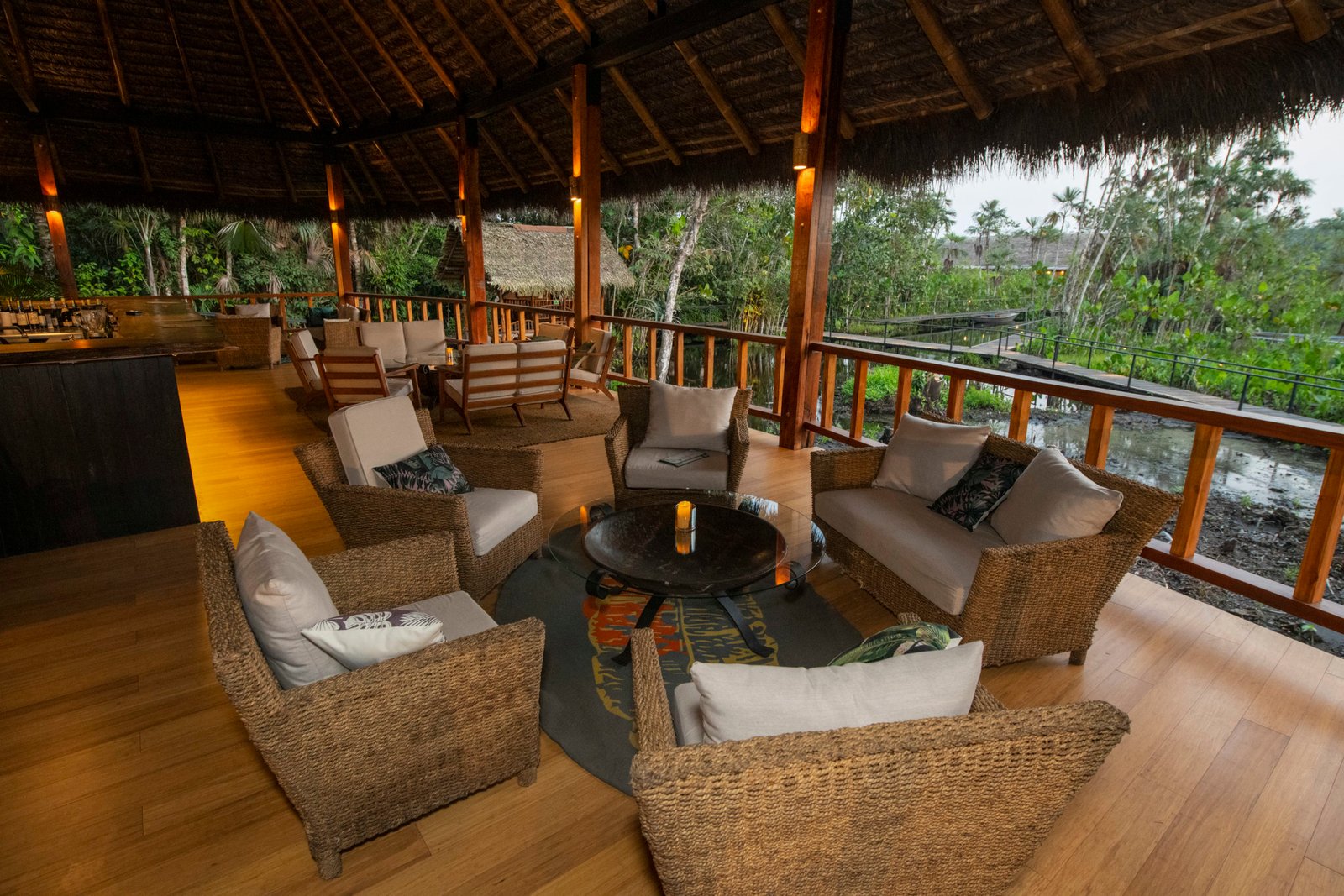 Amenities & Services
Among the amenities and services at Sacha Lodge:
La Balsa: the hotel's covered al fresco lounge area overlooking Pilchicocha Lake.
The Restaurant: Refurbished in 2021, the restaurant at Sacha Lodge offers an a la carte menu using fresh and sustainable products. Menus change daily.
The Bar: a safari-lodge style bar offering beer, wine, and classic cocktails.
Rubber boots and rain ponchos are available for all guests
Wi-Fi is available in the open areas of the lodge at an additional daily rate.
Laundry service is available at an additional cost.
All programs at Sacha Lodge include all meals and three excursions per day.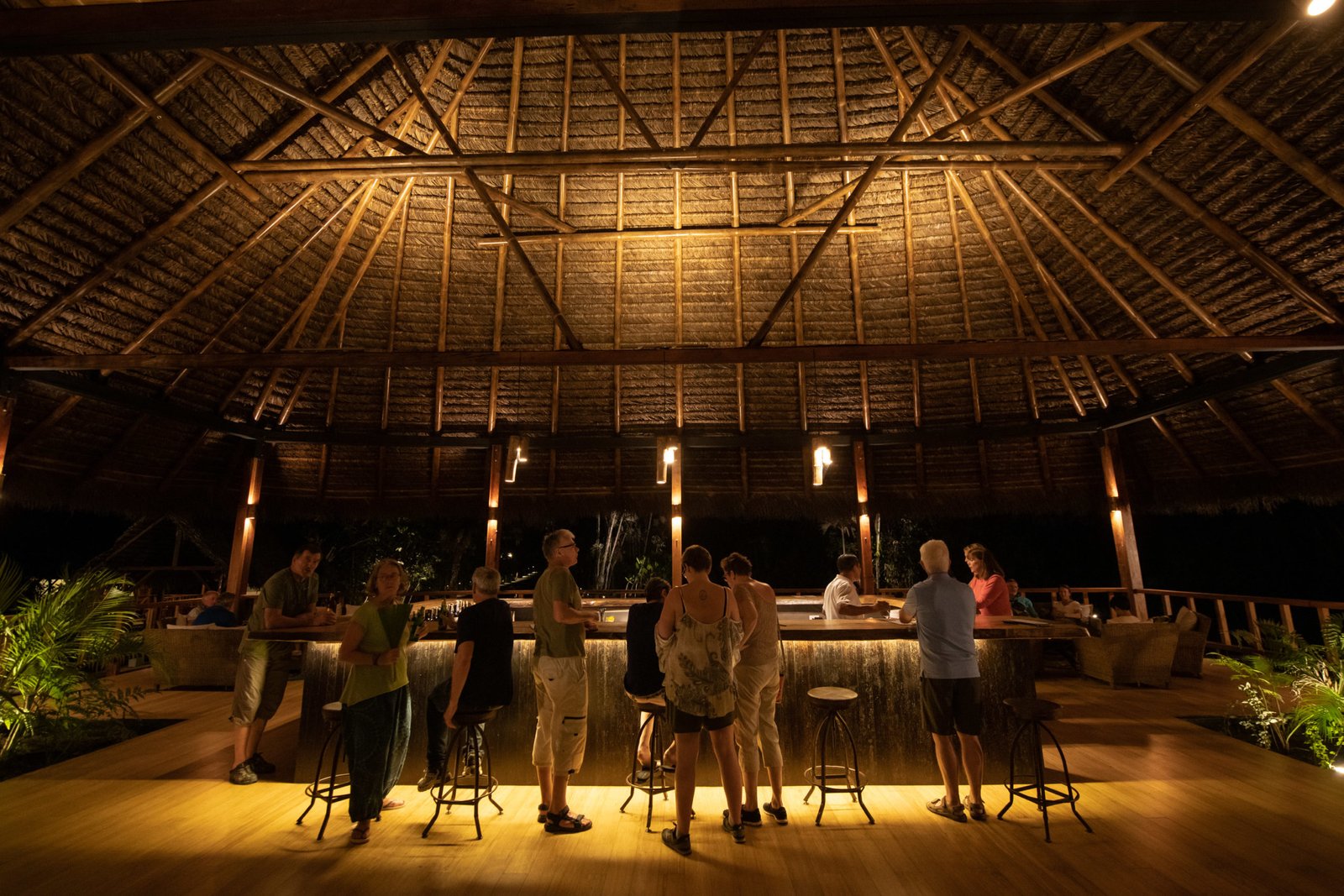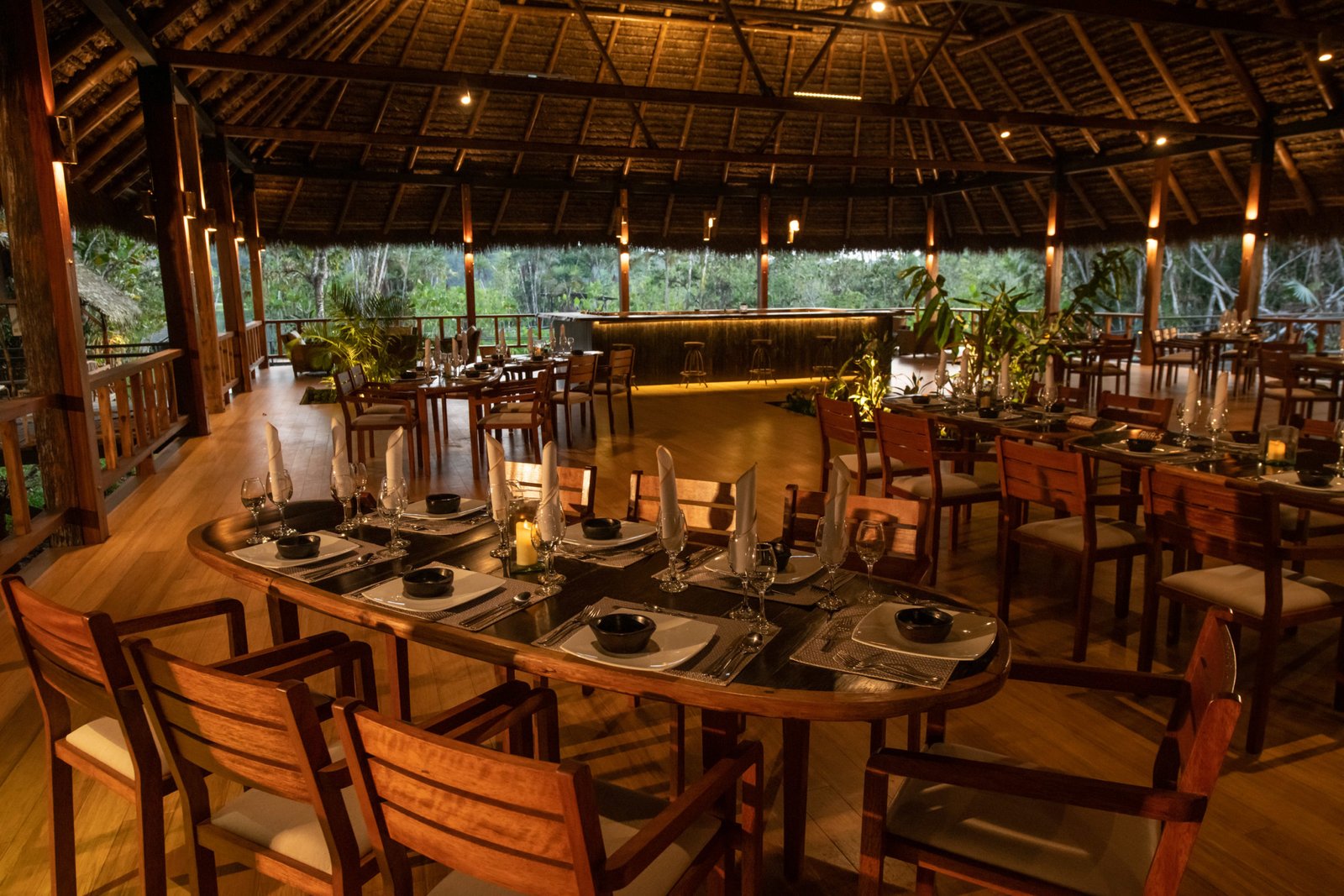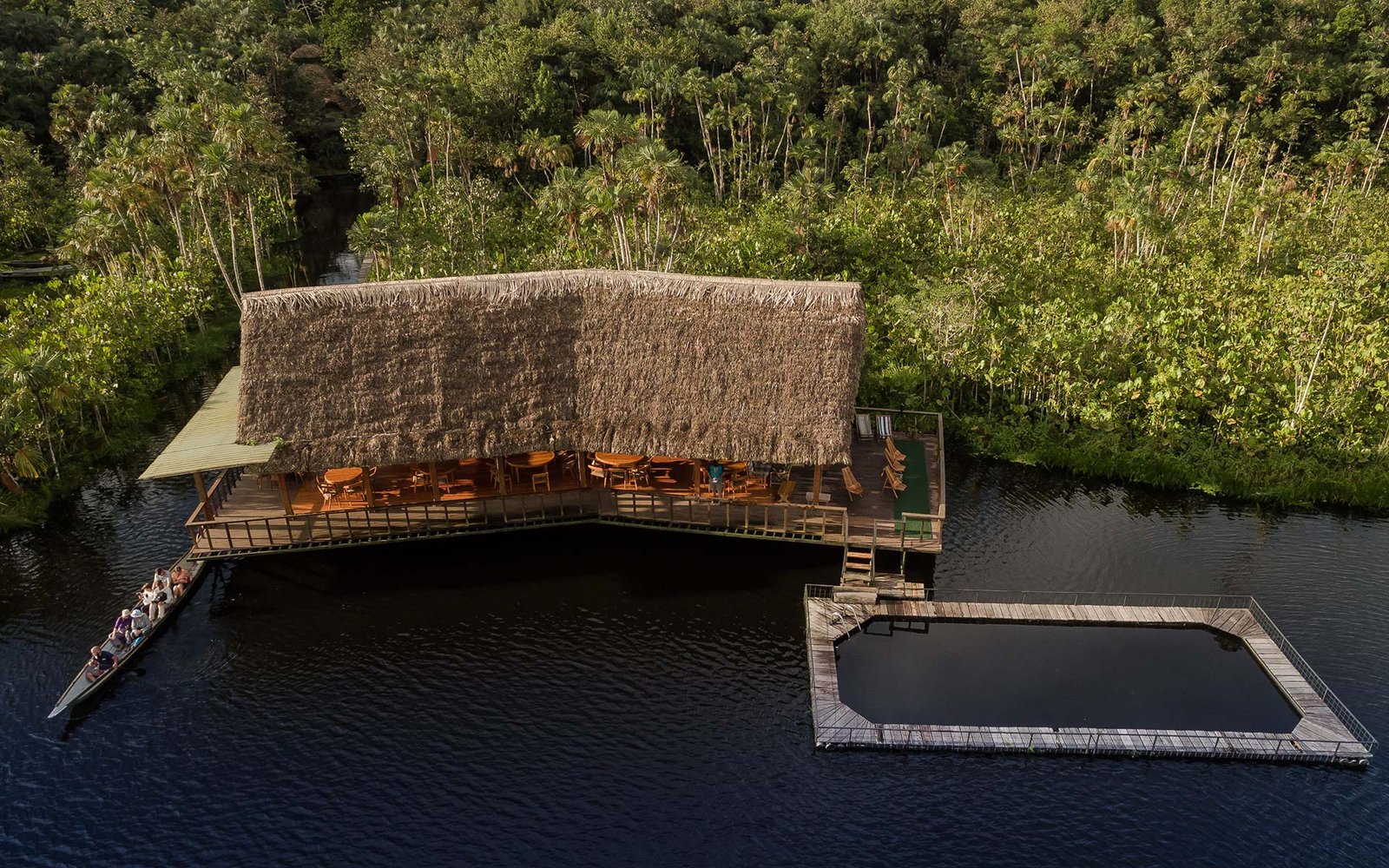 Accommodations
Sacha Lodge has 26 guest rooms constructed with traditional materials and nestled in the lush surroundings. Cabins and Suites at Sacha Lodge feature high thatched roofs and private shaded terraces with hammocks. Some feature floor-to-ceiling windows.
All rooms are screened against insects and feature a ceiling fan, airconditioning, and double beds.
Suites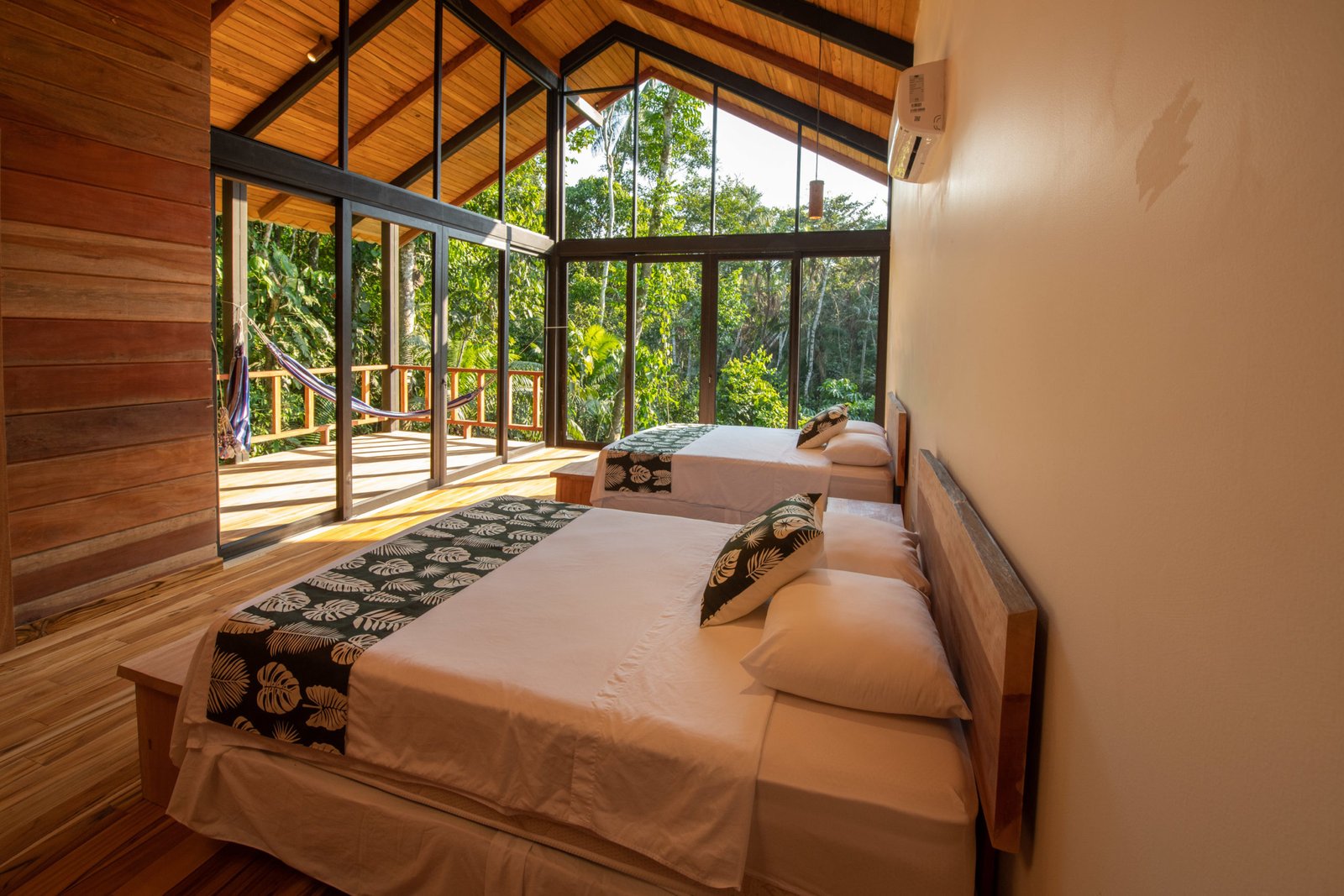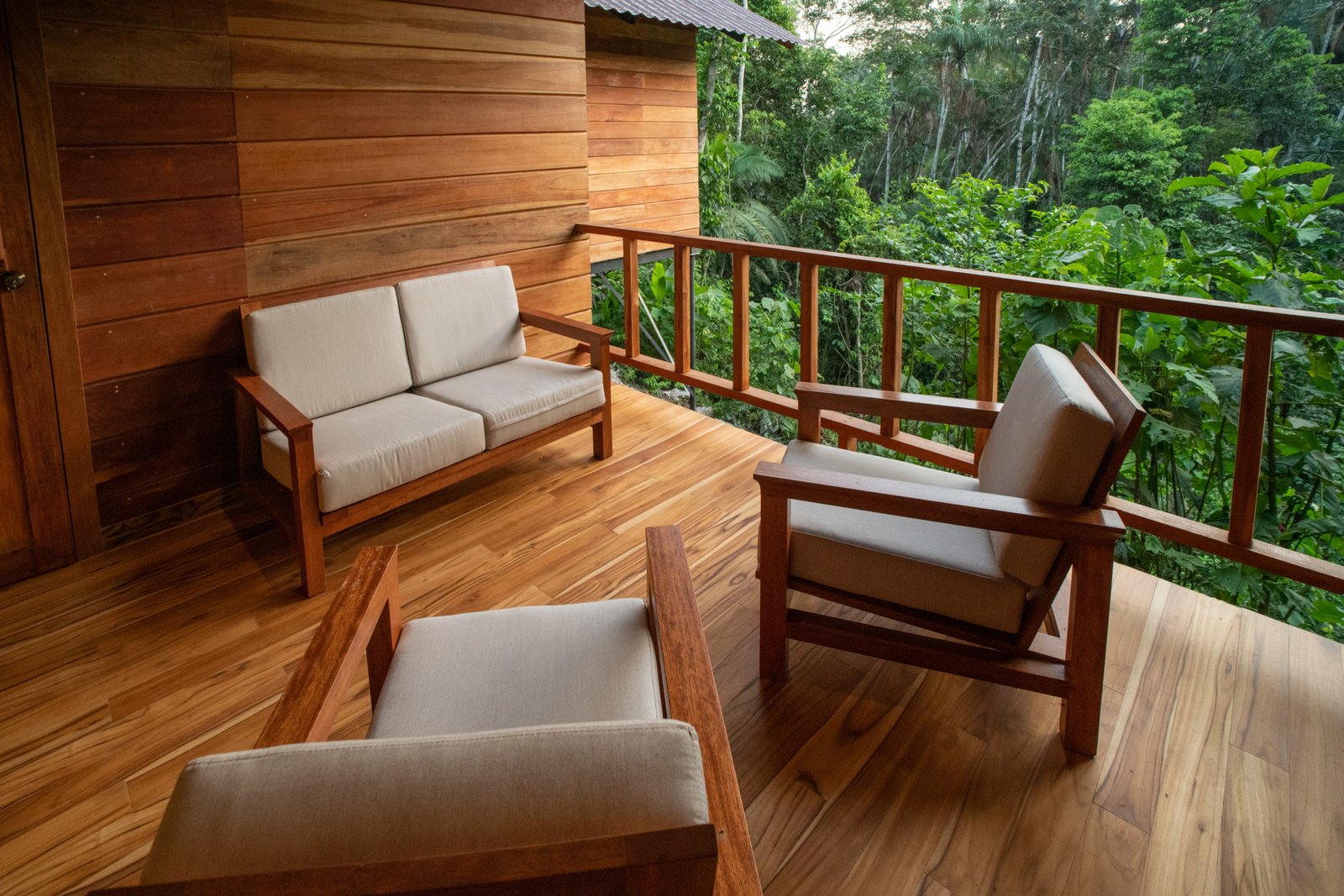 Cabins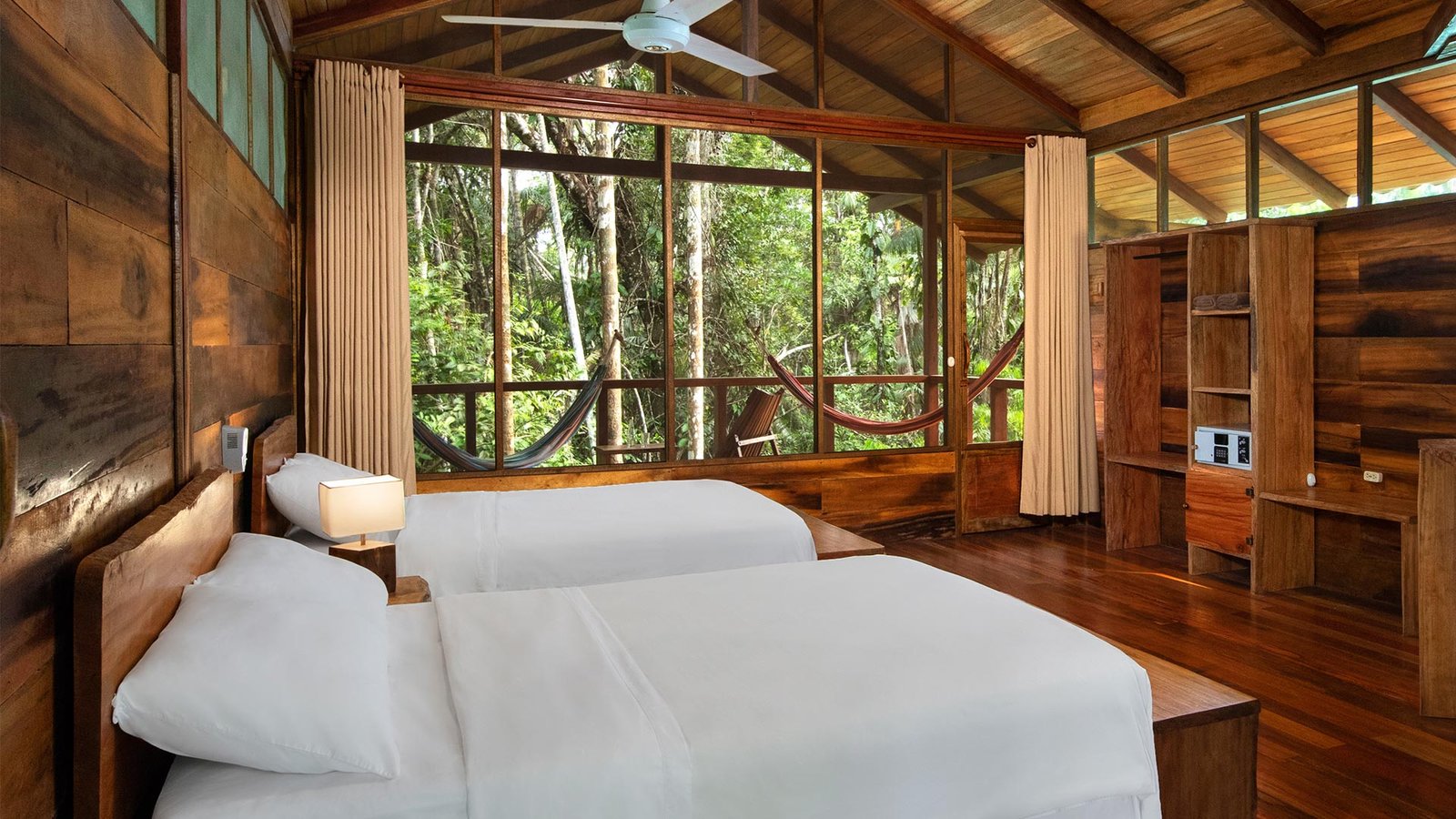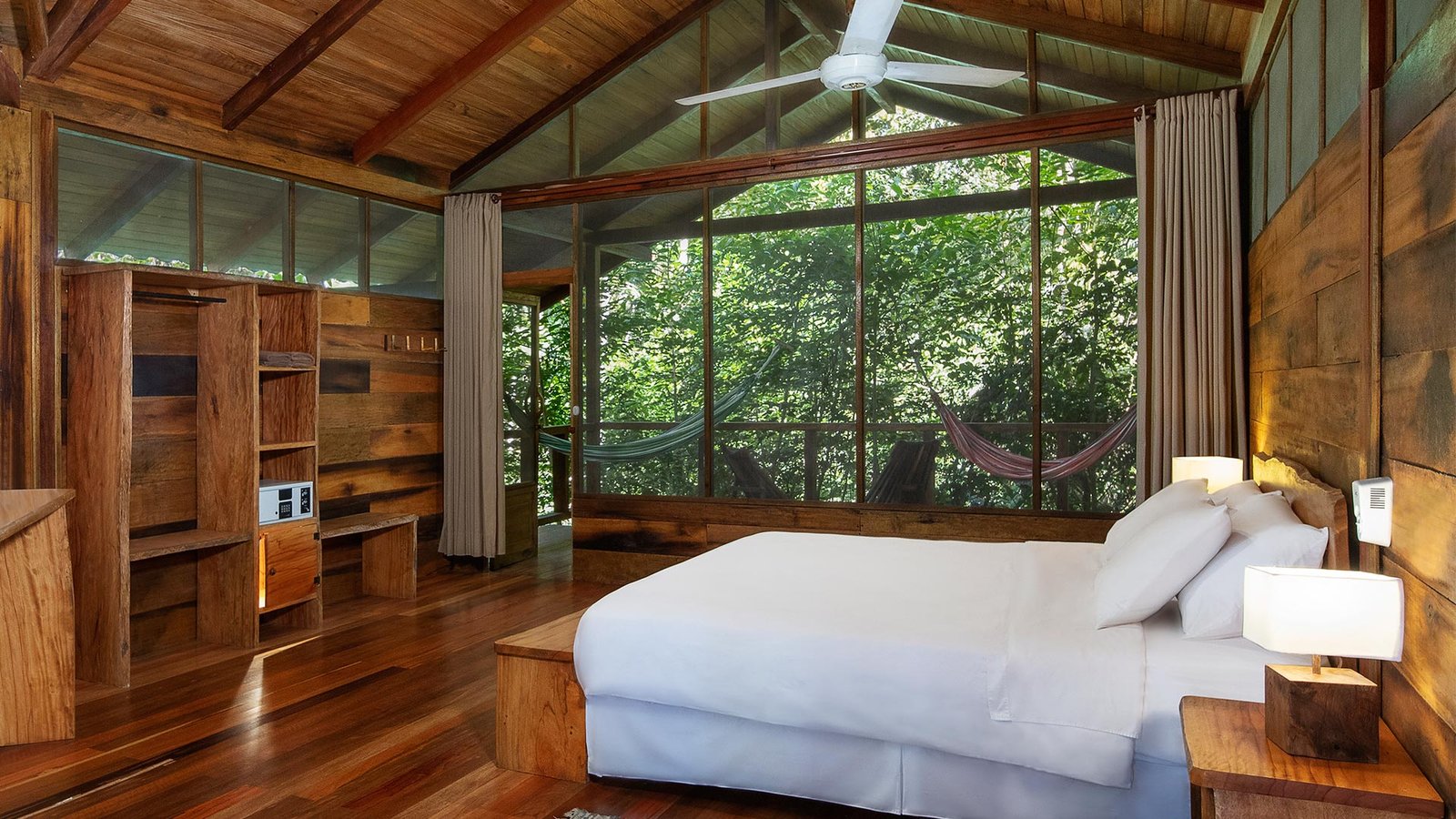 Activities
Sacha Lodge has an extensive list of activities available to guests. Visitors can hike through rainforest trails, birdwatch, enjoy canoe rides, and spot wildlife in the company of other Sacha Lodge guests. Among the activity options are:
Canopy Walkway: a suspended steel walkway 940 feet long and 94 feet high, perfect for spotting birds and arboreal animals
Canopy Crane: high-flying ride 150 feet above the forest floor to explore the rainforest
Kapok Tower: an observation platform rising 135 feet above the forest floor, built into the highest branches of a giant kapok tree. From here, guests can enjoy panoramic views of the forest, and try to spot some of the 500 species of birds registered in the area.
Canoe trips on the mirror-like Napo River
Visits to Yasuní Parrot Lick
Visits to the interpretation center of Providencia community
Lake Pool: ideal for families, this meshed-in area in Pilchicocha Lake allows guests to cool off and relax.
Expedition groups are never larger than six guests, and are always accompanied by a naturalist guide and a local guide. Guests are matched with others of similar ages, interests, and abilities in expedition groups whenever possible.
Activities are subject to change due to weather conditions.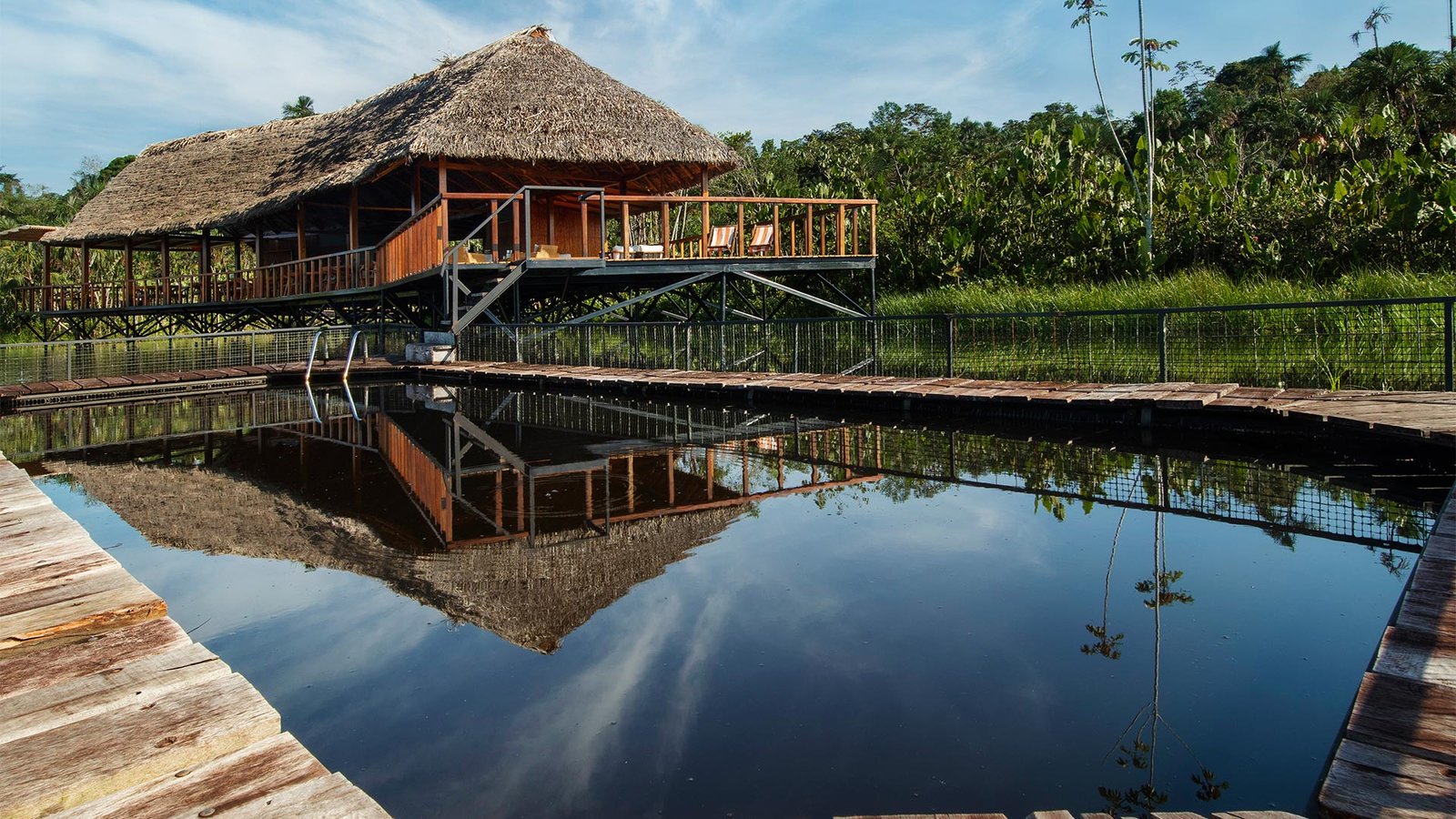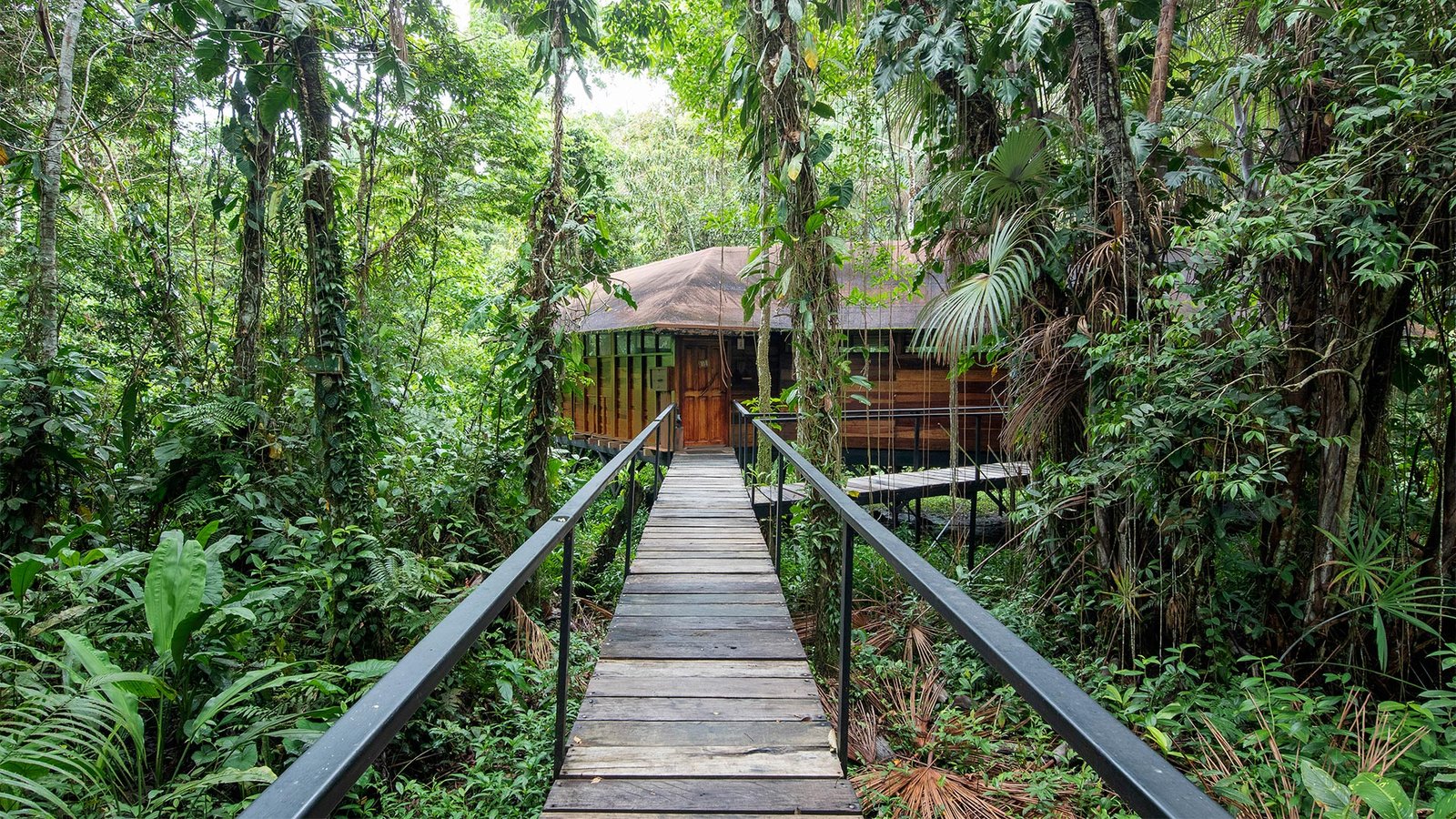 How To Reach Sacha Lodge
A representative from Sacha Lodge will meet you at the Quito airport to assist with check-in for your trip to Ecuador's Amazon. The maximum weight for luggage is 44 pounds per passenger.
After a 30-minute flight, you will arrive to the city of Coca, where a naturalist guide will pick you up to guide you to Sacha's private house for lunch. After lunch, you'll ride Sacha's own covered, motorized canoe that will take you to the Amazon lodge. The river canoe travels for approximately an hour and a half on a 50-mile journey down the Napo River.
Upon arrival to Sacha's estate, a 30-minute walk on a raised boardwalk will lead you to Lake Pilchicocha where you'll board dugout canoes with native paddlers that will carry you across the lake to Sacha Lodge.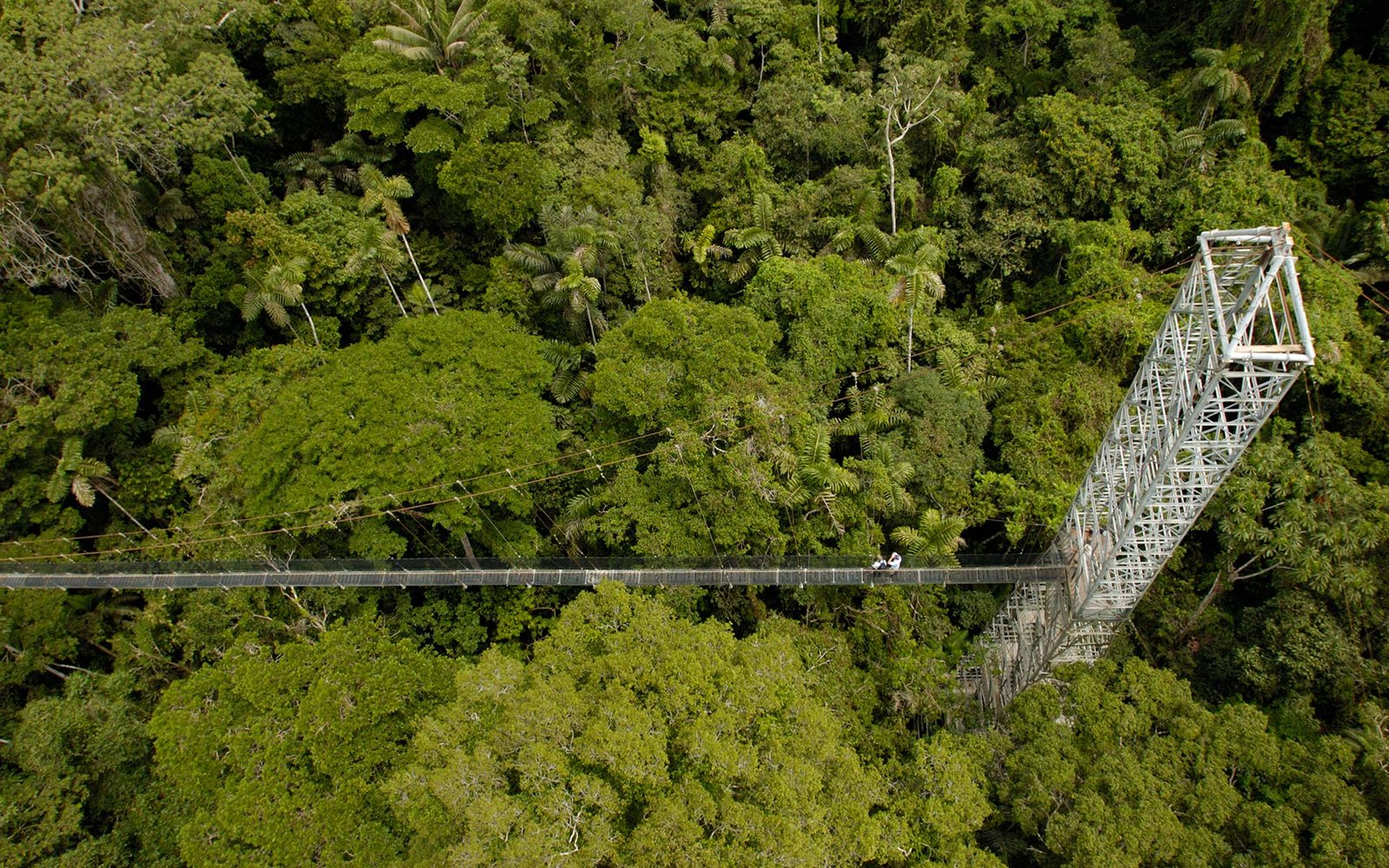 When to visit?
As this is a rainforest region, the climate is humid and tropical; the average temperature is 90°, typically varying from a pleasant 80° to a steamy 100°.
March through June is rainy season—known for its swollen rivers.
August through November are the driest and most accommodating months. During these months, the trails are more accessible and smaller tributaries can be explored by canoe.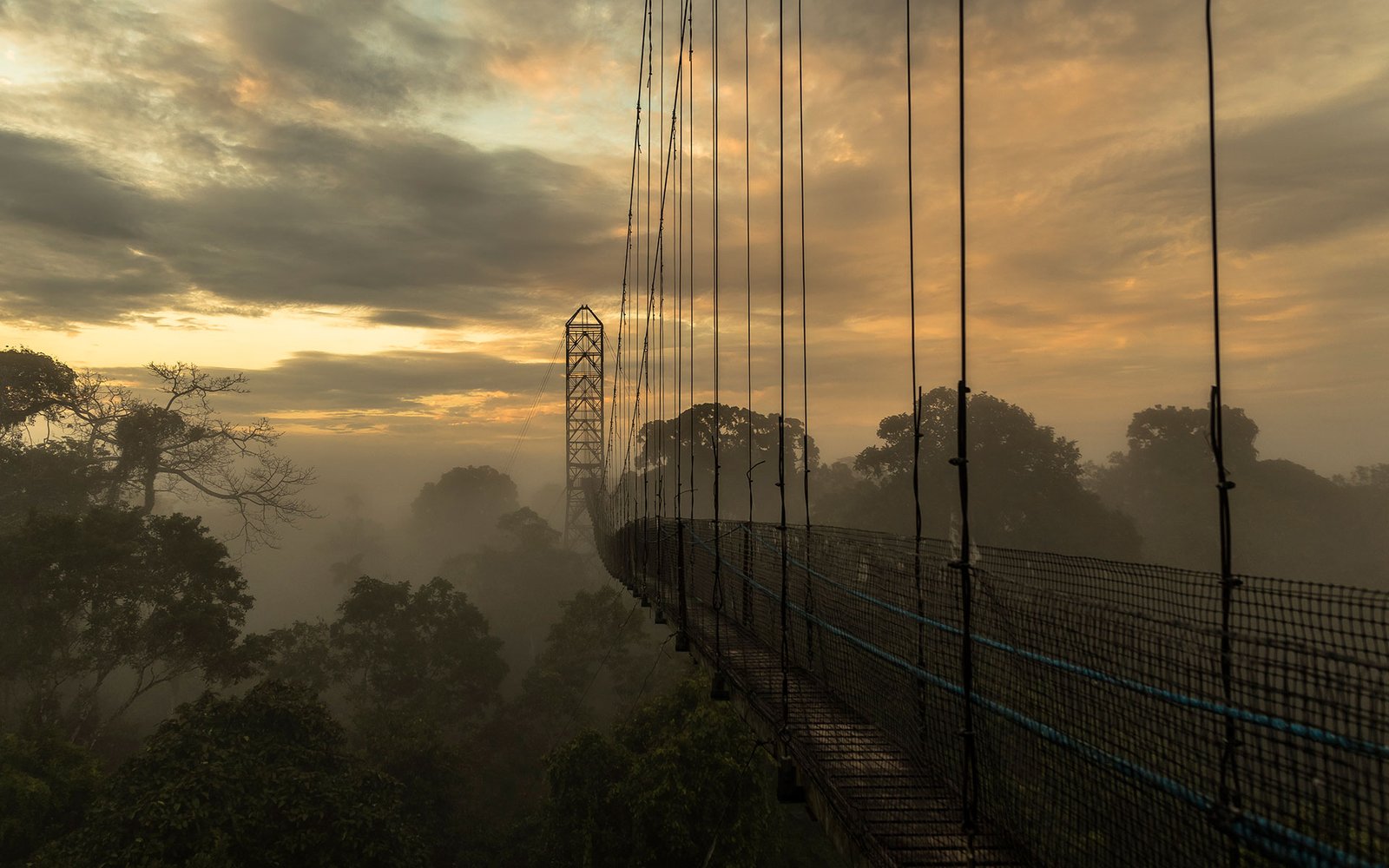 ARE YOU CONSIDERING A STAY AT SACHA LODGE? LANDED PROVIDES PERSONALIZED, CUSTOM TRAVEL WITHIN CENTRAL AMERICA, SOUTH AMERICA, AND THE ANTARCTIC. WE'LL CREATE A UNIQUE ITINERARY PLAN TAILORED TO YOUR INTERESTS AND DREAMS. EXPERIENCE THE TRIP OF A LIFETIME. SPEAK WITH ONE OF OUR EXPERT TRAVEL PLANNERS TODAY AT 801.582.2100.