The Coffee Triangle
Colombia has long cultivated a reputation for excellent coffee.
Jesuits planted the first seeds in the 1730s, and within 100 years exports had begun.
Today, the nation has an estimated half-million coffee farming families, whose products are enjoyed in North America, Europe, and Japan.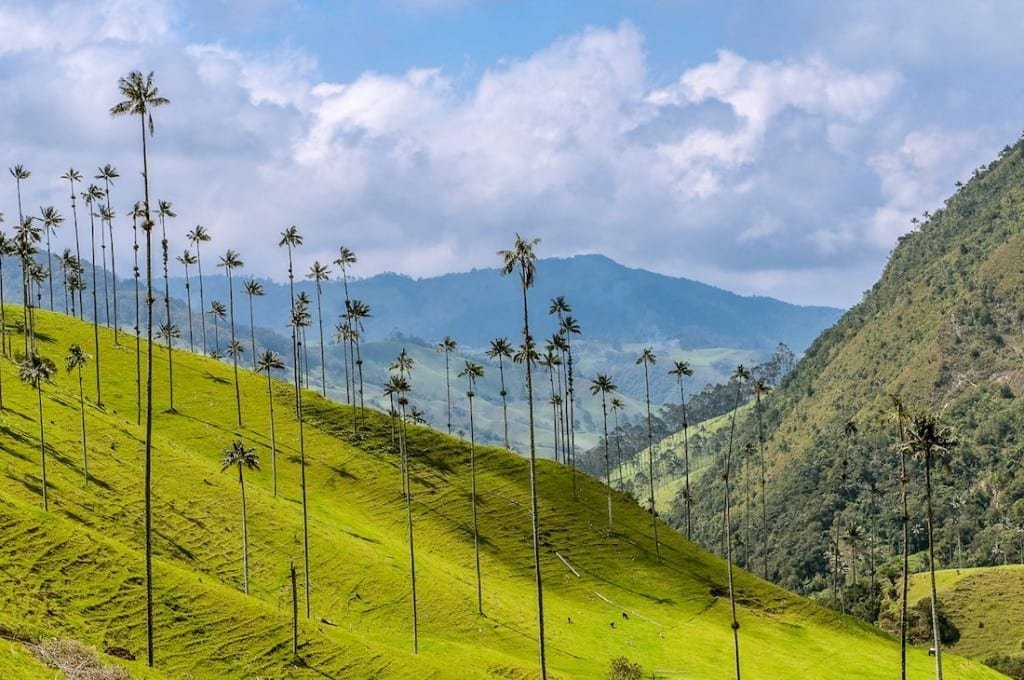 In honor of Colombia's tradition of small-plot, mountainside farming, UNESCO recognized the country's Coffee Cultural Landscape as a World Heritage site in 2011.
Zona Cafetera: Caldas, Risaralda and Quindio
Most of Colombia's finest coffee is produced in the heartland departments of Caldas, Risaralda, and Quindío—a triangular Zona Cafetera within the wider limits marked by Medellin, Bogota, and Cali.
In this bright emerald landscape, rolling hills and mountainsides are lined with countless rows of low coffee trees, a large portion of which are maintained by small-scale growers.
Hand-picked Arabica
This region's rich volcanic soil, altitude, temperate climate, and abundant water combine to impart a distinctive taste—rich flavor, bright acidity, and intense aroma.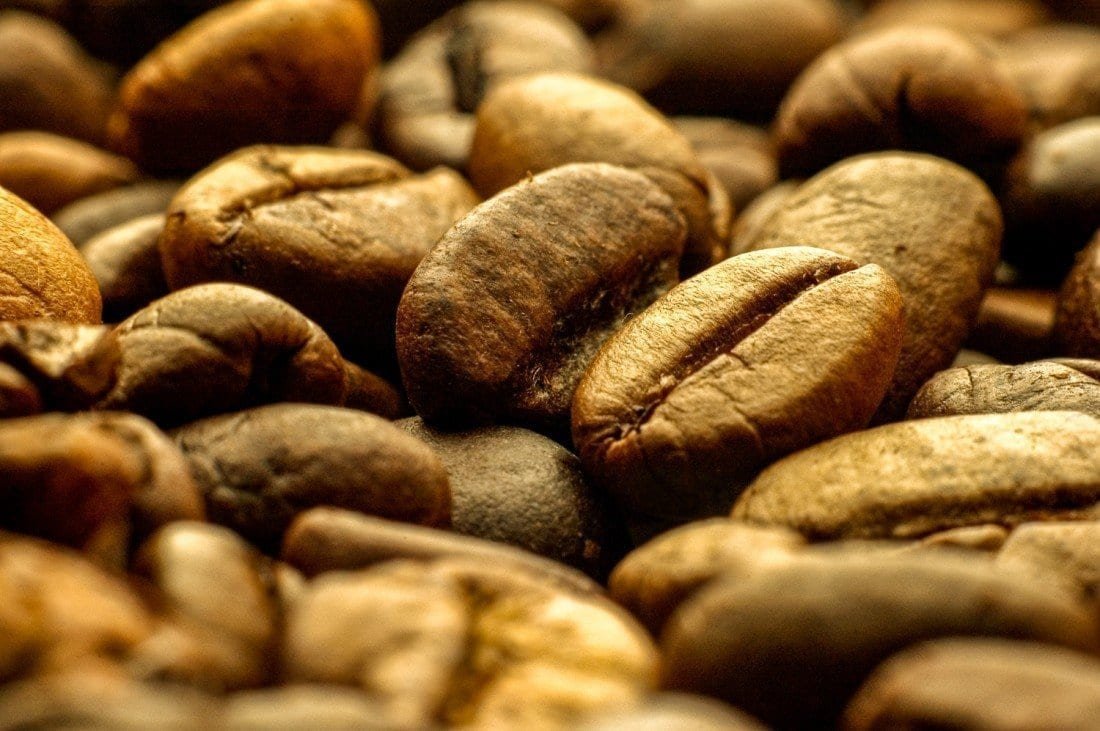 Ripe coffee cherries are hand-picked, cleaned, sun-dried, and graded before being roasted or bagged for export by cooperatives. While the principal variety is Arabica, multiple heirloom varietals are gaining ground.
Armenia
The hilly city of Armenia marks the southern limit of the Zona Cafetera.
Although the city's historic center was terribly damaged by a 1999 earthquake, Armenia is still an excellent starting point for visits to this region.
Regular flights connect the city to Bogota and Medellin and visitors can tour dozens of coffee plantations within a few miles of the urban limits.
Pre-Columbian Gold Museums
Armenia is also the home of one of the continent's best pre-Columbian gold museums.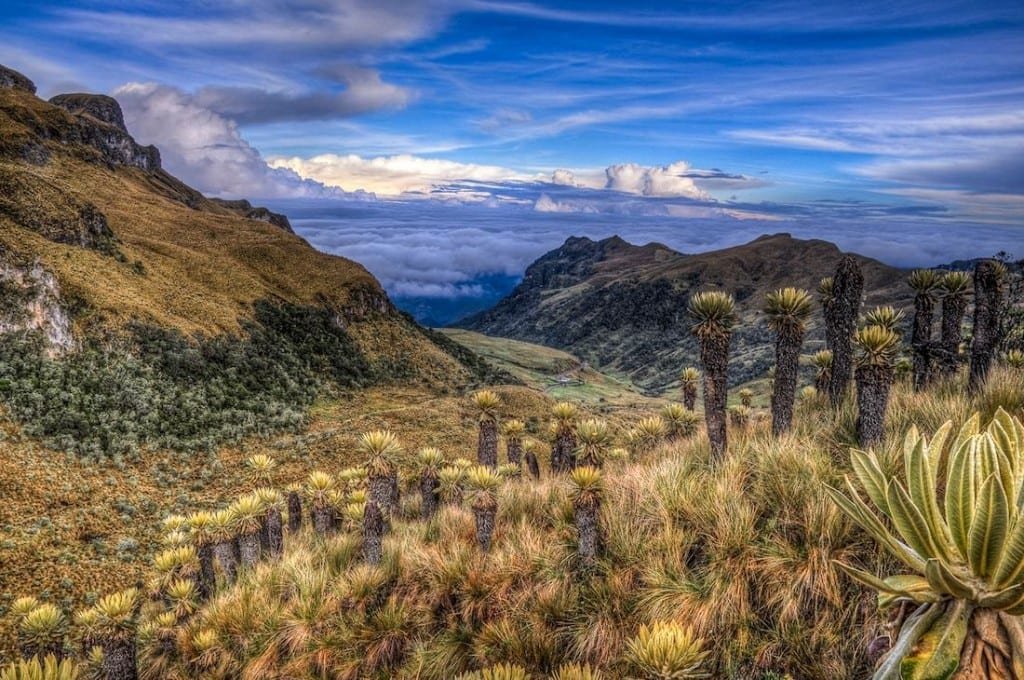 Near Armenia, country retreats welcome travelers to comfortable plantation houses surrounded by forest and pastureland.
Guests can tour cocoa and plantain groves, hike to waterfalls, ride horses, observe birds and monkeys, and day trip to villages renowned for antioqueño architecture and traditional basketry.
Valle del Cocora
One of the most popular day trips in the Armenia area is to the verdant Valle del Cocora, 15 miles northeast of the city.
Cocora is famous for its picturesque farms, mountain vistas, and stands of elegant wax palms (Ceroxylon quindiuense)—Colombia's national tree.
These rare, slow-growth palms (which look like creations of Dr. Seuss) can reach heights of 150 feet, providing shelter and food for yellow-eared parrots.
Los Nevados
Cocora lies within Los Nevados National Park, which protects 224 square miles of mountain, lake, and forest habitat in the Cordillera Central.
Resident species at Los Nevados include:
Tapirs
Spectacled Bears
Pumas
Condors
Motmots
Visitors can climb the glacier-capped Nevado del Ruiz stratovolcano (17,457 FASL), hike forest and paramo trails with expert birding guides, and fish for trout.
Access to the area around Nevado del Ruiz is monitored constantly for volcanic activity, with access varying accordingly.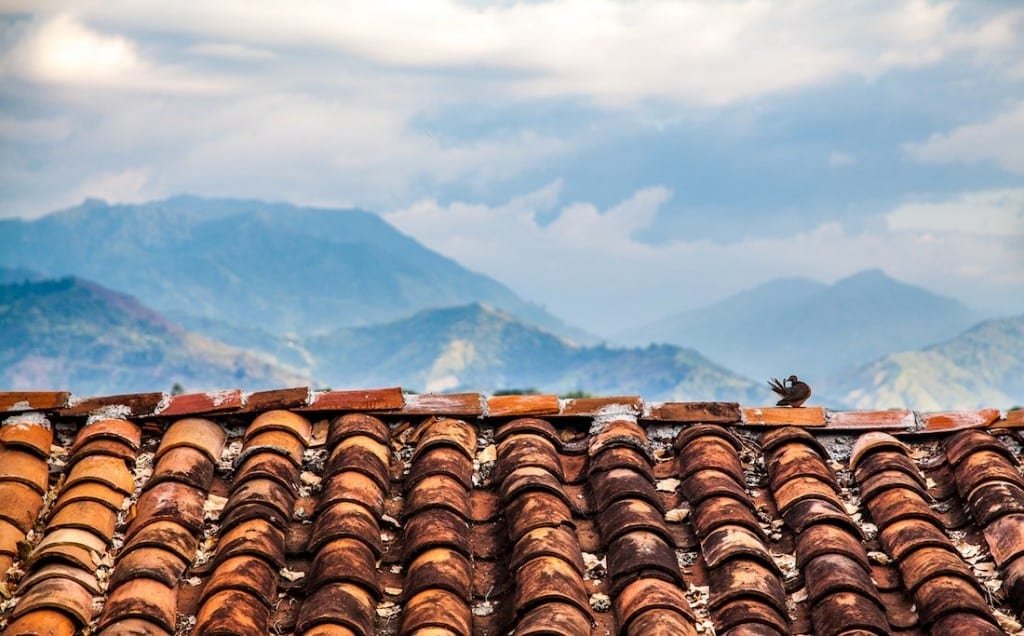 Pereira
Pereira, 35 miles north of Armenia, is the region's geographic heart, commercial hub, and nightlife capital. Regional flights connect Pereira with Medellin, Cali, and Bogota.
Full-day excursions to organic coffee farms and soothing hot springs can be arranged.
Manizales
Manizales, at the northern tip of the Coffee Triangle, is known for its cultural life, museums and monuments.
In late September and early October, its annual theater and jazz festivals draw devotees from across Latin America.
Each January, Manizales holds a bustling city fair, punctuated by a beauty pageant, bullfights, and parades.
Getting to Manizales
Manizales is located approximately 32 miles (one hour) north of Pereira and 190 miles (roughly six hours) west of Bogota. Colombia's coffee country is a year-round destination—plants flower and coffee is harvested throughout the year.
The climate in Colombia's Coffee Traingle is consistently spring-like, with highs rarely exceeding 72ºF and overnight lows hovering near 50ºF.
Sunny skies are the rule, although average monthly precipitation for April, May, October, and November can exceed six inches.
At LANDED, each travel request is personal. After all, you're trusting us with your most precious asset—free time with the people you care about. By getting to know you, we'll create the most memorable, most exceptional trip of your life. Call us today at 801.582.2100. Dream big. We've got you.
"Travel becomes a strategy for accumulating photographs."
Susan Sontag
GO WITH LANDED.

Could not have been more pleased.  This was the trip of a lifetime for our family.  Thank you!
IF YOU LIKE TO TRAVEL.

What an amazing adventure we have had.  Many thanks to you for putting it together. The whole rhythm of the trip was perfect, and leaving one place for the next worked perfectly. This trip definitely made me want to experience other great spots in South America as the people have been wonderful and the places incredible. Wish we had a month to really explore.  Everybody in the family had a great life experience. Thanks again!
DO IT.

One of our best trips ever, made excellent by LANDED's attention to detail. When planning the trip our travel planner listened to us carefully, asked the right questions, and customized the trip to have just the right balance of adventure and city sights for us. The guides, drivers, and "handlers" were superb. The hotels were top notch. We felt relaxed and pampered all the way. Will definitely look to LANDED to plan our next trip to South America.
Absolutely amazing. Thanks again John. Carlos was the best guide I've ever had anywhere in the world. Top notch talent.
We returned yesterday from our trip and I wanted to let you know that it was absolutely amazing!  There is not a single thing on the itinerary that we would change.  The guides were knowledgeable, friendly, and prompt.  The hotels were beautiful, the food delicious and the pace of the activities was perfect for us. Thank you so much for making our trip such a fantastic experience.
In short, our trip was amazing, and, as we had hoped, the Inca civilization was fascinating to us. Thanks so much for your constant assistance and thorough planning.
The planning, service and execution of the trip was flawless – thank you for making it perfect!
LANDED's services were excellent. You were helpful and knowledgeable, making our trip a memorable one.  I will use your services in the future as I continue to explore Central & South America.
It was like being in a very well organized dream. Your patience with my questions and concerns during the planning stage was remarkable.
I've never had such great service from a tour operator. Not only were you a great help on the planning-insuring that I was staying at the right places and enjoying the type of activities we love-but the follow up was incredible. Your team checked in with us several times during the trip to confirm that everything was going well, and that the guides you assigned were satisfying us. It's one thing to get a "thank you card" or a "hope your trip was great" note after you're back, but to insure that it's going well during the trip is a welcome first! I look forward to working with you again on a another trip.
You actually got to know us, which made it possible to know just what we like. You promised the best trip ever and you kept your promise.
The entire trip was amazing. Both the hotel & restaurant recommendations were well thought out and helped us thoroughly enjoy our honeymoon.
LANDED is like the ultimate virtual guide, suggesting the high points and helping us get the most out of a week's time.
We had a great time, and didn't miss anything. We zip-lined, rafted, sailed and surfed. The contacts and drivers were professional and courteous. We don't want to be back at work. Thank you for all of the work you did to set up this trip.