Osa Peninsula
Curving out from the south Pacific coast  like a crab claw, the Osa Peninsula is the site of Costa Rica's most prized national park: Parque Nacional Corcovado.
Named "the most biologically-intense place on earth" by National Geographic, over half of all species living in Costa Rica can be found here.
Residents include:
Harpy Eagles
Baird's Tapirs
Jaguars
Two-toed and Three-toed Sloths
Scarlet Macaws
All four Costa Rican monkey species
Corcovado's 105,000 acres contain at least eight biomes, including the largest primary forest in the American Pacific and one of the world's last remaining lowland tropical rainforests.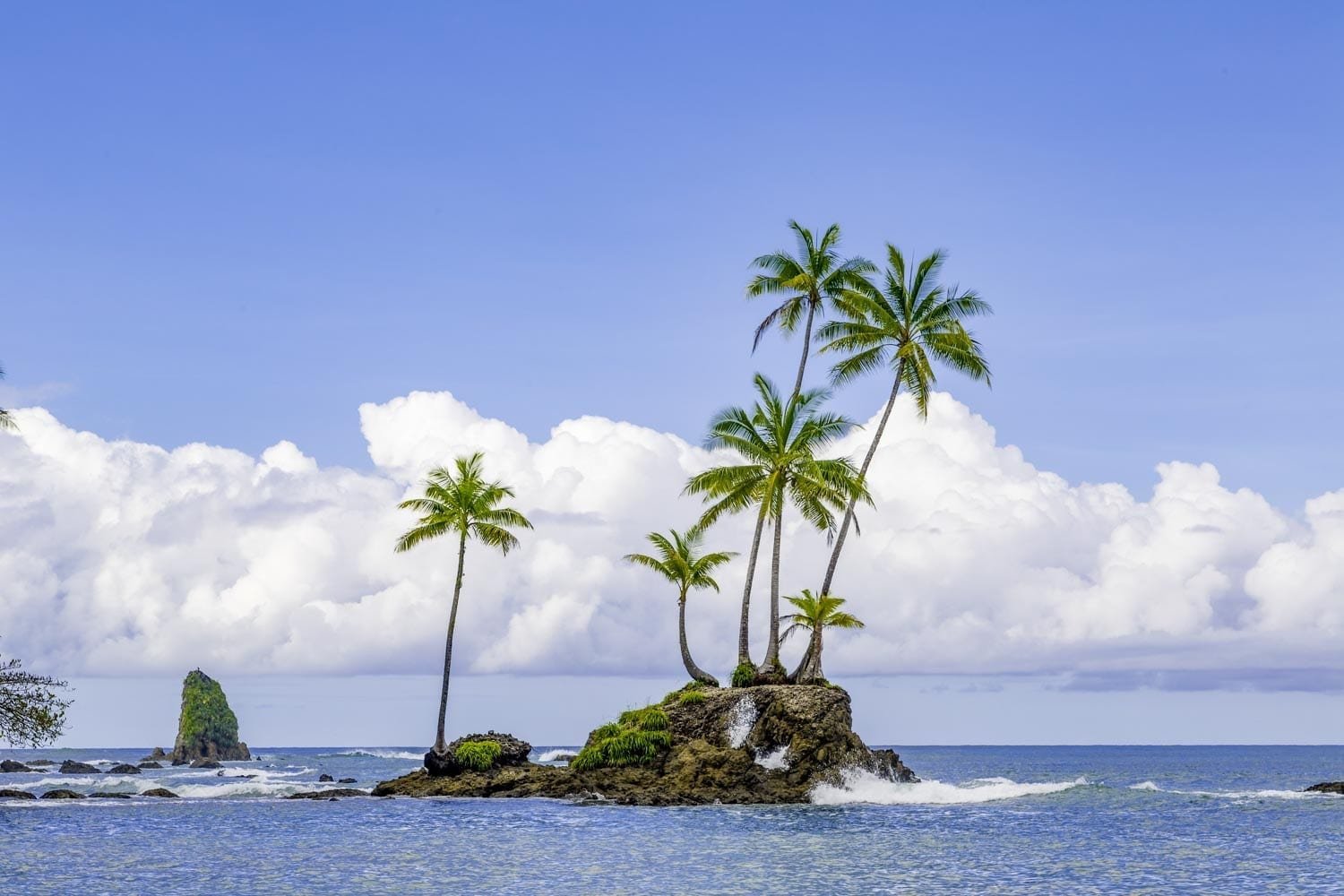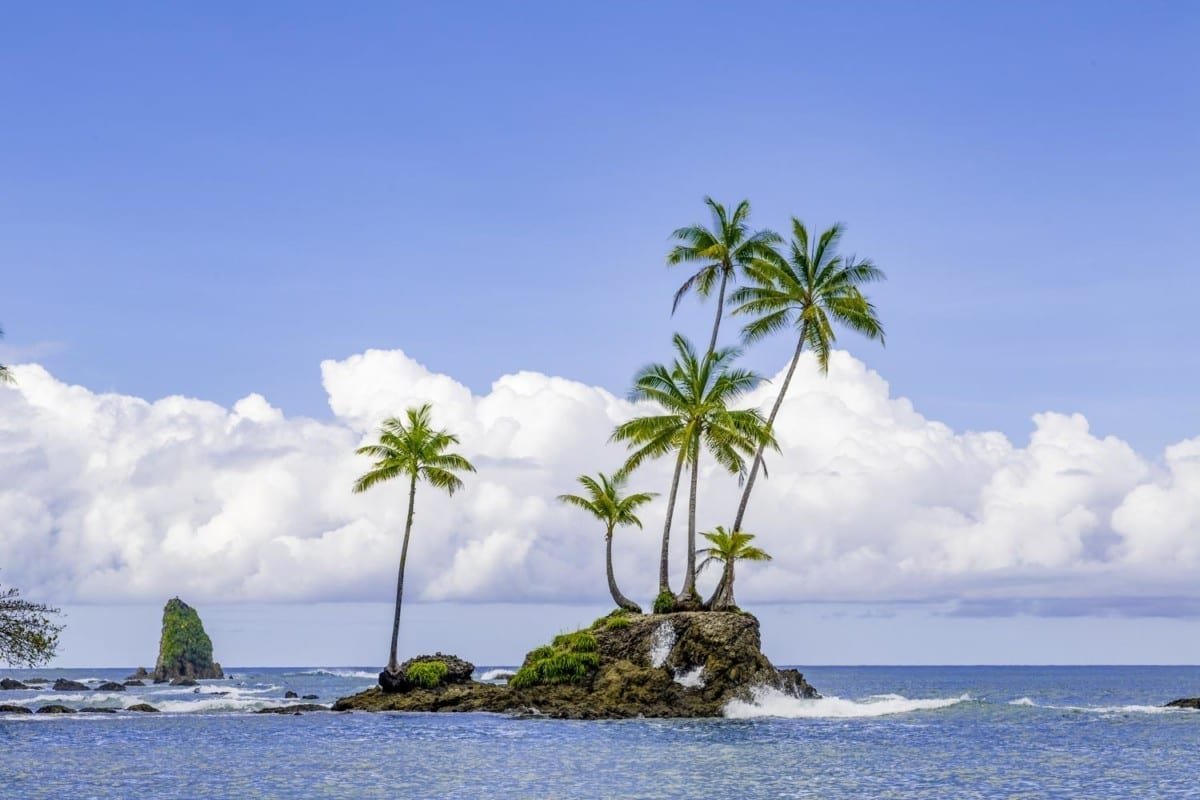 Registered visitors can hike either an inland trail or a coastal track. These routes are best seen with the aid of a naturalist guide.
Whale and Dolphin Watching, Sport Fishing, and Birding
Outside the park, both sides of the peninsula offer visitors the opportunity to see whales, dolphins, sea turtles, scarlet macaws, and monkeys.
Sport fishing (catch and release) and surfing are also possible.
Twelve miles off the peninsula's western shore is Isla del Caño Biological Reserve, a sacred site for the indigenous Diquis people.
Yacht Charters, Snorkeling, and Diving
The island is surrounded by coral reefs, home to an abundance of colorful fish and lobsters. The island can be visited by yacht charter for snorkeling or diving.
Osa is a rainforest region; rain is to be expected.
The best time to visit is between January and April, when rains are less frequent, and roads are in better condition.
From July to November, many of parts of Corcovado are closed on account of flooding.
Travel to the Osa is easiest by air; airfields in Puerto Jimenez and Drake Bay receive regional flights from San Jose.
Thinking of visiting Costa Rica? LANDED provides personalized, custom travel throughout Central America, South America, and the Antarctic. We'll create a unique itinerary plan tailored to your interests and dreams. Experience the trip of a lifetime. Speak with one of our expert travel planners today at 801.582.2100.
"The traveler was active; he went strenuously in search of people, of adventure, of experience. The tourist is passive; he expects interesting things to happen to him. He goes sight-seeing."
Daniel J. Boorstin
PERFECT

Could not have been more pleased.  This was the trip of a lifetime for our family.  Thank you!
GO WITH LANDED

If you're planning to travel, go with LANDED. You won't be disappointed.
AMAZING ADVENTURE

The whole rhythm of the trip was perfect, and leaving one place for the next worked perfectly. This trip definitely made me want to experience other great spots in South America.
TRIP OF A LIFETIME

The locations were amazing. Your on-the-ground team was fantastic–knowledgeable and accommodating. Beautifully organized.
ABSOLUTELY AMAZING

The best guide I've ever had anywhere in the world. Top notch talent.
GREAT SERVICE

You were a great help in planning–ensuring that I was staying at the right places and enjoying the type of activities we love–and the follow up was incredible.
YOU GOT TO KNOW US

Exactly the bonding and sharing experience we'd hoped for. The rhythm, variety, and tone was spot on. With effective listening skills, you built a good picture of what we wanted–more complicated than "just" luxury. The result was a great trip, one made just for us.
BEST EVER

Excellent attention to detail. You listened carefully, asked the right questions, and customized with just the right balance. Superb guides. We felt relaxed and pampered all the way. You'll plan our next trip.
FANTASTIC EXPERIENCE

Not a single thing on the itinerary that we would change.  The guides were knowledgeable, friendly, and prompt.  The hotels were beautiful, the food delicious and the pace of the activities was perfect for us.
DO IT!

In short, our trip was amazing. Thanks so much for your constant assistance and thorough planning.
PERFECT

The planning, service and execution of the trip was flawless – thank you!
EXCELLENT

LANDED was helpful and knowledgeable, making our trip a memorable one.  I will use your services in the future as I continue to explore Central & South America.
A VERY WELL ORGANIZED DREAM

Your patience with my questions and concerns during the planning stage was remarkable.
THANK YOU

You actually got to know us, which made it possible to know just what we like. You promised the best trip ever and you kept your promise.
ENTIRELY AMAZING

Your recommendations were well thought out. We thoroughly enjoyed our honeymoon. Thank you!
THE ULTIMATE GUIDE

LANDED is the ultimate. You helped us make the most out of a week's time.
DIDN'T MISS A THING

We zip-lined, rafted, sailed, and surfed. The contacts were professional and courteous. We don't want to be back at work. Thank you for all of the work you did to set up this trip.