Located in the wine-country town of Luján de Cuyo outside Mendoza, Entre Cielos was conceived as a vineyard hotel; eight of the hotel's 20 acres are planted with Malbec vines.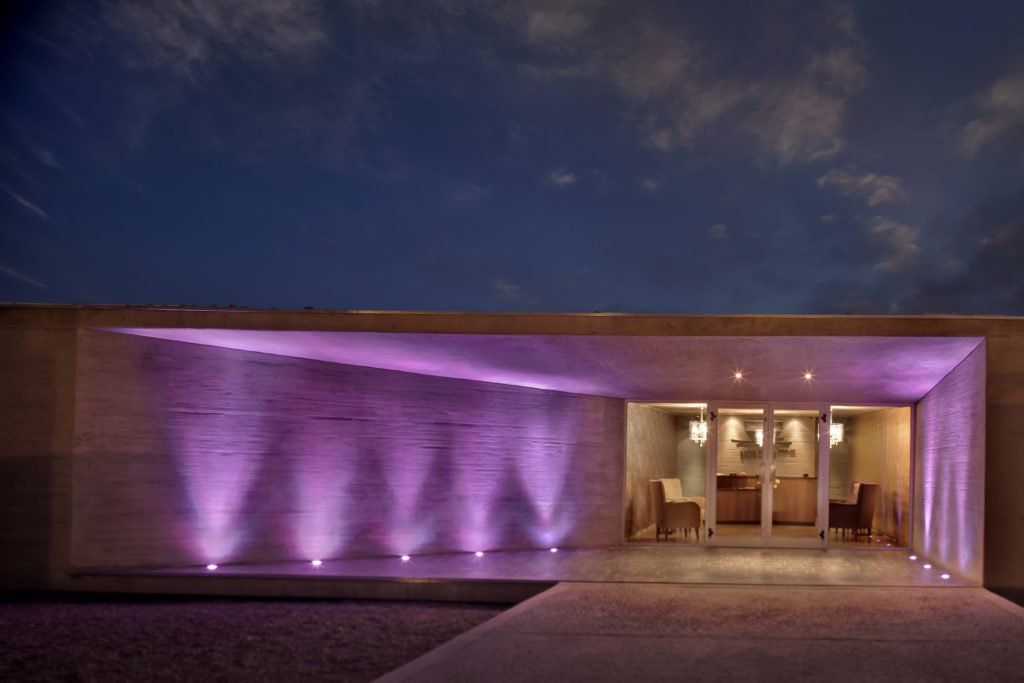 Situated at the base of the majestic Andes Mountains, Mendoza is known as one of the premier wine-growing regions in the world with nearly 1,200 vineyards ranging from idyllic farms to larger renowned wineries. Entre Cielos produces three exclusive wine lines: Marantal Rose, Marantal Malbec, and Malbec Gran Marantal.

The Restaurant
Overlooking the hotel's gardens and vineyard, with the soaring Andes Mountains in the distance, the hotel's signature restaurant, Katharina Bistró, highlights locally-sourced ingredients in a tapas-style menu.
The hotel's wine cellar is packed with the very best varietals, including the hotel's own three labels of Malbec. Wine lovers can complement each meal with a selection of some of Argentina's best wines that fill the hotel's cellar.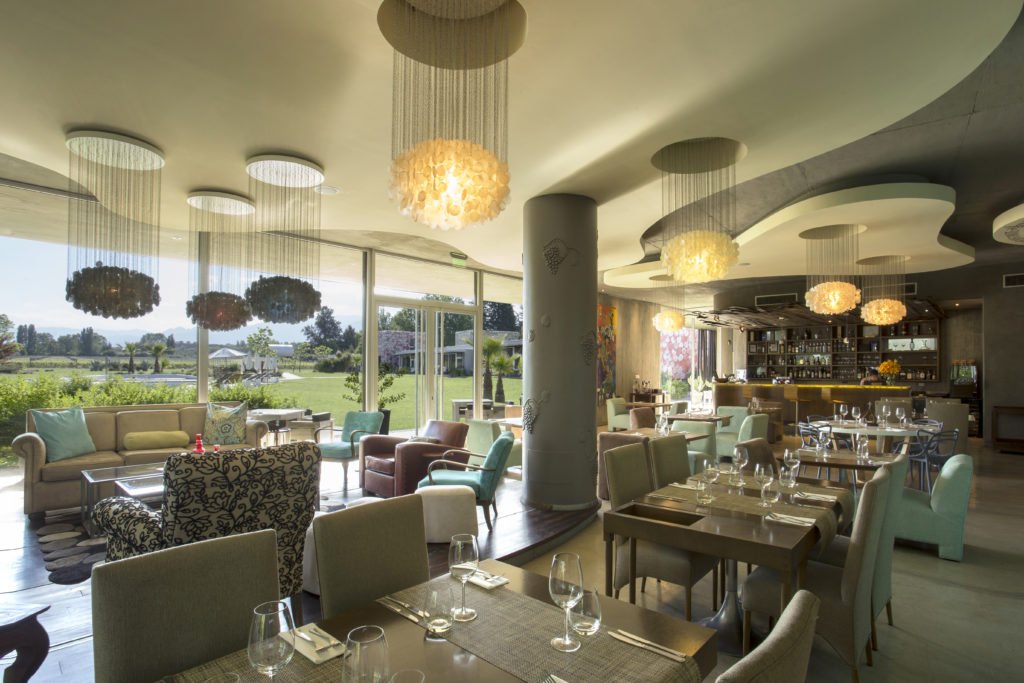 The Spa
The hotel's 6,500 square feet Spa + Hamam, awarded "Best Luxury Boutique Spa in South America" by the 2017 Luxury Travel Awards, boasts an authentic six-stage traditional hamam circuit, as well as a variety of vinotherapy treatments and massages. All treatments end in the camekan, a relaxation room where guests can enjoy a natural juice, tea, and snacks. The hotel also features an outdoor pool sitting against the property's vineyard.
Accommodations
Entre Cielos feature 8 Vineyard Lofts and 24 spacious rooms and suites divided into five categories, providing a variety of sizes and styles, the themes of which reflect the different categories of wine. All guest rooms feature luxury amenities, complimentary WiFi, minibar, electronic safety box, and daily turn-down service.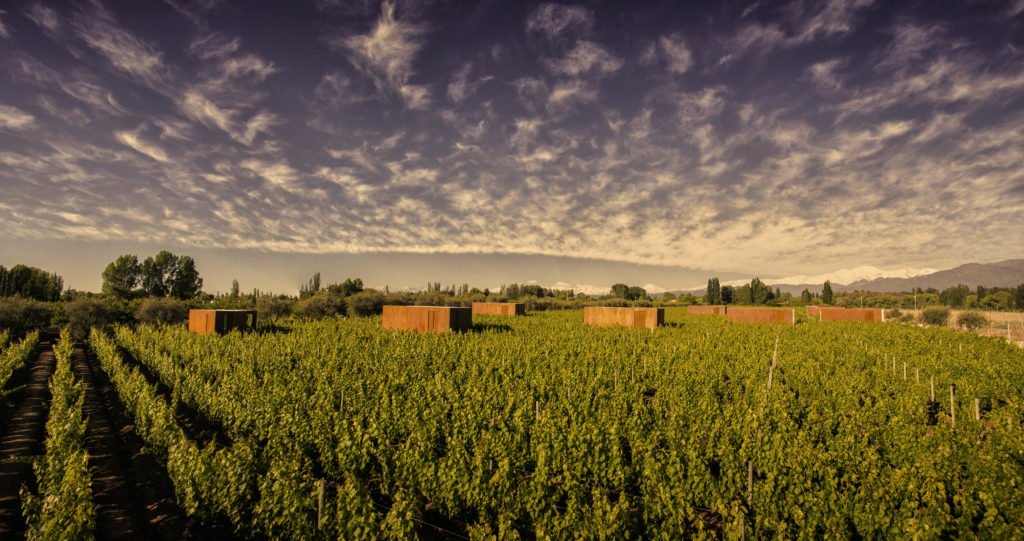 Vineyard Lofts
For wine aficionados wishing to fully immerse themselves in the terroir, the unique Vineyard Lofts, added during a 2018 expansion, are situated right among the Malbec vines. Featuring a private outdoor patio overlooking the vast landscape, each loft is named after tasting notes: Pimienta, Pistachio, Pan, Pera, Papaya, Piña, Pomelo, Piedra. Vineyard Lofts are 420 square feet and are furnished with king-size beds, private bathrooms with shower, a small sitting area, and a large outdoor terrace accessed by floor-to-ceiling sliding glass doors.
Although the new Vineyard Lofts are set outside of the main hotel, all loft guests have full access to the hotel's facilities.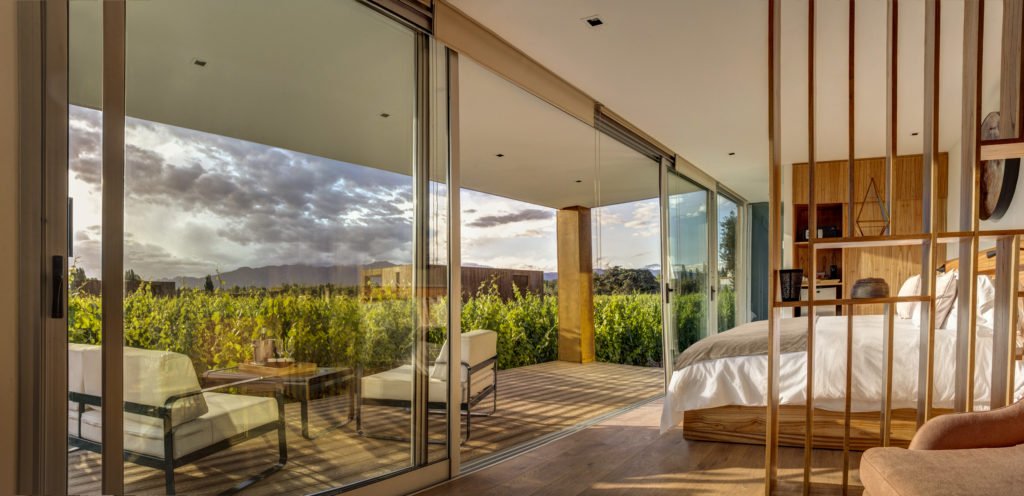 Luxury Suite – Grand Cru
"Gran Cru" wines never fail to delight, and this Entre Cielos master suite is no different. Going by the name of Granada, the "Gran Cru" is decked out with a private outdoor jacuzzi, rainforest shower, and a terrace overlooking the vineyard. Guests staying in the 1,050 square feet suite receive a complimentary cocktail upon arrival, as well as a 90 minute Classic Spa Hamam Circuit, and a 30 minute massage per guest per stay.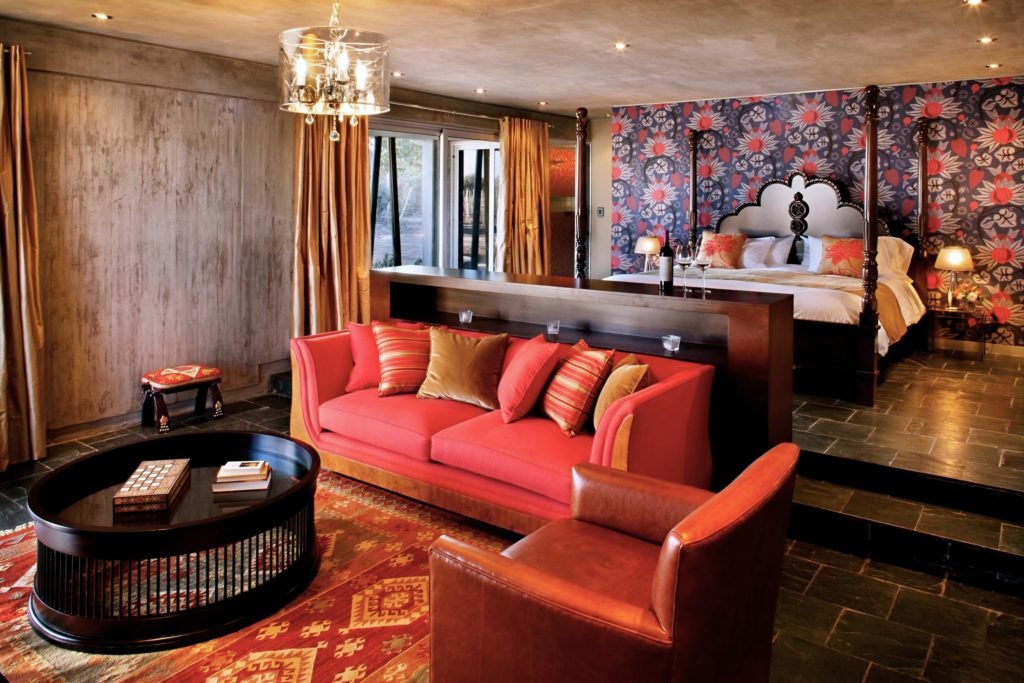 Suite Loft – Limited Edition
A unique creation. Having the courage to take a risk can lead to exceptional wines. This concept certainly applies to the Suite Loft, which stands above Entre Cielos' vineyard on stilts. Futuristic in its styling, with rounded, flowing forms, the suite features a private terrace, a jacuzzi tub, and numerous skylights offering unparalleled star-gazing at night. Furnished with one queen-size bed, the 380 square feet suite includes a daily cocktail & snack, and a 90 Minute Classic Spa Hamam Circuit.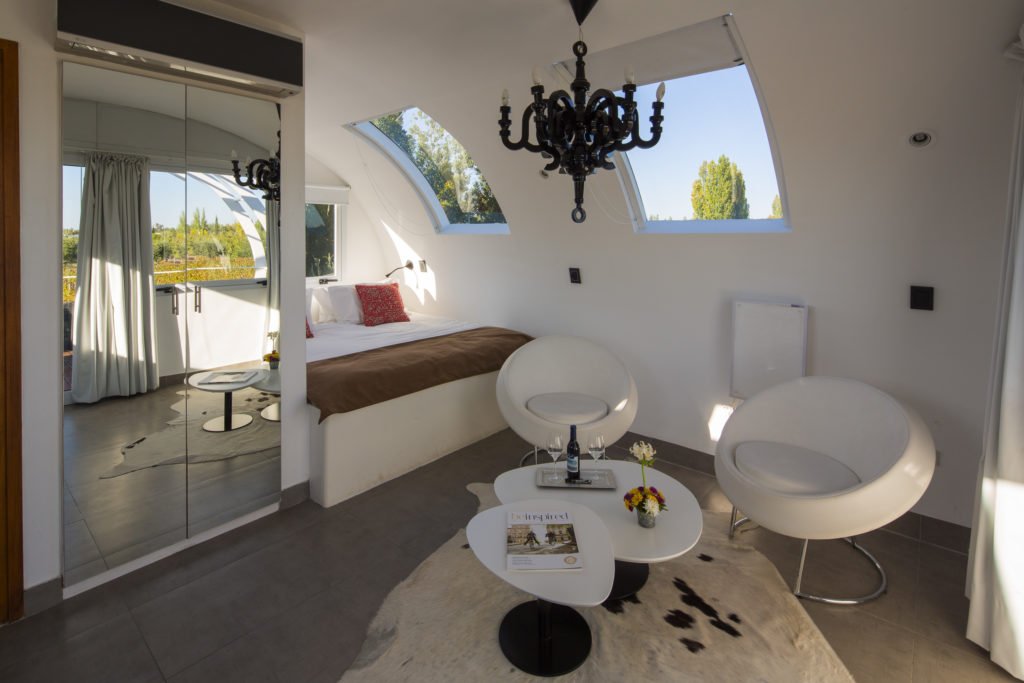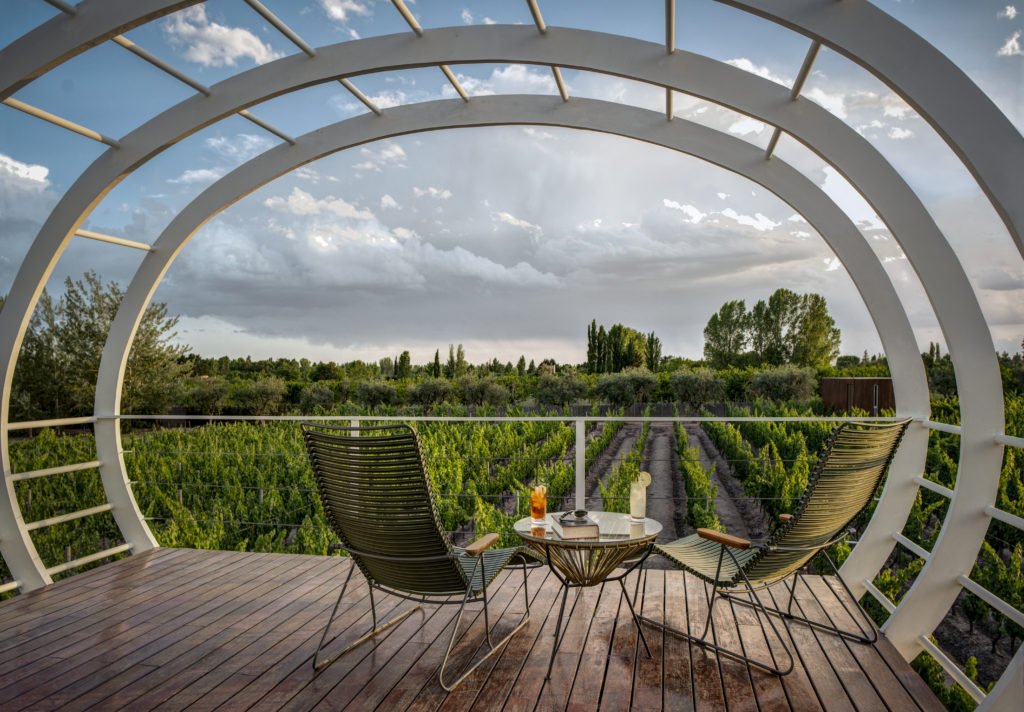 Duplex Suite – Gran Reserva
The Duplex Suite (915 square feet) identifies complex, structured wines with exceptional aromas. Named after design notes — Hojas, Hierbas, Hongos and Higos — these spacious rooms with elegantly comfortable interiors deliver unique views either across the vineyard to the Andes or to the property's gardens. Guests staying in this suite receive a daily cocktail & snack, as well as a 90 Minute Classic Spa Hamam Circuit.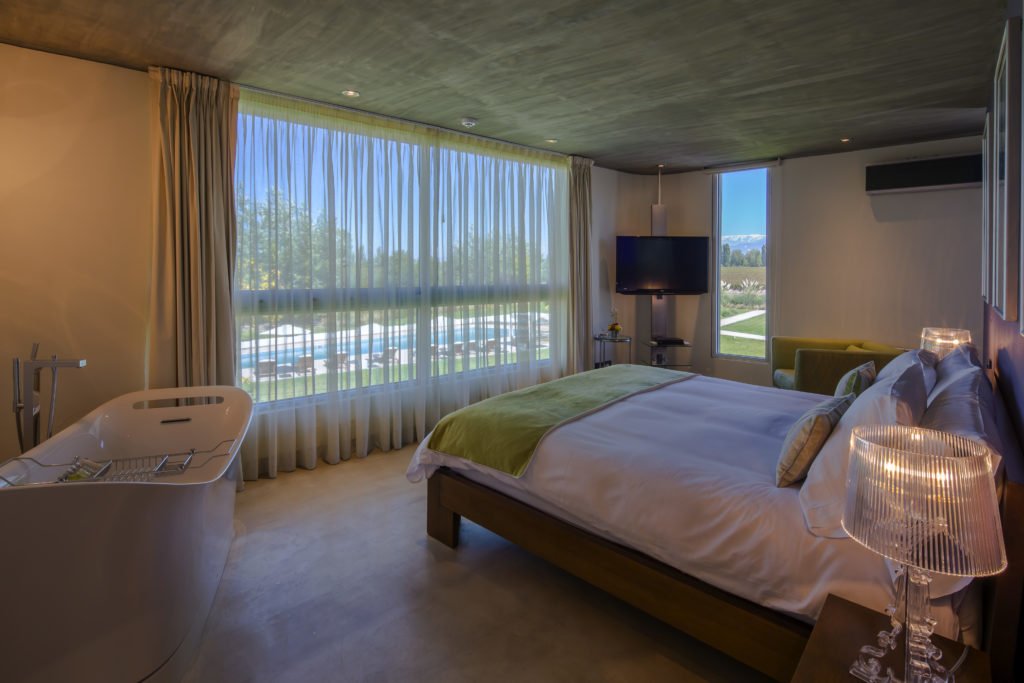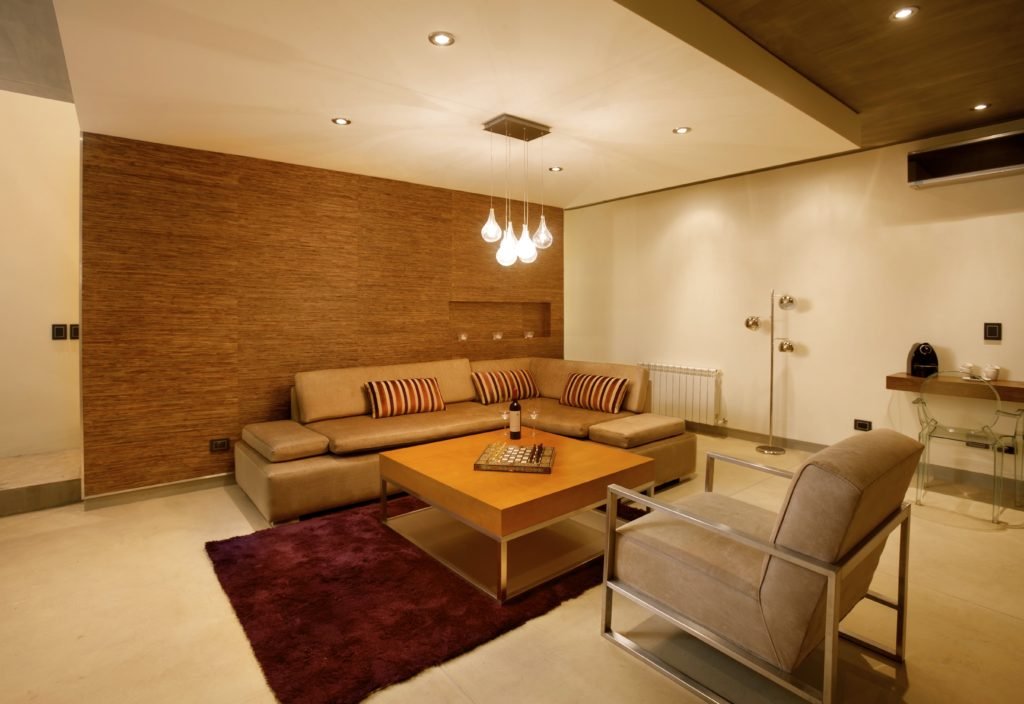 Superior Room – Reserva
Defined by earthy tones, Reserva rooms (540 square feet) feature stylish accessories for a sense of lightness. These rooms are known as Anana, Aji, Almendras, Aceitunas, Trufas, and Tierra. These rooms can be furnished with either one king-size bed or two twin-sized beds.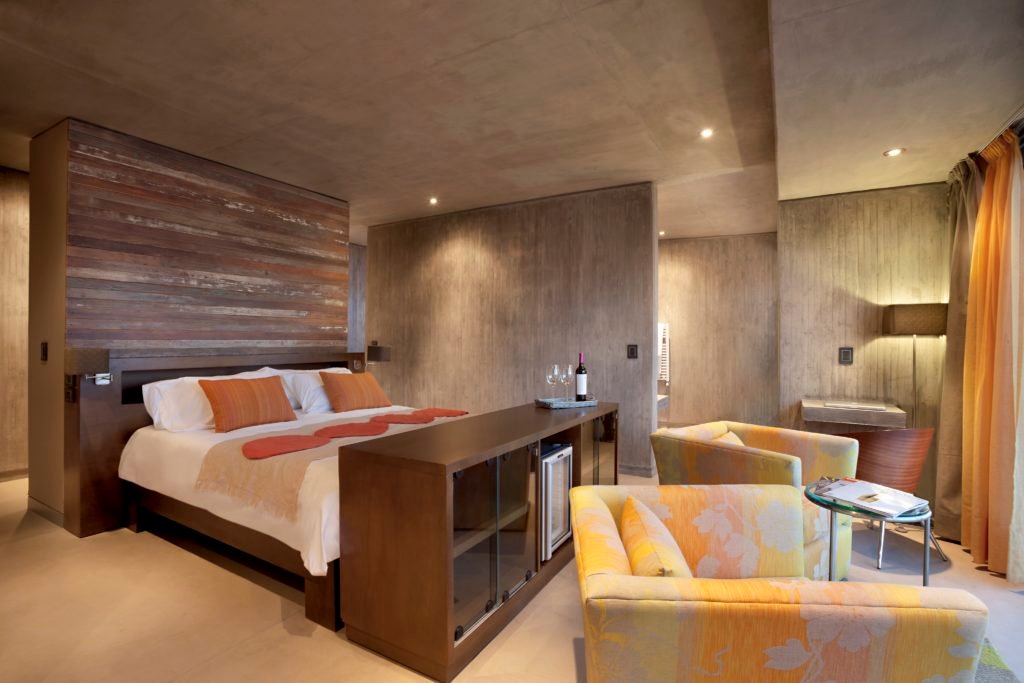 Standard Room – Classic
This term is usually used to describe clean, traditional wines. Classics are honest, unique, and with bold colors. All named after aromas beginning with the letter c: Castañas, Casis, Canela, and Cardamomo, these 400-square foot rooms can be furnished with either one king-size bed or two twin-sized beds.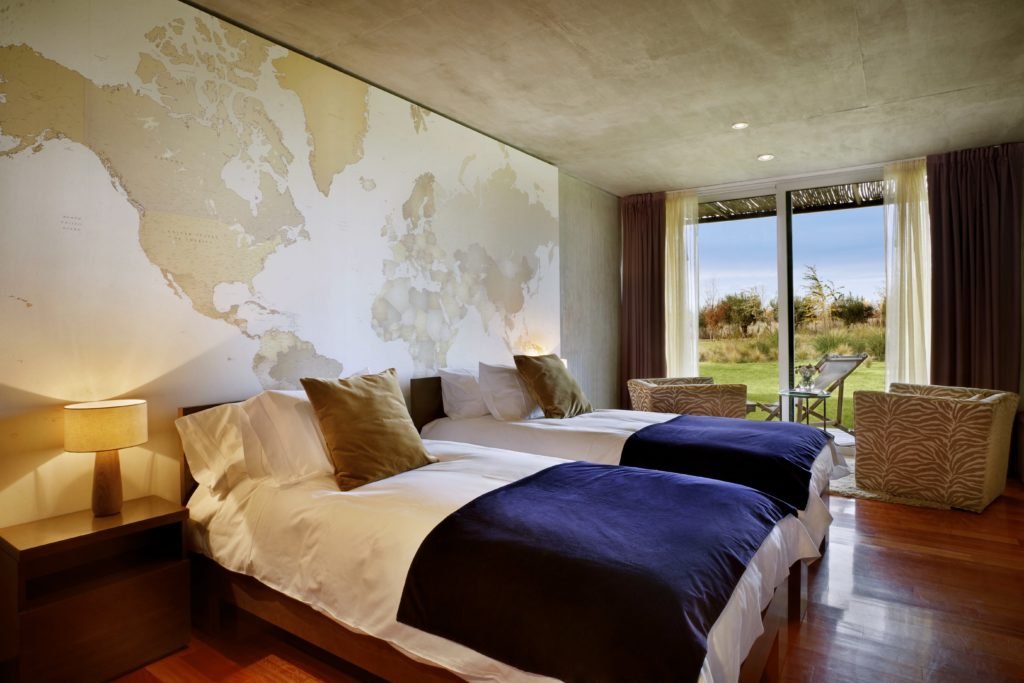 ARE YOU CONSIDERING A STAY AT ENTRE CIELOS? LANDED PROVIDES PERSONALIZED, CUSTOM TRAVEL WITHIN CENTRAL AMERICA, SOUTH AMERICA, AND THE ANTARCTIC. WE'LL CREATE A UNIQUE ITINERARY PLAN TAILORED TO YOUR INTERESTS AND DREAMS. EXPERIENCE THE TRIP OF A LIFETIME. SPEAK WITH ONE OF OUR EXPERT TRAVEL PLANNERS TODAY AT 801.582.2100.