Mashpi Lodge in Ecuador rests on a ridge at 3,117 feet above sea level, within a 3,000-acre private reserve. Nearly all of the reserve's land is forested, and roughly 70% is virgin primary forest.
This super-biodiverse habitat, known as Choco, is a transition between lower montane rainforest and Andean cloud forest.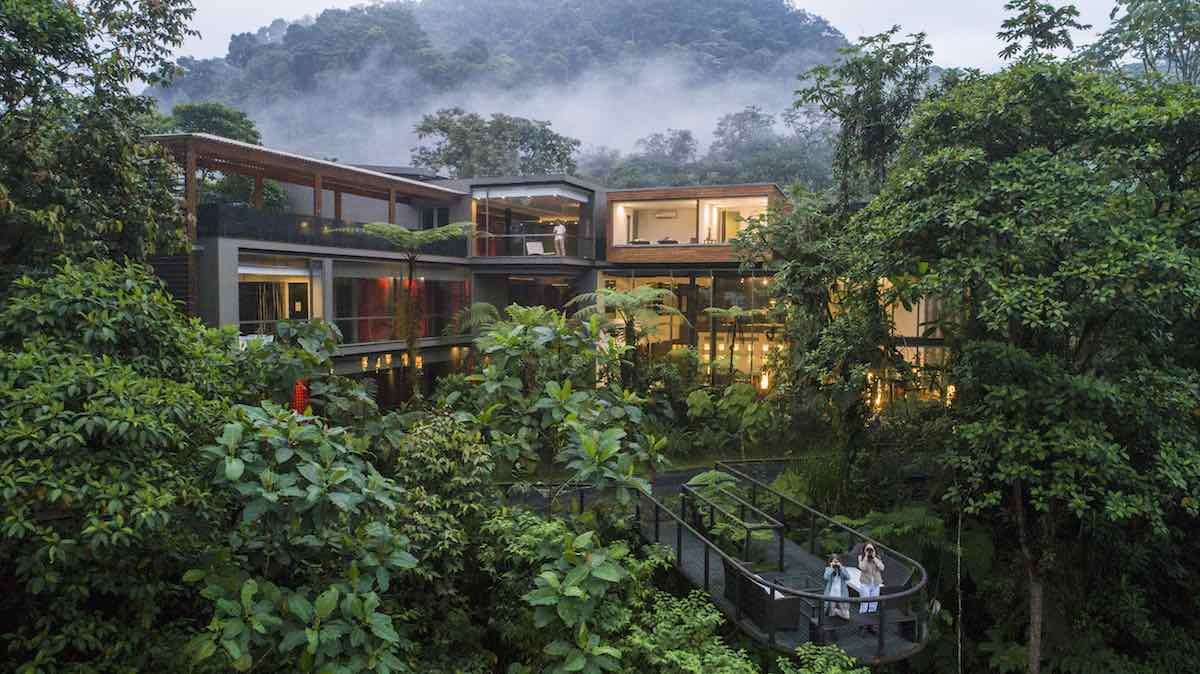 Wildlife thrive here, including 400 species of birds – including some 36 endemics. Monkeys, peccaries, and make their homes inside the reserve.
Waterfalls and streams crisscross verdant hills. Expert guides (one university-trained and one from the local community) lead group-basis explorations of the surrounding trails and viewing platforms.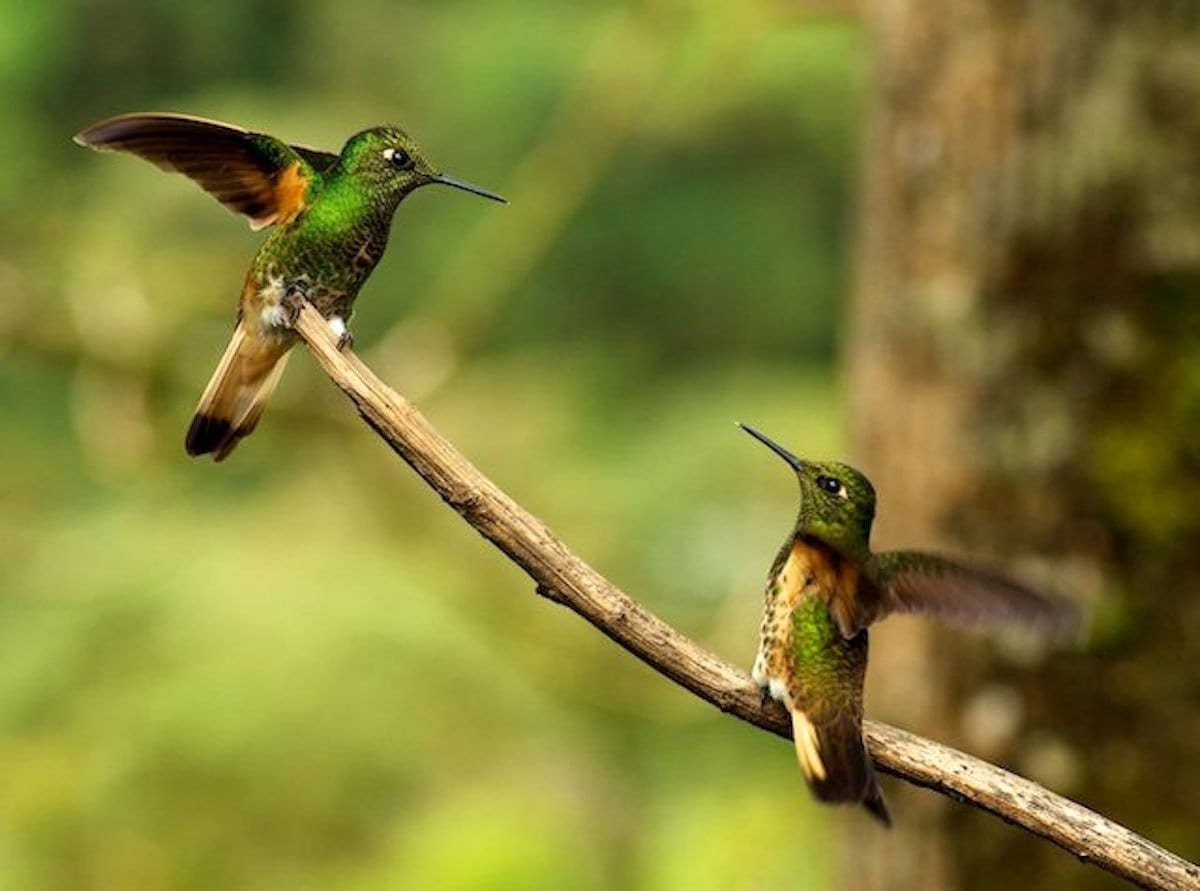 The full board program at Mashpi Lodge includes transfers, guided touring; meals; non-alcoholic drinks; Wi-Fi; and use of rain boots, walking sticks, and ponchos. The Dragonfly cable car ride carries and additional charge.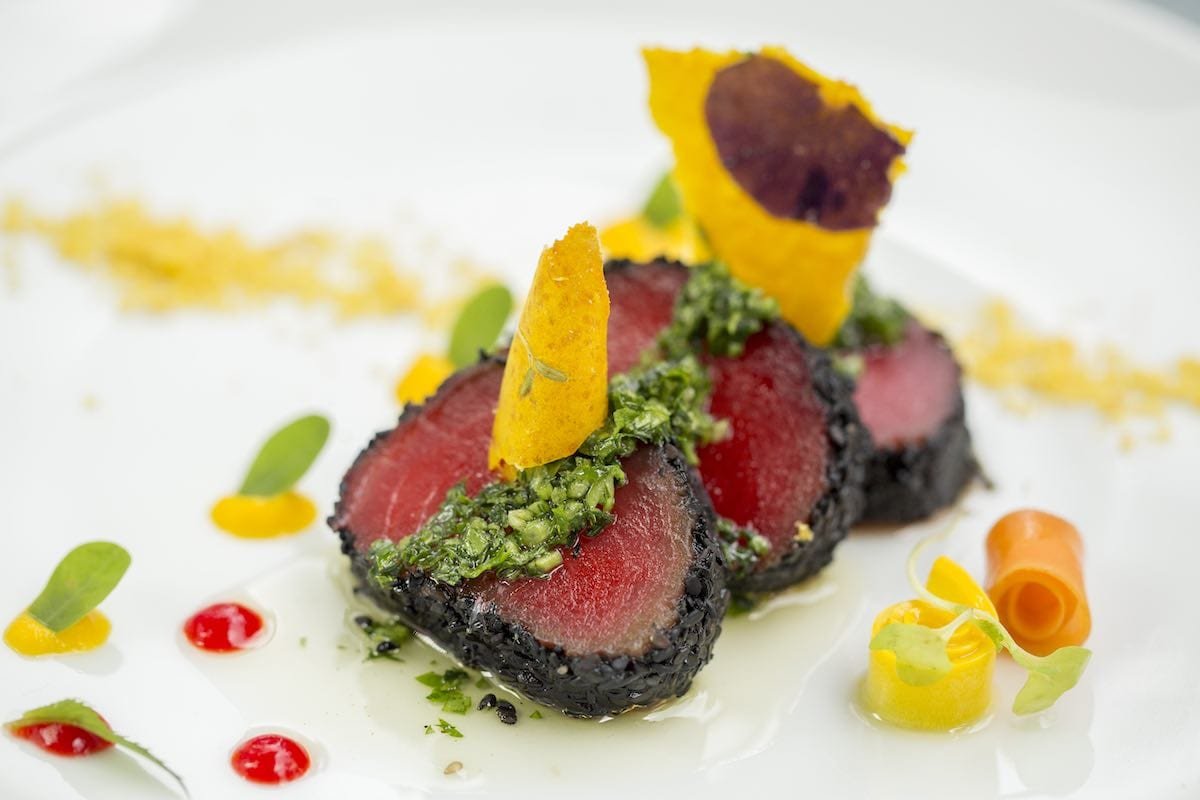 Accommodations 
The Mashpi lodge itself is a contemporary cocoon, constructed on the site of a former lodging camp. Floor-to-ceiling glass (cleaned by hand each day) brings the sights of the forest into your room; its common to see hummingbirds, frogs, and butterflies from your bed.
In-room amenities include:
Security boxes
Bathrooms amenities
Hairdryers
Wi-Fi Connection
Telephone
Bathrobe and slippers
Reusable water bottle
Fresh, filtered water
---
Yaku Suites
The lodge's three Yaku Suites are located on the first floor and are each 495 square feet. They include a king-size bed, large bathroom with twin washbasins and bathubs with a view into the forest.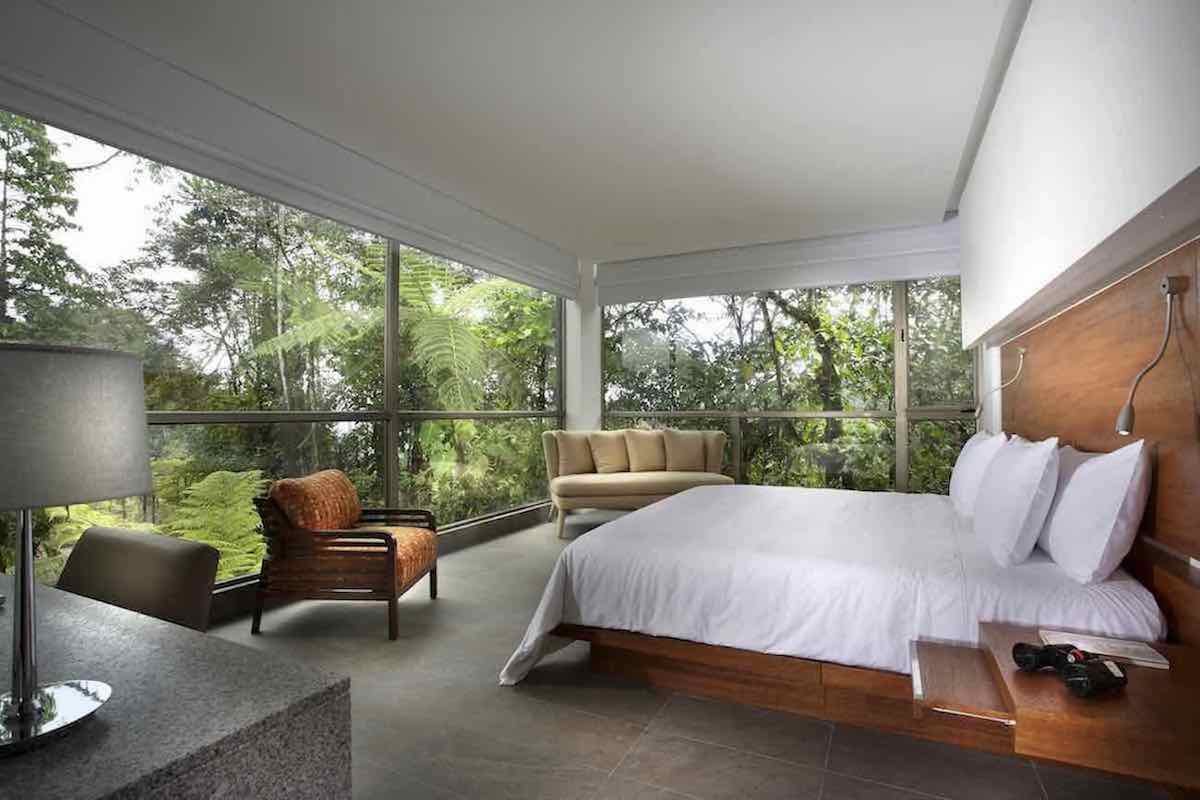 ---
Wayra Rooms 
The 20 Wayra rooms are 366 square feet. There are 13 Wayra Twin Rooms with two full-size beds and  7 Wayra King Rooms with king-size beds.
For families or groups of friends, three pairs of Wayra Rooms inter-connect, two pairs on the second floor and one pair on the ground floor, each one with a king-size bed connected to a room with two full-size beds.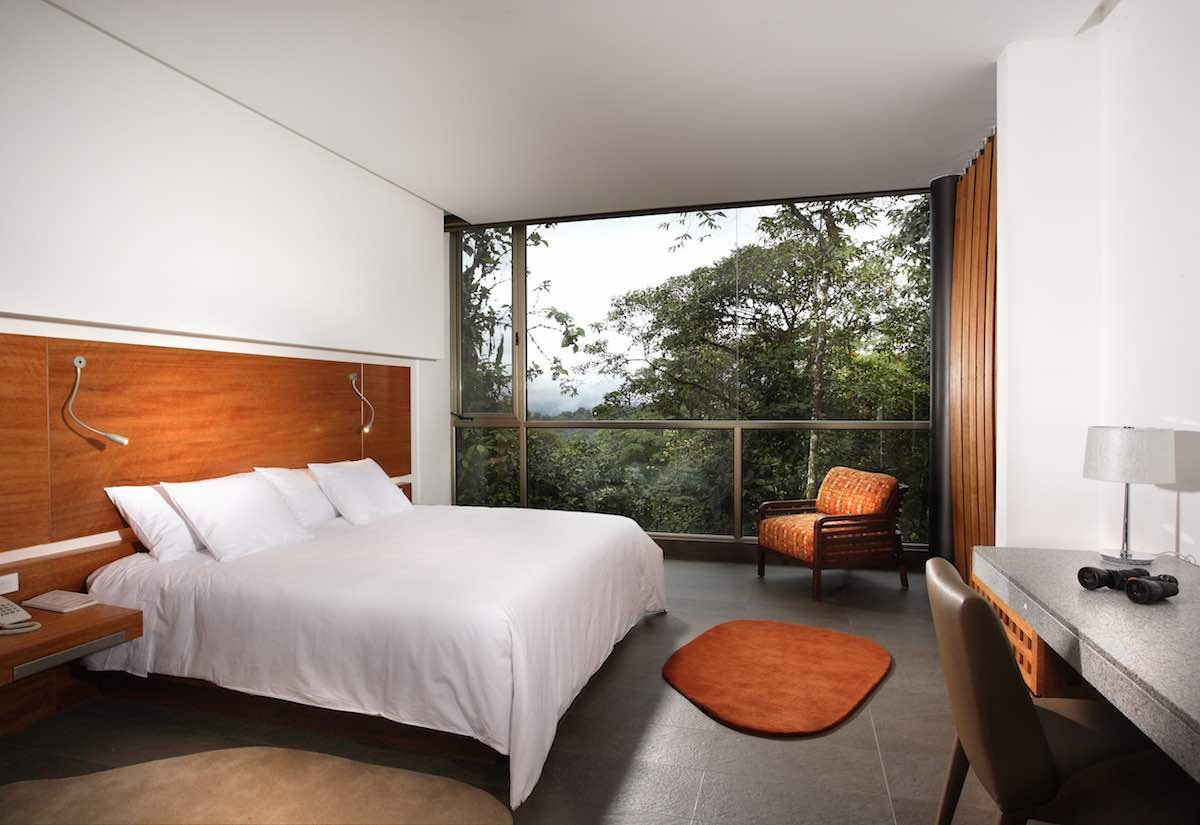 Amenities
The lodge facilities include:
Restaurant
Bar
Boutique
Lecture room / library
Massage rooms
Jacuzzi
Viewing platform
Panoramic terrace
Laboratory
Room service and massages are available for an additional fee. Rooms at Mashpi do not have television.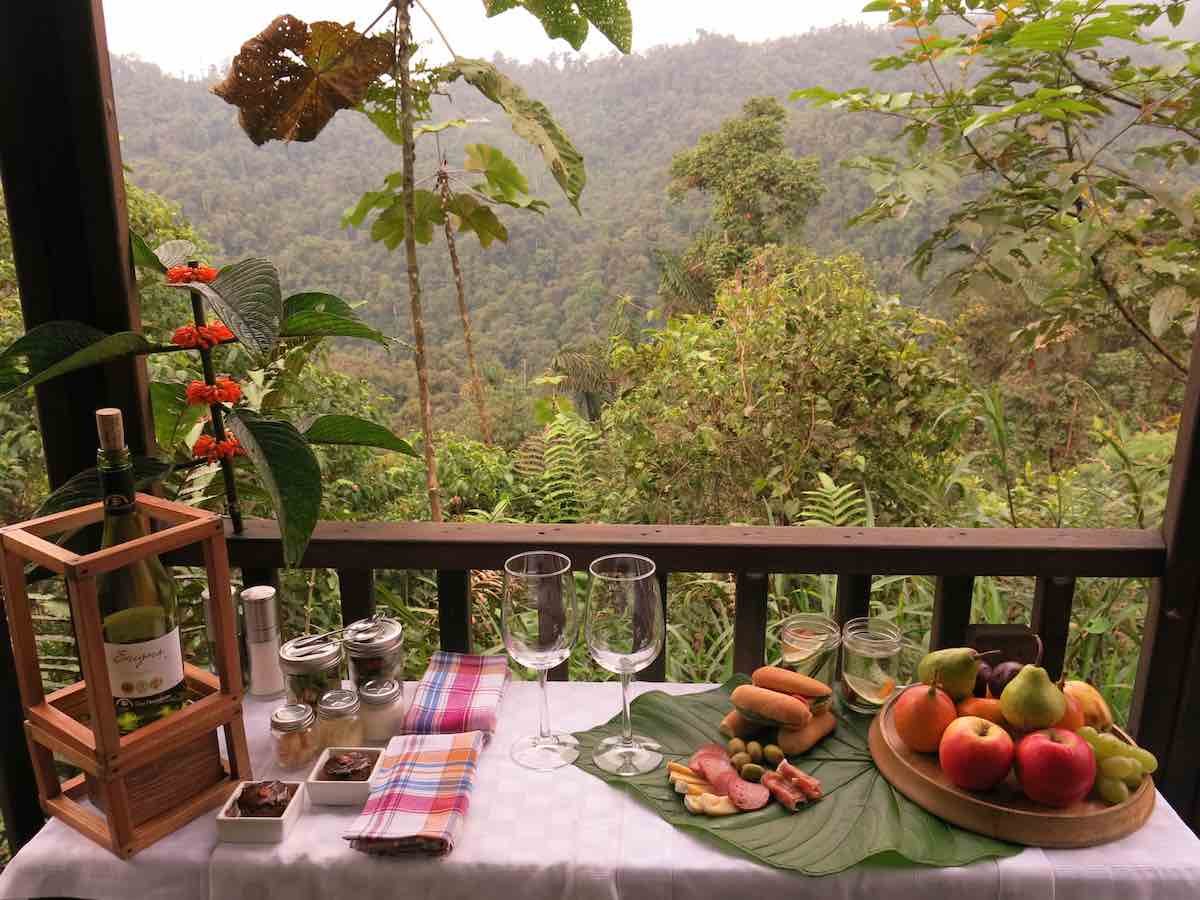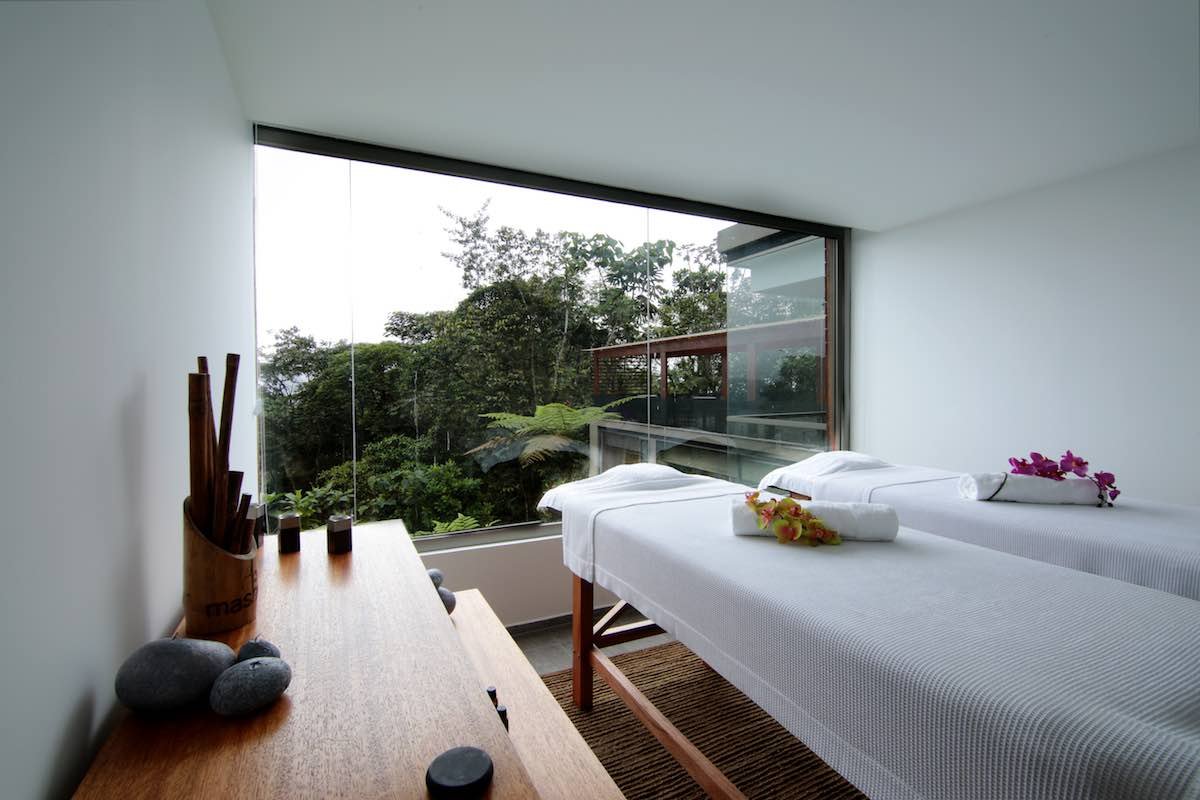 Explorations
Mashpi Lodge has an extensive list of activities available to guests. Visitors can hike through rainforest trails where they can rope swing through the jungle, visit waterfalls, see monkeys and observe hummingbird gardens.
One of the highlights of a trip to Mashpi is the Dragonfly – an open-air cable car system that carries guests over, across and sometimes even directly through the forest canopy.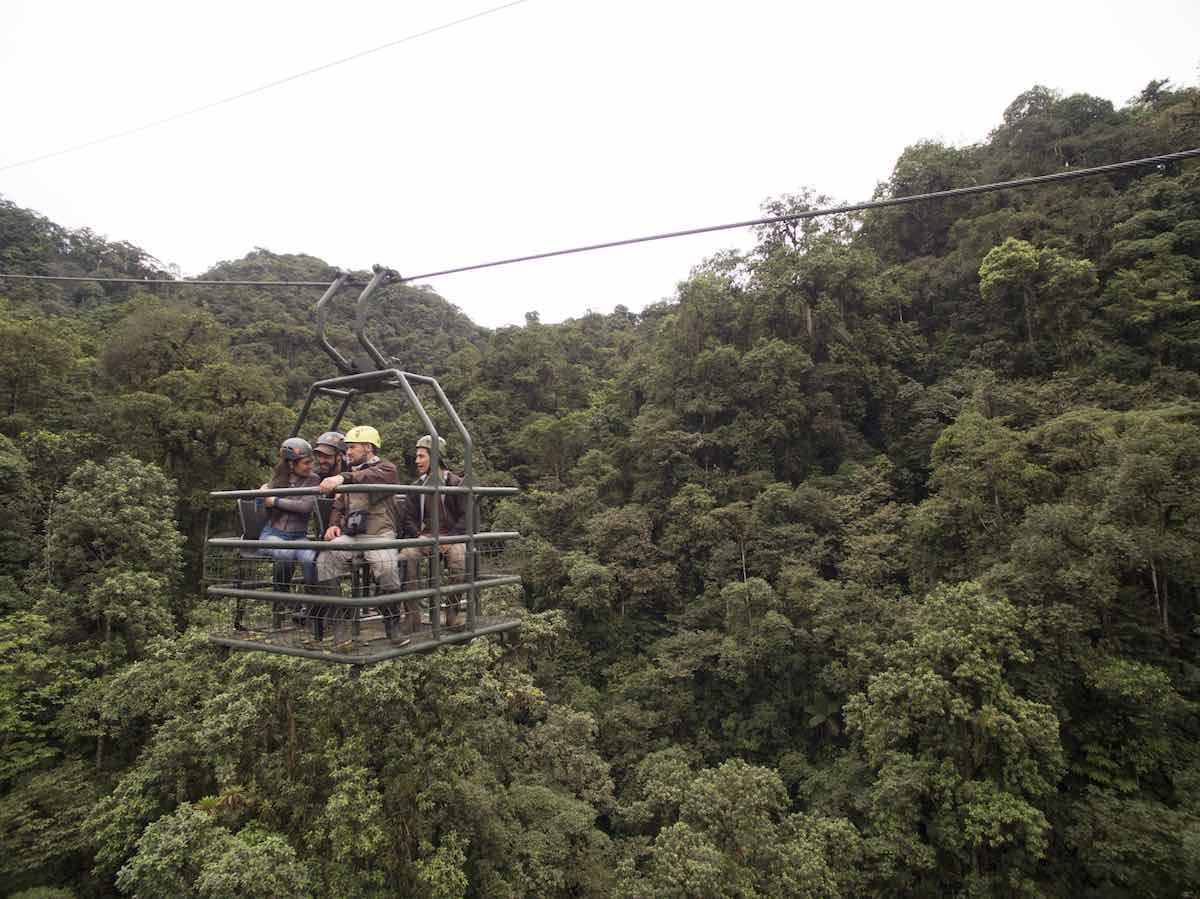 Another unique activity is the lodge's sky bike that is designed for two people to use at once. One person pedals the bike along a cable stretched between two points in the forest, crossing a beautiful gorge above a river flowing between rocks and trees below.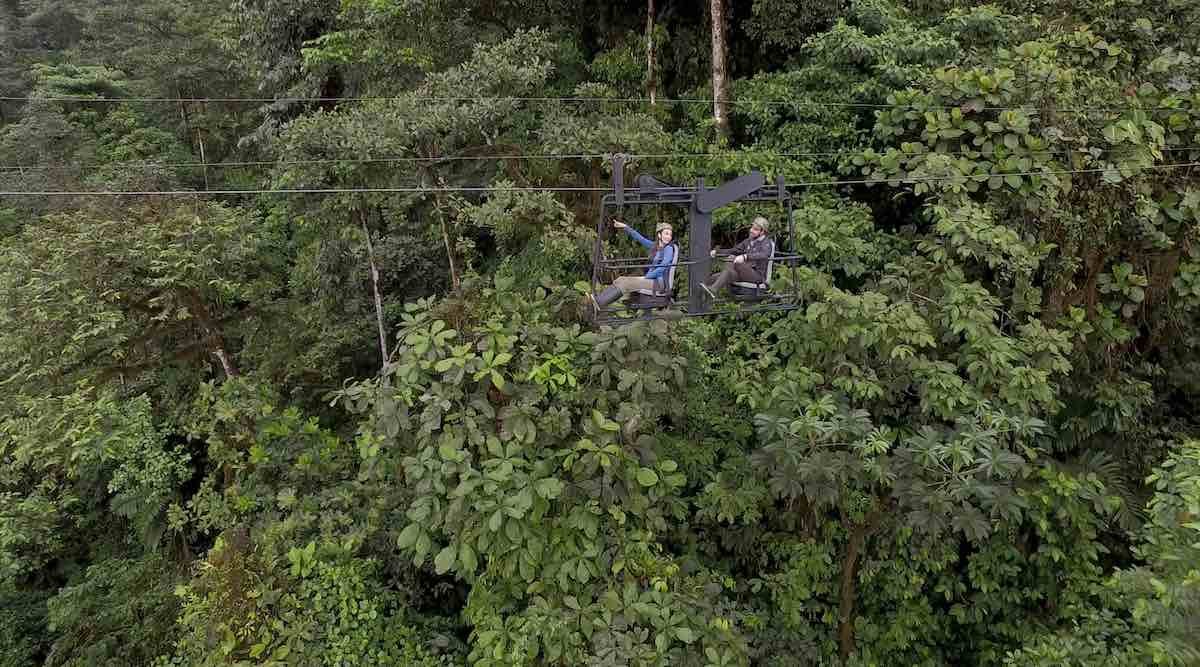 ARE YOU CONSIDERING A STAY AT MASHPI LODGE? LANDED PROVIDES PERSONALIZED, CUSTOM TRAVEL WITHIN CENTRAL AMERICA, SOUTH AMERICA, AND THE ANTARCTIC. WE'LL CREATE A UNIQUE ITINERARY PLAN TAILORED TO YOUR INTERESTS AND DREAMS. EXPERIENCE THE TRIP OF A LIFETIME. SPEAK WITH ONE OF OUR EXPERT TRAVEL PLANNERS TODAY AT 801.582.2100.
MASHPI LODGE FAMILY TRAVEL ALBUM